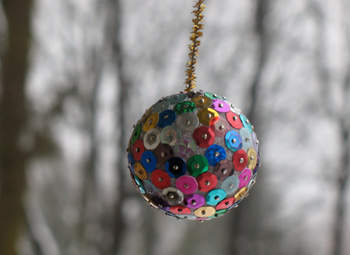 Sparkly Foam Sequin Ball
This sparkly foam sequin ball ornament is a perfect craft for New Year's Eve. It's just as glamorous as the big ball that's dropped every year in Times Square.
What you'll need:
2″ foam ball
Multicolored sequins
Stick pins OR white craft glue
1 chenille stem
How to make it:
Poke the chenille stem into the center of the foam ball.  Push the chenille stem in, about an inch or so. Bend the other end of the chenille stem to create a loop for hanging.
Use stick pins to attach sequins to the ball, starting at the top and working your way around and all over the ball. Younger children can use white craft glue instead of pins.
Helpful Tips:
If you are concerned about using pins, or if you are working with small children, simply dot white craft glue onto the ball and then gently press the sequins into the glue. If you use the glue method, be sure to hang the ornament somewhere it can dry.
You can use whatever color sequins you like. Whether you choose all one color or multicolored as we did, your ball will sparkle!
This project was created by Amanda Formaro, originally for Kaboose/Spoonful.
The post Sparkly Foam Sequin Ball was featured on Fun Family Crafts.