21 Dollar Store Kitchen Organization Ideas
As one of the most used rooms of the house, the kitchen should be well organized and it's not about renovating it. It is not feasible to redecorate the kitchen because that would cost us fortunes. What if we get some inexpensive organizing ideas? A true blessing, right?
Kitchens do get messy with all the foot traffic and busyness of cooking and proper organizing would not only save space but also keep it clean and tidy. From racks for holding cans to a good pantry makeover, you can do it all.
If you are familiar with a dollar store, you might be aware that they sell everything! From home decor and organizing to cleaning supplies, they have it all and most of them are under $5. Taking full advantage of this, we have listed 21 dollar store kitchen organizing ideas that would help you get that organizing thing right!
21 Dollar Store Kitchen Organization Ideas
1. Magazine Holder for Rack
Magazine holders can do so much more than just being a work staple and now we know it. Use an old one or buy an inexpensive magazine holder from the dollar store and convert it into a kitchen rack. 
Amazingly manage those food cans with these DIY storage hacks and save tons of counter space. Just seal the ends with some pins to avoid falling off the cans and you are done. 
2. Dollar Store Refrigerator Makeover
Presenting a super innovative organization idea for some sassy makeover of your refrigerator with dollar store bins. Every bin is dedicated to a specific food item and kept in a well-managed spot and that's it. 
This easy and inexpensive organization hack would help you keep the refrigerator tidy and yes, it would also be easy to clean the interiors. Add some extra flair to those baskets with chalk labels!
3. Pantry Makeover with Labels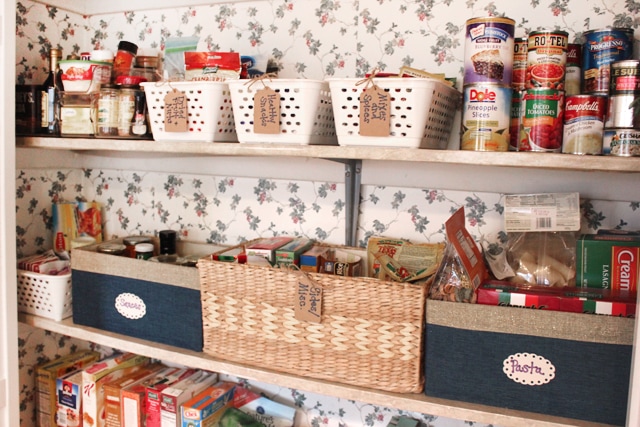 Pantries are no doubt the messiest zone in a kitchen and even if you organize (read try to organize) it, the mess kicks in within days. You would need baskets and bins for this one as well and after organizing those cans and jars, put chalk labels. 
This would help when you are trying to find something and also, would keep the pantry tidy. I mean, it would get a little messy with time but it is super easy to clean and will free some much counter space. 
4. Magnetic Spice Rack
Looking for an ideal spice rack that would not consume tons of space? We have an easy DIY idea where you can use the refrigerator to install racks and store spices. Don't freak out, you won't be breaking anything! 
Buy some pencil holder organizers from the dollar store and about 50 round magnets. Install the racks with magnets and you have innovative kitchen space for those spices! 
5. Hanging Pots and Pans
Okay, this might sound weird at first but trust me, it looks super stylish and sassy if the setting is good. The kitchenwares need not be confined to the kitchen when you can pull off such decor with pots and pans. 
Hang those round pans and pots in the bedroom curtains and you will drool over the setting! The decor looks elegant and you would save a lot of kitchen space! 
6. Easy Dollar Store Organization
This would be useful to you if you are following a specific diet that needs to have just the right amount of everything. Well, the measurements are tricky and you cannot be guessing right every time!
Get these amazing measuring spoons from the dollar store and you would have the perfect ratio to make those delicious recipes! Hang them up using self-adhesive hooks and the organization is done and it is so cheap. 
7. Organize Pots and Pans
This category is one of my favorites because pots and pans take up lots of cabinet space and keeping them on top of each other is something that I don't like. 
To get this kitchen organization hack done, buy a towel rack, and some S-hooks from the dollar store. Utilize the sides of kitchen cabinets to install the rack and hang those pans there. 
8. Under the Sink
That cabinet under the kitchen sink can look okay but if you organize them with baskets, it would look amazing and the cleaning would be much easier! 
That cabinet not only holds cleaning products, but you might also discover some forgotten stuff like empty bottles there. Get some baskets and mini racks from the dollar store and get to this easy organization! 
9. A Pegboard Organization
Yes, I am talking about installing a pegboard in the kitchen. I mean, it looks so elegant and unique, like nobody would expect something like this in the kitchen. 
Make a bare, blank functional, and install this stylish pegboard. Use hooks to hang the pots and pans and you can also outline them with chalk and you would never forget where they were! 
10. Mason Jar DIY
Who would have thought that even the bottom of kitchen cabinets can be used for storage? This DIY would make it possible but you would need some drilling skills for this one. 
Collect some mason jars from the dollar store and some ¾ inch screws. You would just have to drill to complete this statement look where the jars would be hanging with its lid and I can't stop drooling over this one! 
11. Simple Spice Organization
Want to organize those spices and keep them in one place? Prepare a spice drawer, simple! This would be very feasible if you own like twenty different spices and it becomes impossible to find the right one in the pantry. 
Get some mini mason jars and label them up with chalk. Arrange them in a drawer and your work is done! Adieu to those struggles of finding the right ingredient. 
12. Magnetic Spice Rack
This looks complex, but trust me it is the easiest one so far and also, a very colorful one. You just need to buy a cookie sheet, some magnetic containers and spray paint. 
This DIY would also try your craft skills and you would love the results. Print out those labels to add some extra flair and make the labels long-lasting. Finally, hang the DIY spice rack in the inside of a cabinet door and the pretty organization is complete! 
13. Dollar Store Coffee Station
If you are one of those who cannot start their morning without a cup of refreshing coffee, this one's for you! Coffee cabinets can get messy, with those mugs, sugar bags, coffee beans and so much more. 
Pick up clear boxes from the dollar store and put them in a drawer to organize your beverages. Store other drinks like hot chocolate, and tea bags, and your one-stop beverage drawer is ready to roll! 
14. Wire Baskets
Baskets and bins would be the ultimate essential for kitchen organization and I know you will agree on this. This one is about utilizing those vacant spaces above cabinets and also prevent those from getting covered in dust bunnies. 
Get those inexpensive wire baskets from the dollar store and use them to store some pantry items like sauce bottles, chocolate syrup, and so on. This easy idea would save tons of space in your pantry! 
15. Mason Jar Pantry
This sounds so interesting and it looks elegant as well! So, if you don't want those grocery items stored in packets, just unpack them and fill up a mason jar! 
The work would be more in the beginning, but once the pantry is set, you just have to refill only when a jar is empty, that's it! This would also keep those cereals and nuts fresh for a longer period. 
16. House Veggies
Veggies are mostly stored in bins in most household kitchens and it is a good idea, but there is no harm in exploring a more efficient one. Use clear or wired file folders to house veggies in your kitchen and your stock estimation would never go wrong again! 
Stacking them vertically would also save shelf space and what is more important than space? 
17. Utensil Holder
This one would utilize the sides of the wall cabinets and we know why it is an efficient storage idea. Grab those Gruntal bars with brackets from a hardware store and use thin wire cable and ferrules for hanging the utensils. 
This organization idea is very good, try to avoid hanging heavy utensils because the wire might not hold up. 
18. Dry Goods Organization
Just like those mason jar storing ideas, this one is a cheaper alternative where you can store dry goods in your pantry in glass canisters. Buy them at $1.25 from the dollar store and stock up your pantry with it. 
You can also use those clear plastic lunch containers because they are leak-proof and you can use it to store things like cornstarch and keep it away from moisture. So good and easy! 
19. Pots and Pan Organizer
The pots and pan storage lack organizing most of the time and we cannot deny that it looks awful. Let's get to work with this DIY and organize those bakewares and pots. 
Buy some pan dividers and place those pots randomly, and don't pile them up. You can also buy some lid organizers from the dollar store and place those lids one by one. Organize the pots creatively and the cabinet would look so stunning! 
20. Sippy Cup Drawer
If you have kids and you are drowning in those sippy mugs and plates, arrange for a dedicated drawer that would just store the sippy utensils. You would just need those plastic baskets from the dollar store and you are done!
Clean up the mess and organize those cups and plates in the baskets. You can even arrange it according to the color combination, you know, for some extra flair. 
21. Dressing and Condiments Organizer
This DIY dollar tree project is so easy and you would just need cake pans and marbles to work with it. Store dressing and condiments in those pans and make that thing rotate!
This DIY would ensure that those condiments aren't hidden at the back and can be used regularly. You see, the marbles can do so much more and this DIY is so unique! 
The kitchen organizing hacks and DIYs are so efficient and they would ensure that the kitchen looks super clean and tidy. Try out your favorite ones and you would surely fall in love with the results! 
The post 21 Dollar Store Kitchen Organization Ideas appeared first on Offbeatbros.