7 genius garage storage ideas for a clutter-free space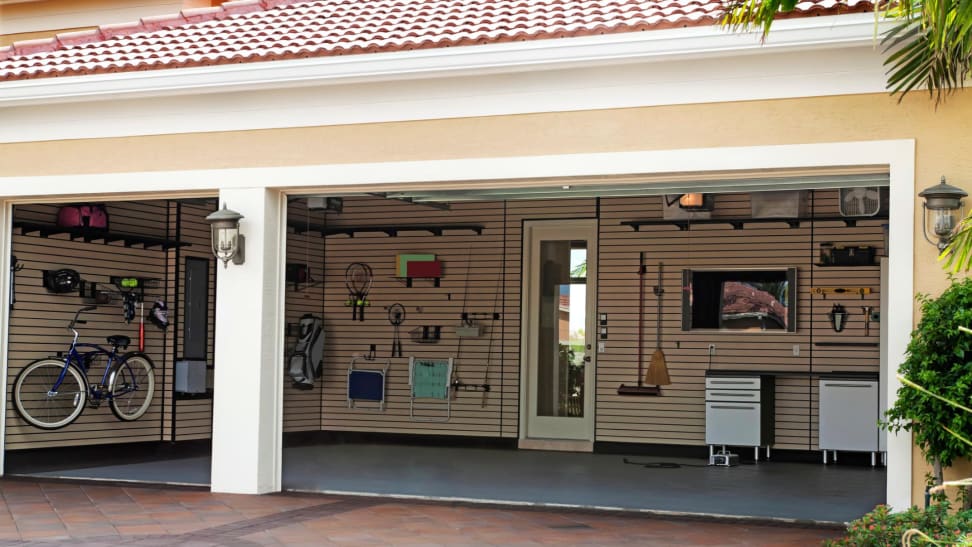 — Recommendations are independently chosen by Reviewed's editors. Purchases you make through our links may earn us a commission.
Your garage should be home to your vehicles. But that's often not the case—especially in homes without basements—as we accumulate piles of stuff over the years. Instead, hibernating tennis rackets and golf clubs, holiday decorations, tools, tents, beach chairs, and more tend to fill up the garage, and just like that it becomes a catchall for miscellaneous clutter that builds up fast.
Tidying up your garage is easy with the help of a few smart items. From all-in-one storage systems to quick organizational hacks, there are several strategies for turning a once cluttered garage into a clean and clear space.
1. Hang up tools, hoses, and more with a pegboard wall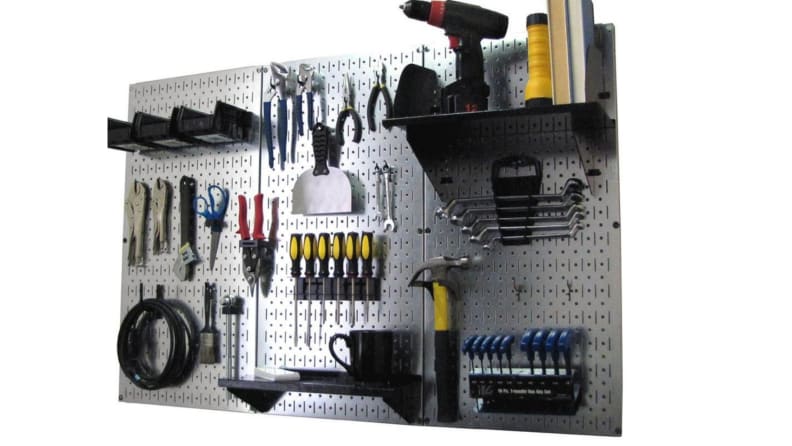 Not only do pegboard walls keep outdoor spaces like garden sheds free of clutter, but they can also upgrade your garage organization game.
Attach pegboard to empty garage walls to organize tools with accessibility in mind.
This steel pegboard sold at Wayfair comes in a variety of bold colors and accepts traditional peg hooks like these metal ones sold at Lowe's.
2. Overhead organization resolves garage clutter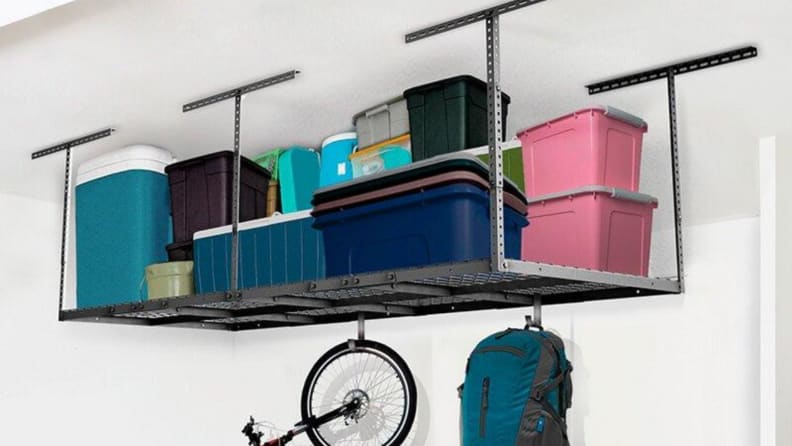 Not only can hanging storage solutions hold larger plastic bins, crates, bags, and other items that don't fit in cabinet storage, they clear up space across your garage floor.
Overhead ceiling organizers like this one sold at Wayfair are easy to install and typically hold a good amount of weight. This one holds up to 550 pounds and is loved by reviewers for its heavy-duty steel structure.
Some overhead organizers also come with built-in hooks, like this rack sold at Costco, that can hang rakes, gym bags, step stools, or strollers with ease.
3. Use cabinets to keep your items out of sight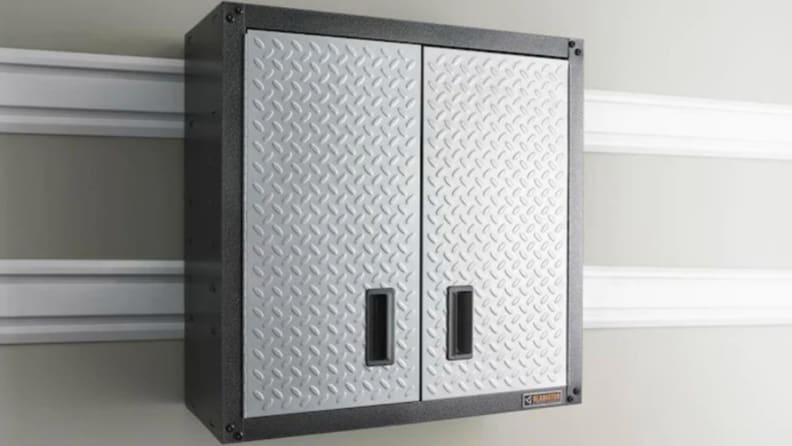 Your kitchen cabinets organize pots, pans, and plates, so why not use the same concept in your garage? Cabinets allow you to section off cleaning supplies, sports gear, and holiday decorations, all while keeping them out of sight and dust-free.
This steel, freestanding cabinet by Gladiator is loved by consumers for its large, open shelving unit that allows for total organizational freedom.
The same brand also has a matching, wall-mounted cabinet spacious enough to hold heavy pieces, like toolboxes.
4. Work and storage go hand-in-hand with a workbench
Workbenches serve as your at-home shop, used to complete home projects like car and bike maintenance, woodworking, and plant care. These working desks are meant to be a central point of your garage, serving as a spot where you have access to all the necessary tools or supplies for a job or hobby.
Look for a sturdy, stationary workbench—preferably one that can be fixed on the garage floor—with plenty of storage. Drawers, shelving, and built-in pegboards on a workbench will keep rogue screws and bolts, hammers, rulers, and pencils, close by.
This solid wood workbench sold at The Home Depot has over 200 5-star ratings for its high-quality construction and spacious desk space. It also features a metal pegboard for additional tool storage.
5. Turn bikes from awkward to accessible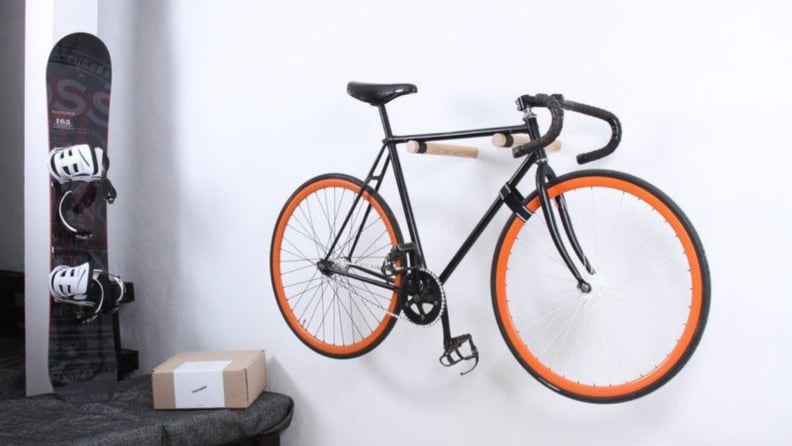 Bikes may be one of the most awkward items you need to store: They're tall and tippy, and they take up a lot of room. And if you or your family loves to bike, you've probably found yourself deep in the conflict between accessibility and organized storage.
Believe it or not, it is possible to store them neatly and use them regularly without them piling up or falling sideways into your car.
Bike racks are the answer.
This simple wall bike rack sold at Etsy takes up open wall space rather than floor space. Bikes are placed parallel to the wall using two wooden mounts, making it totally possible to park cars next to it without risking any scratches.
For something even higher off the ground, these bike lifts, sold at Amazon, easily mount to your garage ceiling, keeping work and walking spaces free and clear.
6. Make the most of space with magnetic strip boards
For frequently-used tools in the garage, install a magnetic tool holder—this is a heavy-duty version of a magnetic strip that can be attached to your wall by strong adhesive or nails.
Try mounting one by a workbench or even inside your cabinets to elevate your organization and make your best tools more accessible.
This magnetic tool holder sold at Ace Hardware can hold up to 20 pounds of tools with its strong magnetic force.
7. Go big with an all-in-one garage organizing system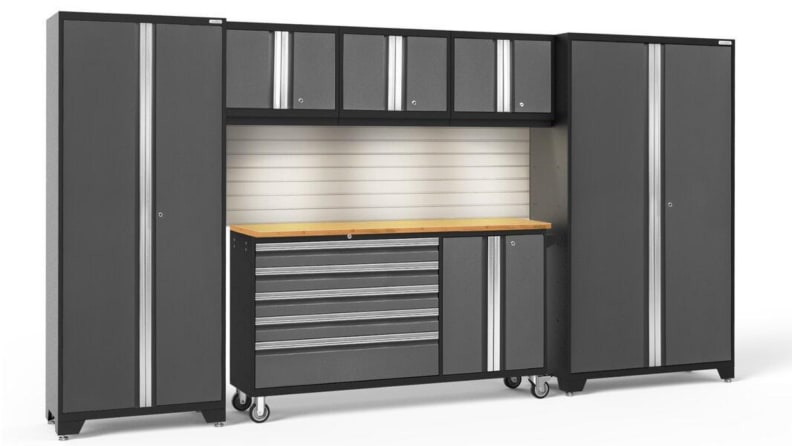 If you're looking to invest in a single storage option, we recommend purchasing an entire storage system, which comes complete with multiple cabinet pieces, pull-out drawers, and plenty of shelving.
These storage systems can also be customized based on your preferences. You can buy individual storage cabinets, or the complete set. This particular set from Husky can hold up to 5,540 pounds of equipment, power tools, and more, and comes with adjustable metal shelving.
Likewise, this utility set from The Container Store comes with all the bells and whistles you need to create an organized space. It offers plenty of shelving, mesh drawers, utility hooks, and more, and it even features a built-in workbench ideal for the gardener who is always busy tending to and potting new plants.
---
The product experts at Reviewed have all your shopping needs covered. Follow Reviewed on Facebook, Twitter, and Instagram for the latest deals, product reviews, and more.
Prices were accurate at the time this article was published but may change over time.