Frog Perler Beads (35+ Free Patterns!)
Do you love amphibians? Get a big collection of frog perler beads. You're going to love these patterns, fun and easy for kids or adults.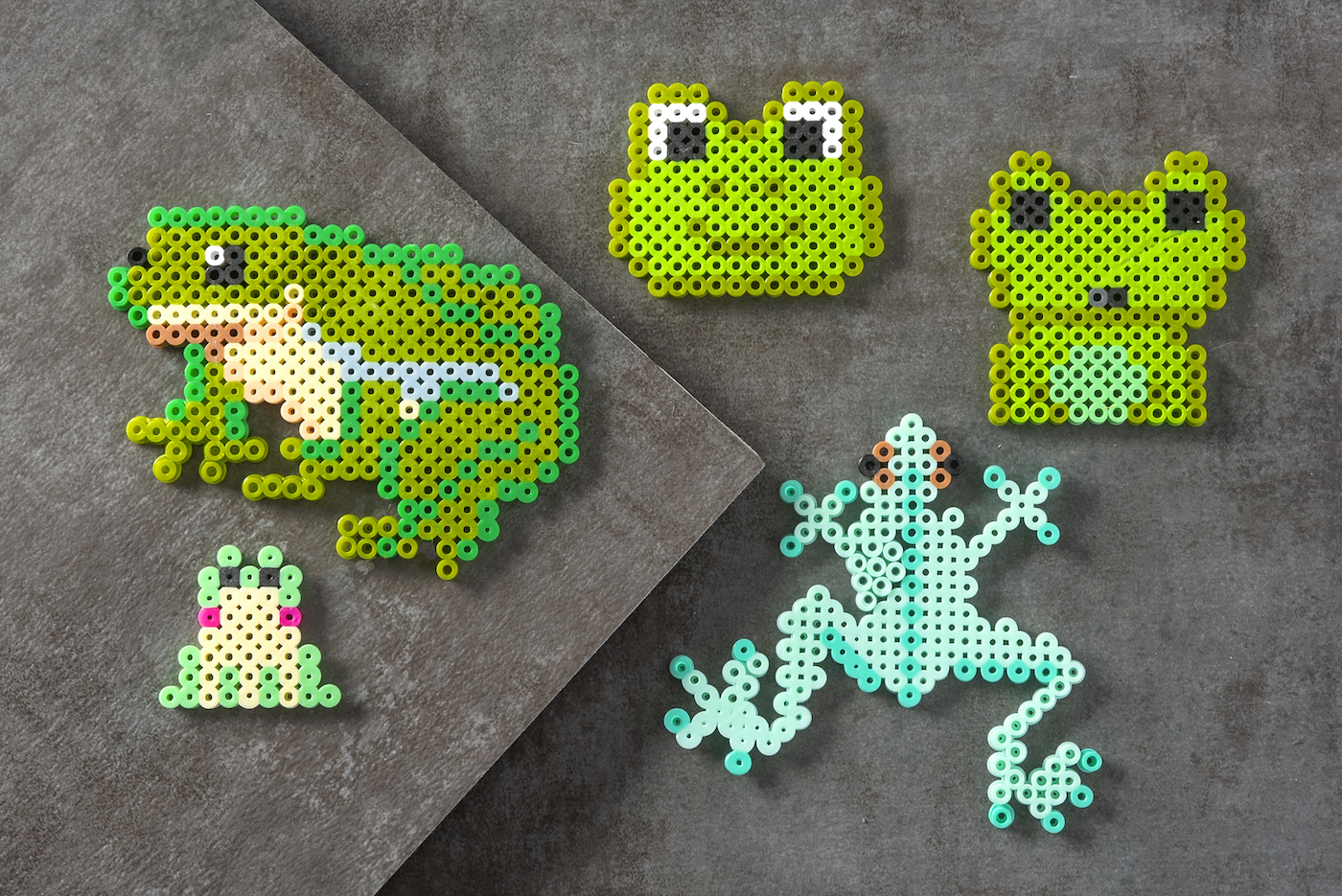 I'll be honest, I haven't seen that many frogs in my lifetime. Of the animal kind of course, heh heh. It turns out they are some pretty cool creatures!
I feel like frogs tend to hide most of the time, which makes sense due to pretty much everything else being a predator. Or maybe they are just hiding from me. Which would also make sense.
Though I just want to inspect them, not cause any harm. I find tiny amphibians fascinating! My niece studied them in school, and as a result we decided to do some frog perler beads.
She shared some interesting facts with me during our crafting. Things you might not know.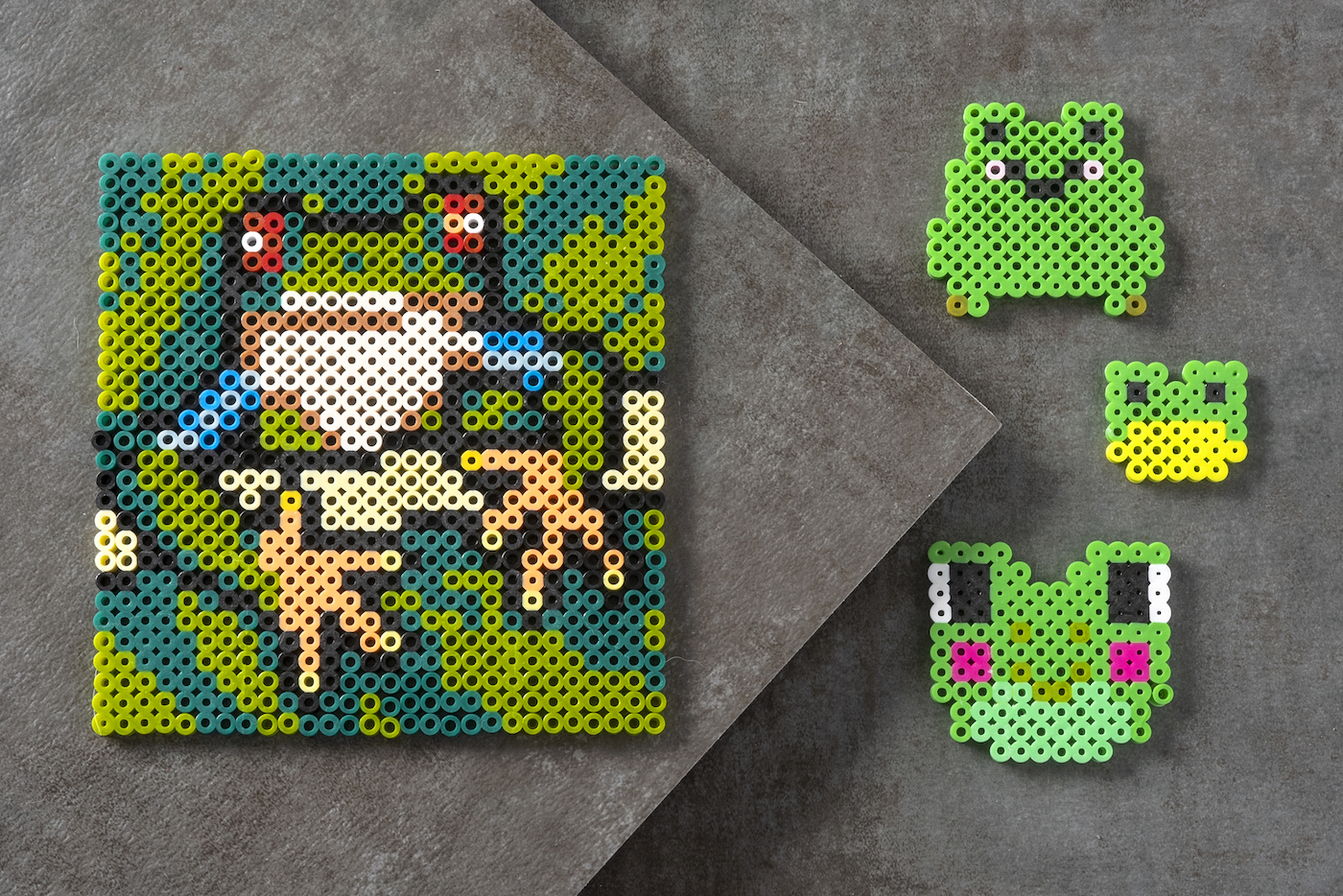 For example, there are over 5,000 species of frogs on every continent except Antarctica. The smallest frog is from Papua New Guinea and is .3 inches (7.7 mm), which the largest is 12 inches (over 30 cm).
The thought of a foot-long frog hopping at me made me gag a little bit, to be honest.
Not that a foot-long frog would do anything to me. They eat bugs! Did you know that when a frog blinks, the eyeballs help push the food down its throat?
But that isn't their only feat. Some species can regenerate lost limbs, which makes them interesting to study. Also some species of frogs leap up to 20 times their own body length. This would be equivalent to an average human jumping nearly 30 meters (or 100 feet)!
The final fact I learned about frogs is that they don't just breath through their lungs. They breathe through their skin. This is known as cutaneous respiration. Their skin needs to stay wet to facilitate this, which is why many frogs live in or near water.
See – I told you they were cool!
Whether you love animals, or are doing a homeschool unit on amphibians, or you just want to try some new patterns – you're going to love these frog perler beads.
Perler beads are recommended for ages six and up, so this is a very fun craft to try with your elementary age kids. All children seem to love perler beads (also known as hama beads, fuse beads, or melty beads). But don't be shy – adults love them too!
Tips for Using Perler Beads
Before we get into the frog perler bead patterns, I want to review a few basics of using fuse beads to make sure you get the best results. If you don't want the tips, scroll down to the bottom to get the patterns and tutorial.
Remember that the overall goal is to melt the beads together on both sides while still leaving the holes open. Here's how you achieve success (with a rainbow as an example).
Use Ironing or Parchment Paper
Place ironing paper or parchment paper over the beads on the pegboard. Be gentle so you don't disturb the beads underneath.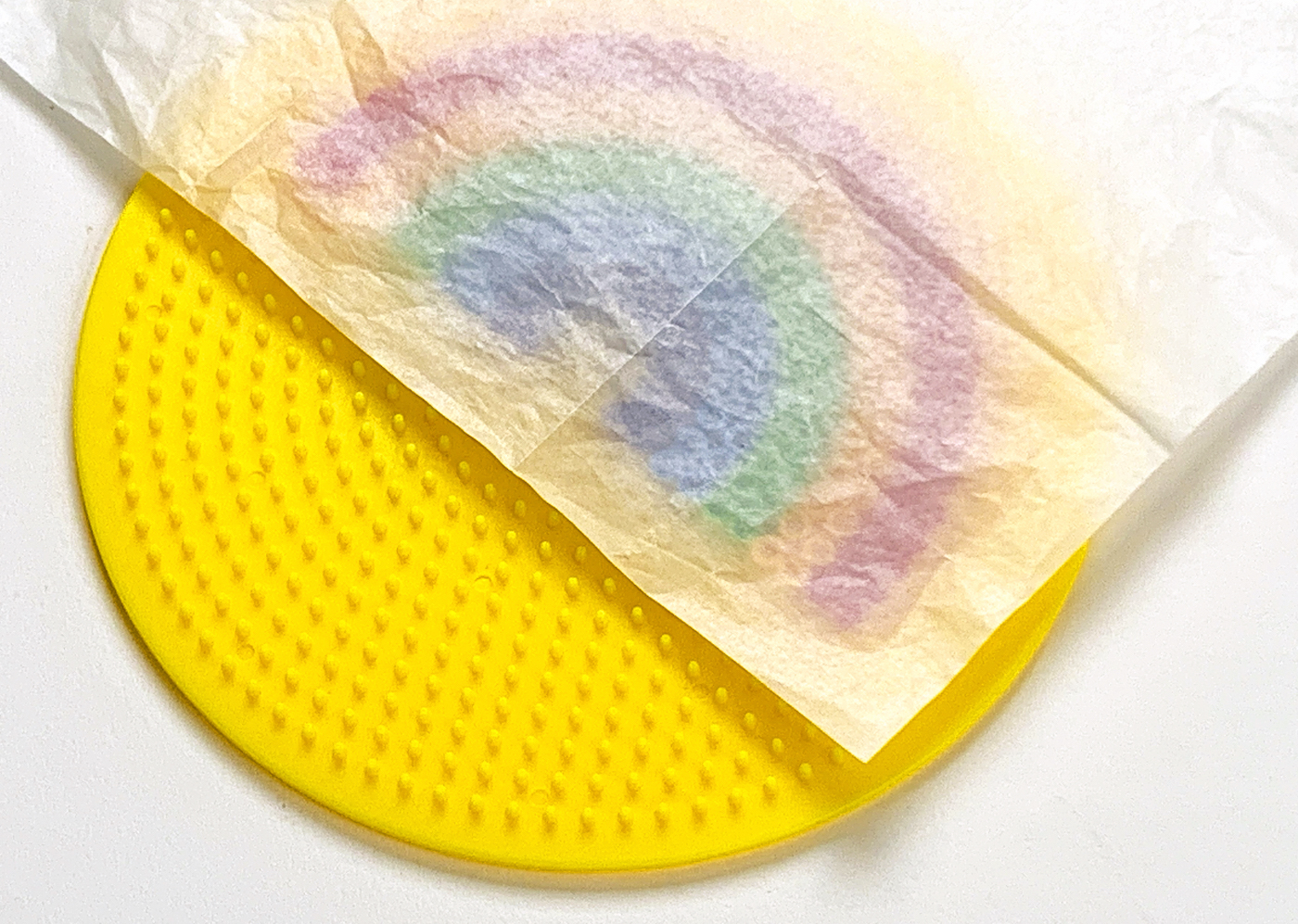 Heat your iron to the medium setting (no steam). In a circular motion, begin to iron the project. Don't press down too hard with the iron. Keep the iron moving in small circles, without stopping, until melted.
When ironed properly, the beads will still have an open center. Check and make sure your edges are melted. Let the design cool on the pegboard.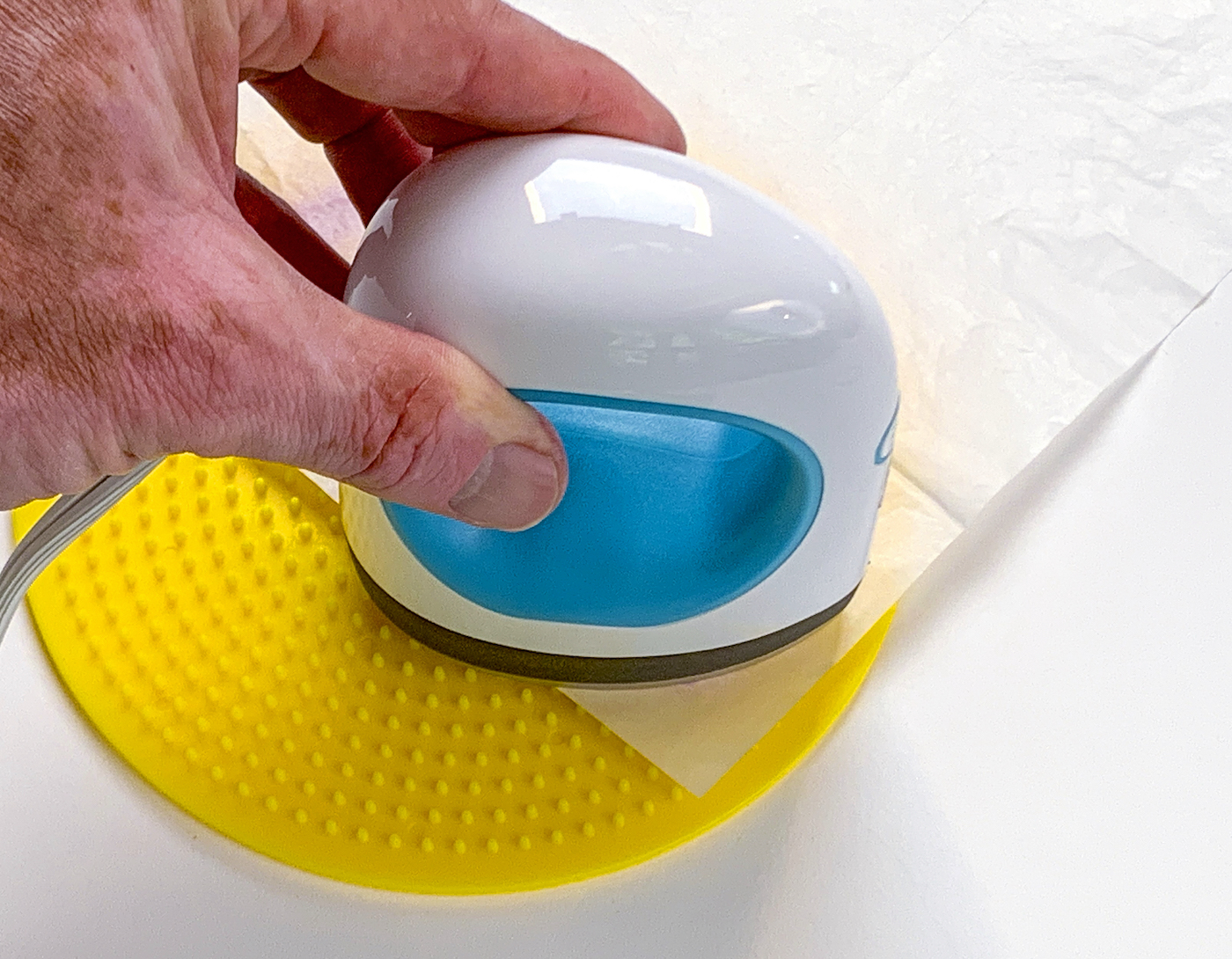 Note: BE CAREFUL about lifting up the paper while you're ironing! If you want to check, carefully peel back paper around the edge of your design and see if all the beads are melted.
If you lift the paper up quickly and there are a lot of unmelted beads, they will easily fall off or go flying and you may be forced to start over. Sometimes the edges need more time so when you check, just check the edges and peel paper back slowly.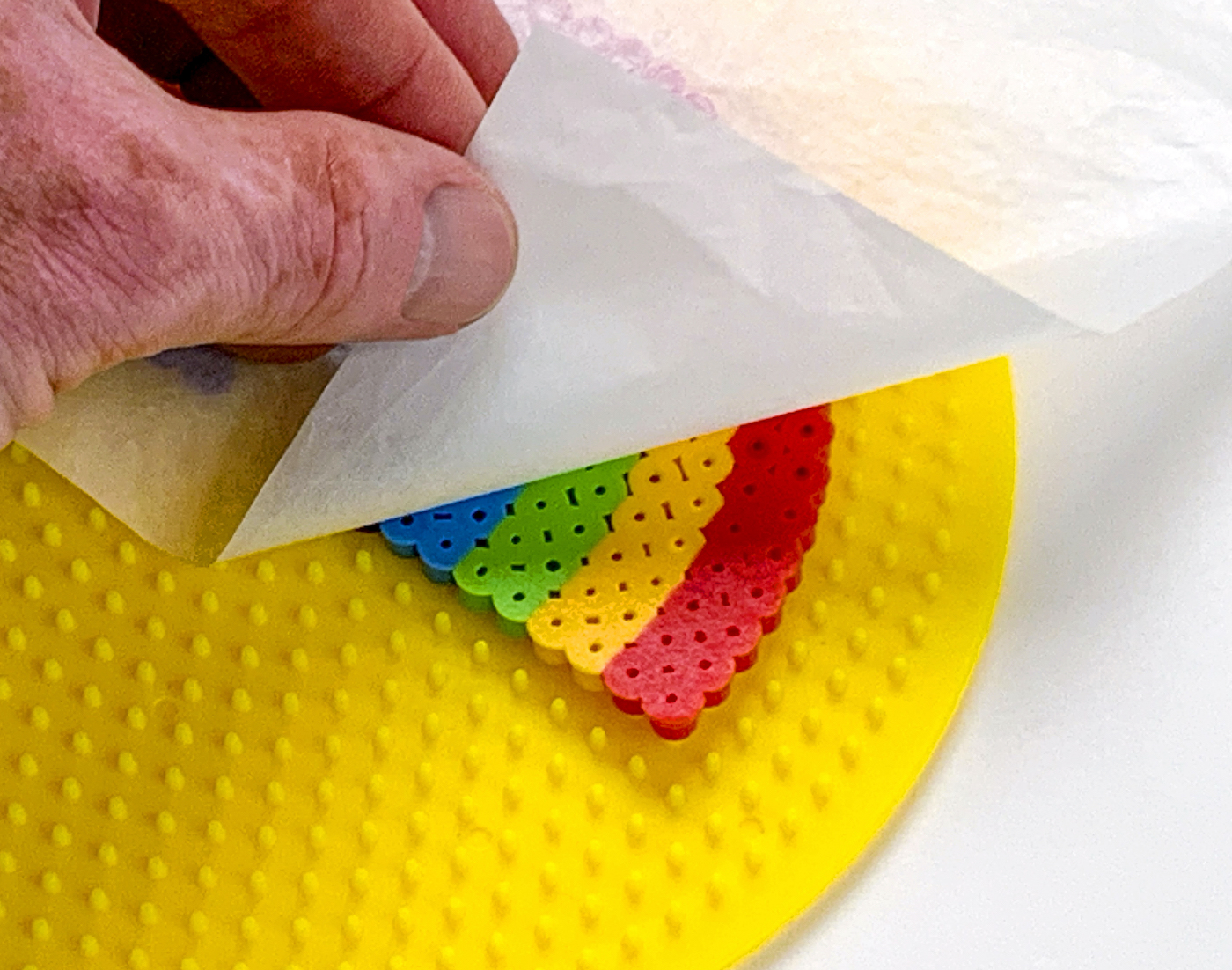 Another Note: some beads melt faster than others (clear melts faster than white, for example). So some holes might be larger than others. It's okay! That's part of the look of the project.
Iron the Other Side
Remove the bead design from the pegboard. Flip it over to the non-melted side and repeat the fusing process.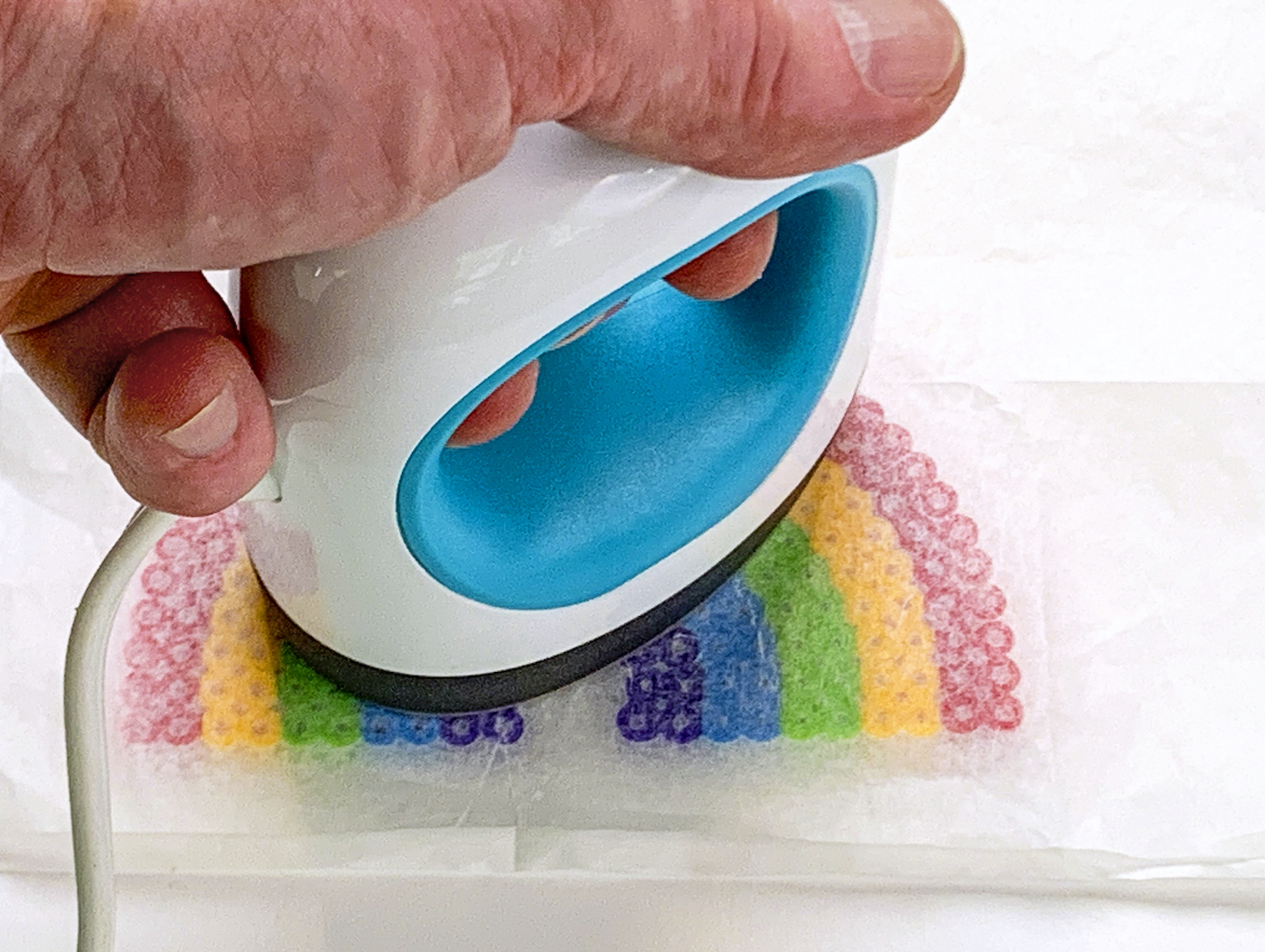 Remove the Paper
Let cool completely and remove the paper again (which is reusable). Some people pull the paper off after they iron the first side, but I just wait until the end and peel off both pieces. It's up to you!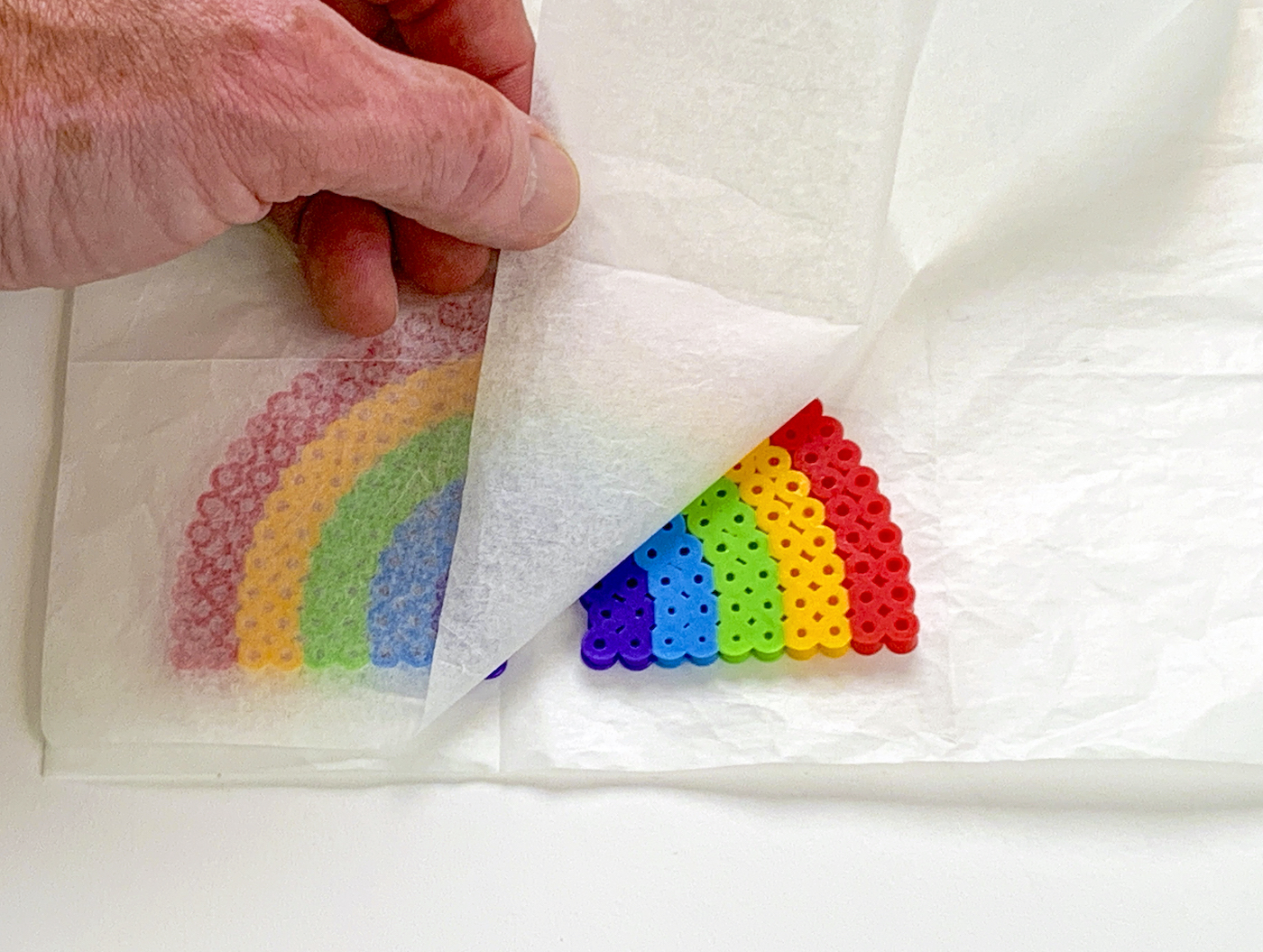 Now that you've had a refresher on how to melt the beads, you can get the patterns! Keep on reading.
---
Frog Perler Beads
Make sure to check out these notes:
A few of these patterns are larger than a 29 x 29 pegboard, so you'll either need a extra large pegboard (49 x 69 tall) or to put multiple square peg boards together to form a larger "canvas."
You'll see a couple of the pattern backgrounds below aren't white – that's simply to give contrast so you can see where all the white beads should go. You don't need to add the background (but you can if you want to).
Clear beads come in handy if you want to attach more 'flimsy' areas of the patterns like eyes and toes. You'll see what I mean below.
Don't stick to my colors necessarily. Customize with your favorite color beads. Frogs can be green, brown, or even blue.
I typically start with easier, smaller patterns then move on to the more difficult ones. There are several different versions of frogs with larger patterns; just keep scrolling!
Army of Amphibians
Get 13 patterns for tiny frogs! These are great for jewelry, keychains, magnets and more.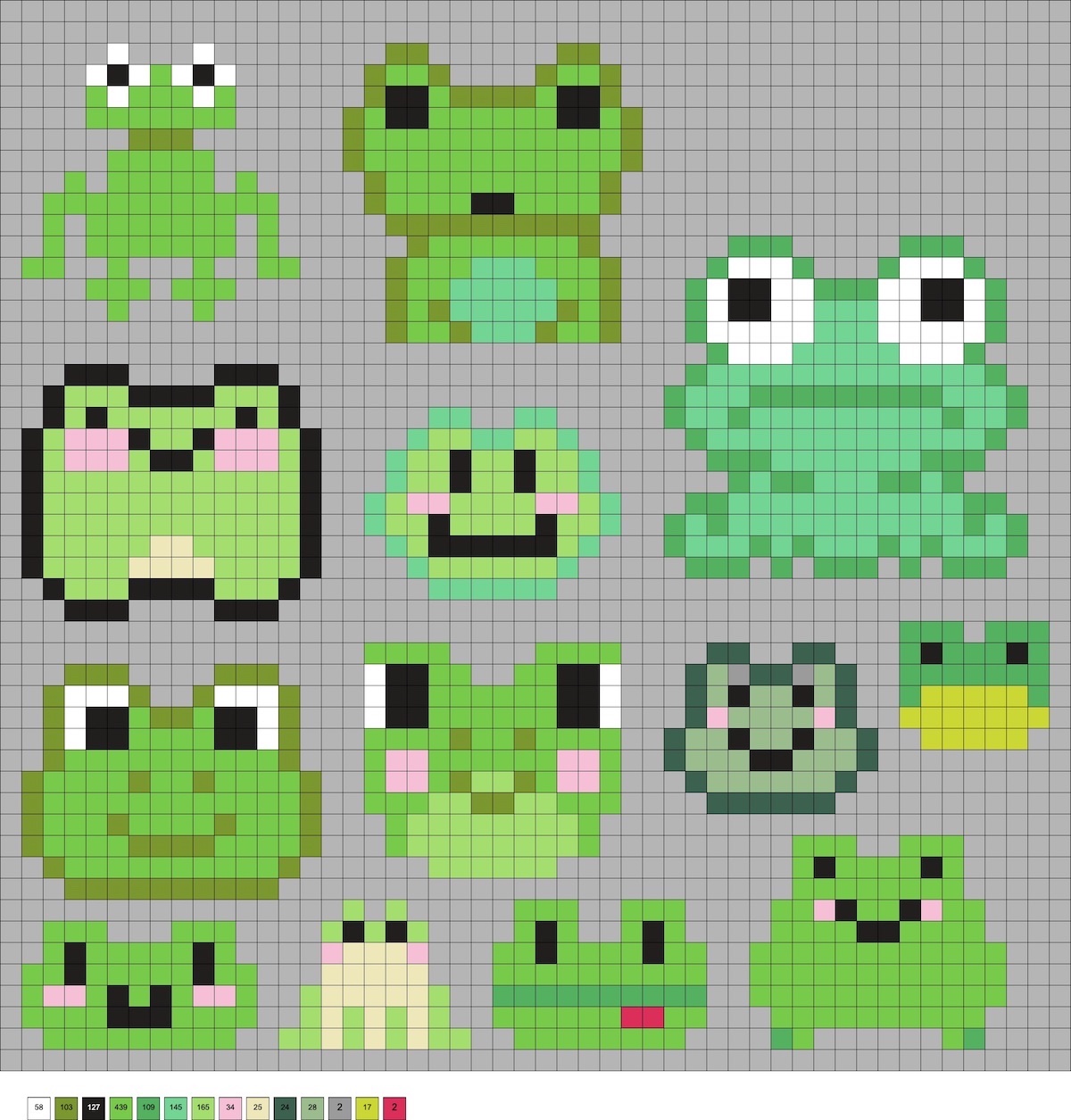 ---
Tiny Toad
This pattern uses 80 dark spruce, 133 kiwi lime, 1 white, and 26 sherbert beads.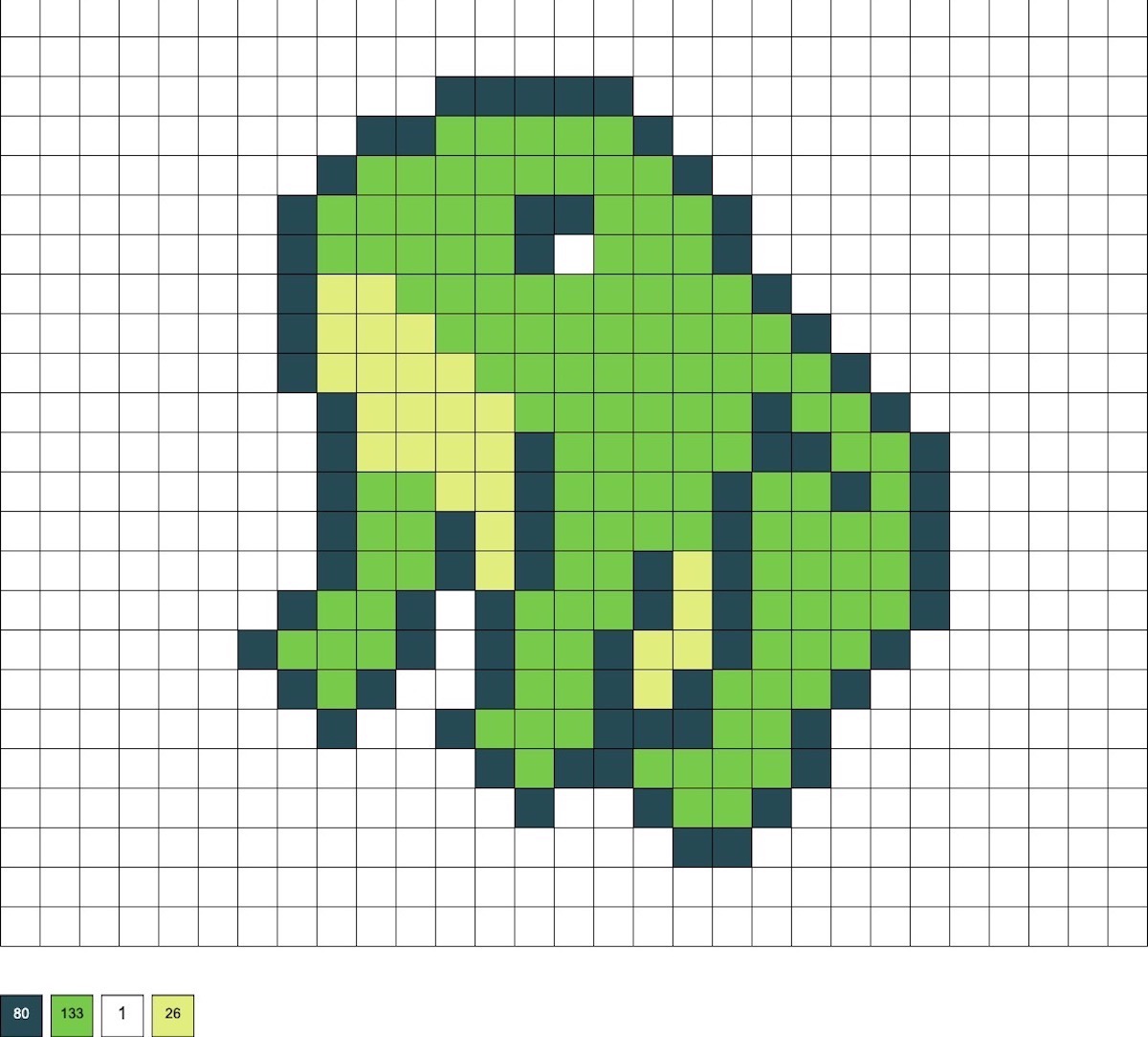 ---
Frog Head
This pattern uses 104 kiwi lime, 6 white, 16 black, 18 blush, 2 dark green, and 71 yellow beads.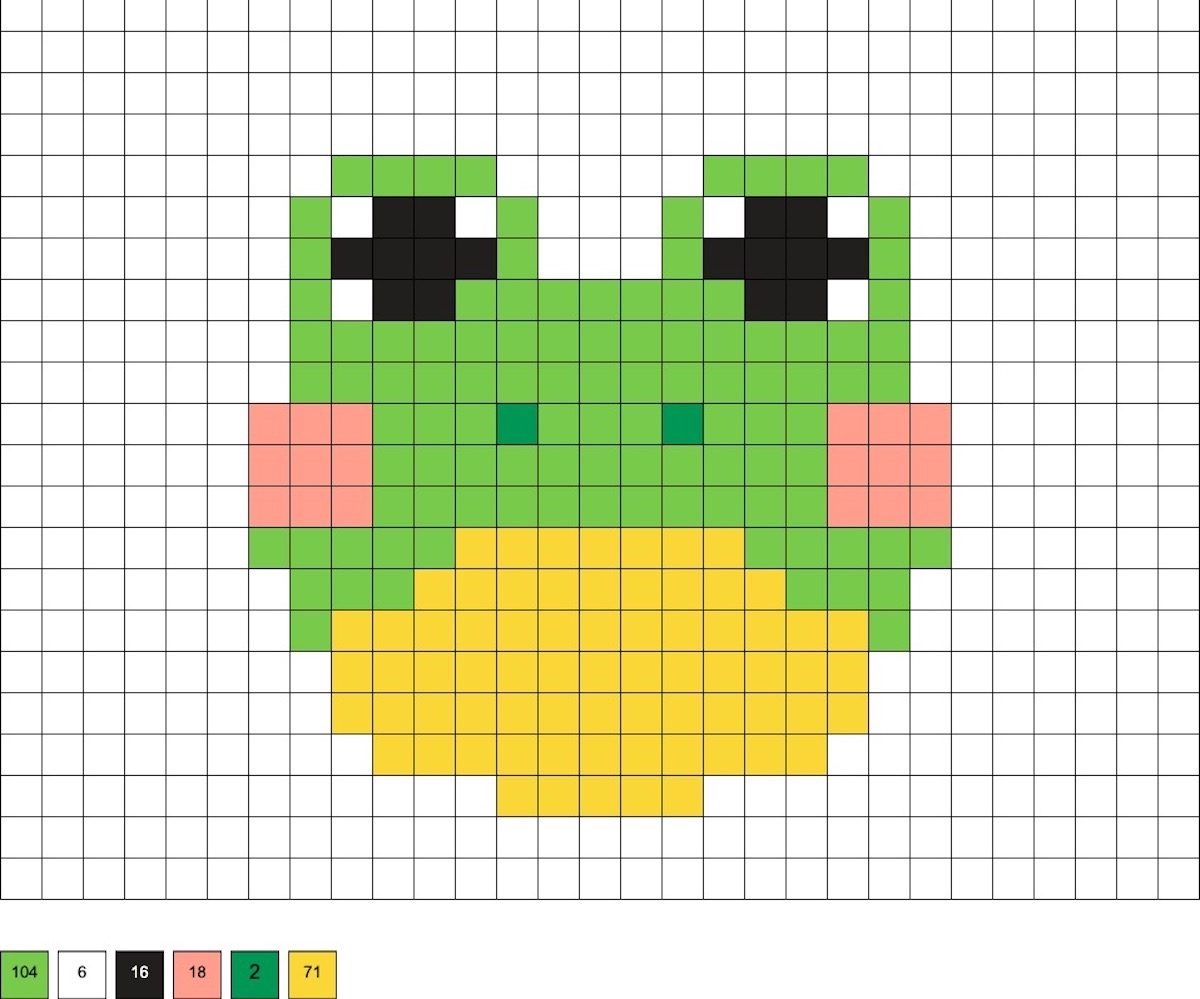 ---
Medium Frog
This pattern uses 97 dark green, 20 clear, and 2 black beads.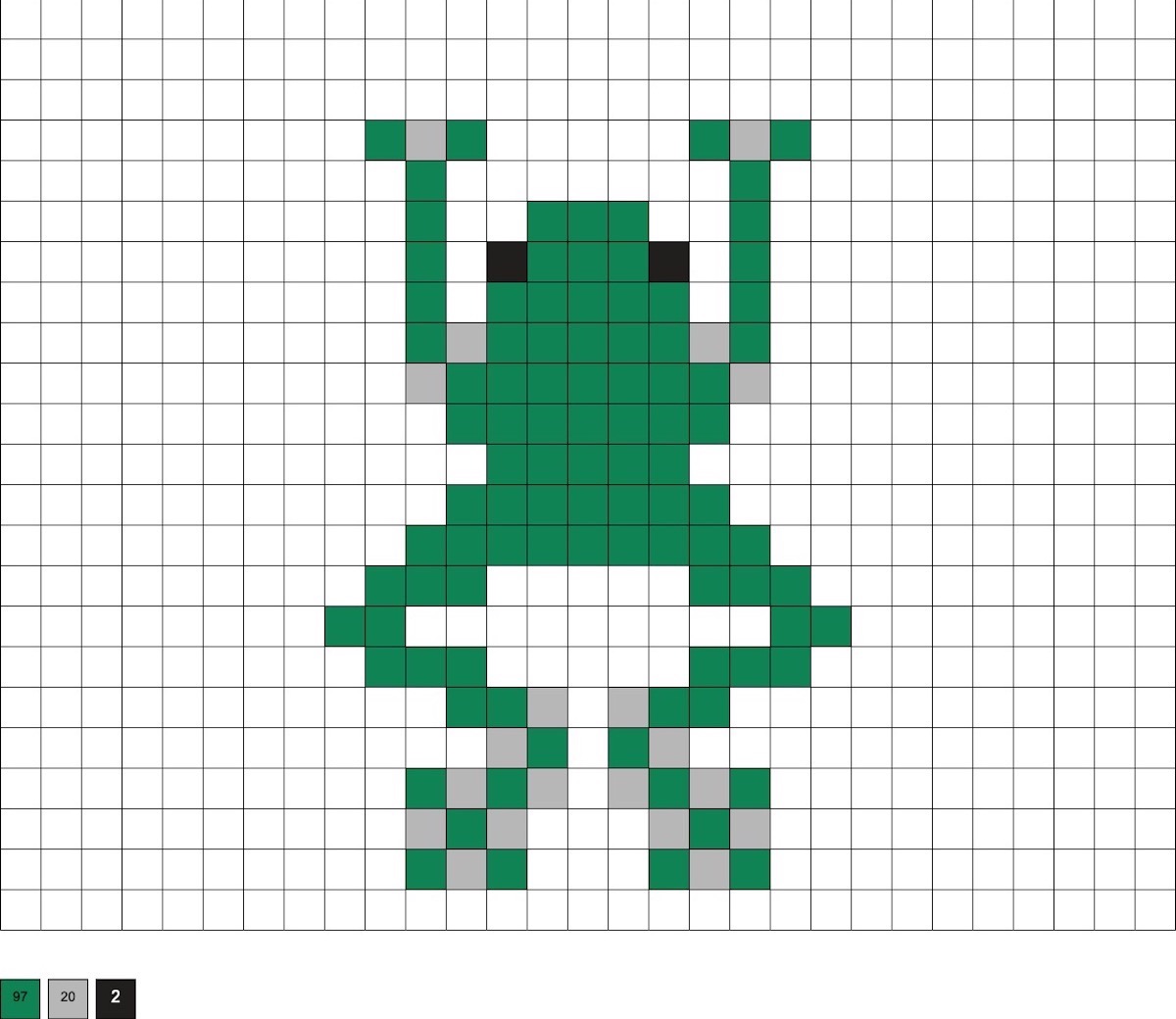 ---
Mario Frog
This pattern uses 102 black and 112 dark green beads.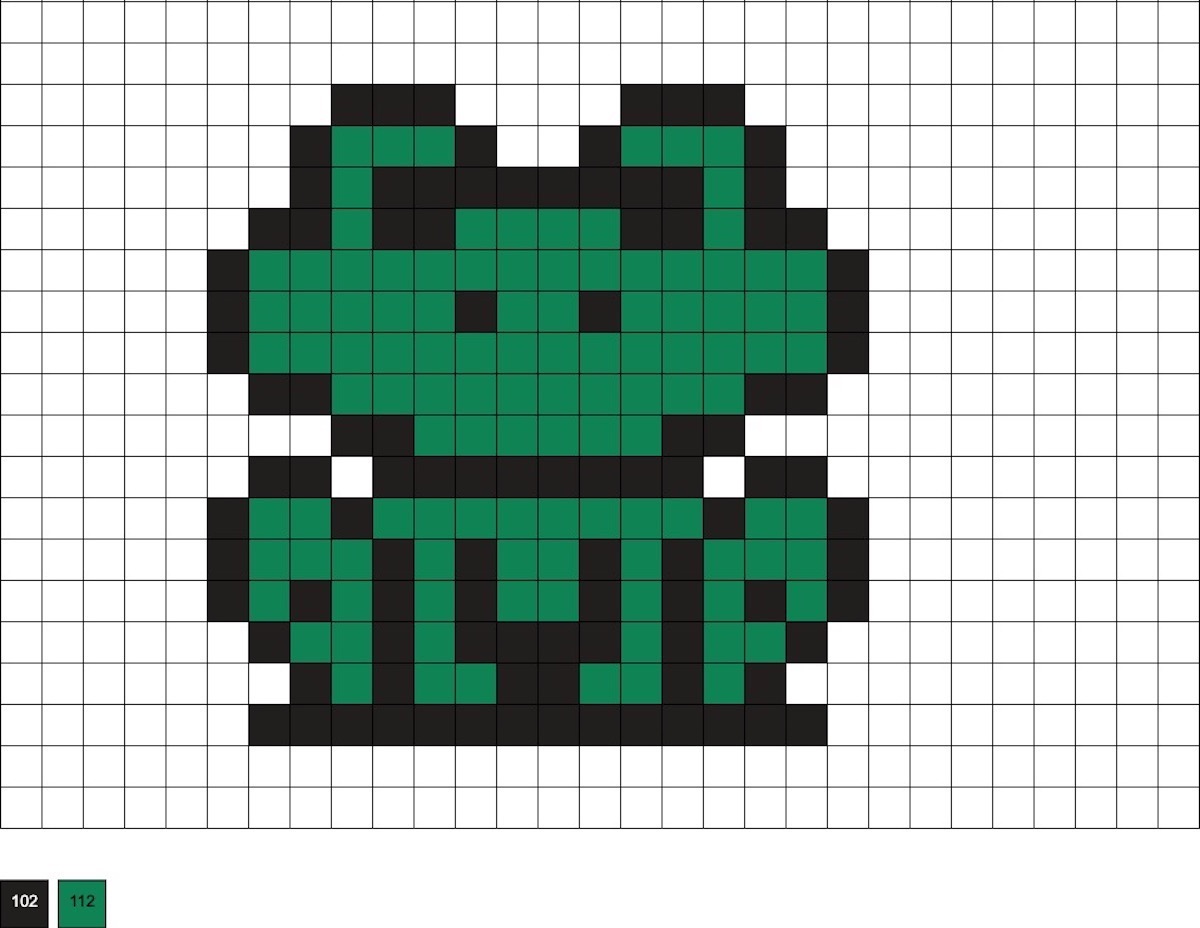 ---
Sitting Kawaii Frog
This pattern uses 120 black, 192 bright green, 2 white, and 4 flamingo beads.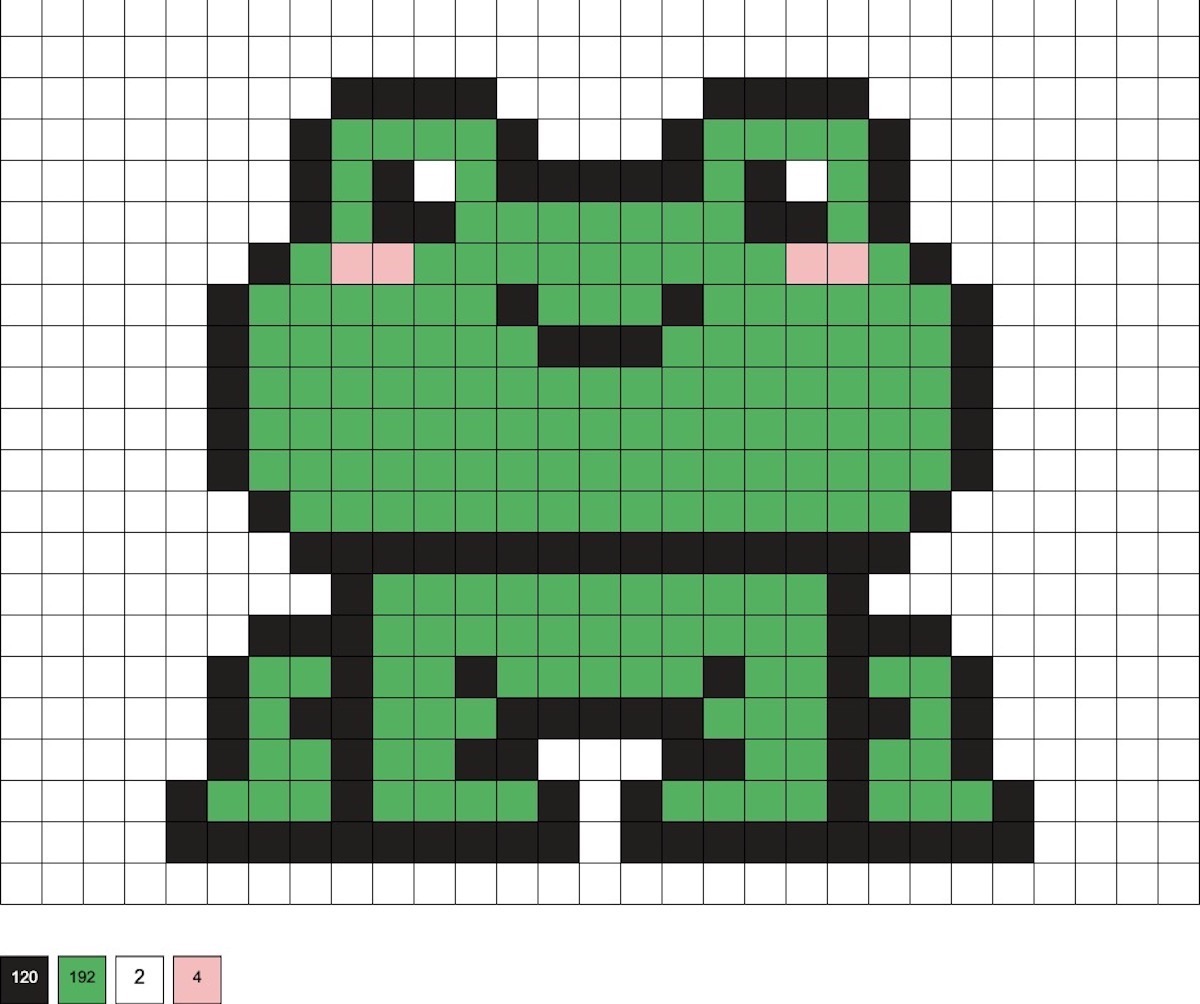 ---
Sticky Fingers
This pattern uses 30 bright green, 117 pastel green, 4 light brown, and 2 black beads.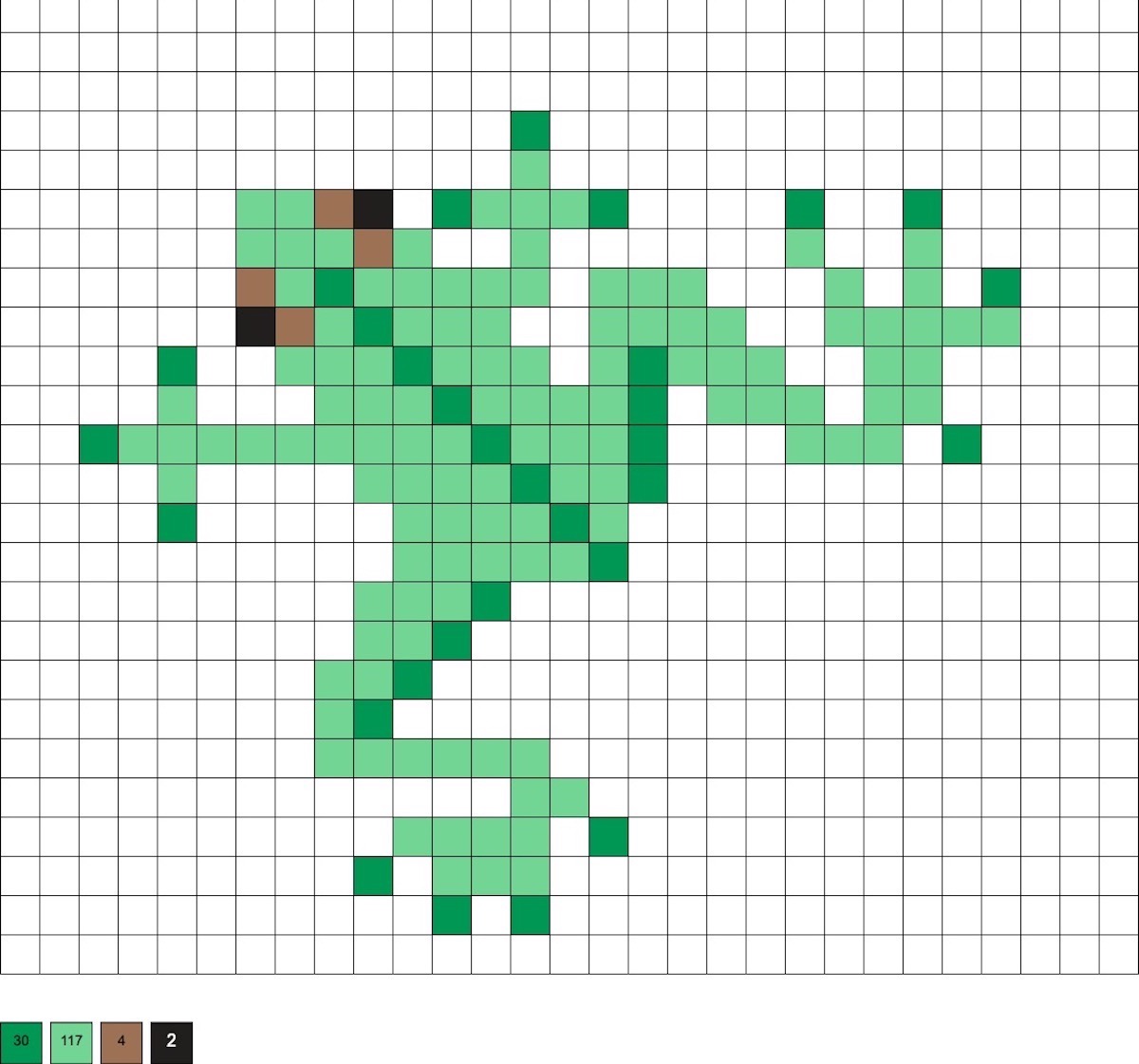 ---
Cute Frog with Big Eyes
This pattern uses 300 pastel green, 16 white, 20 black, 8 light pink, and 126 cream beads.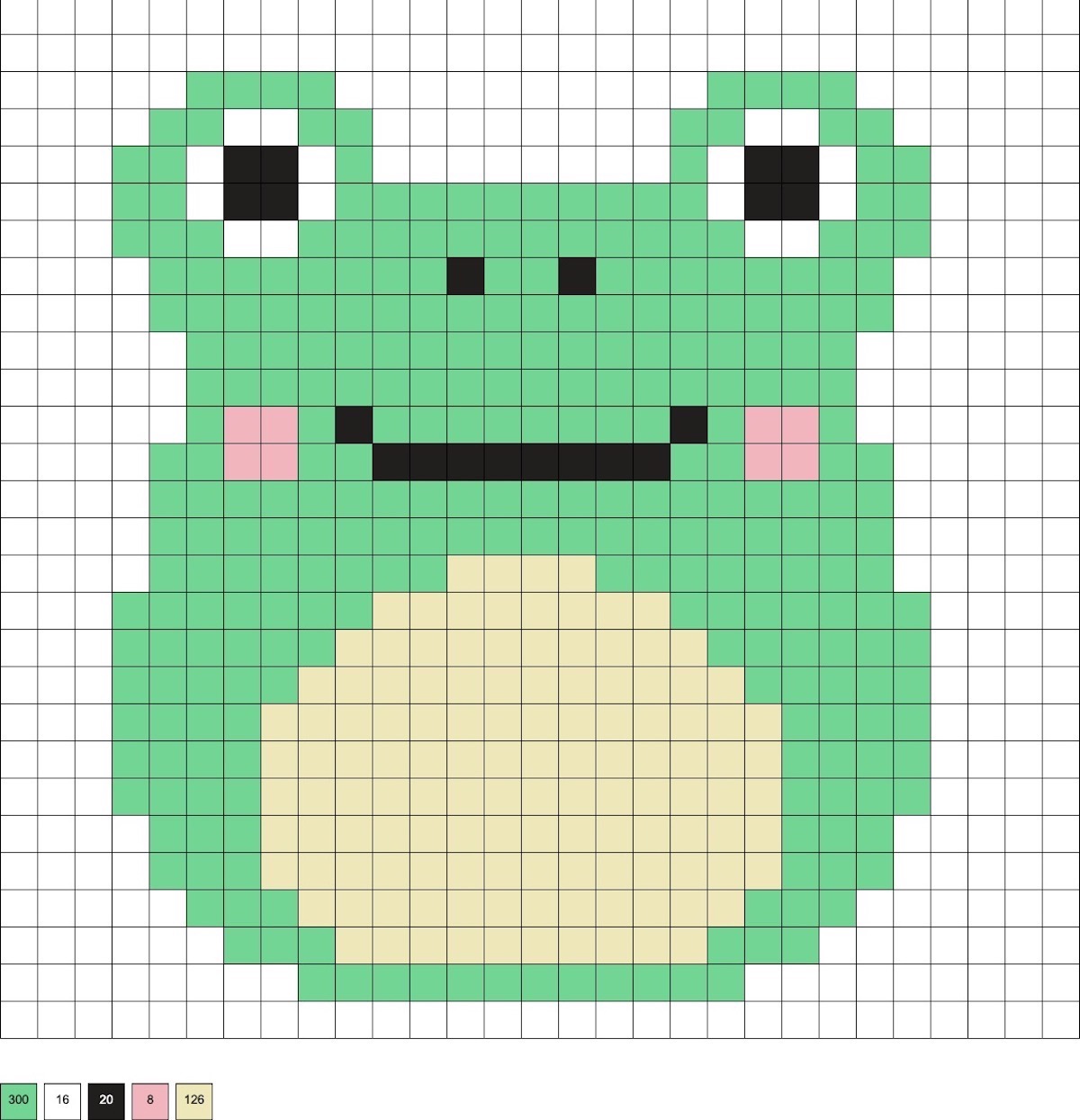 ---
Small Frog with a Crown
This pattern uses 14 gold, 58 teal, 164 pastel green, 18 black, 4 white, 12 flamingo, and 72 bright green beads.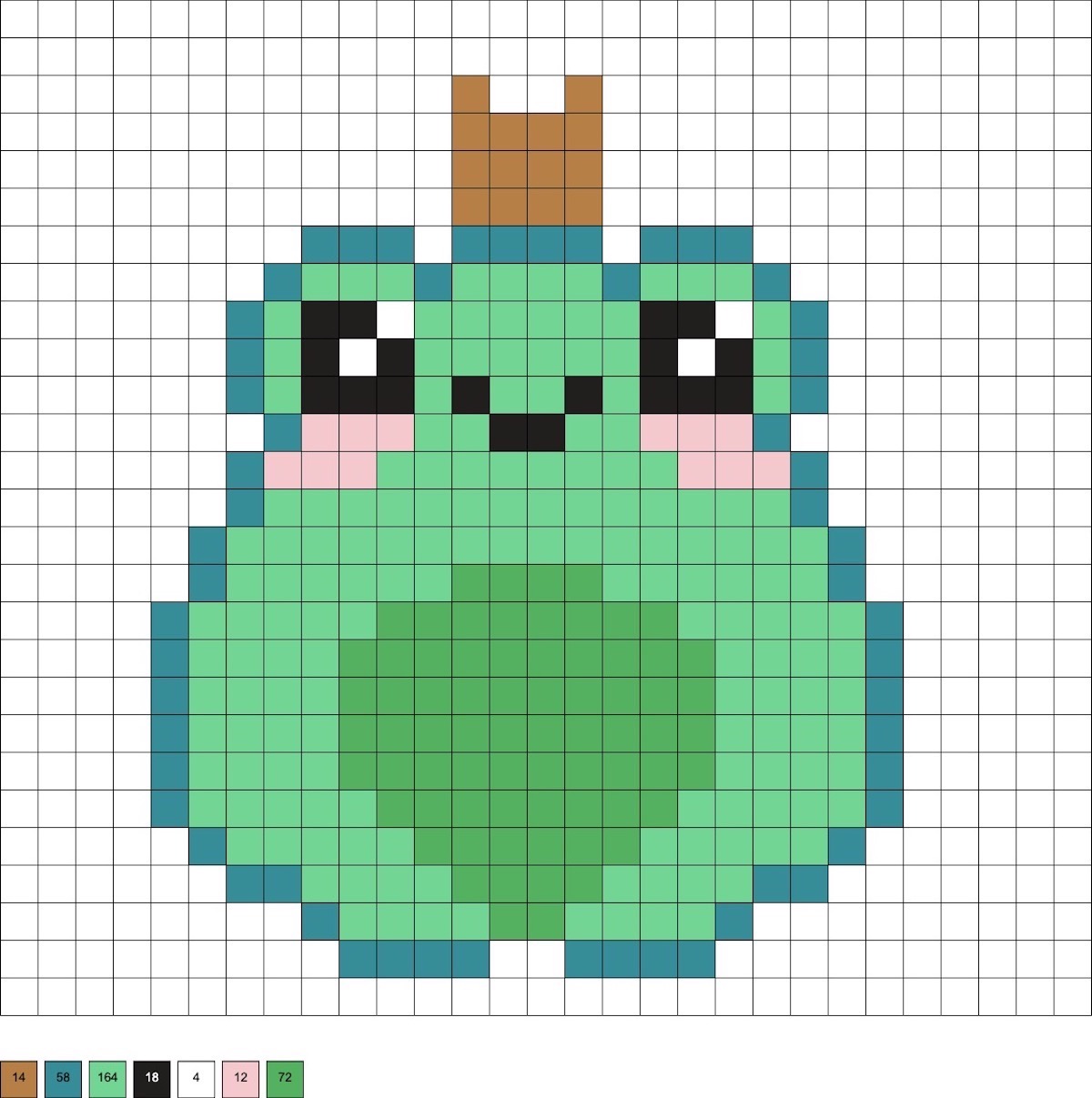 ---
Frog with Bow Tie and Frog with a Balloon
These patterns use 94 black, 75 magenta, 26 flamingo, 235 bright green, 5 white, 6 brown, 60 pastel green, 3 dark green, 1 tan, and 1 cheddar beads.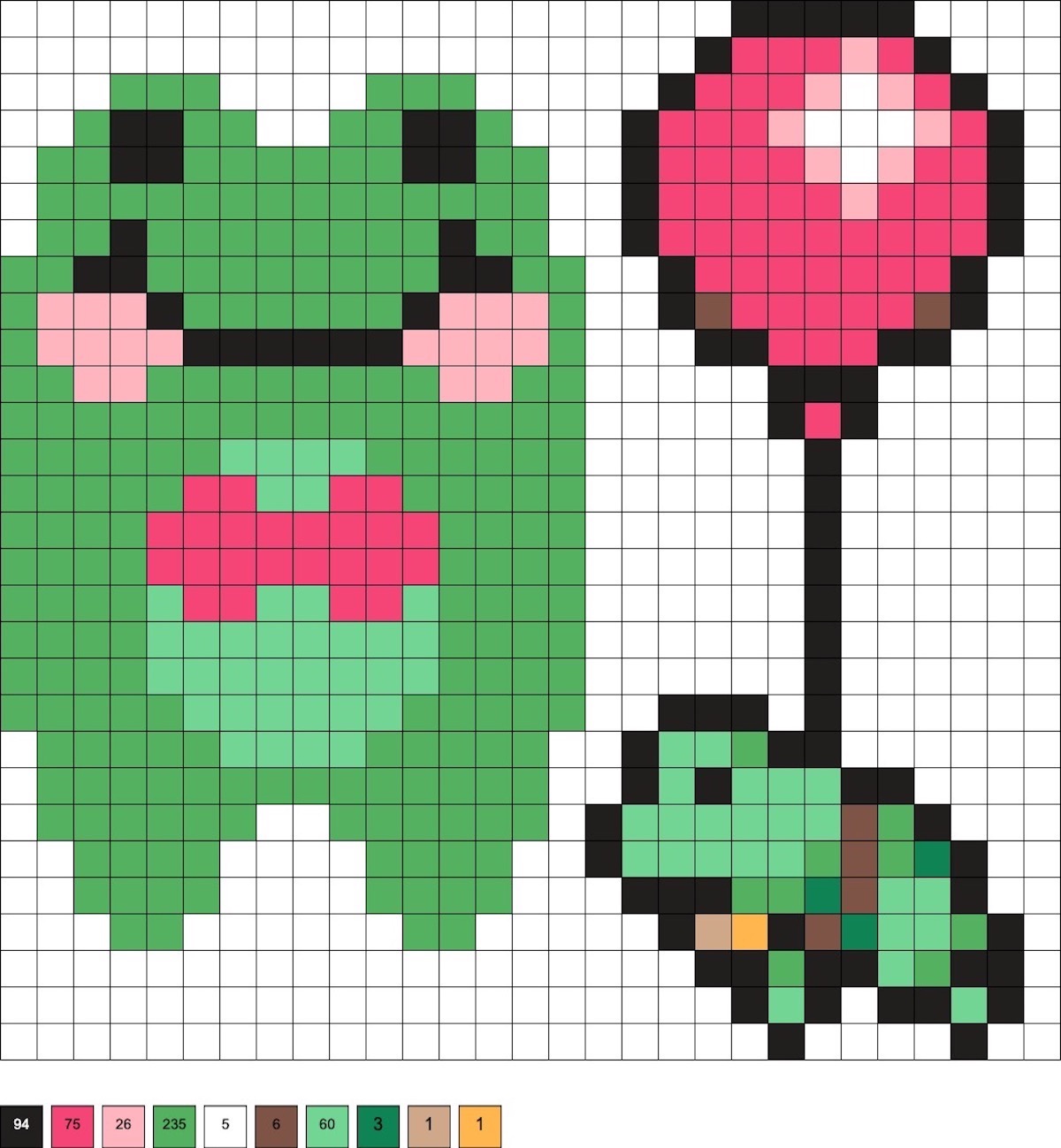 ---
Super Mario Frog Suit
This pattern uses 124 black, 113 bright green, 10 white, and 36 peach beads. Get more Super Mario perler beads.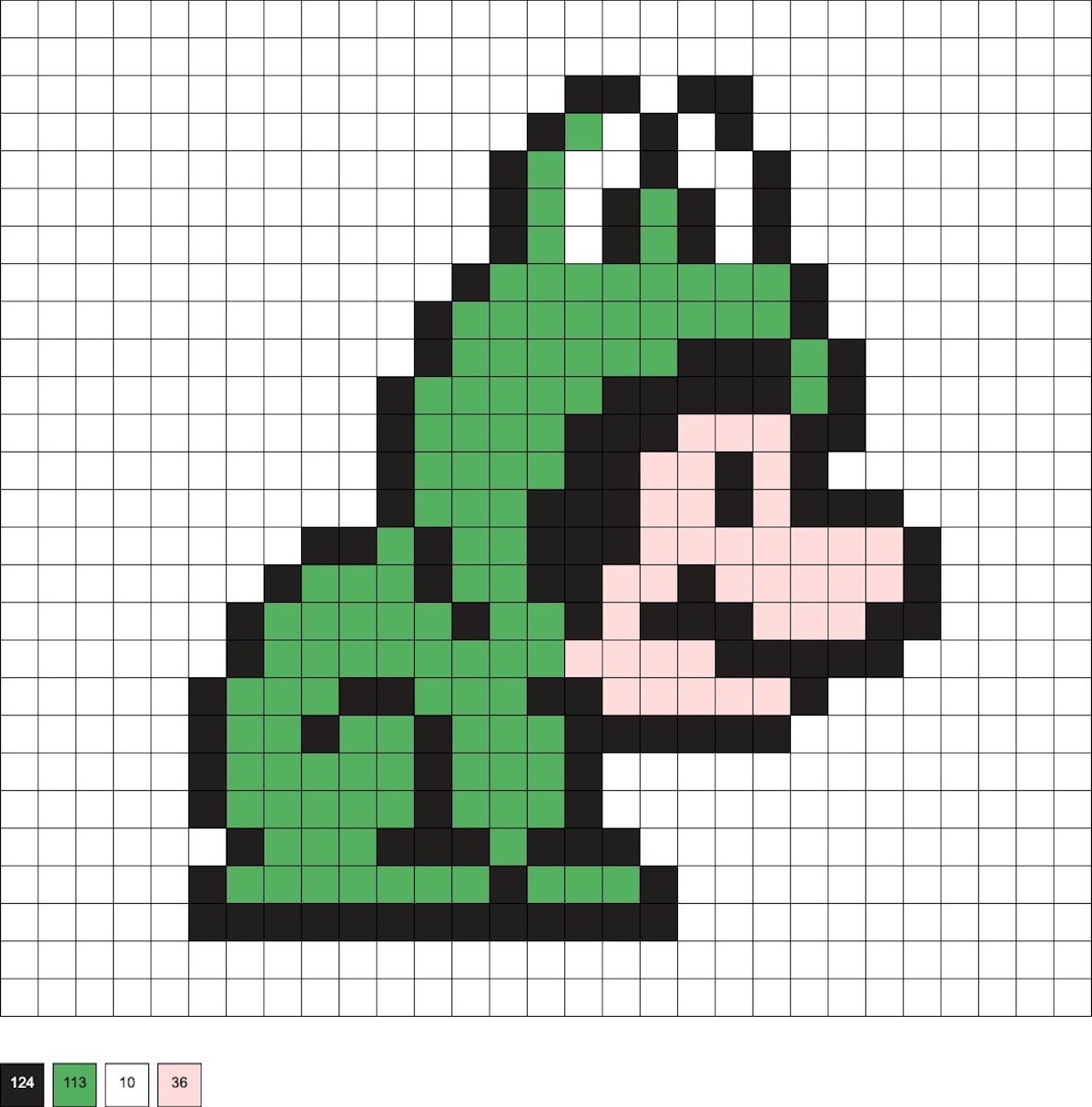 ---
Frogs with Crowns
The frog on the left uses 54 clear, 49 kiwi lime, 4 black, 11 red, 11 gold, and 53 white beads. The frog on the right uses 53 white, 10 black, 19 slime, 8 pastel yellow, 9 yellow, 29 dark green, and 54 bright green beads.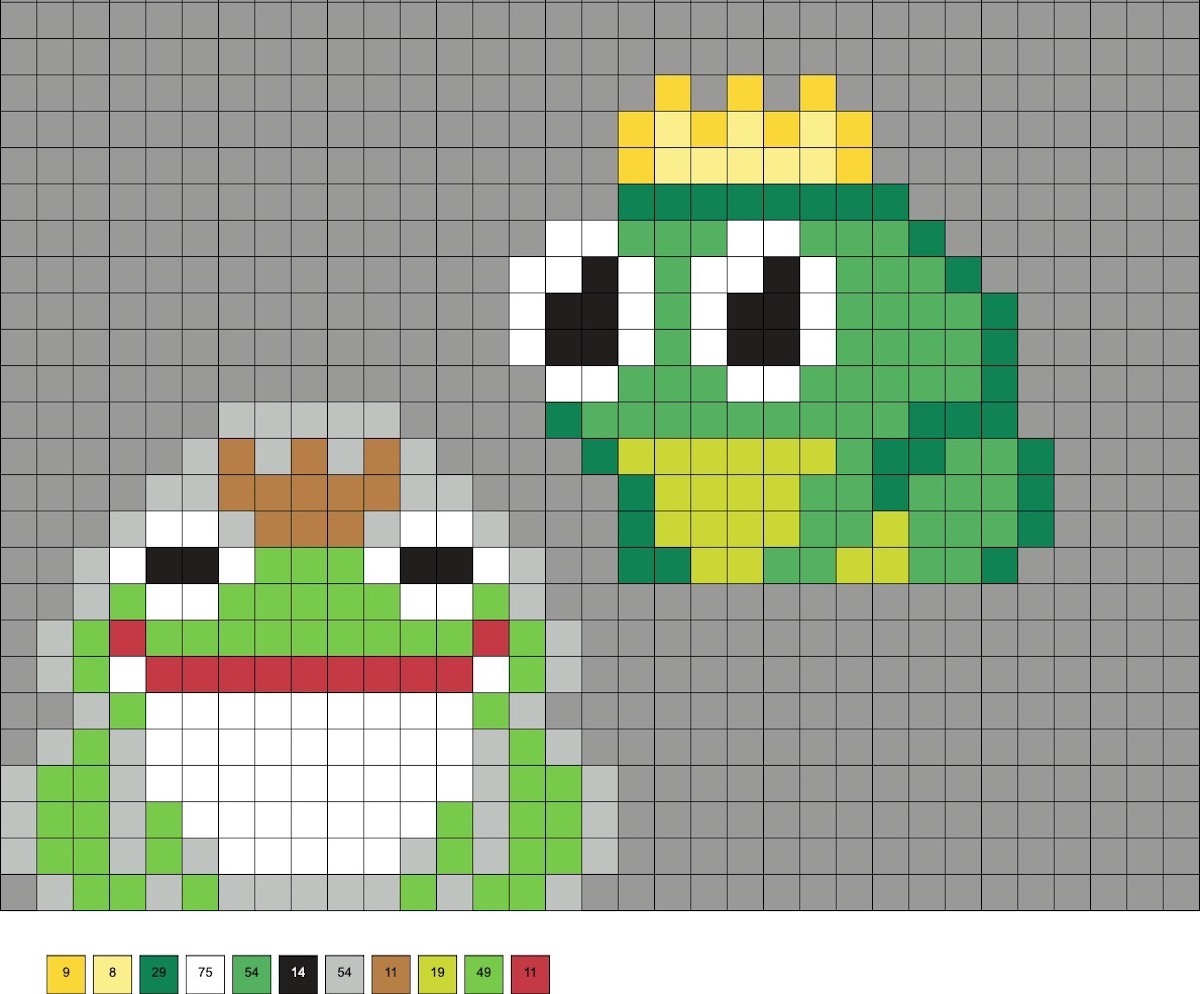 ---
Kermit the Frog
This pattern uses 191 black, 23 white, 183 kiwi lime, 30 red, 10 pink, and 90 sherbert beads.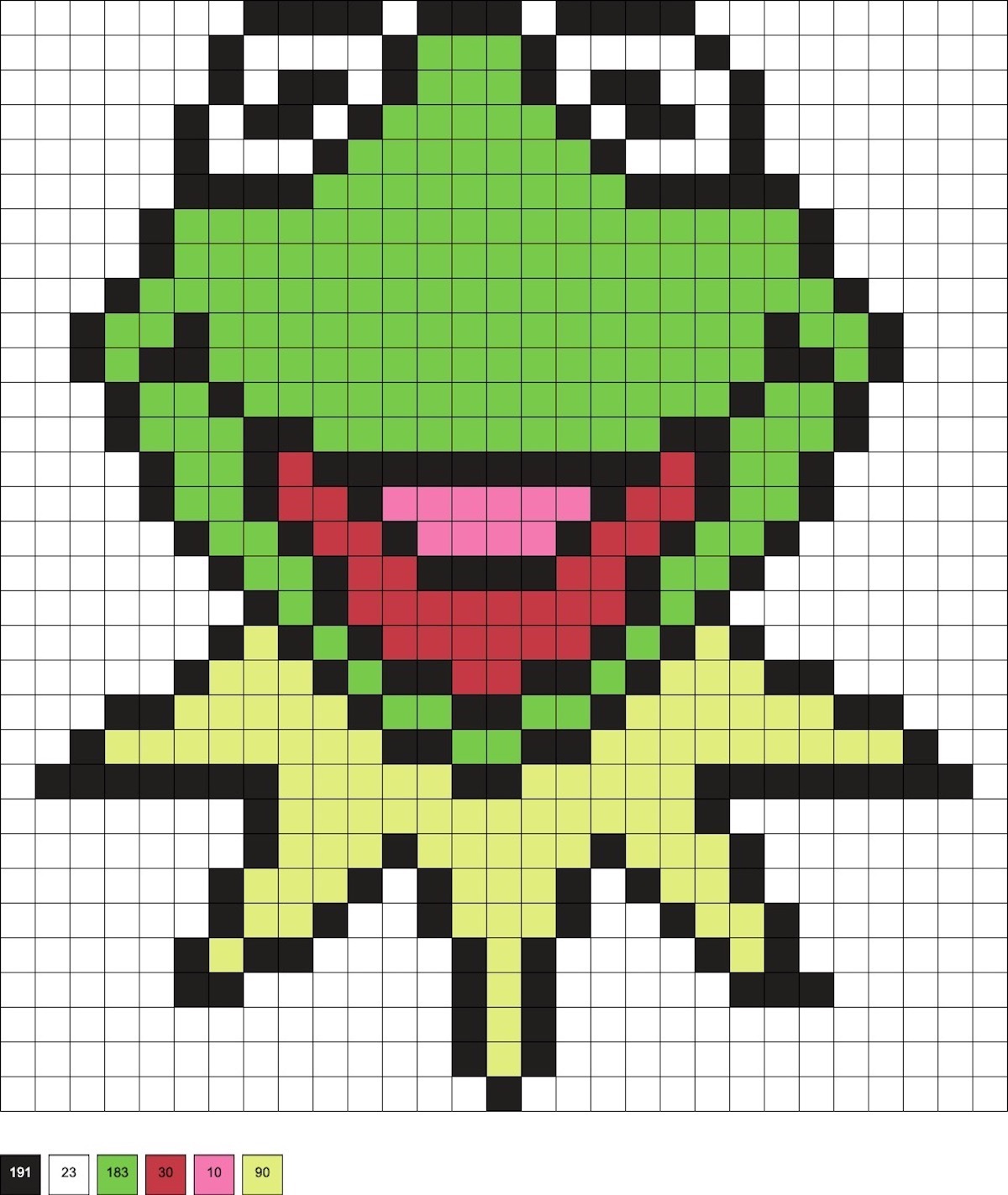 ---
Frog in a Spring Scene
This pattern uses 47 yellow, 11 cheddar, 257 robin's egg, 47 white, 44 dark green, 70 sour apple, 5 pastel lavender, 4 light lavender, 7 black, 8 salmon, 18 red, 8 bright green, and 54 pastel green beads. Get more mushroom perler beads.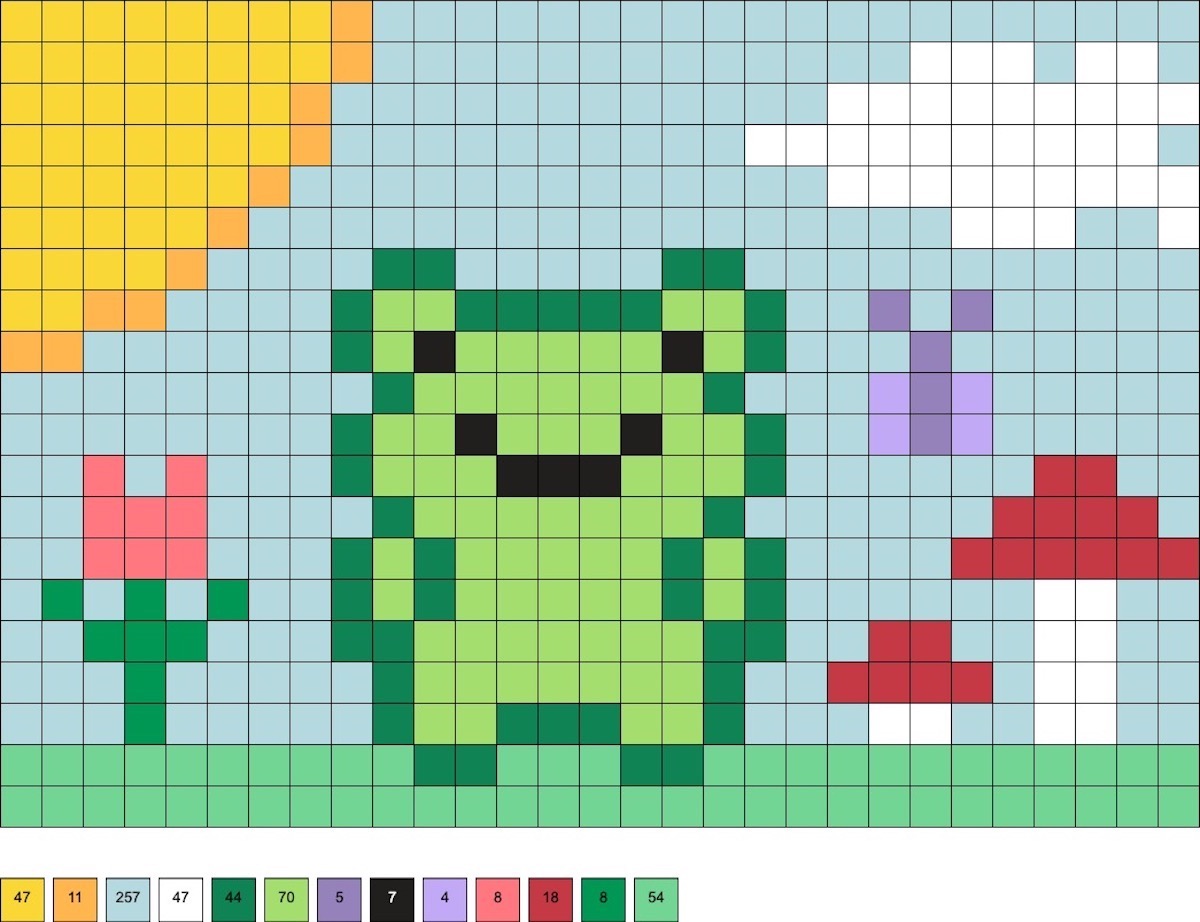 ---
Frog with a Flower on a Lilypad
This pattern uses 413 lagoon, 14 white, 1 yellow, 97 shamrock, 152 black, 195 kiwi lime, 14 bright green, and 42 kiwi lime beads.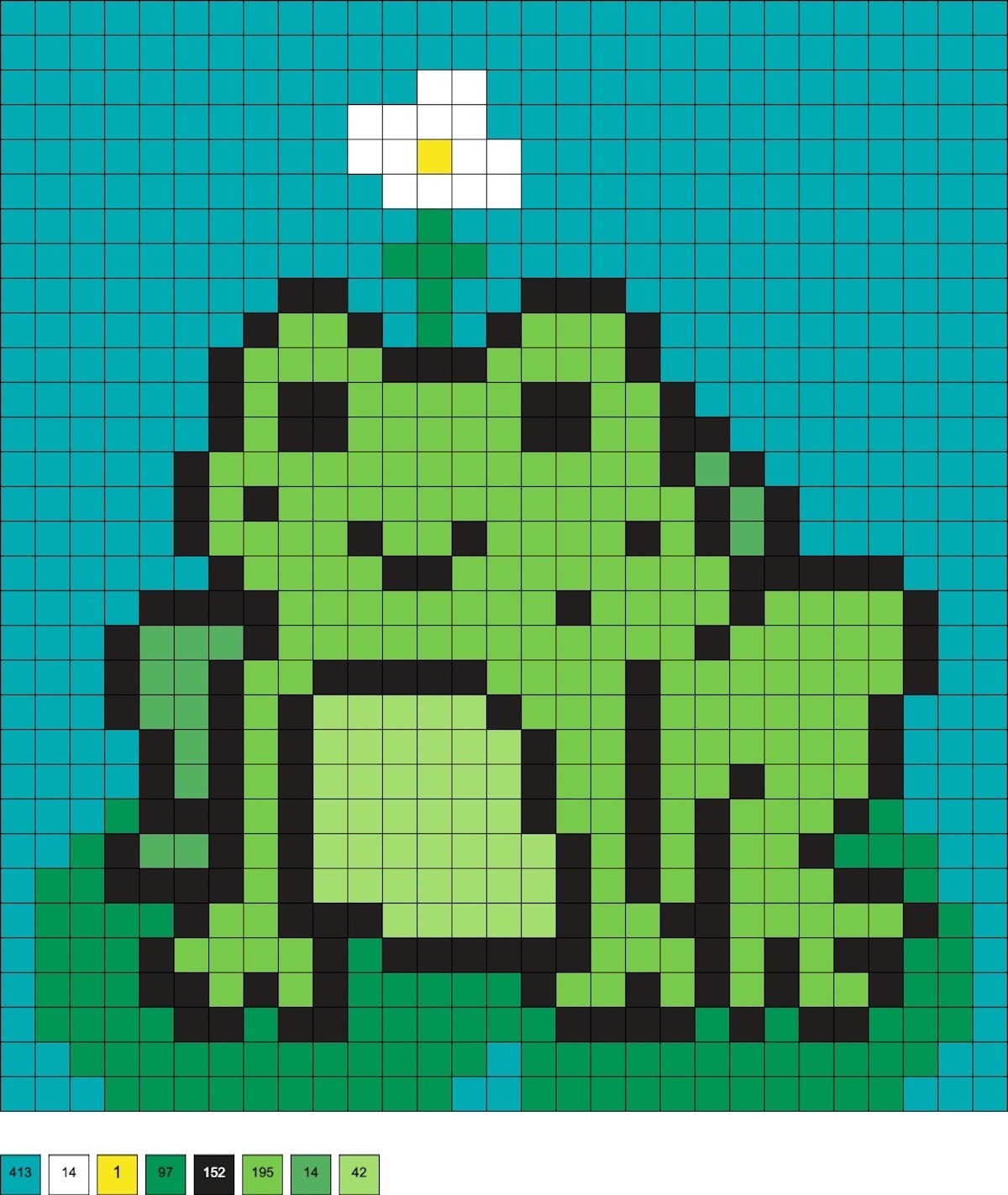 ---
Cute Kawaii Frog
This pattern uses 118 fern, 346 kiwi lime, 25 black, 4 flamingo, and 273 white beads.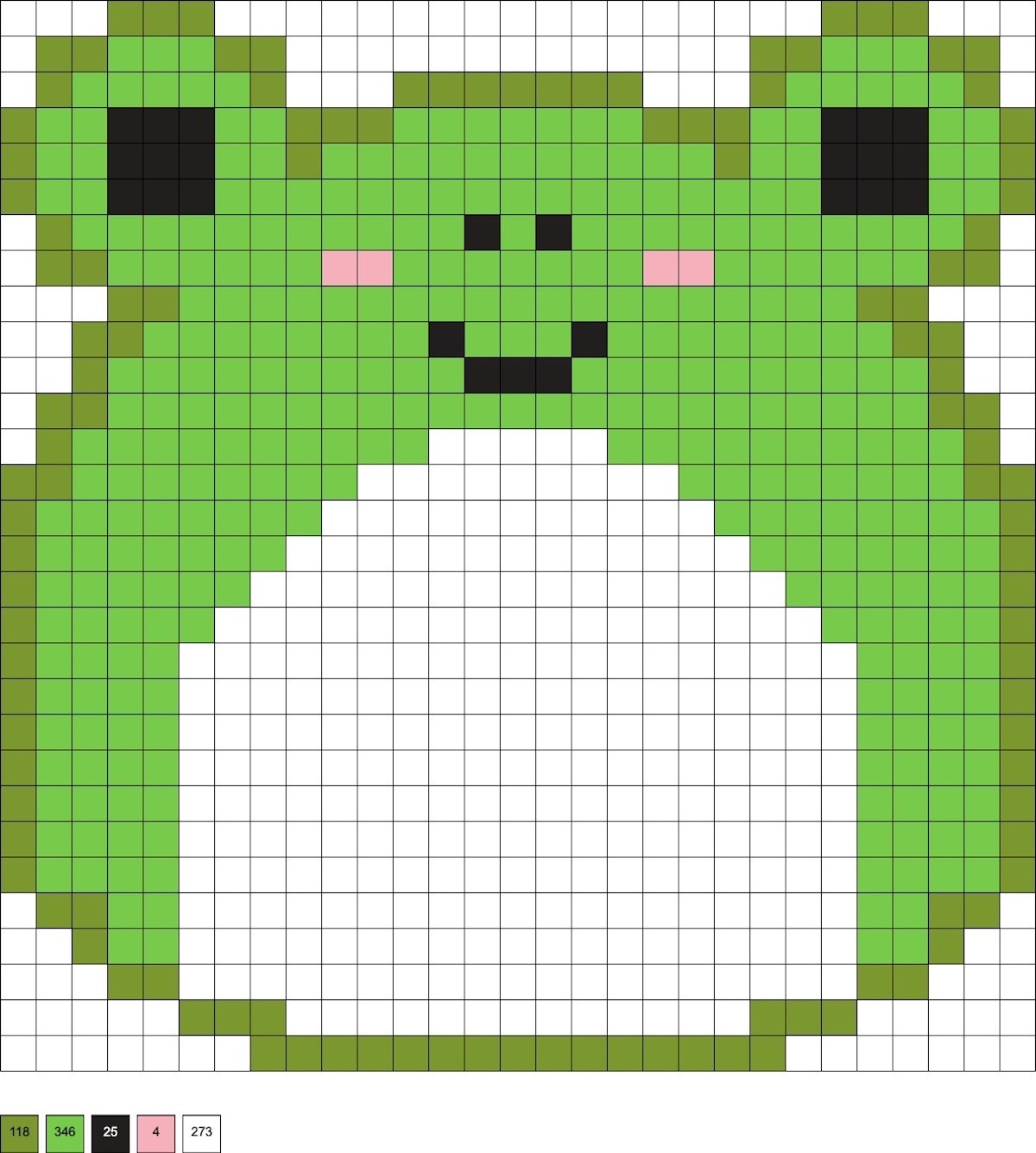 ---
Cute and Easy Frog
This pattern uses 72 bright green, 2 white, 125 kiwi lime, 30 slime, 4 white, 26 cream, 8 honey, 6 brown, 10 pastel blue, and 4 blueberry creme beads.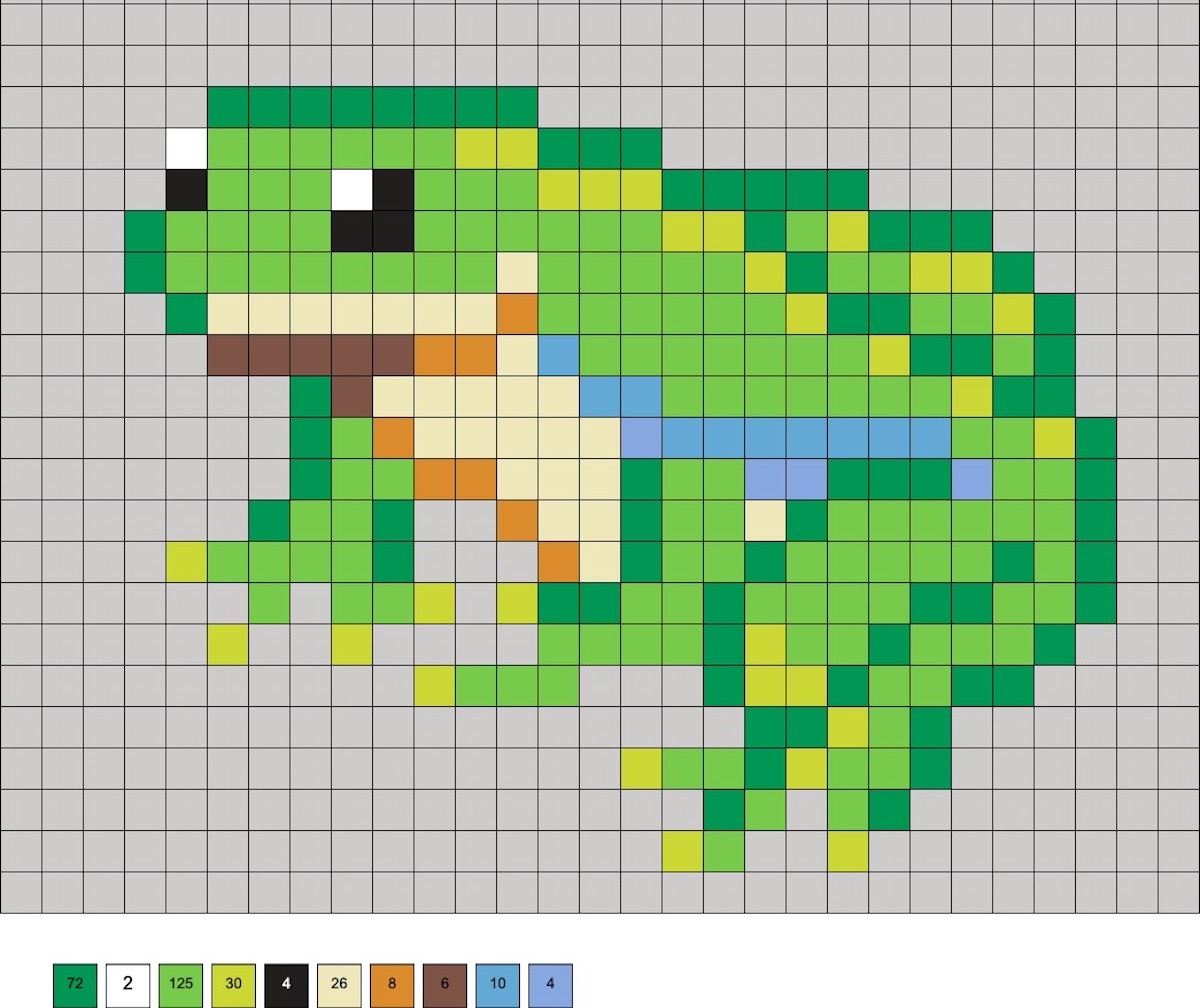 ---
Frog in a Pool Floatie
This pattern uses 62 dark green, 142 bright green, 12 black, 44 sour apple, 35 turquoise, 68 sky, 19 magenta, and 60 pink beads.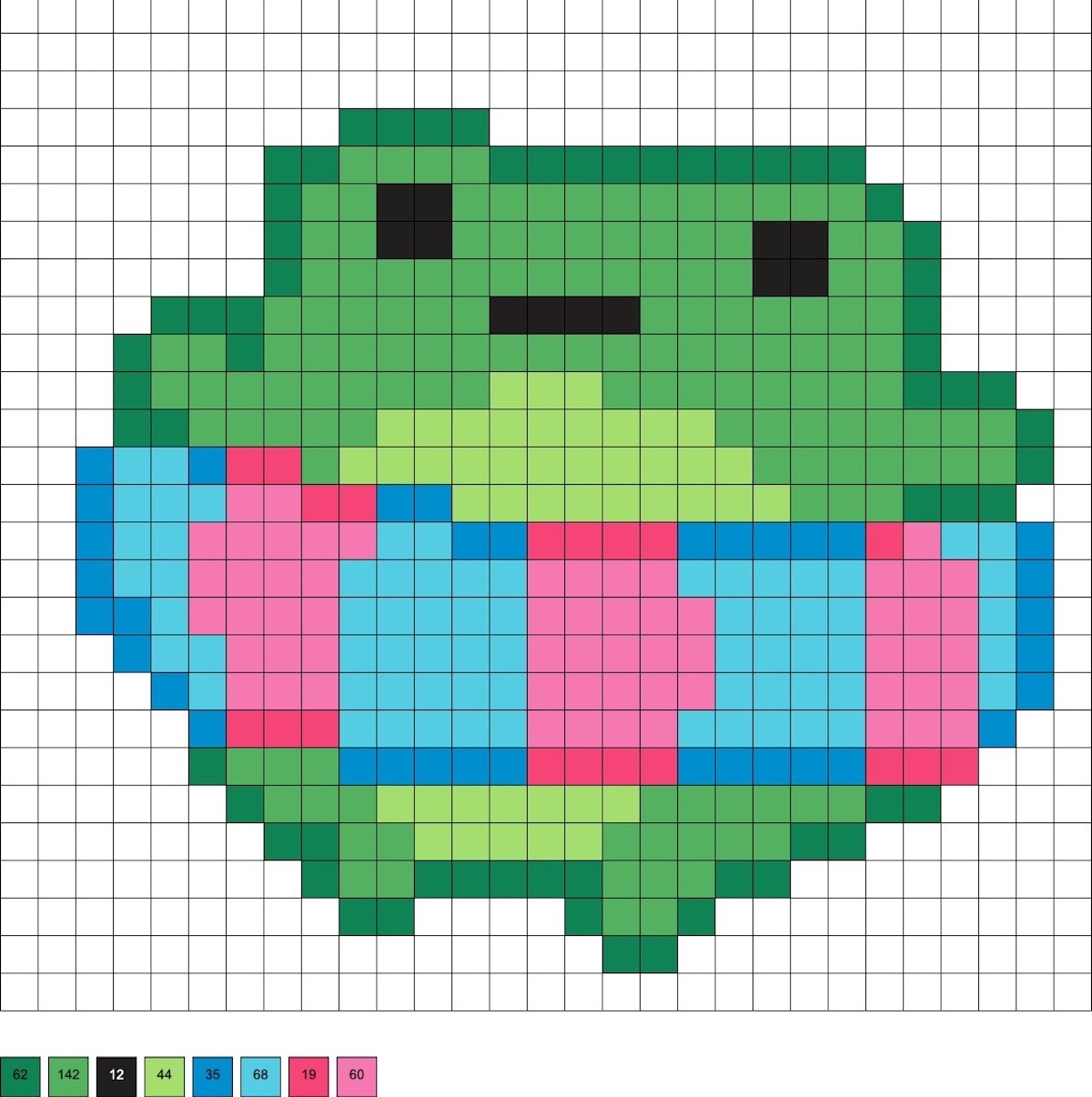 ---
Sitting Around
This pattern uses 142 shamrock, 21 pastel yellow, 6 black, 198 kiwi lime, and 121 white beads.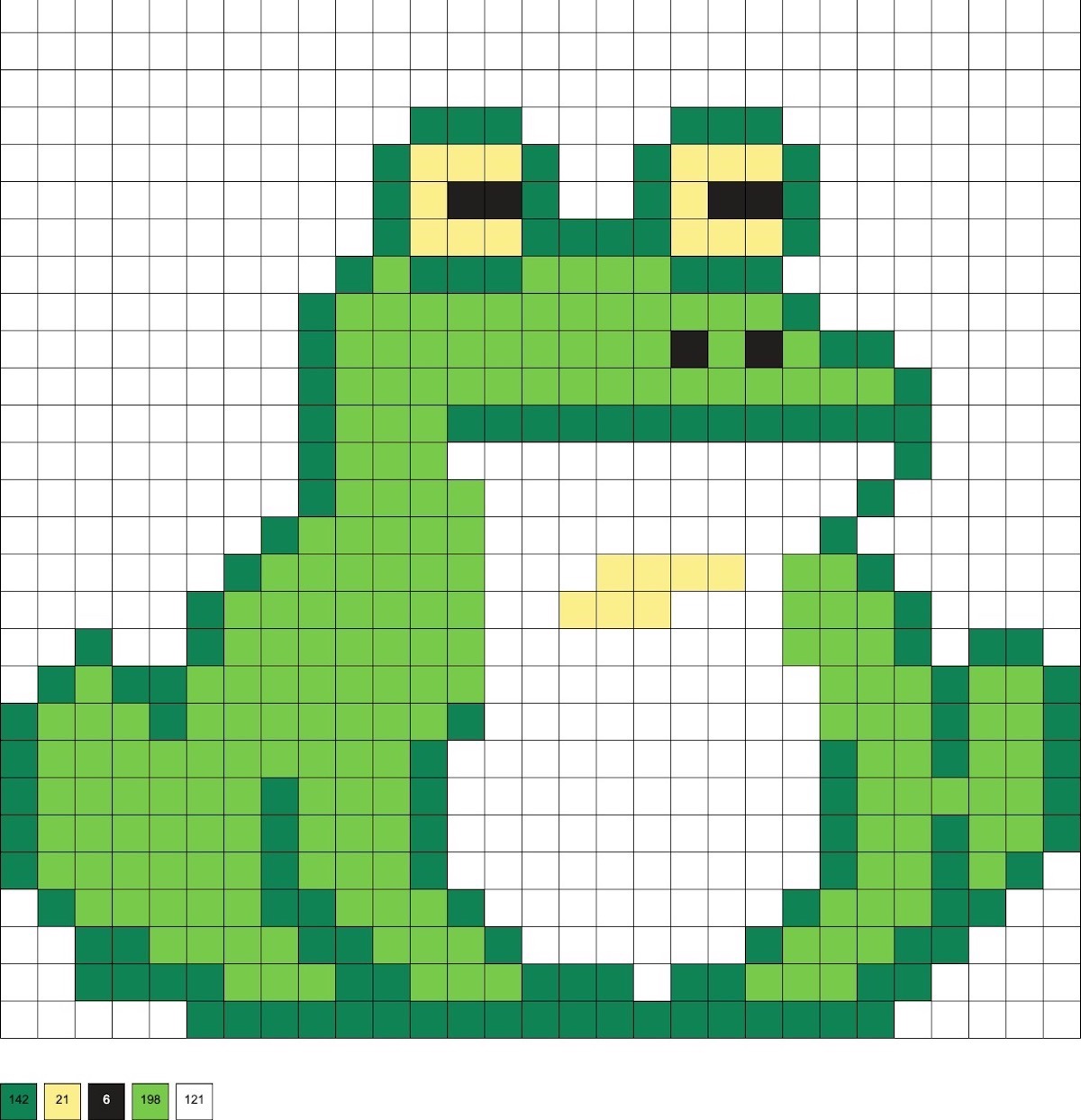 ---
Big Eyed Frog
This pattern uses 120 black, 138 white, 85 shamrock, 288 kiwi lime, 32 dark blue, 68 magenta, and 6 red beads.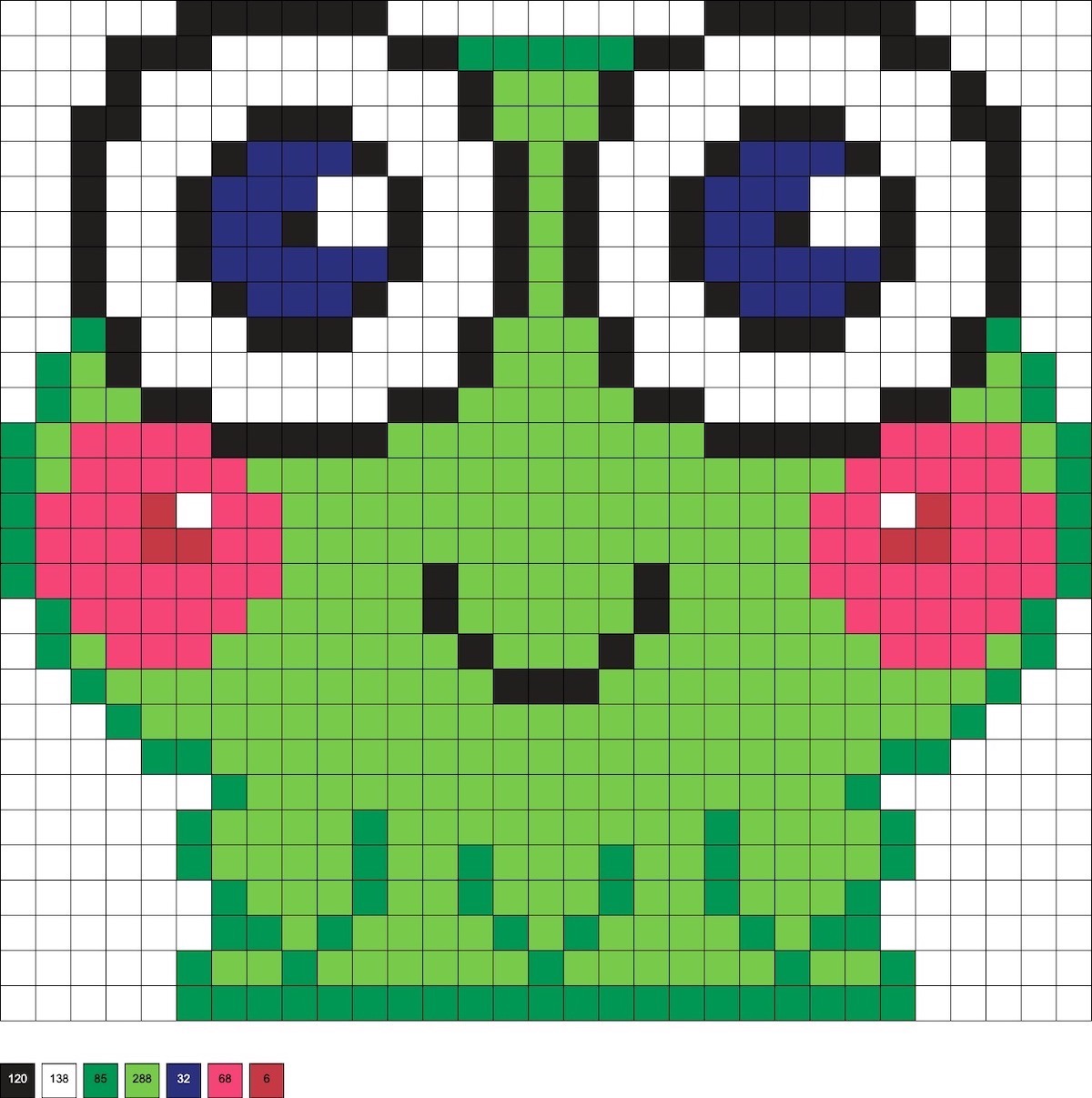 ---
Hopping Frog
This pattern uses 83 bright green, 12 black, 138 pastel green, 13 dark green, 45 mint, and 13 white beads.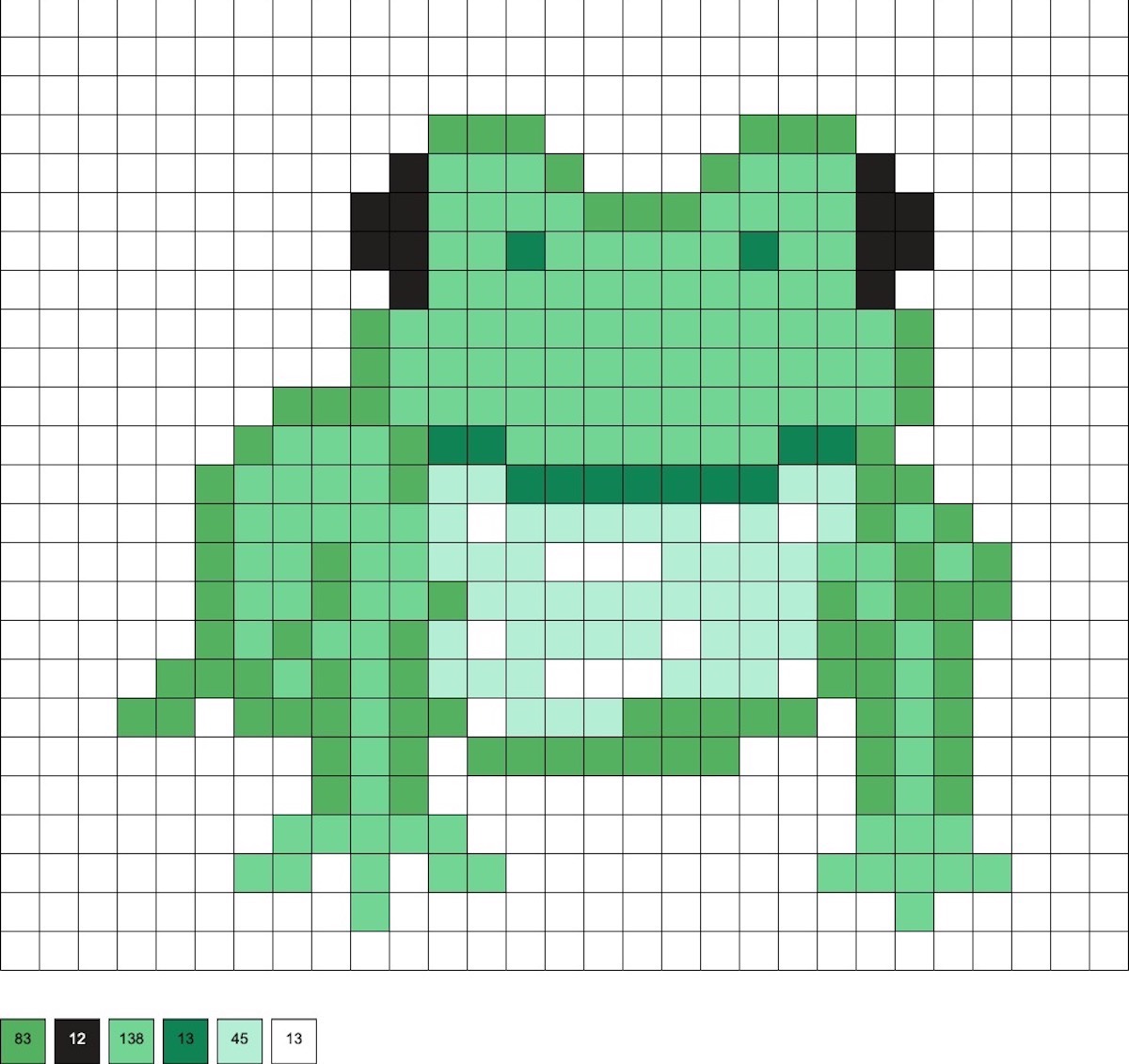 ---
Frog with Pink Cheeks
This pattern uses 170 evergreen, 376 bright green, 33 sherbert, 2 white, 41 sage, 4 flamingo, 25 pink, 67 fern, and 88 sour apple beads.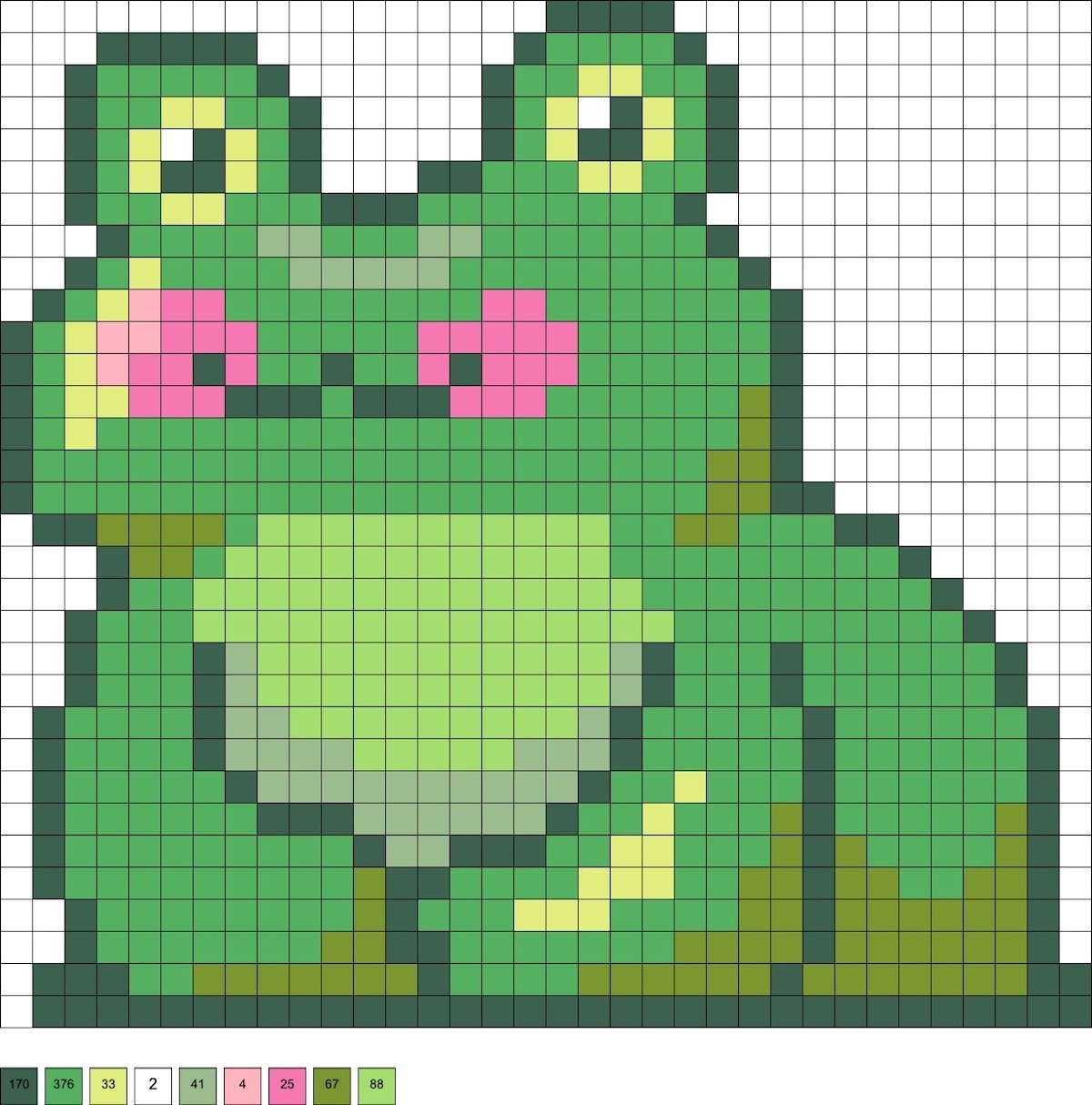 ---
Frog in a Wizard Hat
This pattern uses 152 black, 98 purple, 50 cream, 110 light green, 8 blush, and 34 parrot green beads.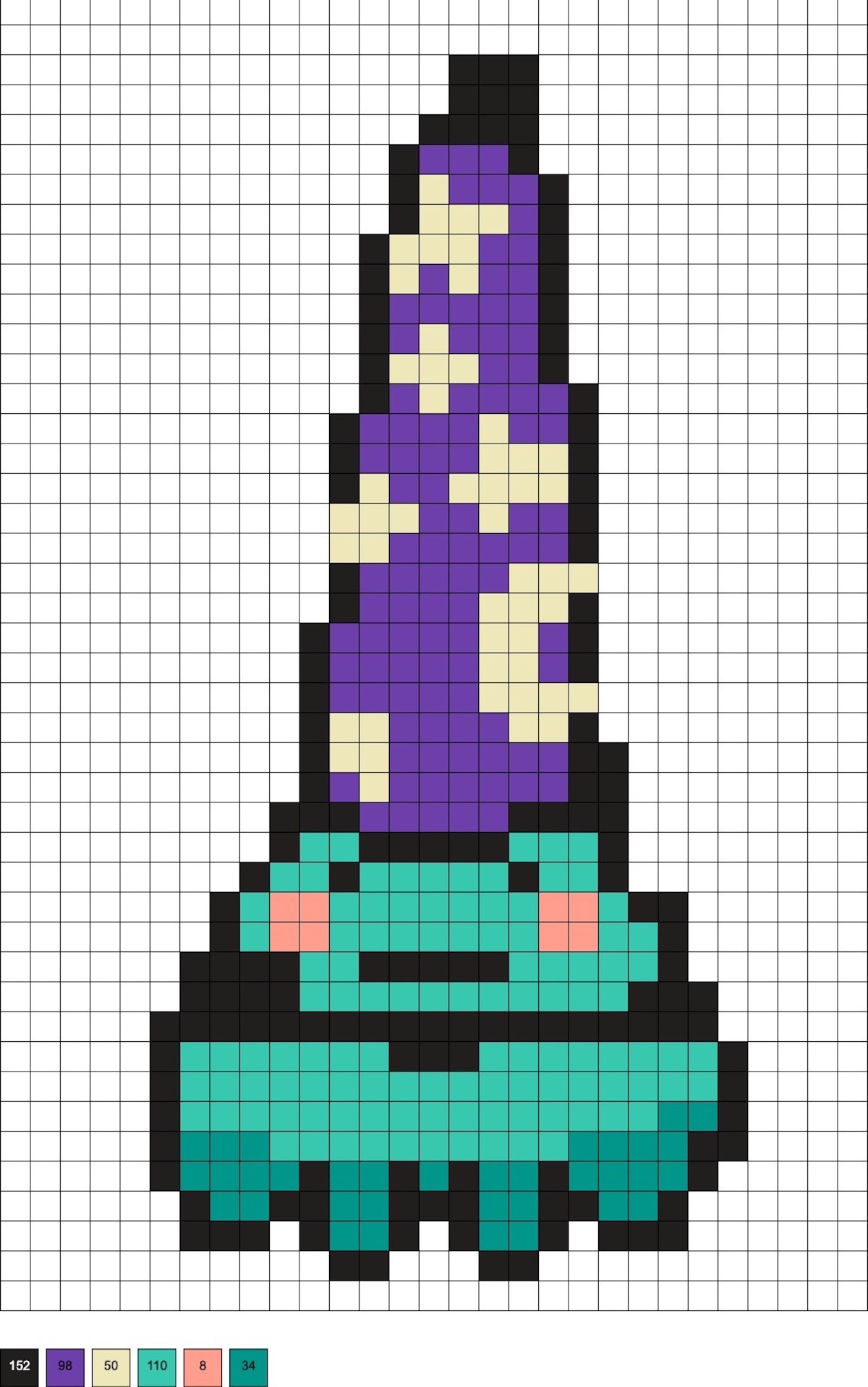 ---
Neon Frog
This pattern uses 477 kiwi lime, 112 yellow, 49 plum, and 19 fuchsia beads.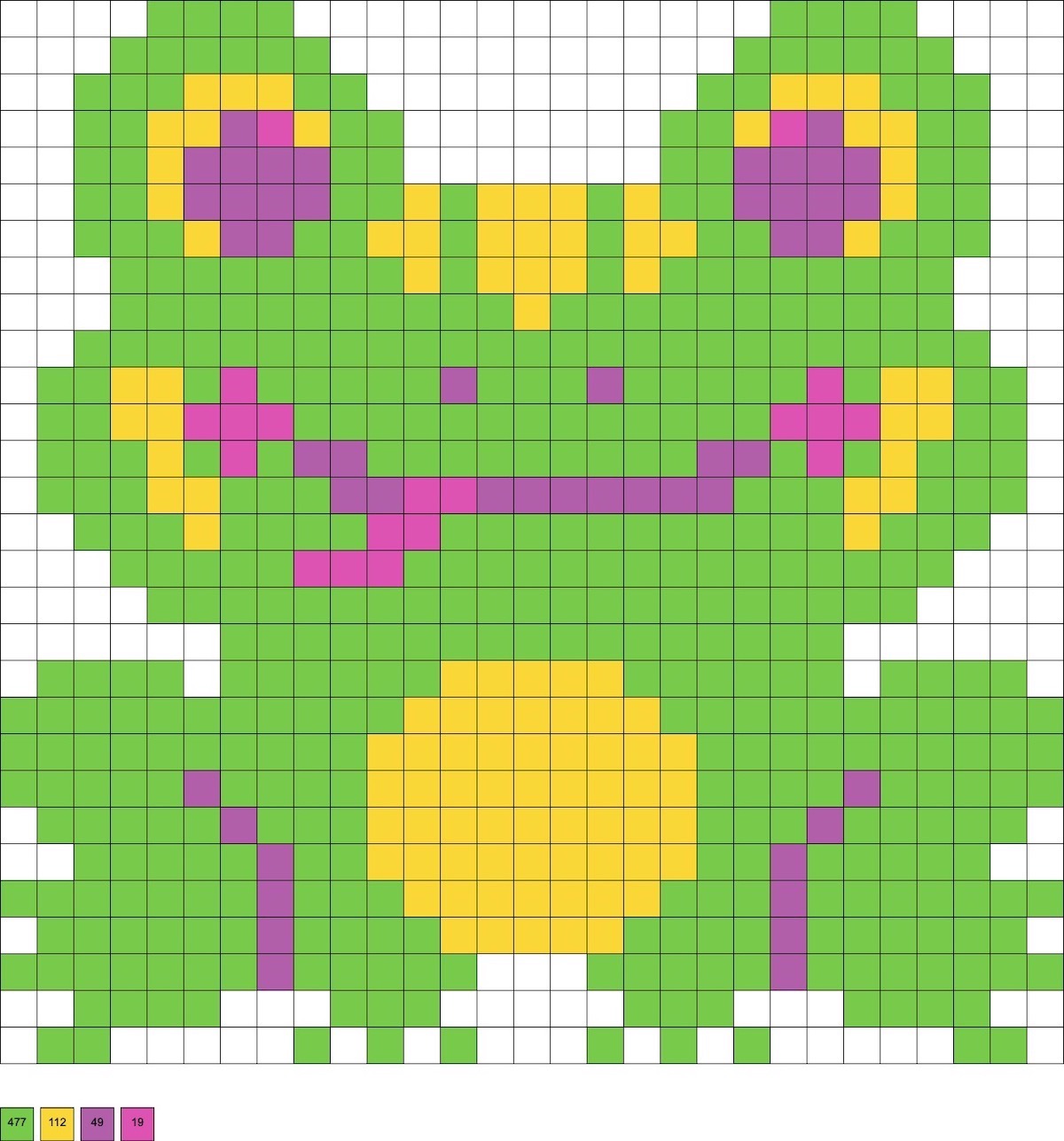 ---
Tree Frog
This pattern uses 275 black, 210 shamrock, 211 bright green, 4 red, 5 cherry, 44 orange, 2 white, 35 kiwi lime, 24 fawn, 25 sand, 23 light brown, 10 periwinkle, 9 blueberry creme, 45 pastel yellow, and 8 yellow beads.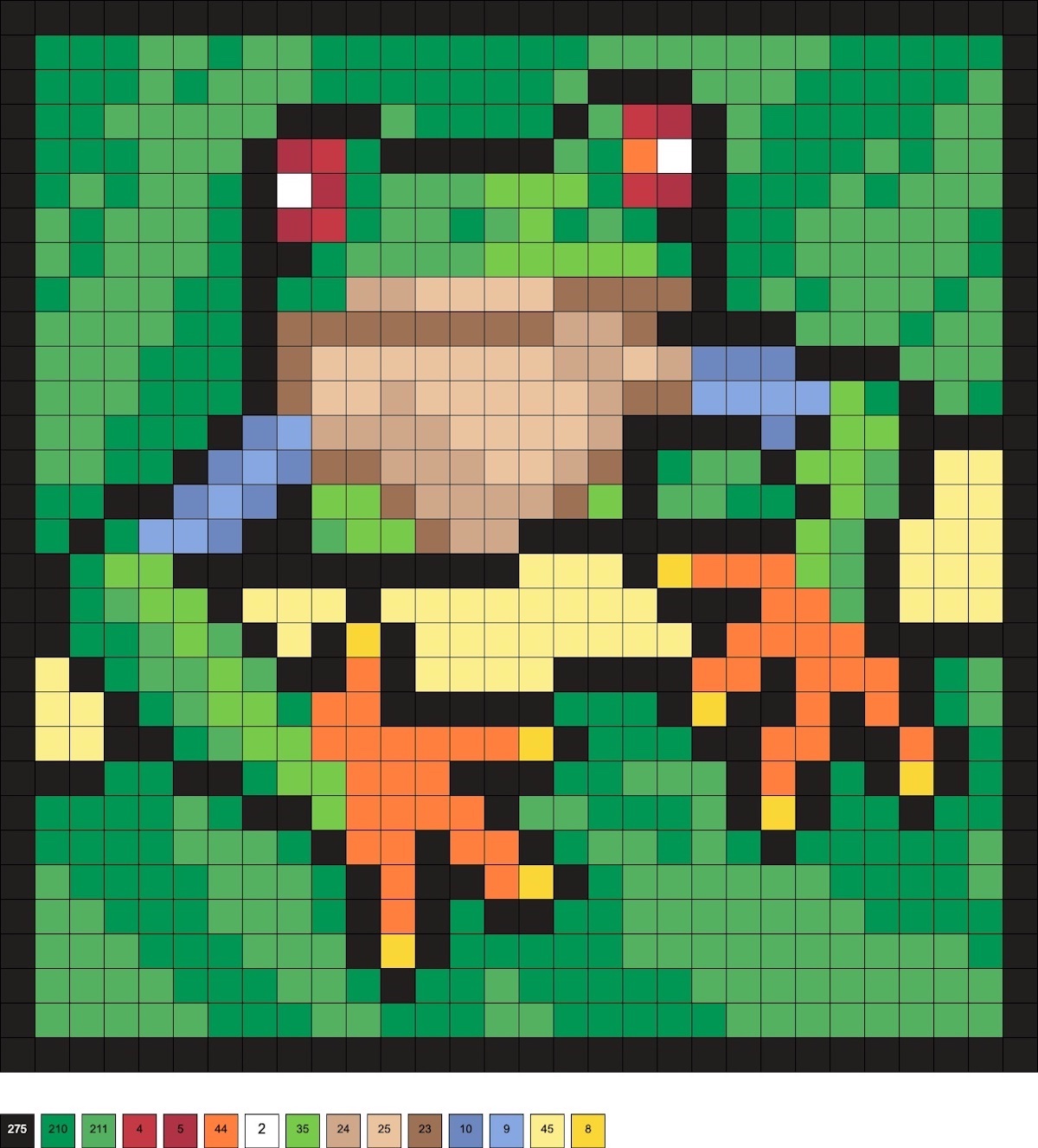 ---
Gnome Frog
This pattern uses 534 robin's egg, 106 red, 24 cherry, 8 pastel yellow, 21 white, 22 forest, 15 sour apple, 68 bright green, 4 black, 15 sherbert, 29 tan, and 14 light brown beads. Check out our fairy and gnome perler beads.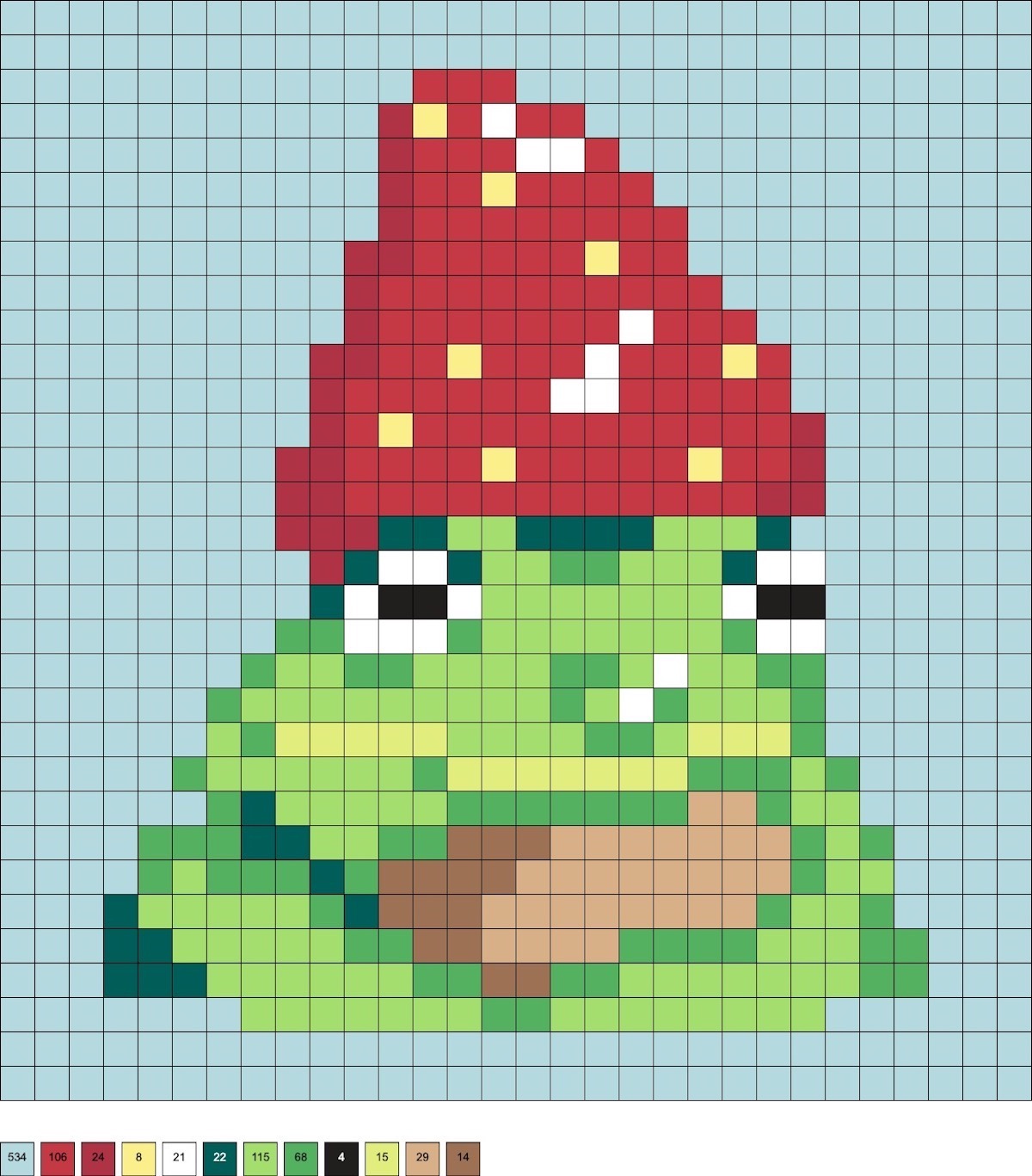 ---
If you've enjoyed these frog perler beads, let me know in the comments! I'd also love for you to check out these other posts:
The post Frog Perler Beads (35+ Free Patterns!) appeared first on DIY Candy.