St. Patrick's Day Perler Beads (50+ Patterns!)
Get over 50 patterns for St. Patrick's Day perler beads! There are a variety of patterns including rainbows, leprechauns, four leaf clovers, gold coins, and more.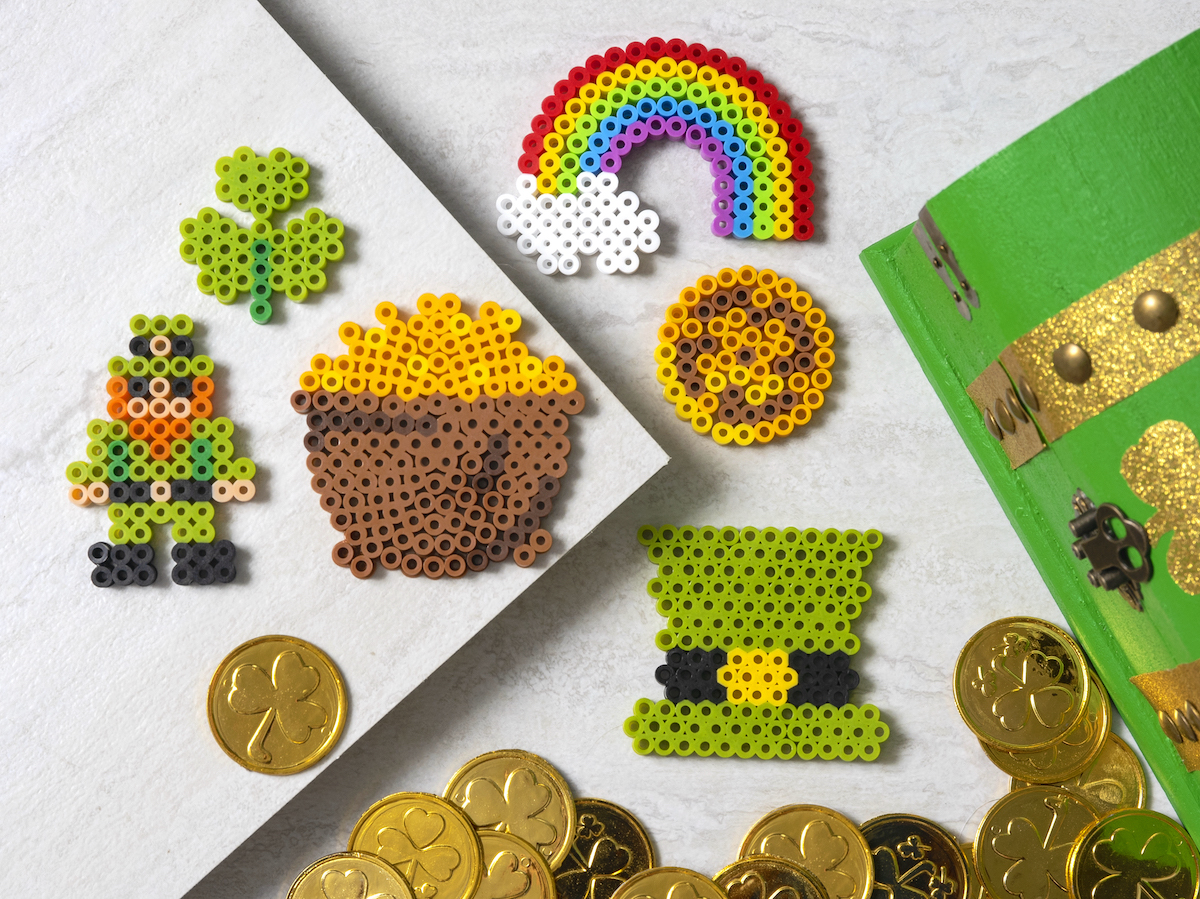 Top o' the mornin' to ya and (upcoming) Happy St. Patrick's Day! Actually I don't have an Irish bone in my body, so that was my best attempt.
Having said that, you obviously don't have to be Irish to celebrate. You just have to appreciate Irish ways.
I'll never forget years ago when I was corrected for doing a four leaf clover craft and calling it a shamrock. Did you know they are different? Yes . . . a shamrock has three leaves.
I was also informed that there can be purple or green clover, but shamrocks are green. You do learn something new every day!
And speaking of learning something new . . . have you and your kids ever tried perler beads before? I'm assuming if you're here, you have or you want to start.
They're SO fun.
And with St. Patrick's Day right around the corner? One kids craft you need to add to the list is St. Patrick's Day perler beads! I've got a whole bunch of patterns that I'm excited to share with you.
There are leprechauns, rainbows, pots of gold, shamrocks (and clover!), and all sorts of other fun holiday art of various sizes.
Let's be honest – you adults are going to love perler-ing too. If you've never tried, it's so fun and relaxing. And perler beads are much less messy than paint, for example. They're perfect for holiday crafting!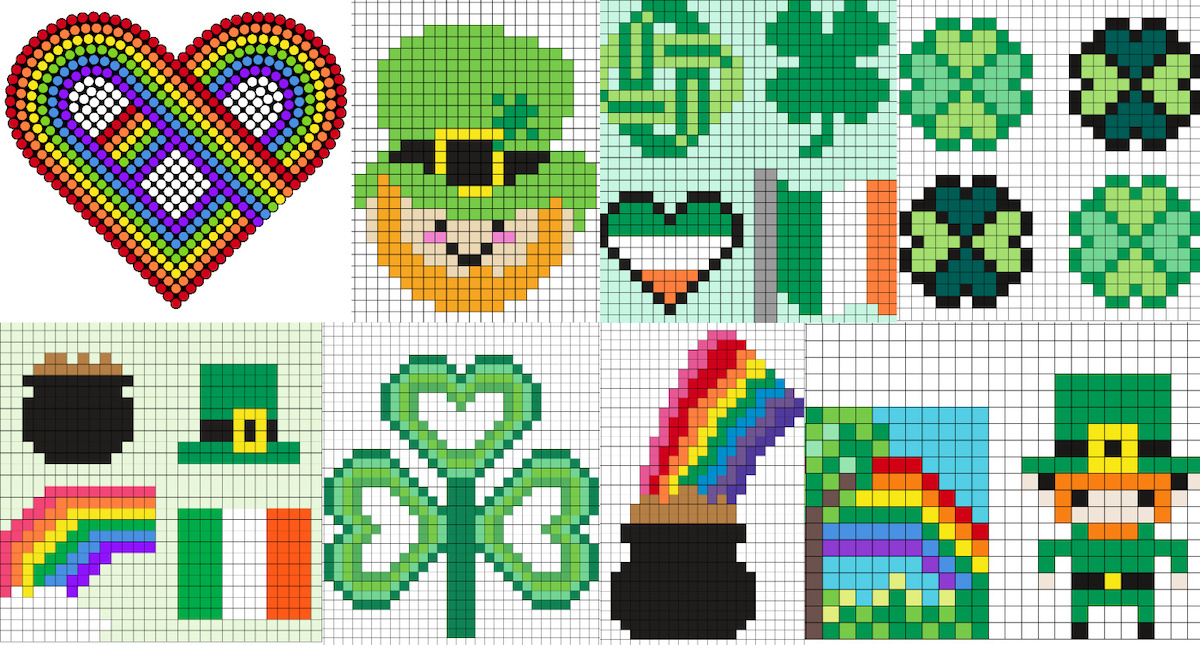 Perler beads are recommended for ages six and up, so this is a very fun craft to try with your elementary age kids. If you're ready to use perler beads (also known as hama beads, fuse beads, or melty beads), you're going to love this collection of patterns.
Tips for Using Perler Beads
Before we get into the patterns, I want to review a few basics of using hama beads to make sure you get the best results. If you don't want the tips, scroll down to the bottom to get the St. Patrick's Day perler bead patterns.
Remember that the overall goal is to melt the beads together on both sides while still leaving the holes open. Here's how you get the best results (with a rainbow as an example).
Use Ironing or Parchment Paper
Place ironing paper or parchment paper over the beads on the pegboard. Be gentle so you don't disturb the beads underneath.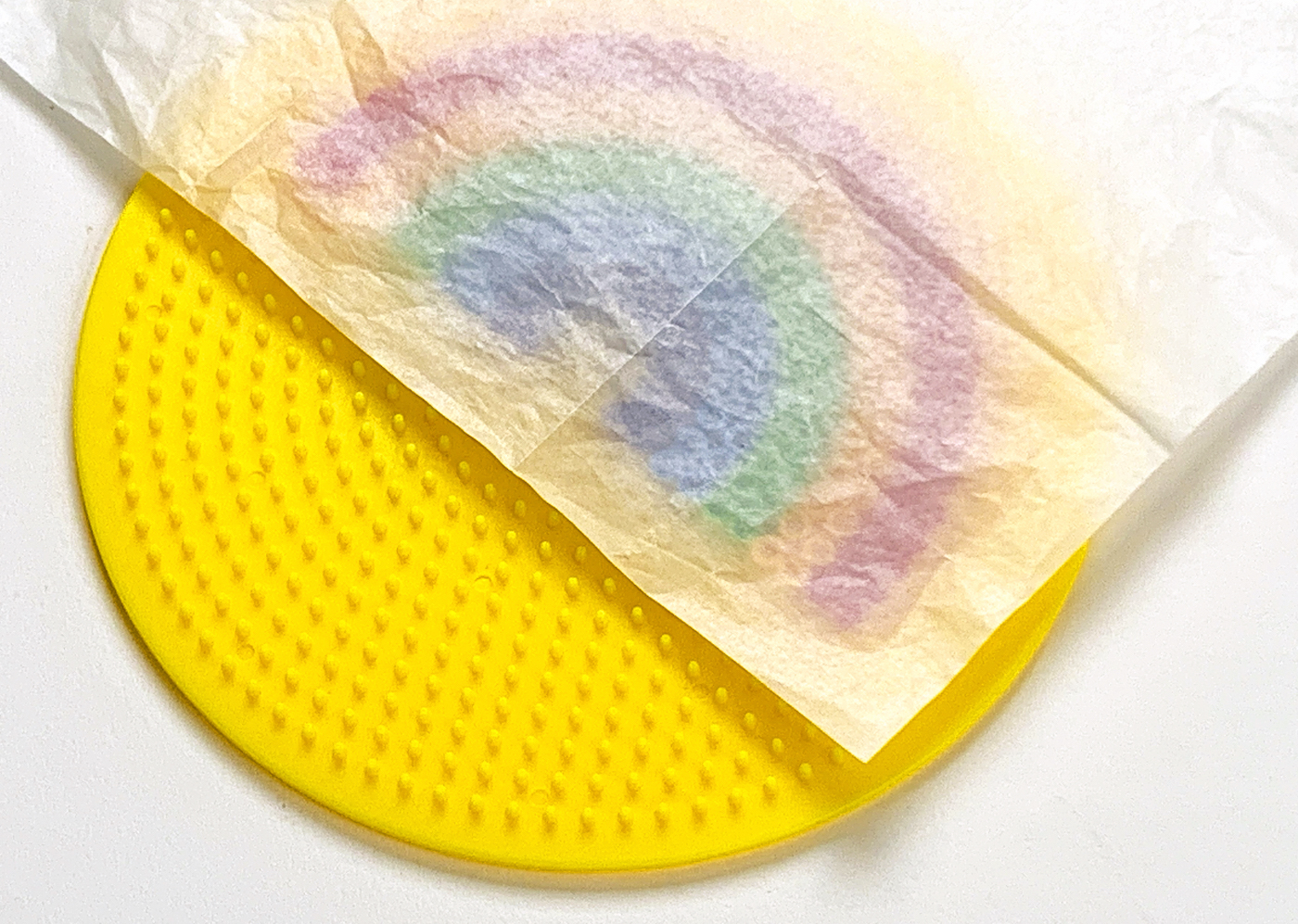 Heat your iron to the medium setting (no steam). In a circular motion, begin to iron the project. Don't press down too hard with the iron. When ironed properly, the beads will still have an open center. Check and make sure your edges are melted. Let the design cool on the pegboard.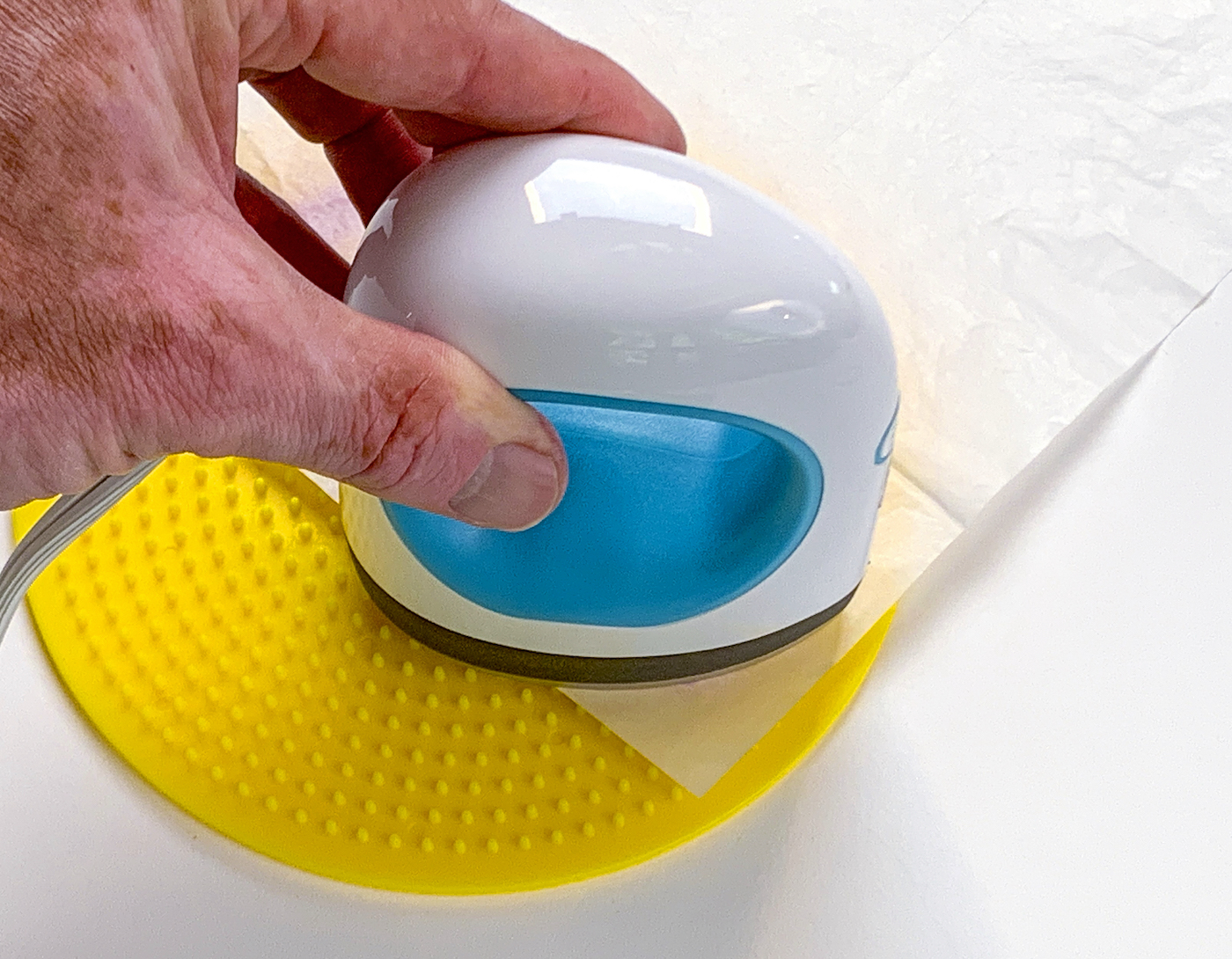 Note: BE CAREFUL about lifting up the paper while you're ironing! If you want to check, carefully peel back paper around the edge of your design and see if all the beads are melted.
If you lift the paper up quickly and there are a lot of unmelted beads, they will easily fall off or go flying and you may be forced to start over. Sometimes the edges need more time so when you check, just check the edges and peel paper back slowly.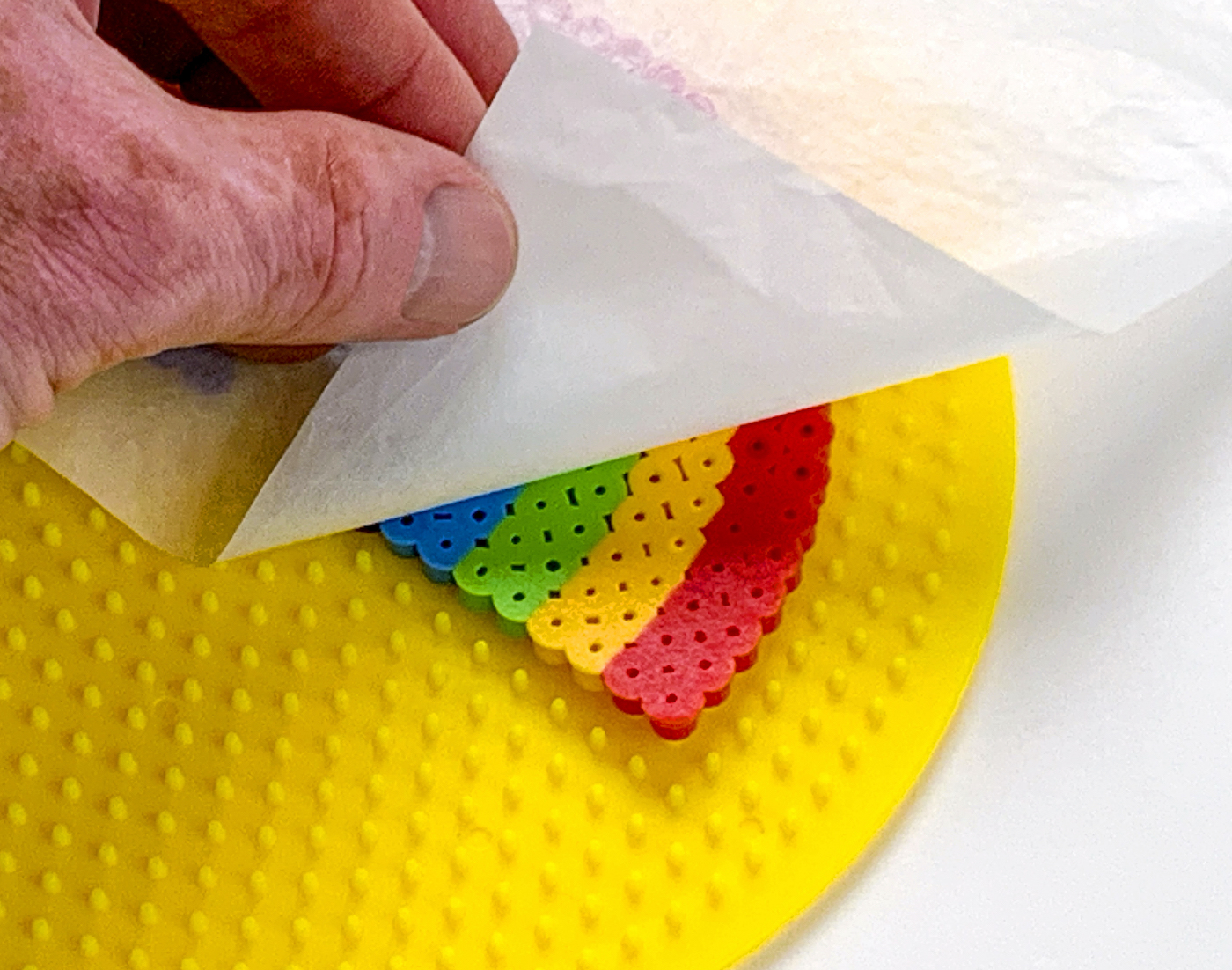 Another Note: some beads melt faster than others (clear melts faster than white, for example). So some holes might be larger than others. It's okay! That's part of the look of the project.
Iron the Other Side
Remove the bead design from the pegboard. Flip it over to the non-melted side and repeat the fusing process.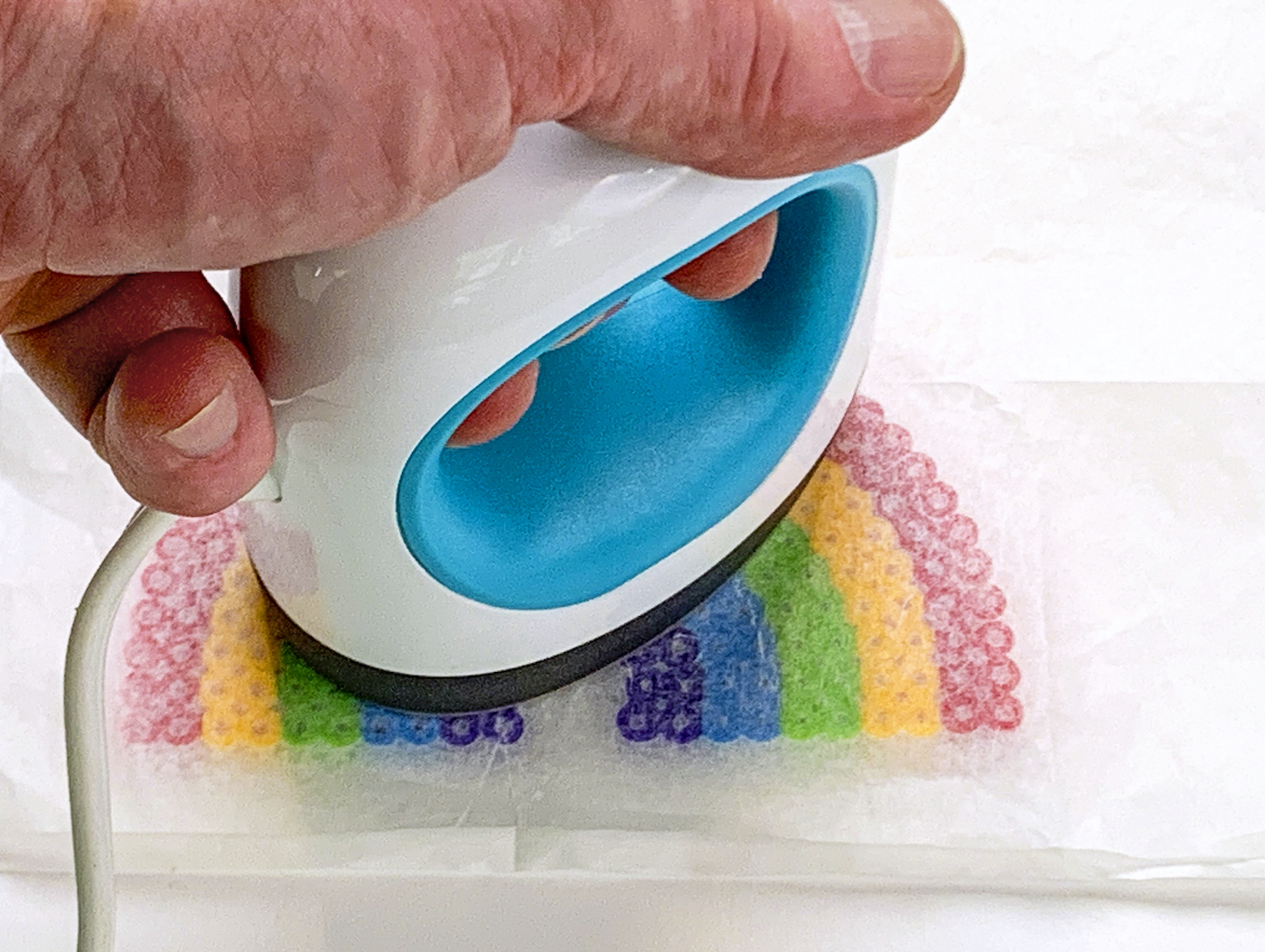 Remove the Paper
Let cool completely and remove the paper again (which is reusable). Some people pull the paper off after they iron the first side, but I just wait until the end and peel off both pieces. It's up to you!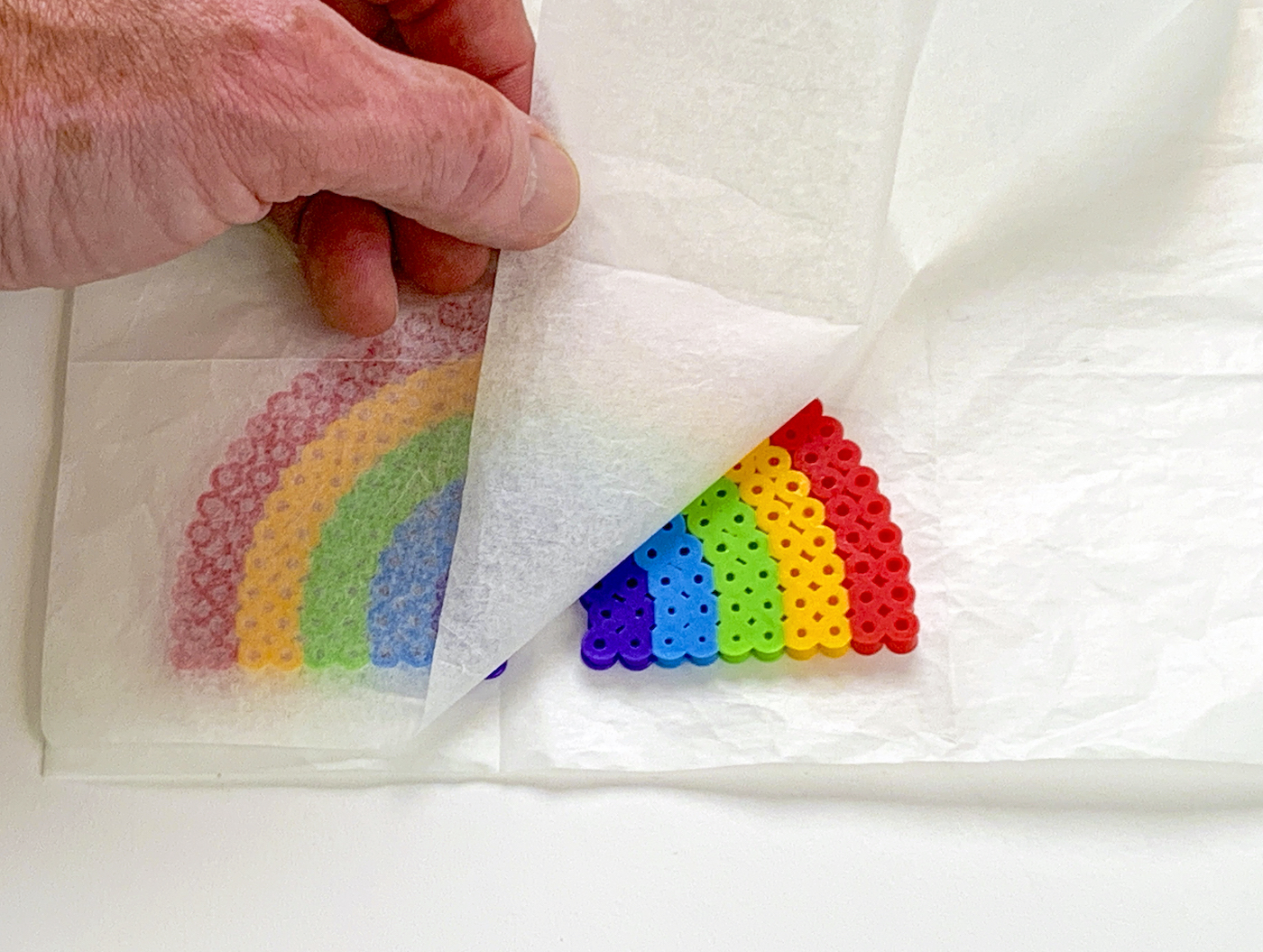 Are you ready for the patterns, my little love bugs? Get the St. Patrick's fuse bead patterns below!
---
St. Patrick's Day Perler Bead Designs
Make sure to check out these notes:
A few of these patterns are larger than a 29 x 29 pegboard, so you'll either need a extra large pegboard (49 x 69 tall) or to put multiple square peg boards together to form a larger "canvas."
Some of these patterns also use either heart pegboards or hexagon pegboards, which you'll definitely want in your arsenal just generally speaking.
You'll see a couple of the pattern backgrounds below aren't white – that's simply to give contrast so you can see where all the white beads should go. You don't need to add the background (but you can if you want to).
---
Small Pot of Gold, Leprechaun Hat, Rainbow, and Irish Flag
These patterns use 12 gold, 51 shamrock, 82 black, 29 yellow, 23 pink, 20 orange, 56 green, 79 white, 40 orange, 14 blue, and 12 purple beads.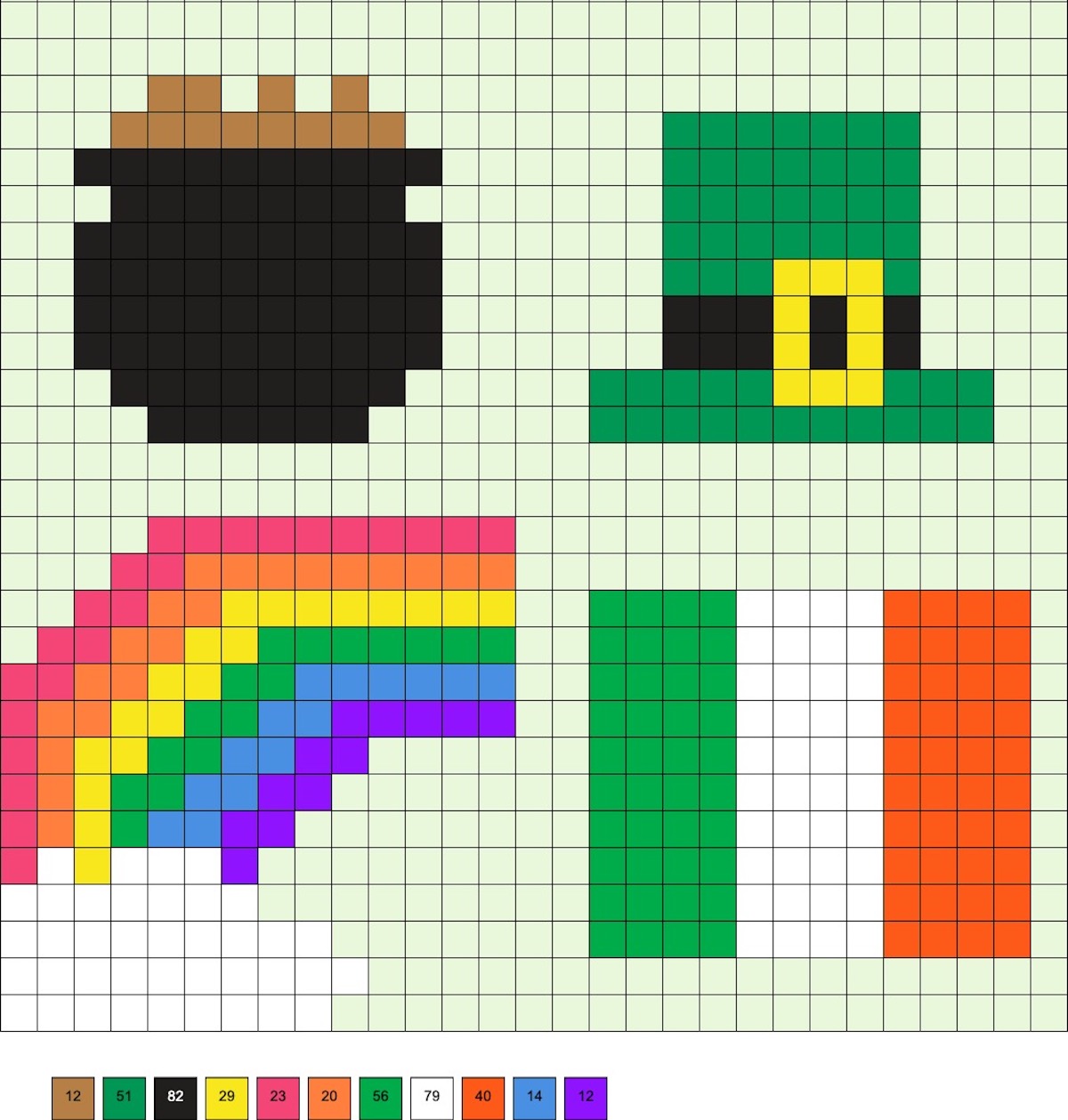 ---
Set of Four Leaf Clovers
These patterns use 388 beads total, or 97 beads per clover. Just grab a variety of green beads and have fun mixing the different shades!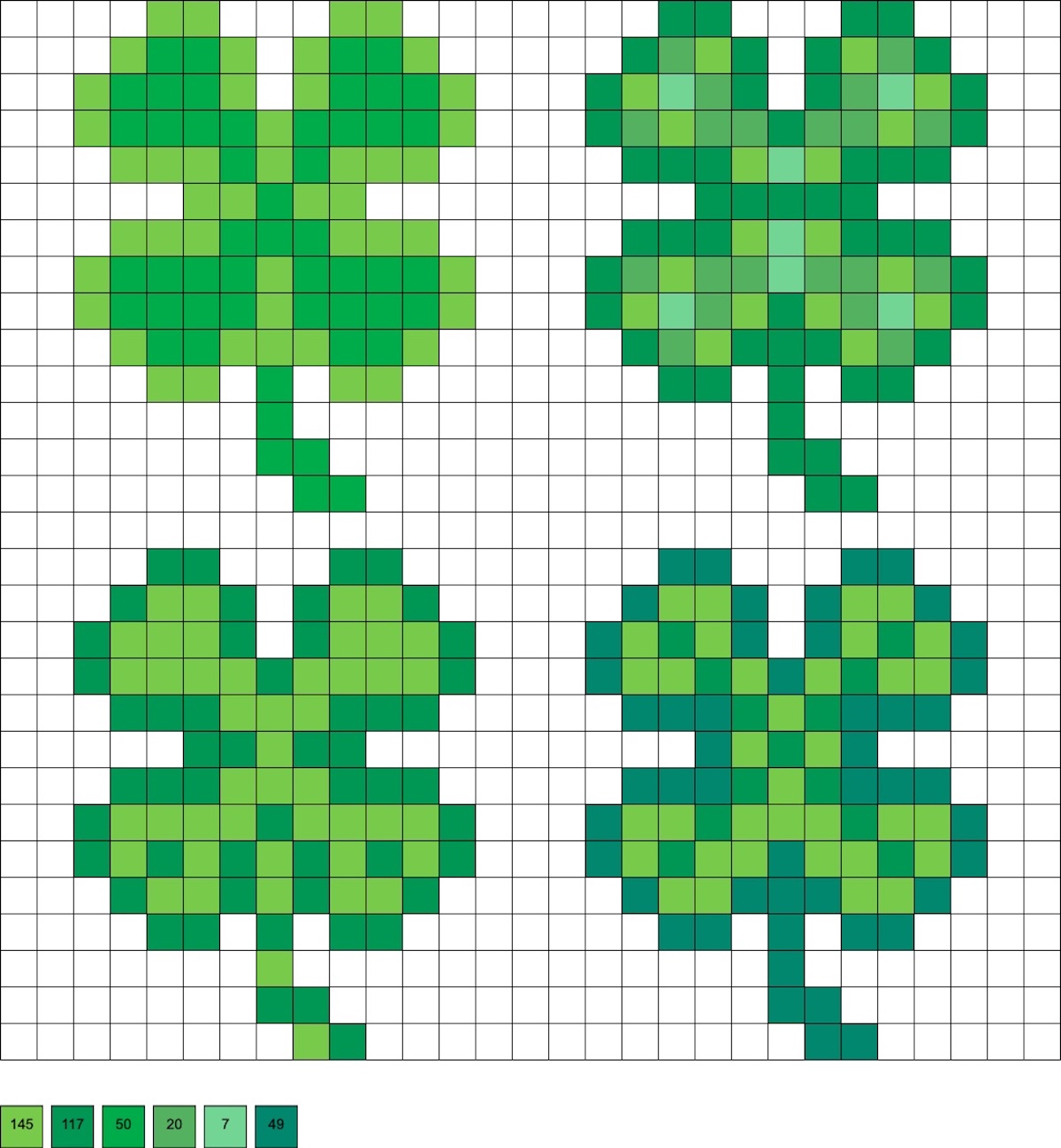 ---
Rainbow Heart and Gold Coin
You'll want to use the small rainbow and small circle molds for these two perler bead patterns.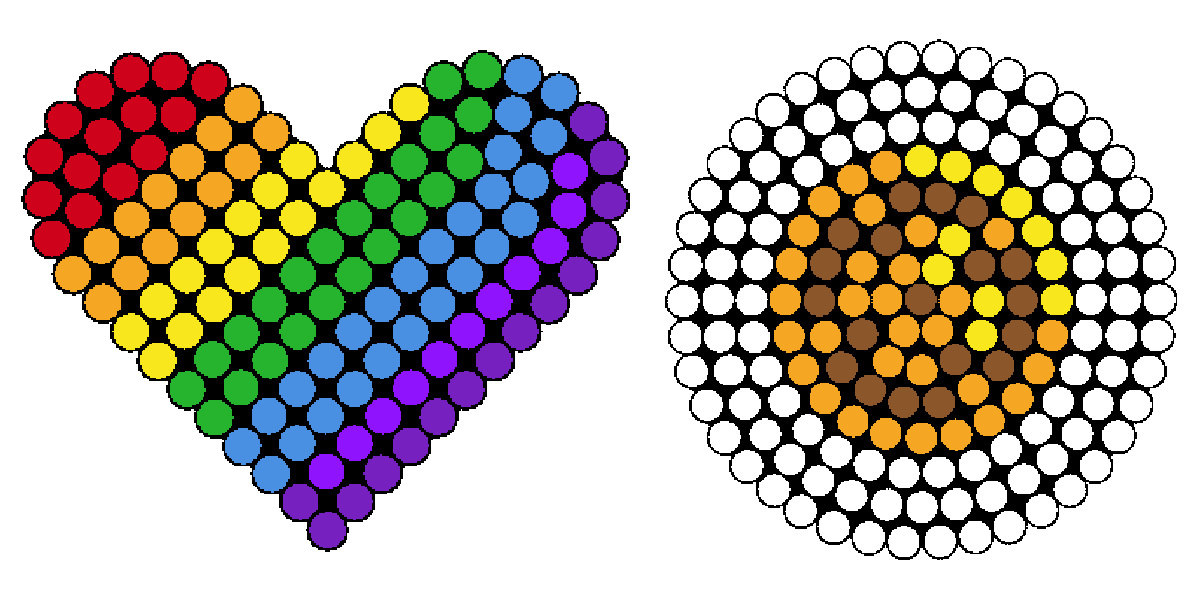 ---
Mini Leprechaun and Rainbow Scene
If you want really, really easy patterns, this cute little rainbow scene and this tiny leprechaun are going to be your favorite.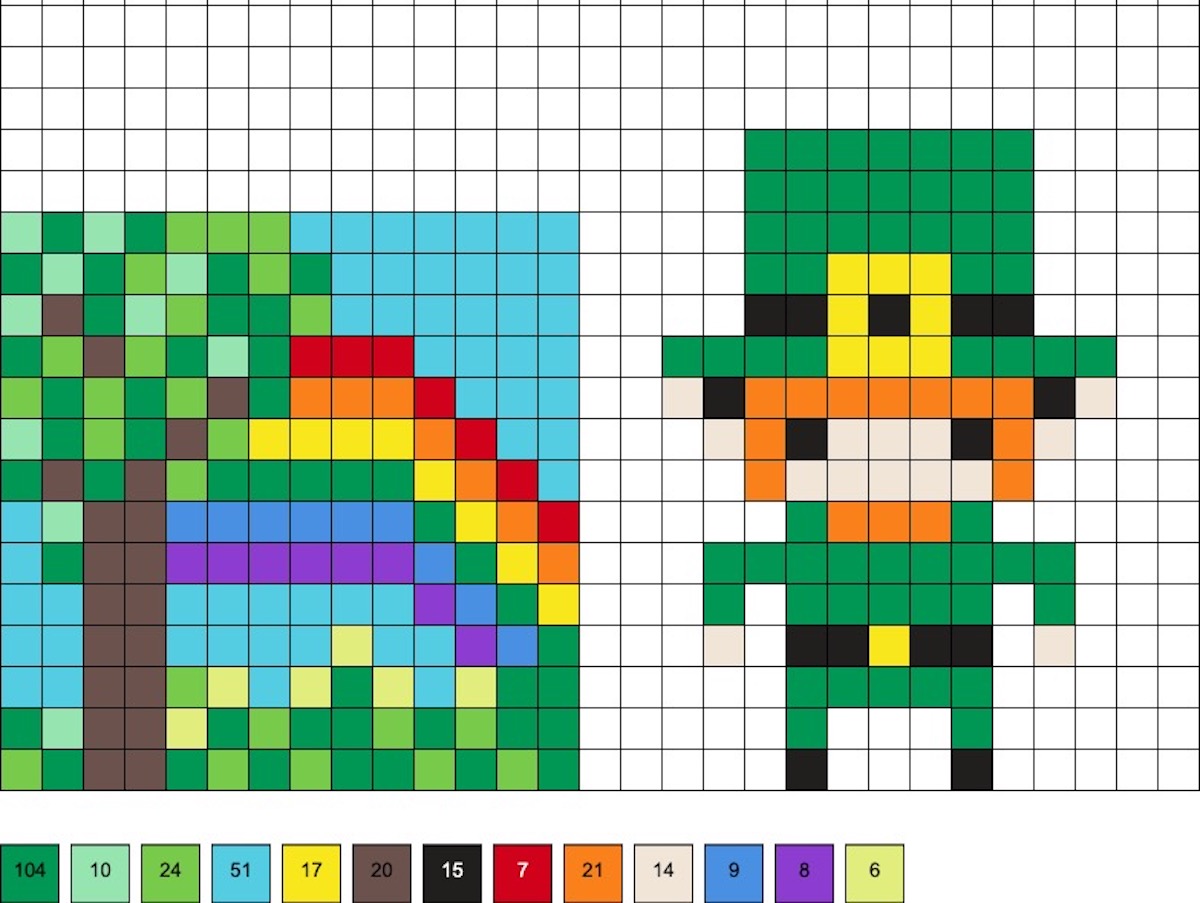 ---
Four Leaf Clover Heads
As an alternative to the above clovers with stems, these are just the heads! These use a total of 372 beads, or 93 beads per clover. You can glue these to pinbacks, headbands, bracelets, etc.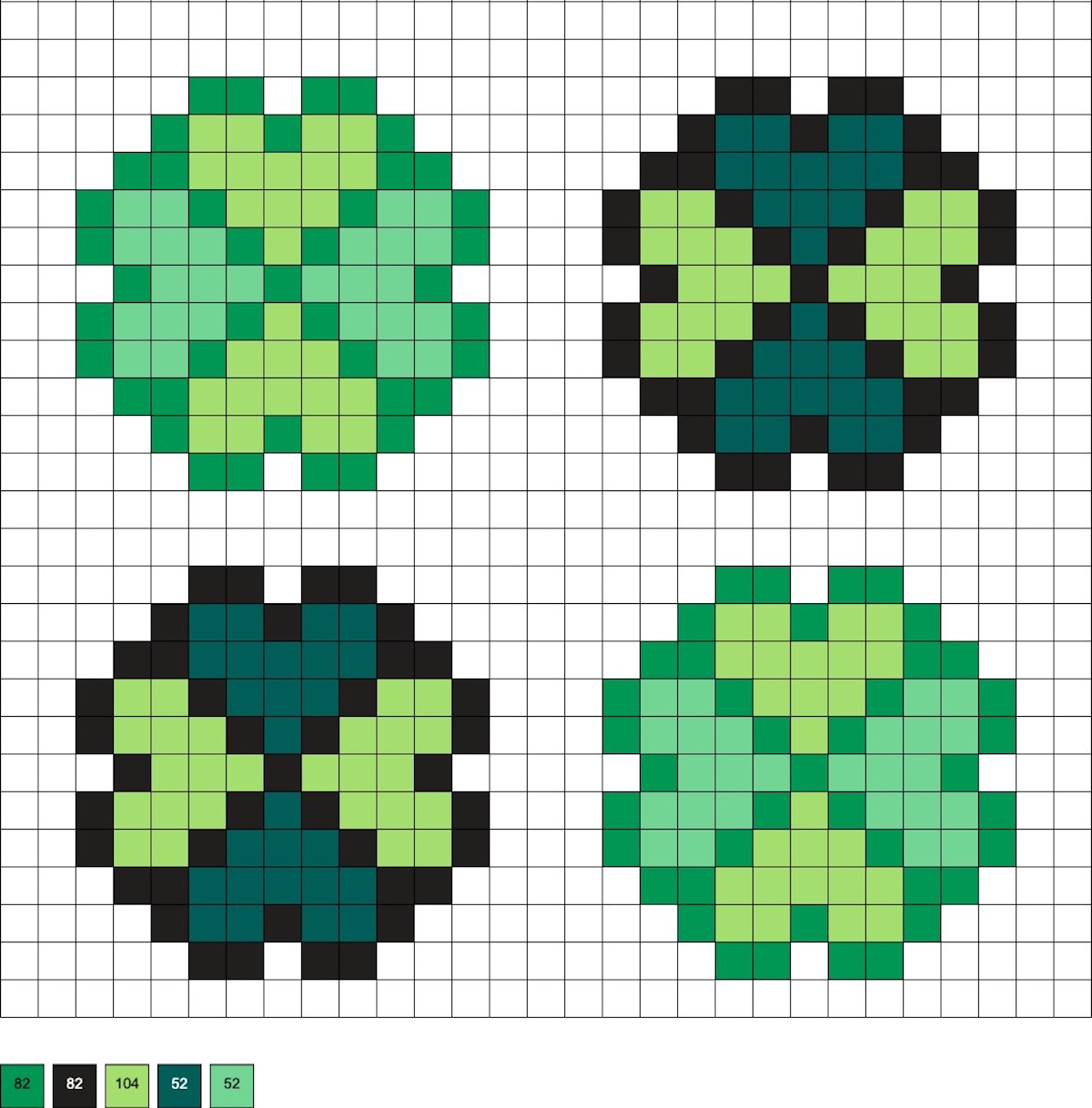 ---
Leprechaun Head
This guy uses 207 kiwi green, 11 shamrock, 15 yellow, 38 black, 70 orange, 51 flesh, and 4 pink beads.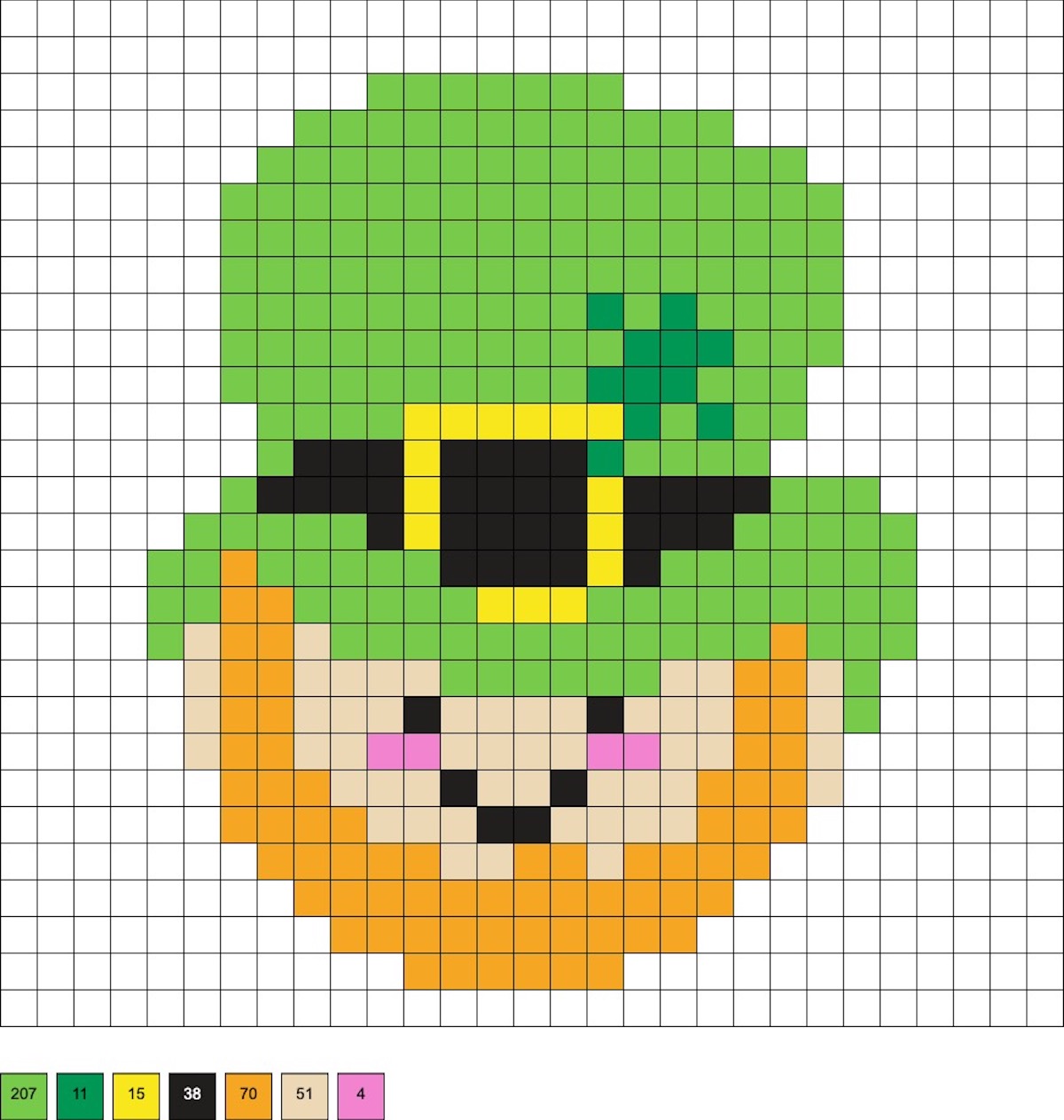 ---
Rainbow with Pot of Gold at the End
This pattern uses 27 pink, 31 red, 25 orange, 21 yellow, 21 green, 20 blue, 20 purple, 20 purple, 19 grape, 31 gold, and 160 black beads.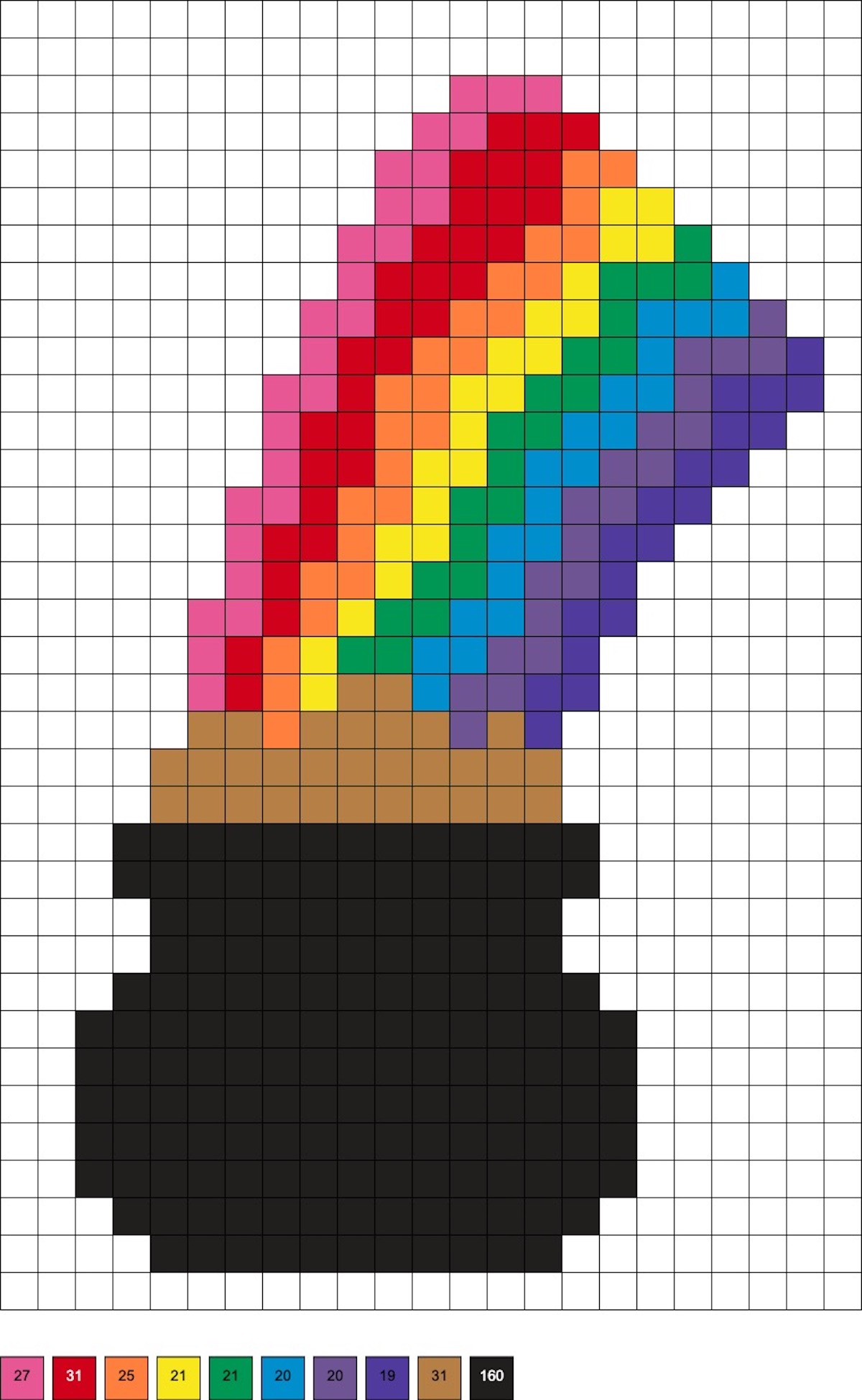 ---
Leprechaun and Shamrock on Small Hexagons
Both of these little cuties use small hexagon boards.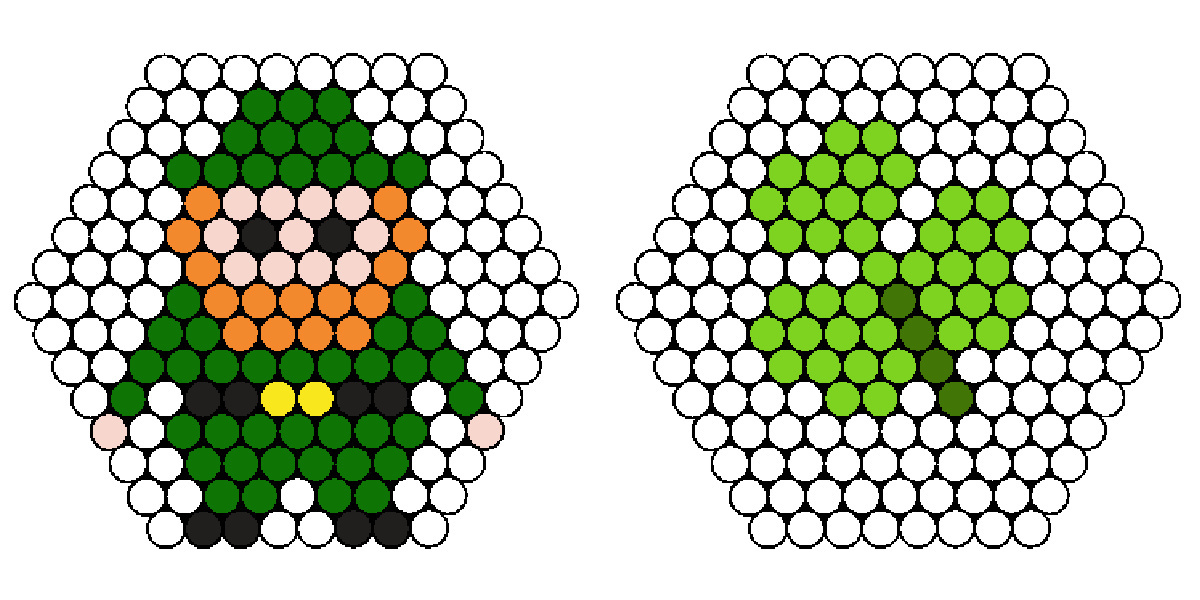 ---
Leprechaun Hat and Rainbow
The hat uses the large hexagon board, and the rainbow uses the large heart board. The gray beads show you where you will place white on the clouds.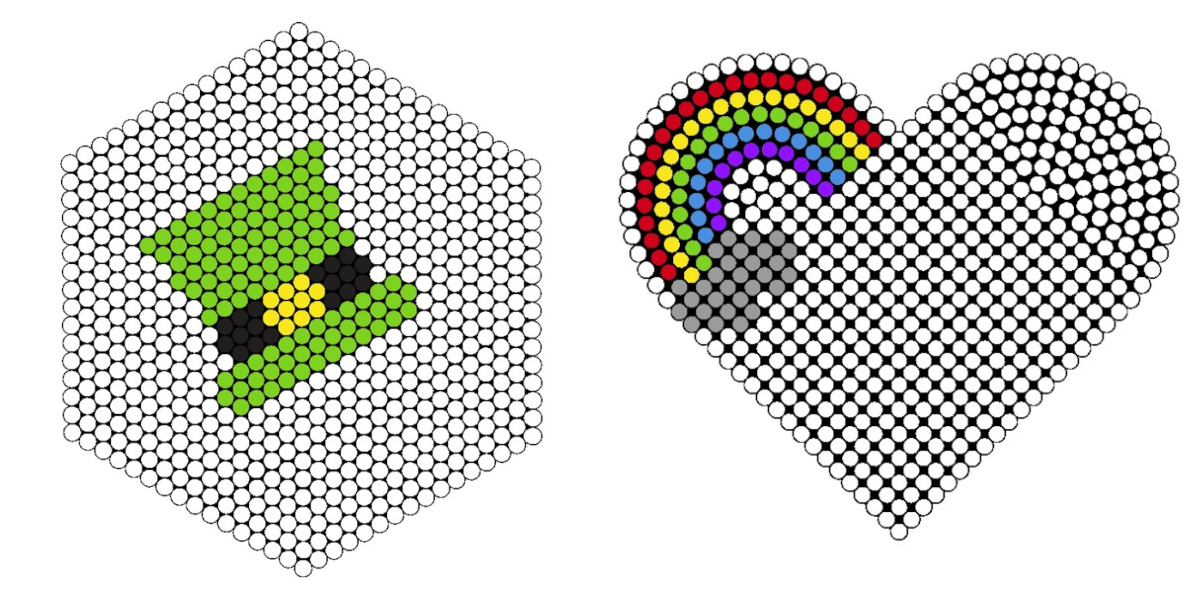 ---
Pot of Gold and Rainbow
Use a large circle to create an entire pot of gold and rainbow scene!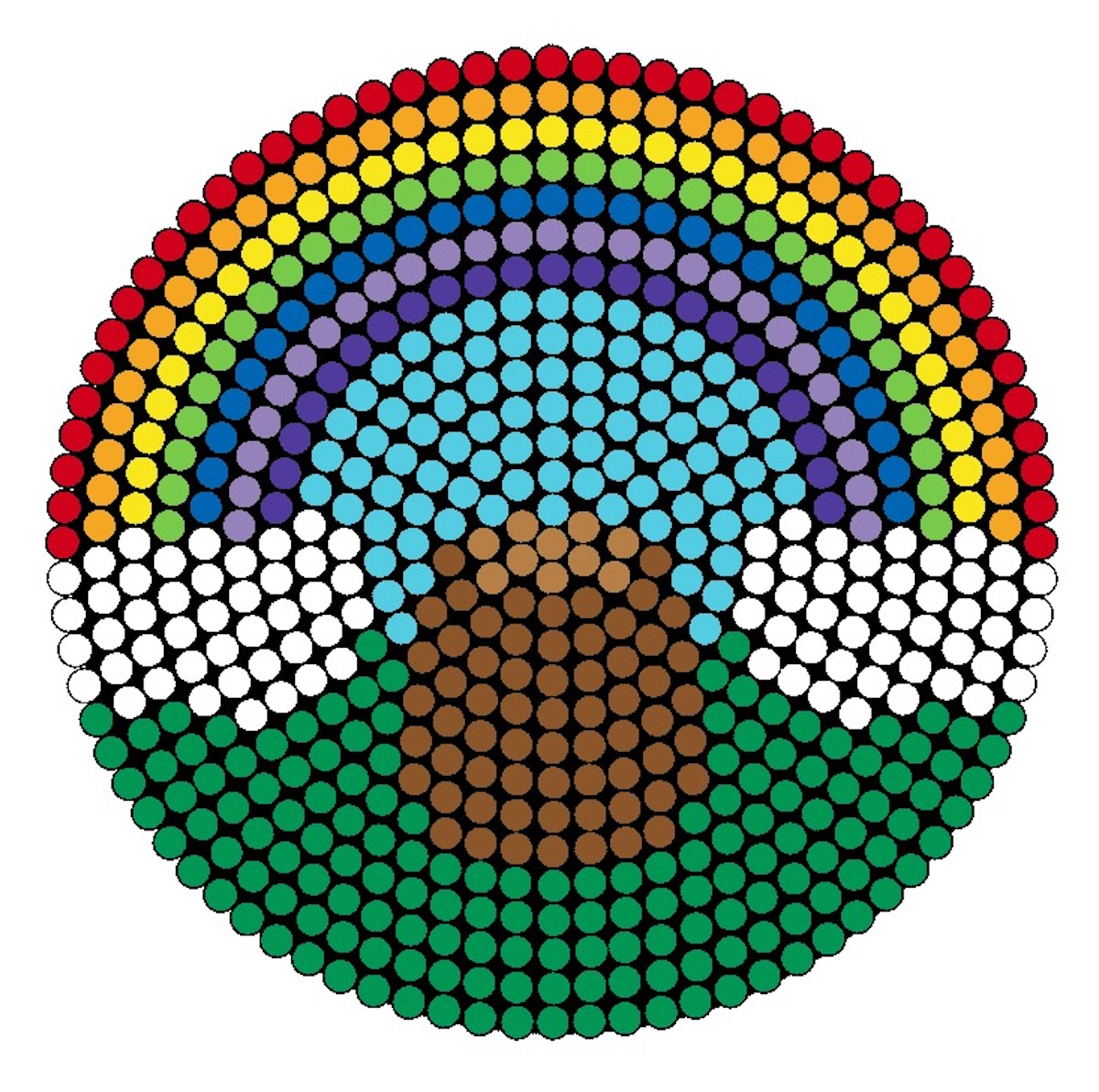 ---
Celtic Symbol, Four Leaf Clover, Irish Flag, and Irish Heart
These patterns use 228 shamrock, 62 pastel green, 28 gray, 71 white, 55 orange, and 28 black beads.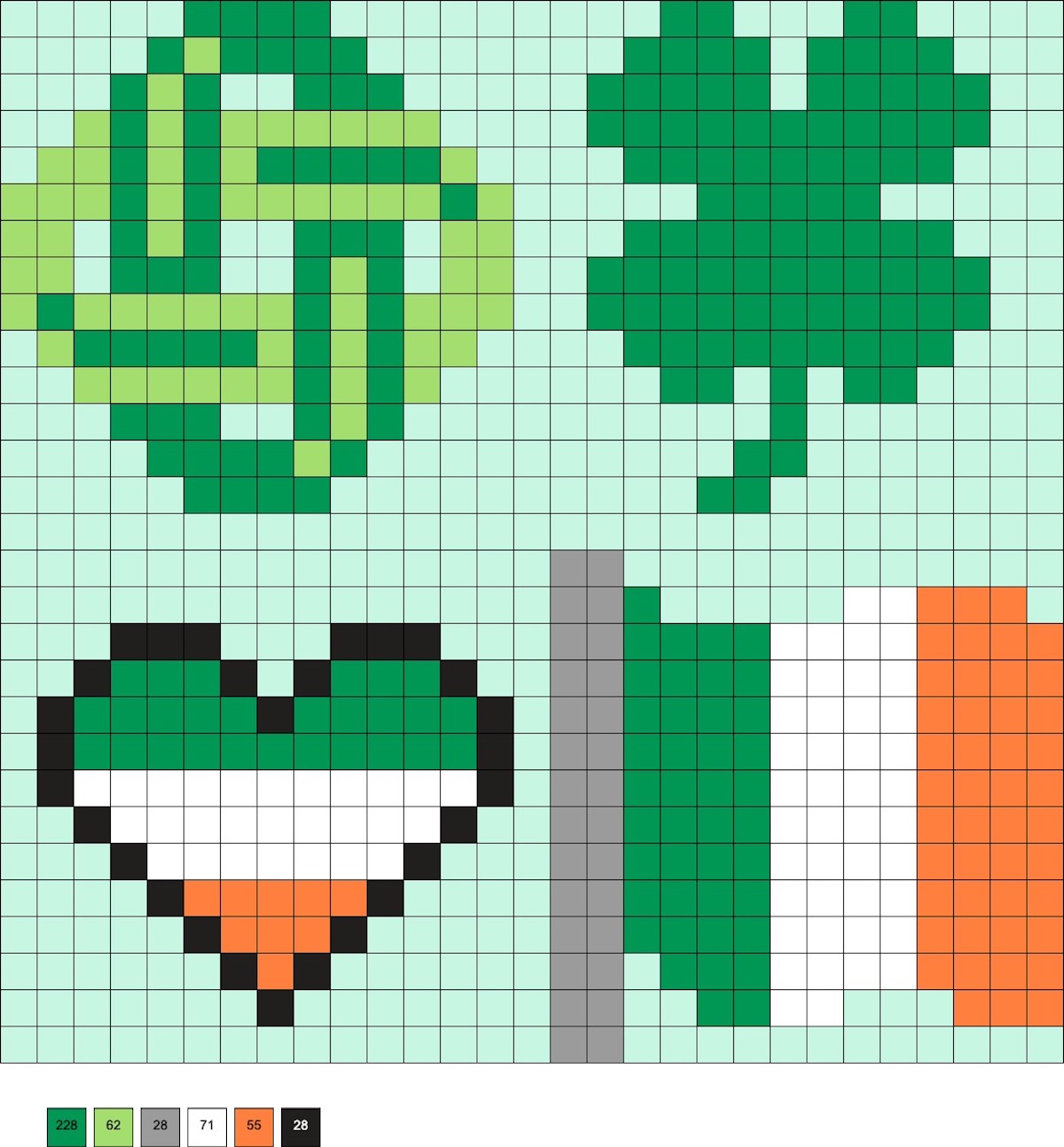 ---
Large Four Leaf Clover Head
This pattern uses 72 kiwi green, 185 shamrock, and 16 dark green beads.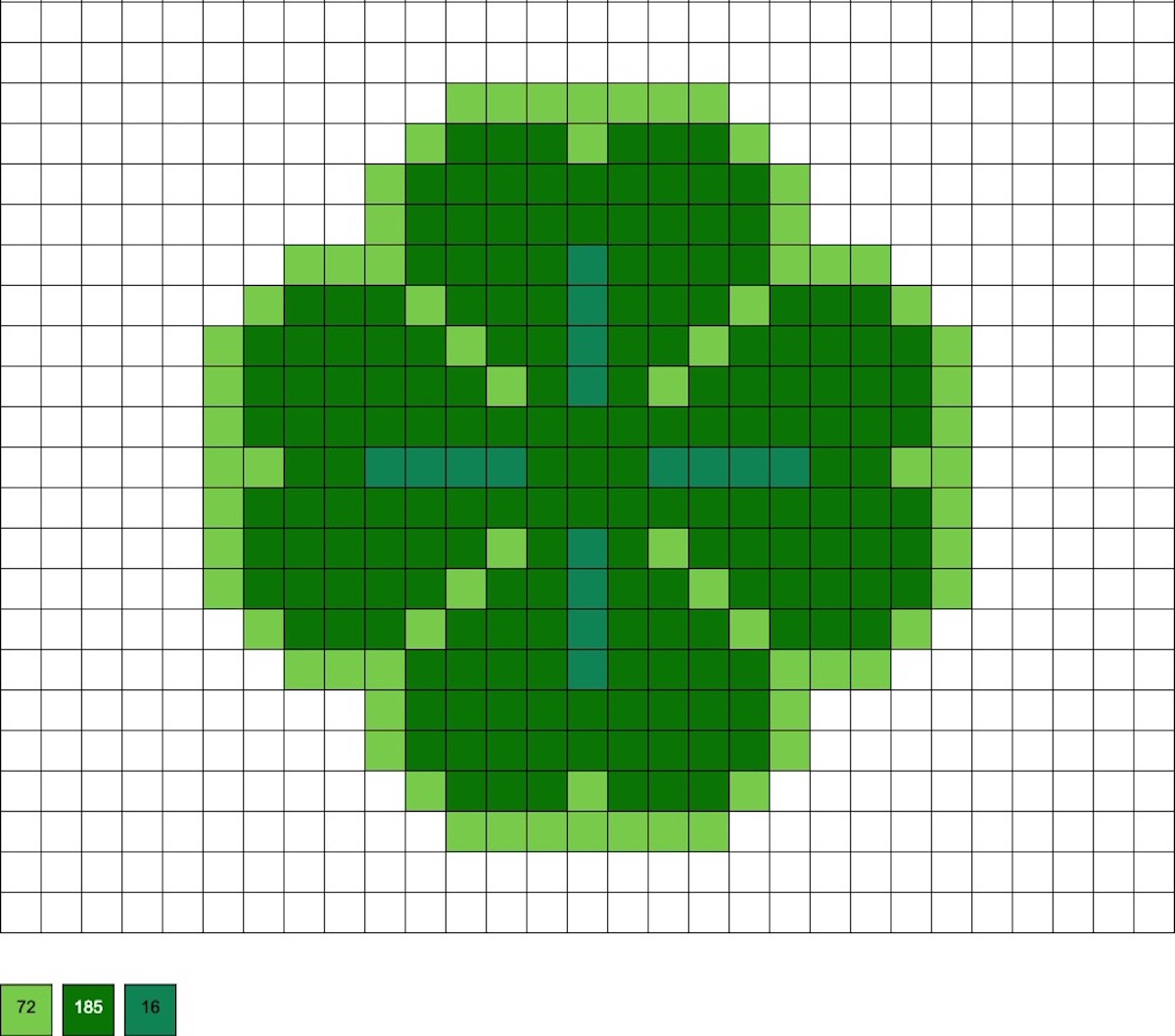 ---
Lucky Charms Leprechaun
This guy's name is Lucky the Leprechaun and he's from the cereal Lucky Charms. He uses 148 black, 182 shamrock, 14 kiwi green, 36 brown, 139 flesh, 29 white, and 12 red beads.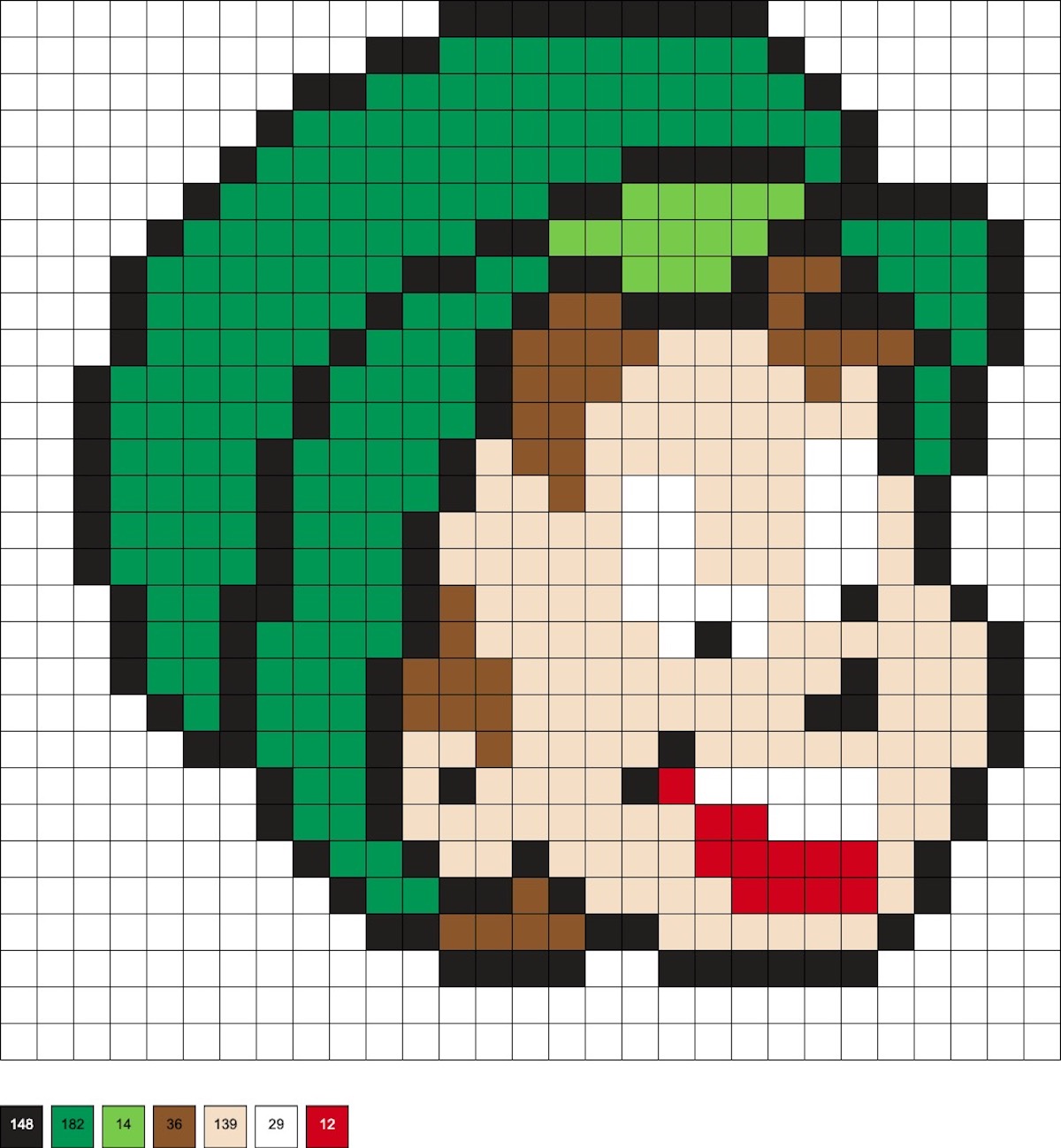 ---
Leprechauns, Pot of Gold, Green Beer, and Gold Horseshoe
These patterns use 59 green, 76 orange, 130 yellow, 153 toasted marshmallow, 147 light gray, 89 medium gray, 31 black, 29 dark gray, 5 red, 115 kiwi green, 9 flesh, and 31 sherbert beads.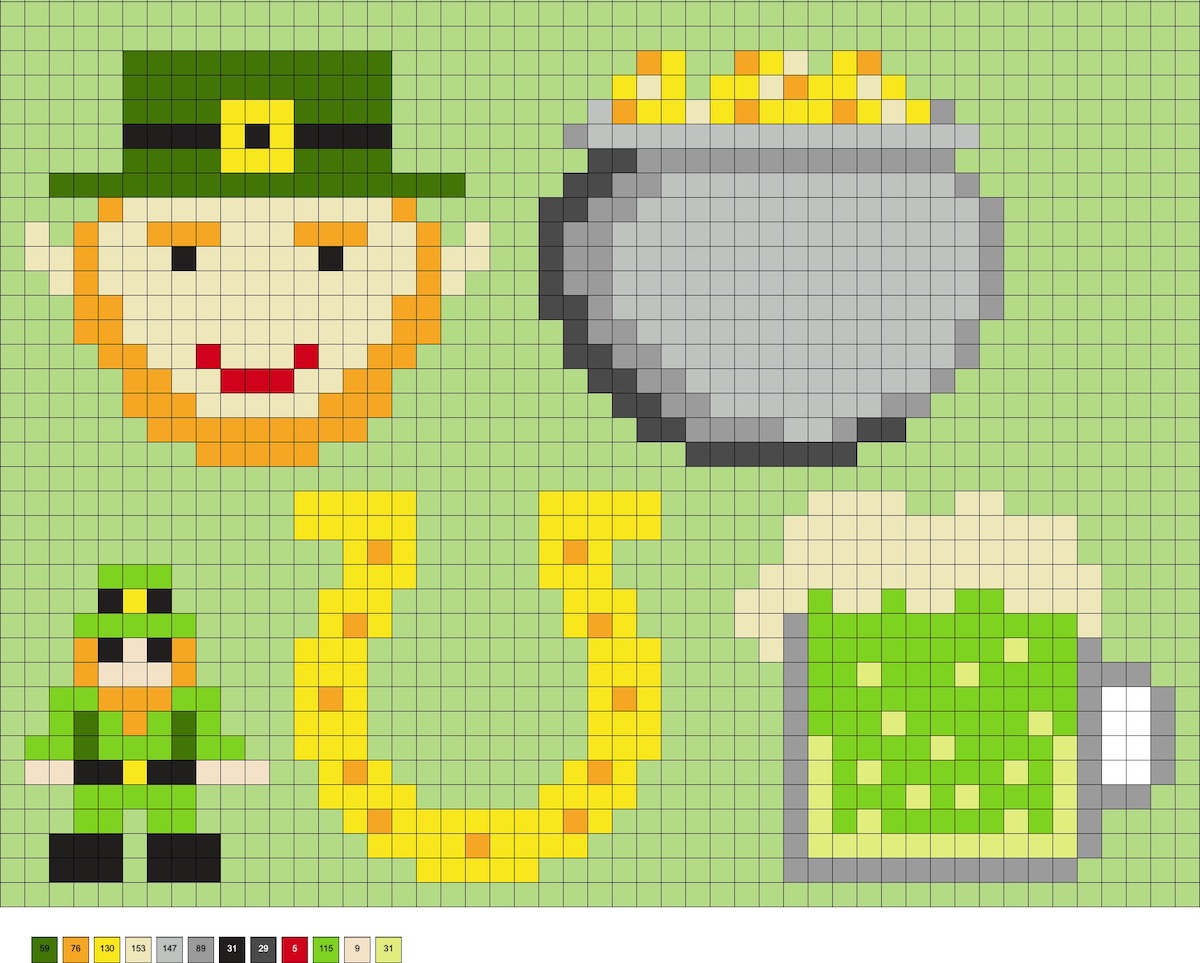 ---
Green Owl with a Green Hat
This pattern uses 121 shamrock, 22 black, 8 brown, 161 dark green, 148 bright green, 35 white, 16 gray, and 8 orange beads.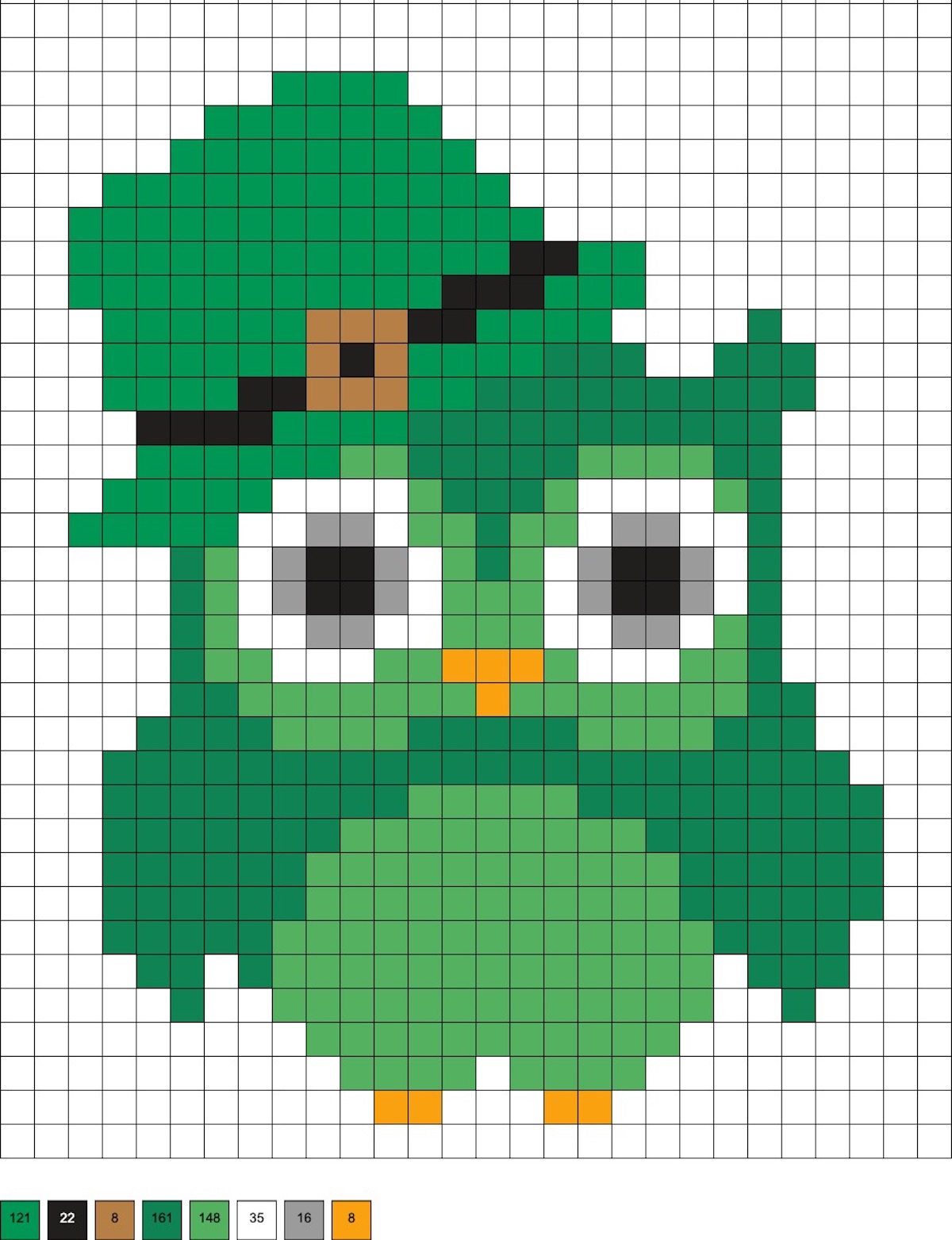 ---
Cute Spring Rainbow
This pattern uses a large circle.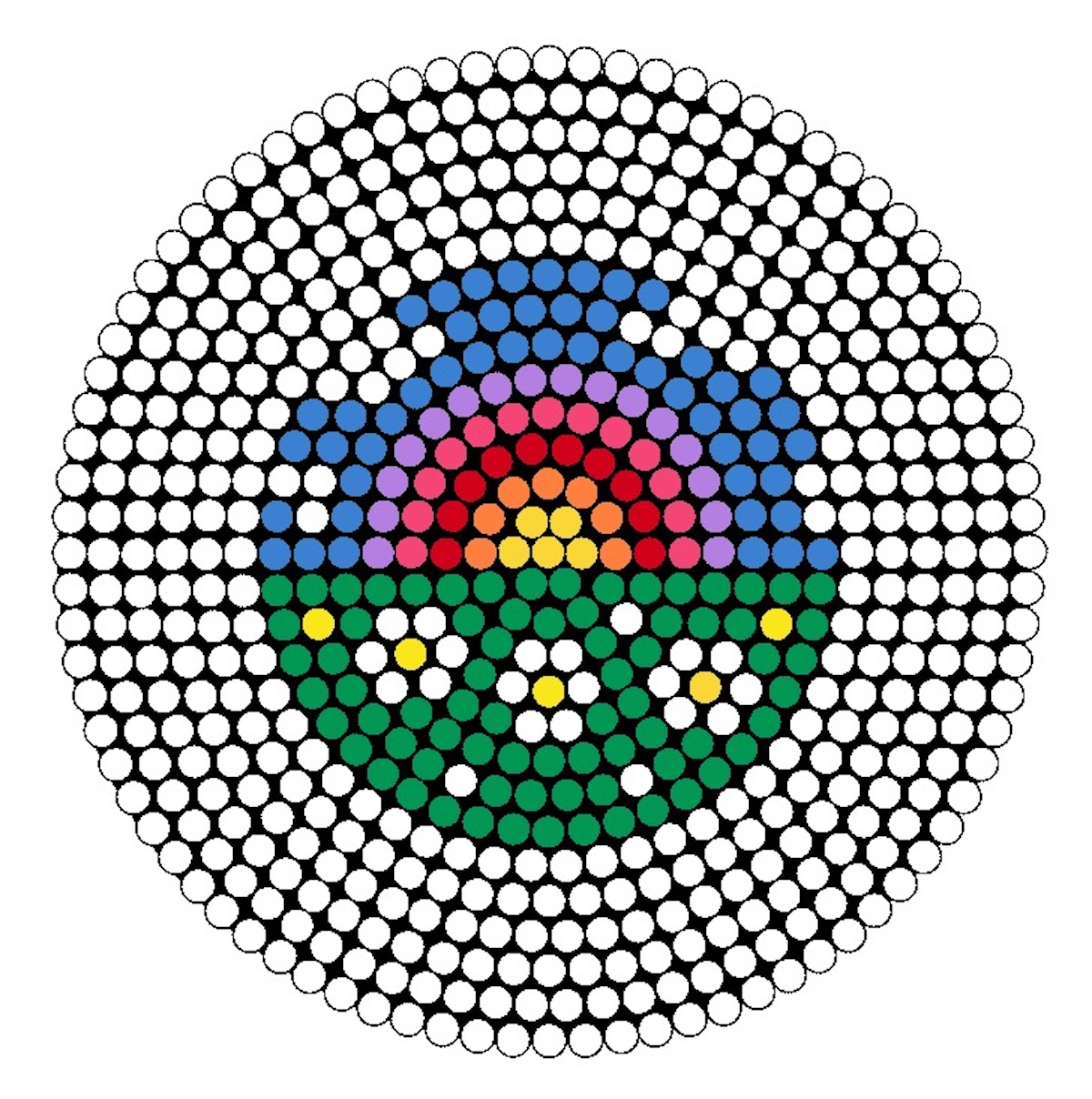 ---
Rainbow Star and Bow
These patterns are fun if you're looking for some kitsch to add to your St. Patrick's Day outfit! These are a great opportunity to use up a variety of colors.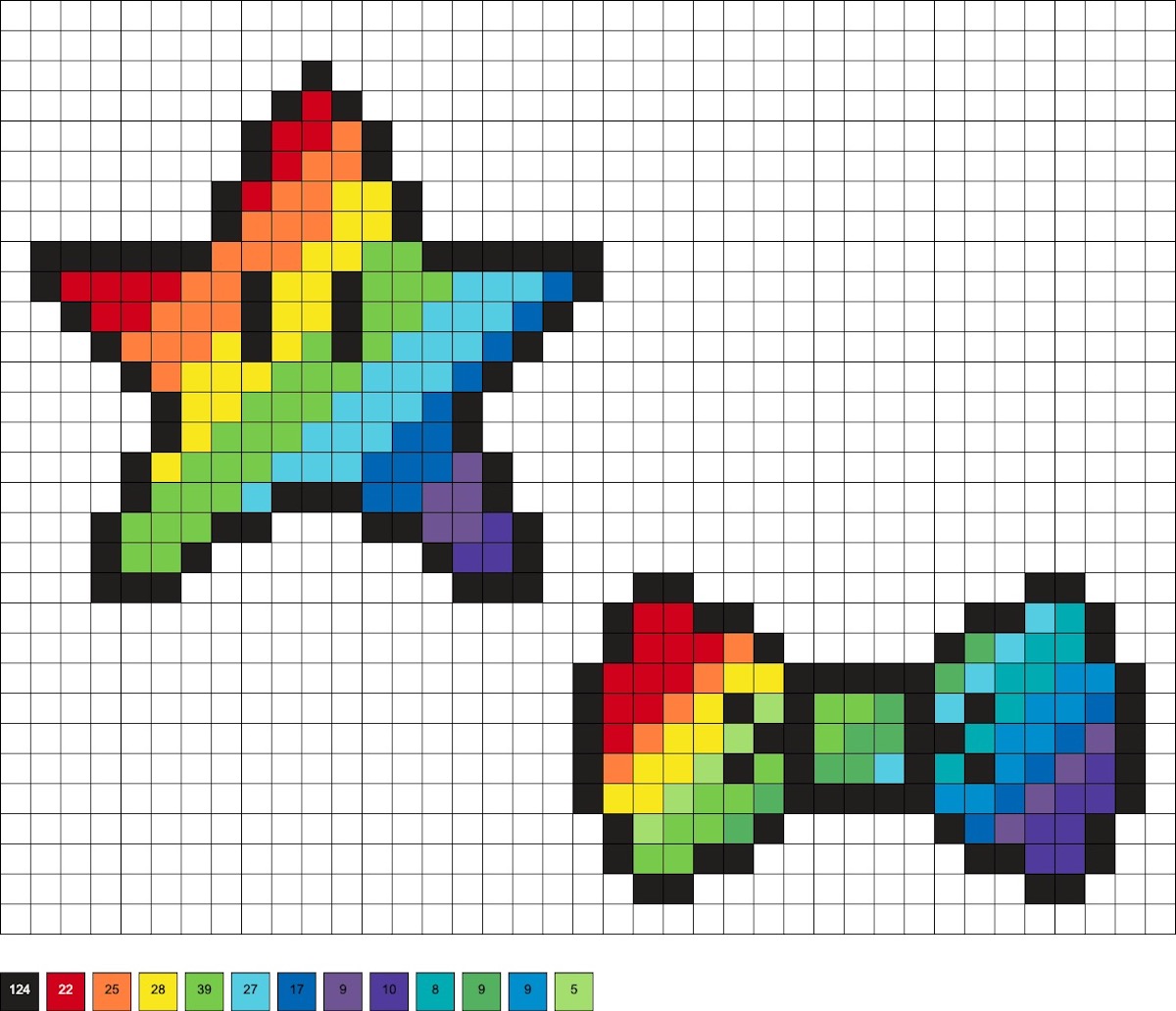 ---
Rainbow with a Stand
You can make the rainbow using the large circle on the left alone, but if you have 145 white beads, you can make the cloud stands on the right. Just insert directly into the pieces.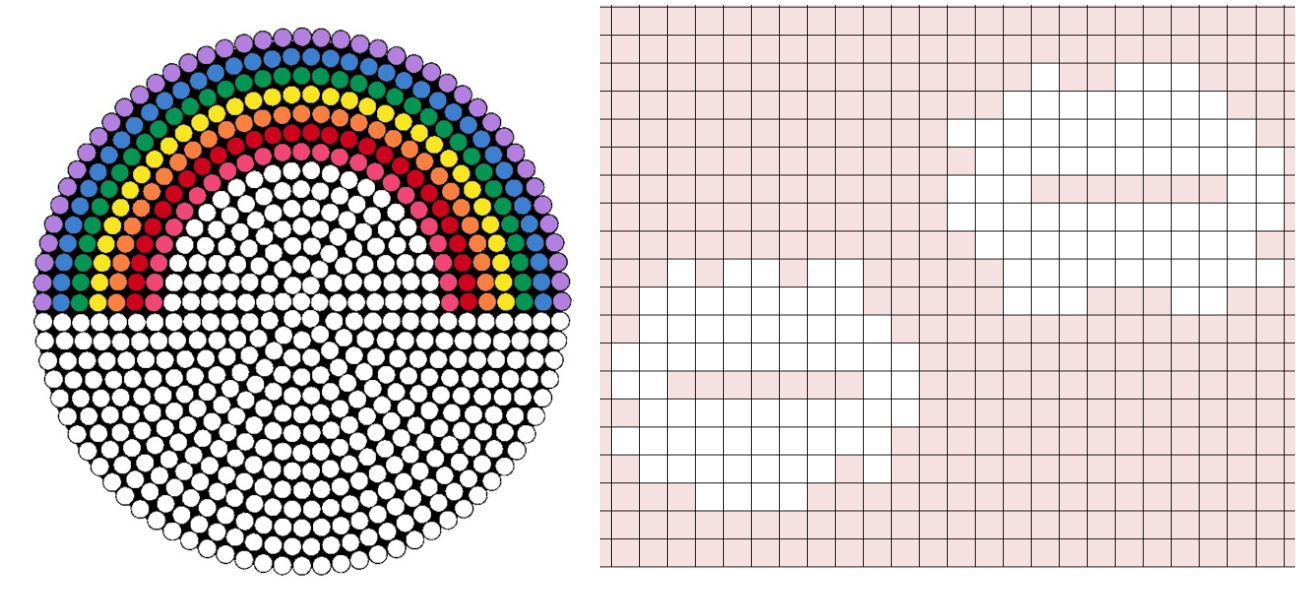 ---
Pot of Gold and Gold Coin
The pot of gold uses the large round pegboard and the gold coin uses the small round pegboard.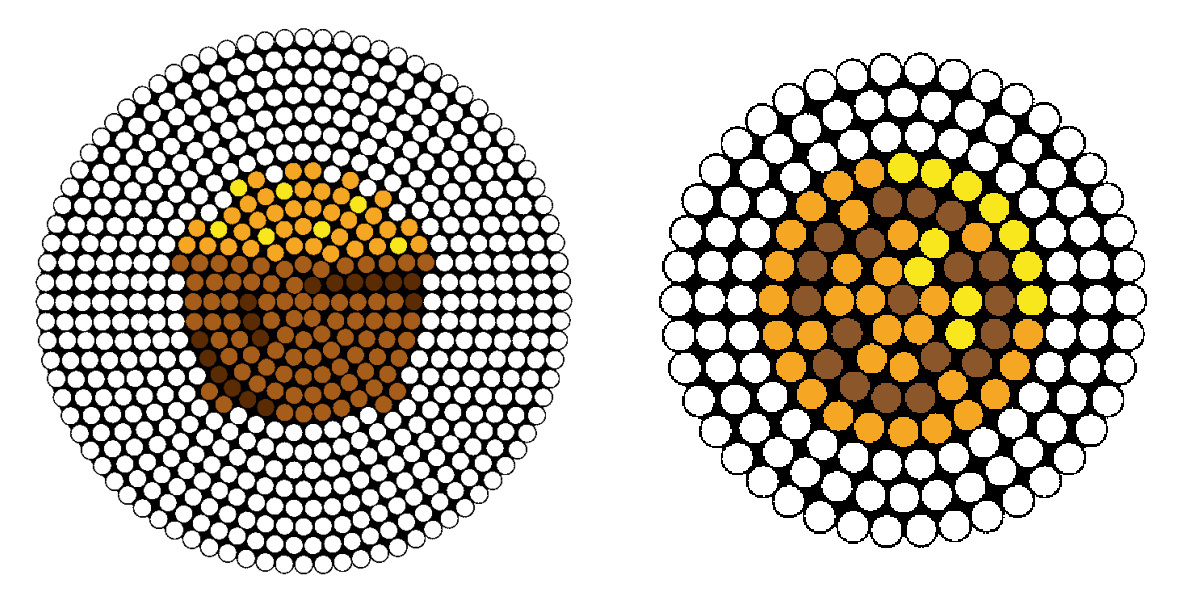 ---
This pattern uses 121 bright green, 48 sherbert, 16 flesh, 76 white, 60 shamrock, and 12 gray beads.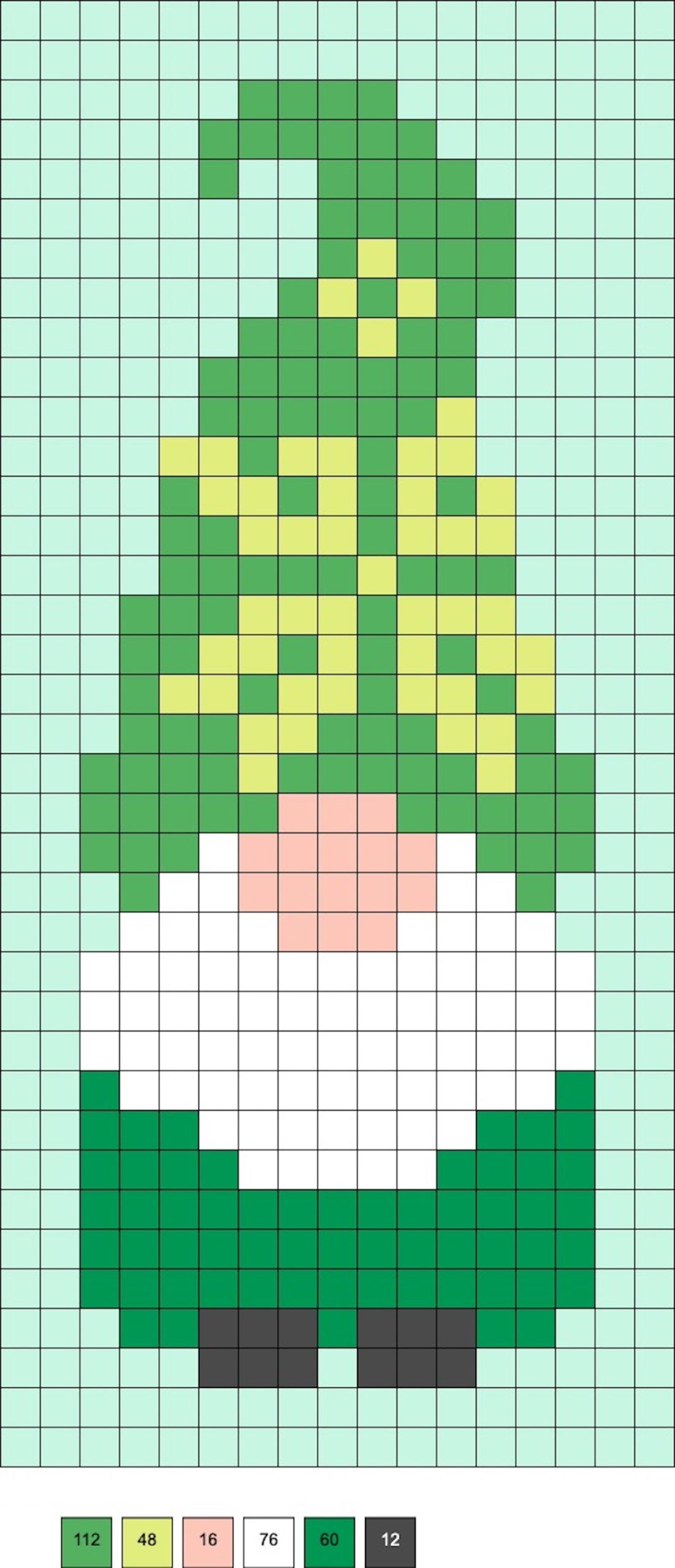 ---
Woven Rainbow Heart
This pattern uses a large heart pegboard.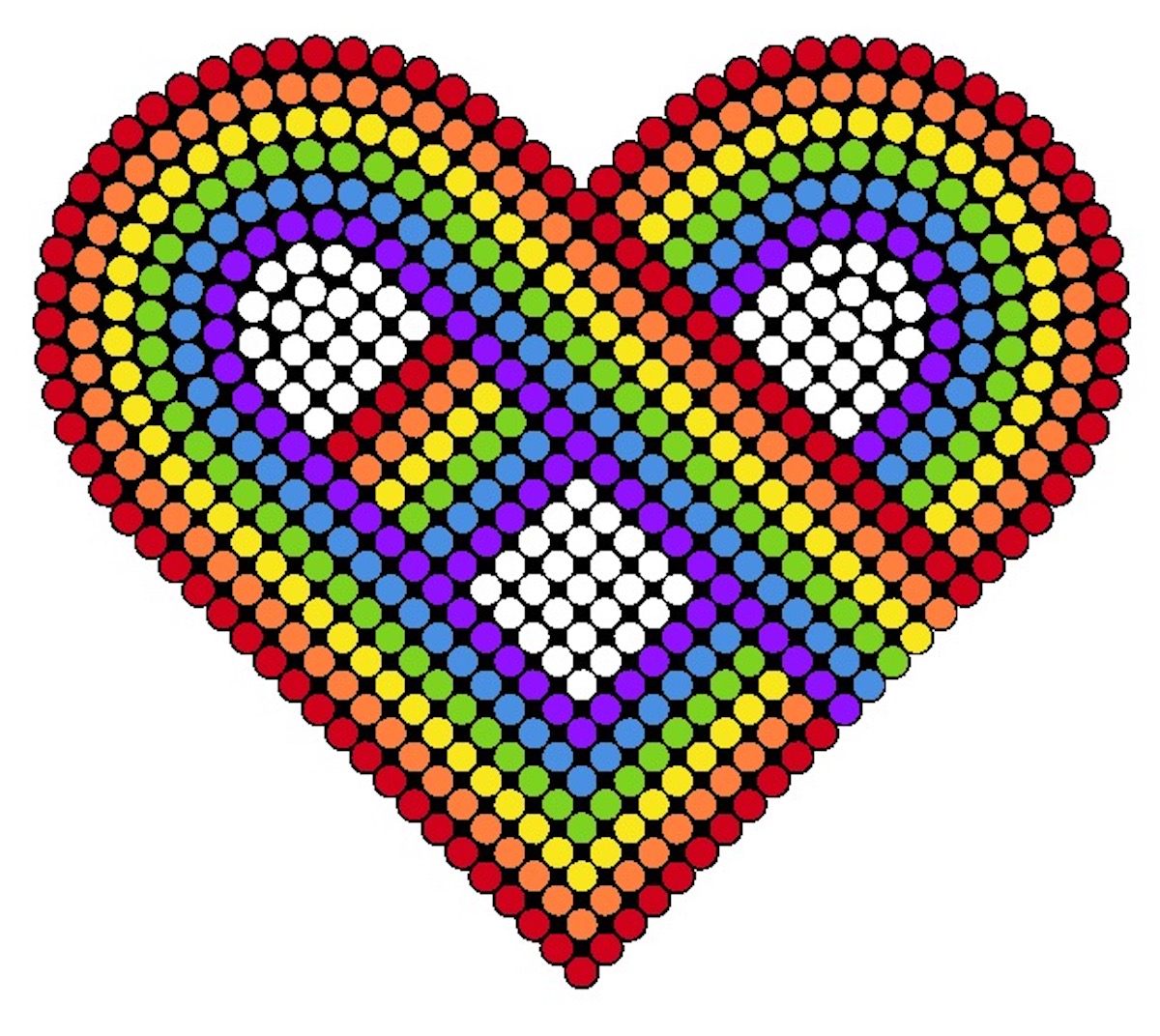 ---
Heart Shaped Shamrock
This pattern uses 156 shamrock, 102 pastel green, 90 kiwi apple, and 78 bright green beads.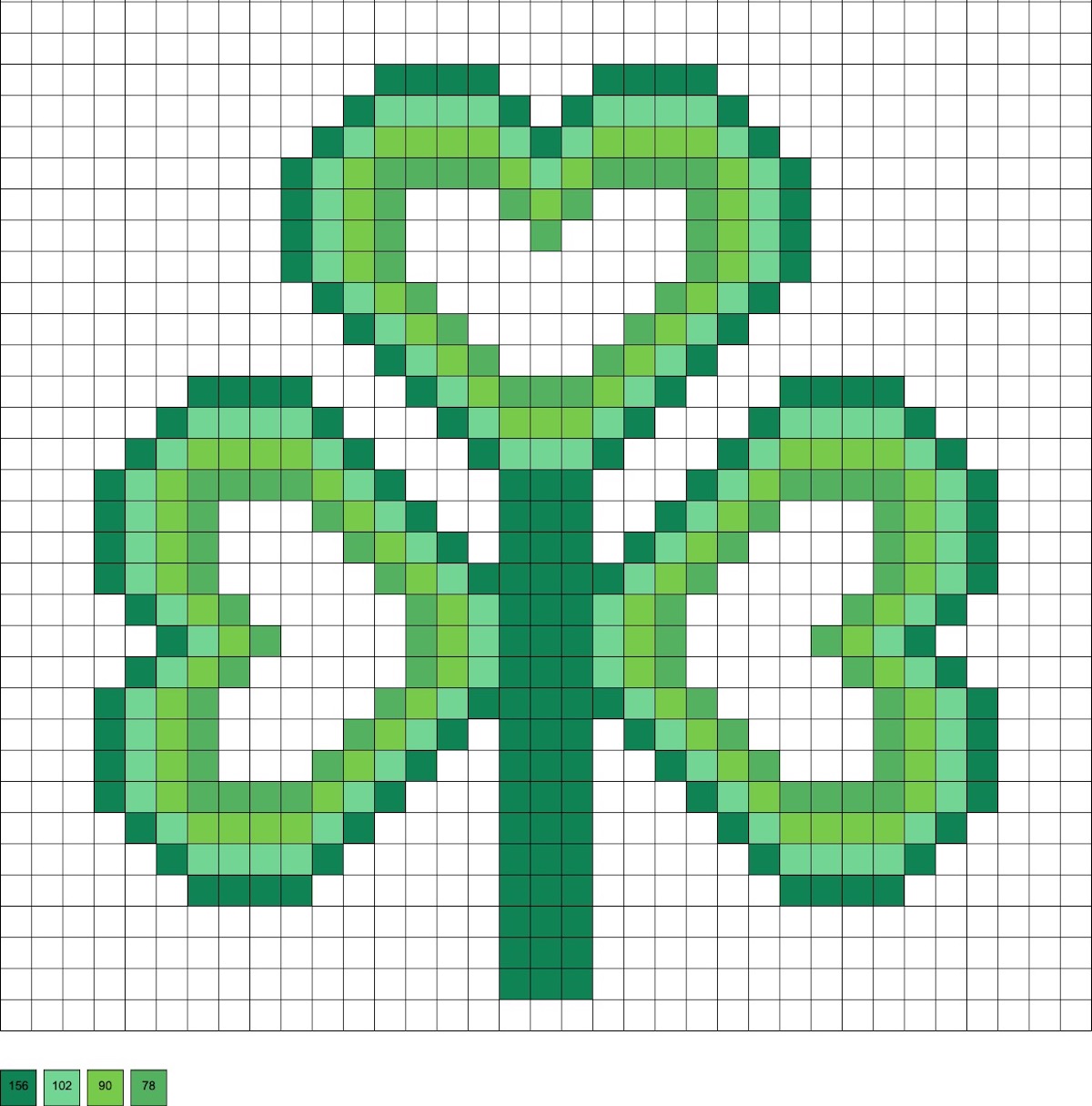 ---
Leprechaun Gnome
Combine the best of both worlds – a leprechaun and a gnome! This pattern uses 285 shamrock, 52 pastel green, 10 white, 157 orange, 26 pink, 27 black, 11 spice, 33, brown, 12 honey, and 14 gingerbread beads.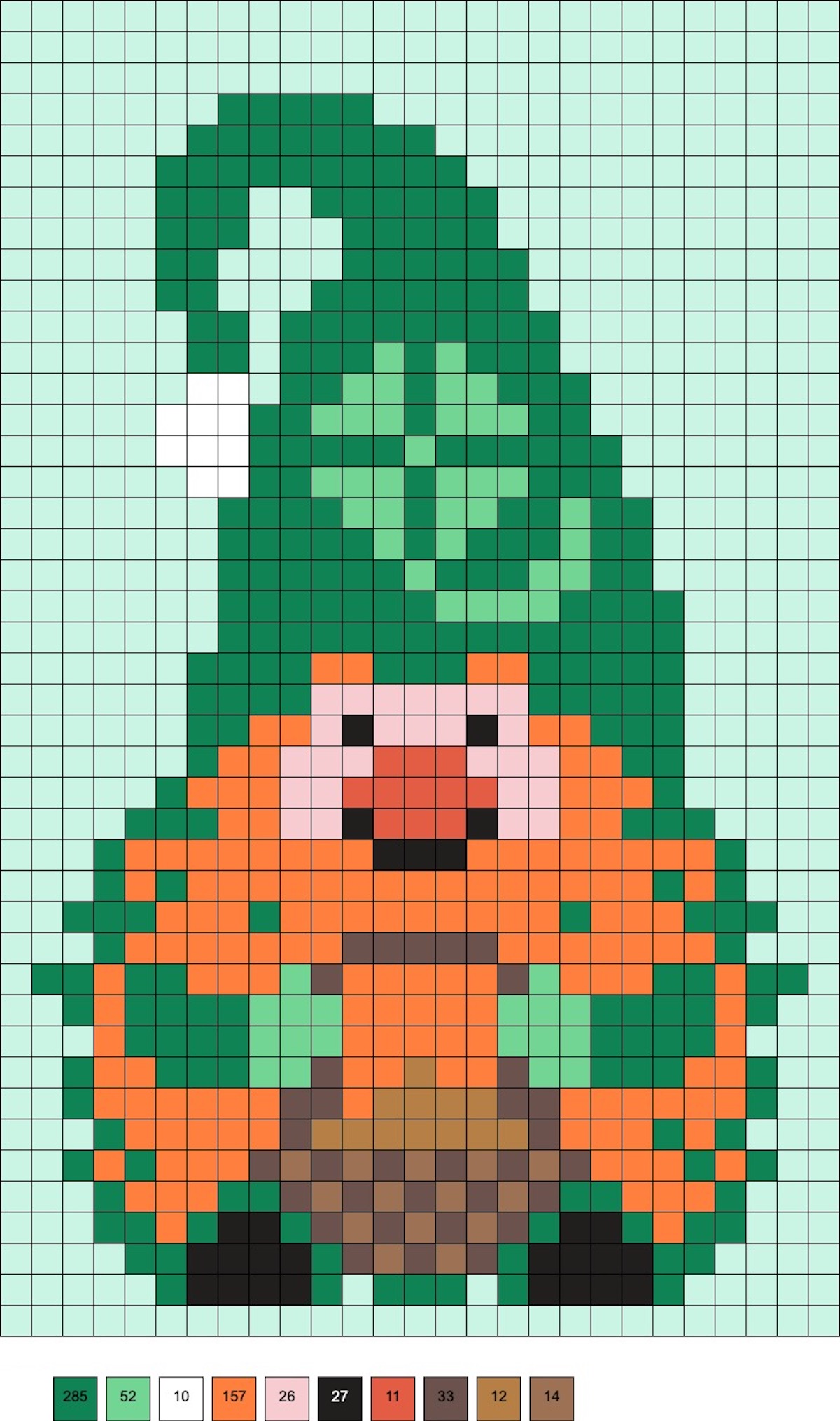 ---
Green Owl Standing on a Hat
This pattern uses 387 shamrock, 199 bright green, 40 white, 16 gray, 50 black, 16 orange, 27 brown, and 4 yellow beads.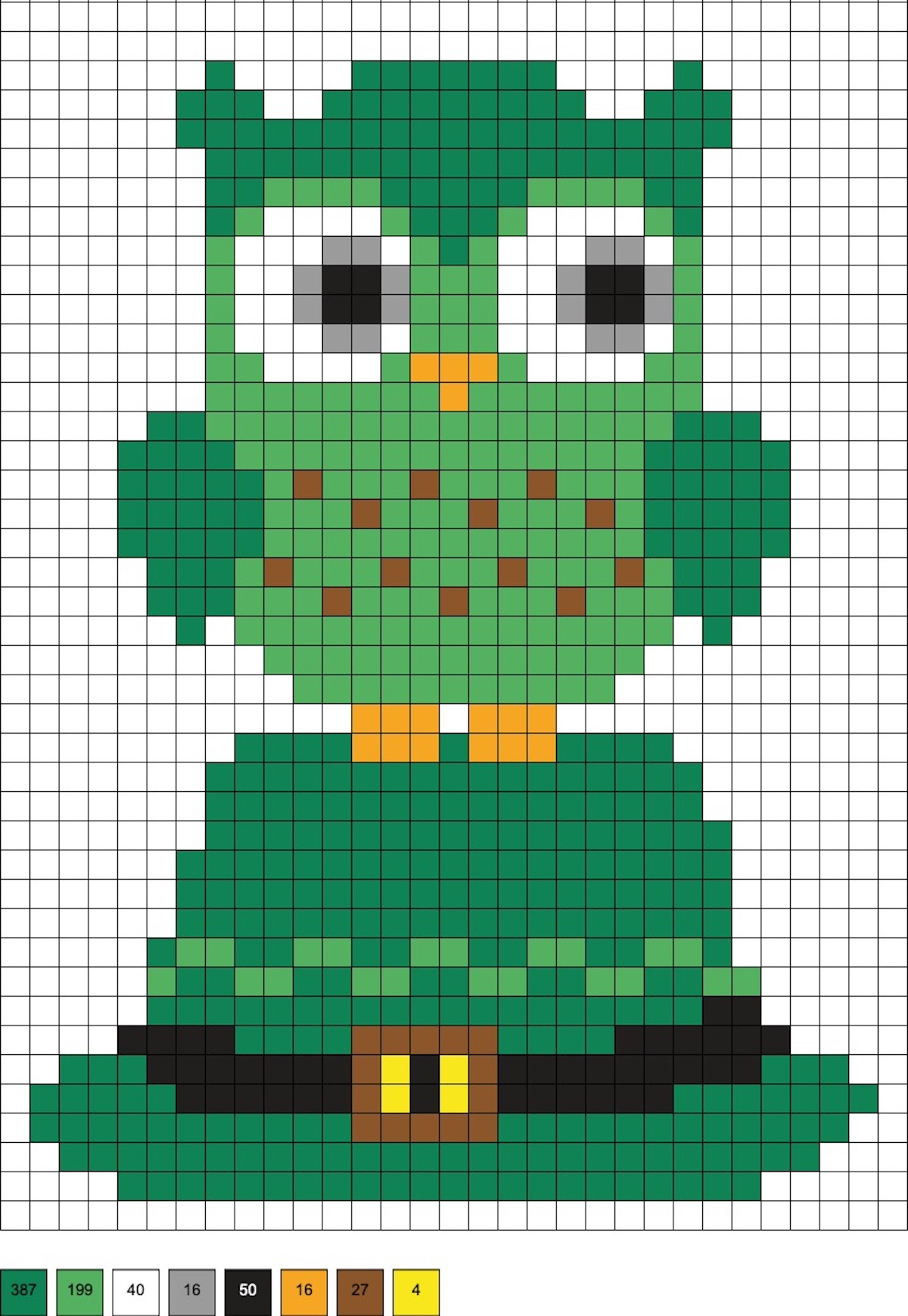 ---
St. Patrick's Day Mason Jars
These patterns use 164 pewter, 88 gray, 320 kiwi green, 271 shamrock, 143 white, 10 black, and 4 gold beads.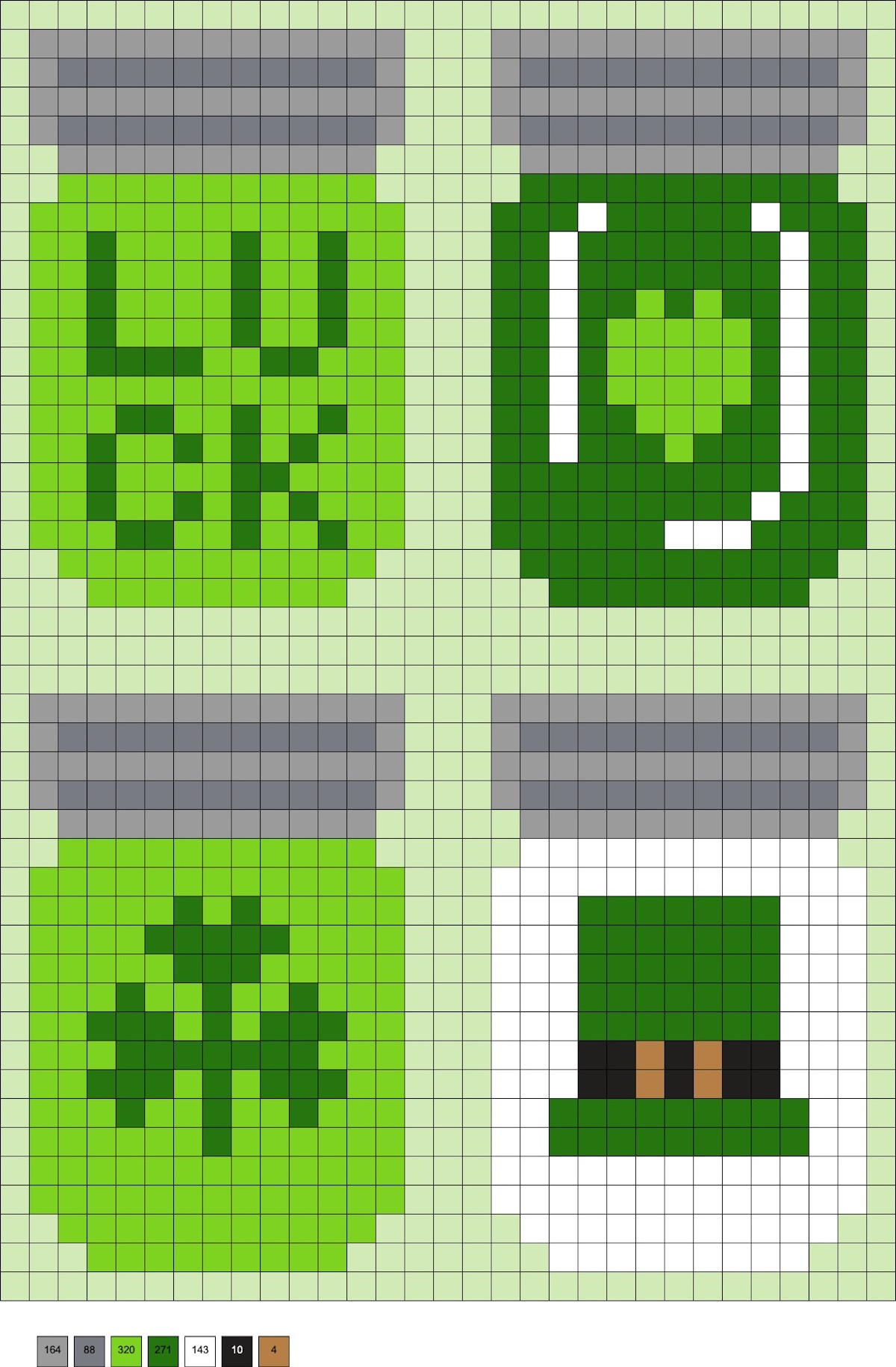 ---
Female Leprechaun Gnome
This gal uses 122 shamrock, 200 kiwi green, 10 yellow, 24 flesh, and 78 orange beads.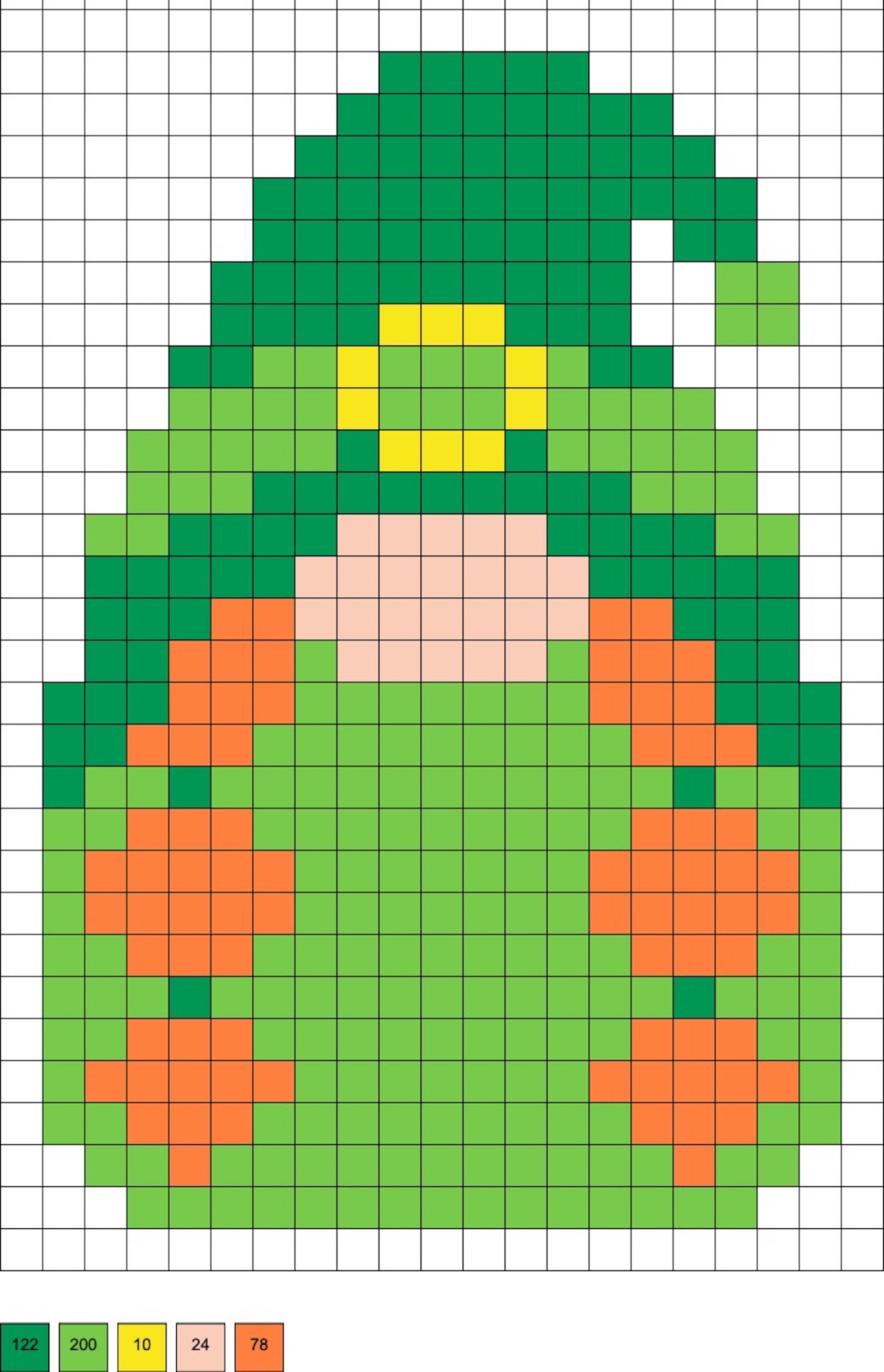 ---
Lucky Cat in a Green Teacup
This pattern uses 280 black, 91 light gray, 229 white, 32 gray, 55 bright green, 168 pastel green, 4 pink, and 143 shamrock beads.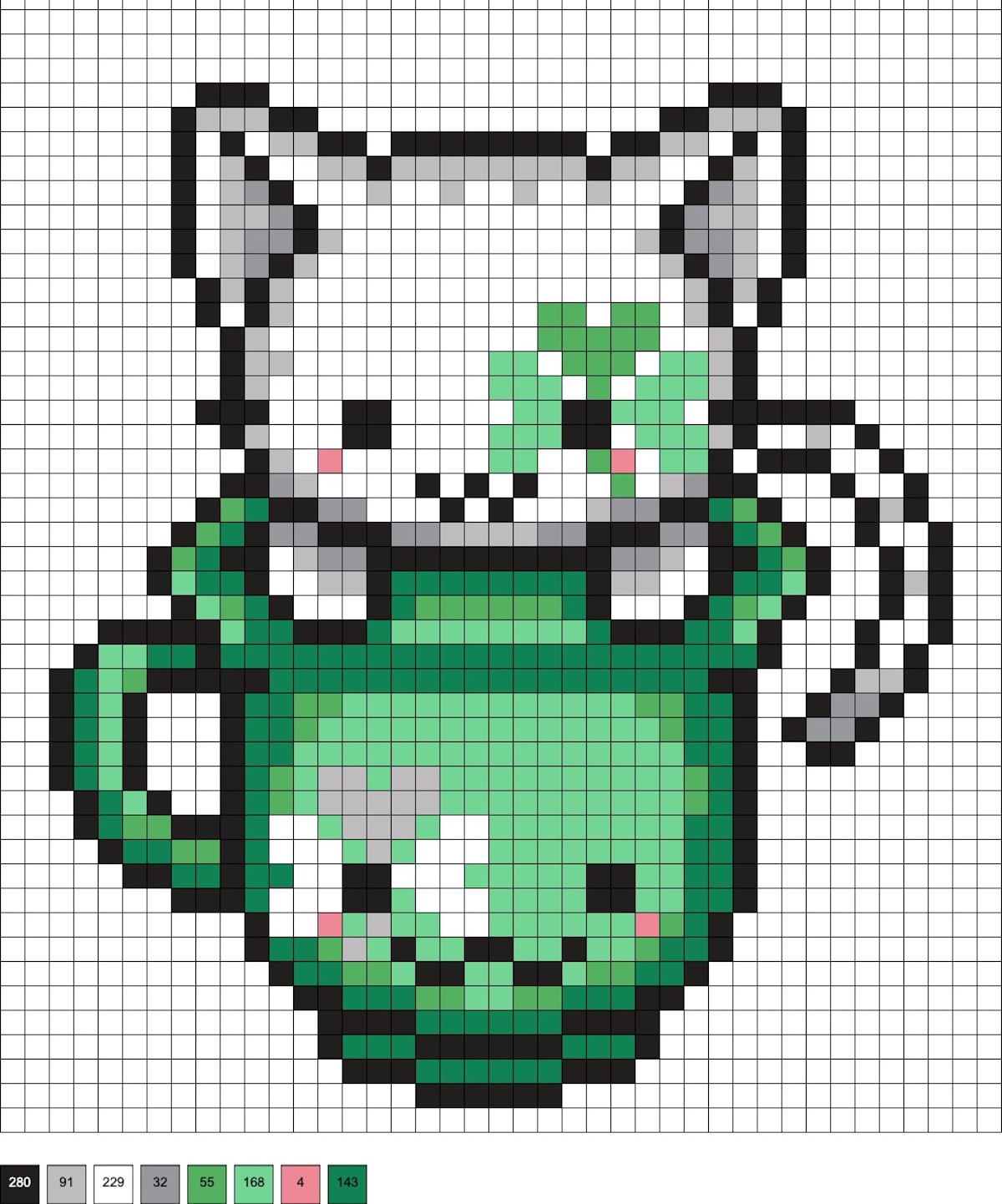 ---
Green Owl Standing in a Pot of Gold
This pattern uses 176 shamrock, 40 white, 16 gray, 74 black, 131 bright green, 8 honey, 12 brown, 5 light gray, 248 dark gray, 14 cheddar, 34 yellow, and 10 orange beads.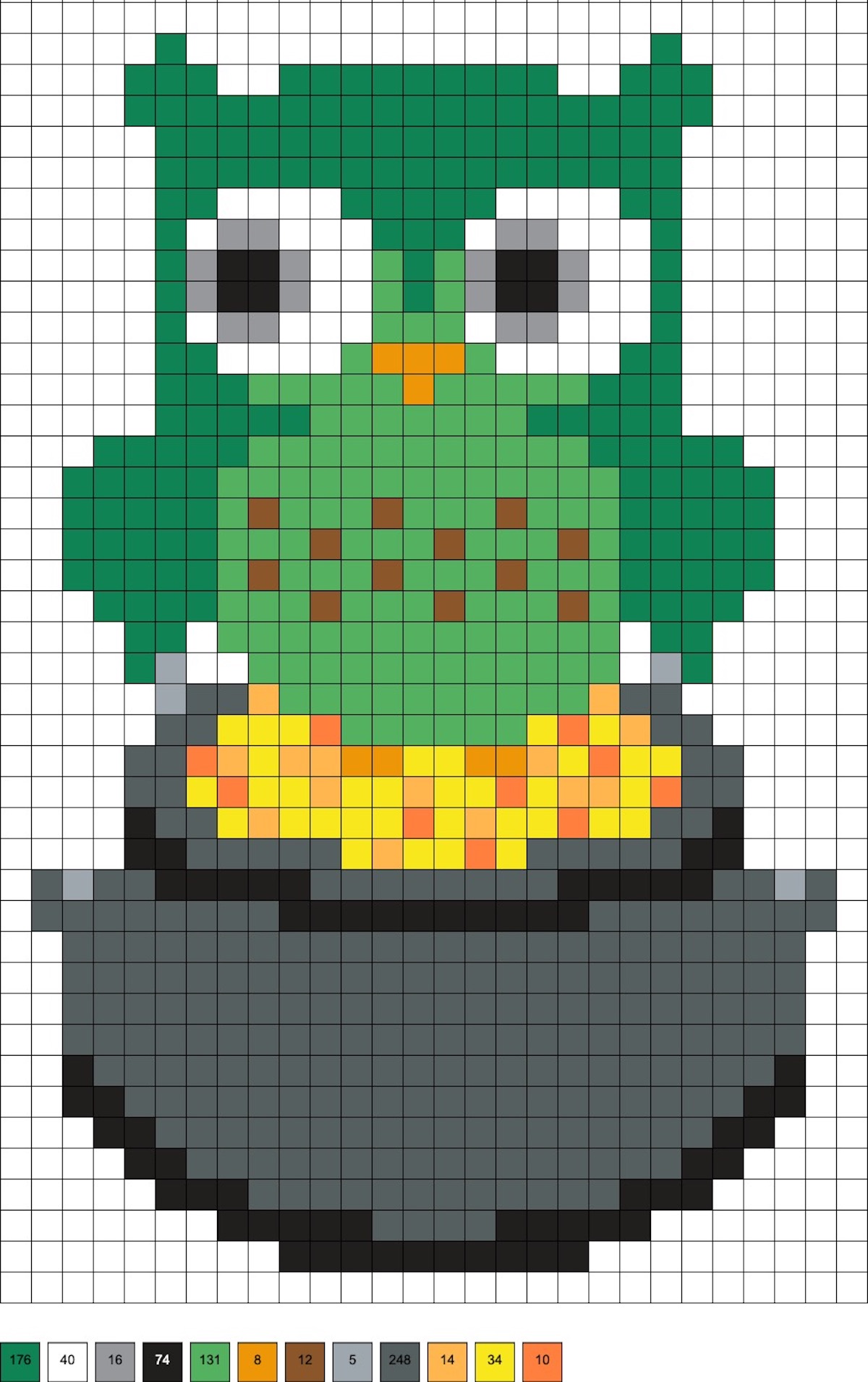 ---
Rainbow Heart Four Leaf Clover
This pattern uses 111 shamrock, 128 blue, 137 red, 339 white, 128 purple, 130 orange, and 109 yellow beads.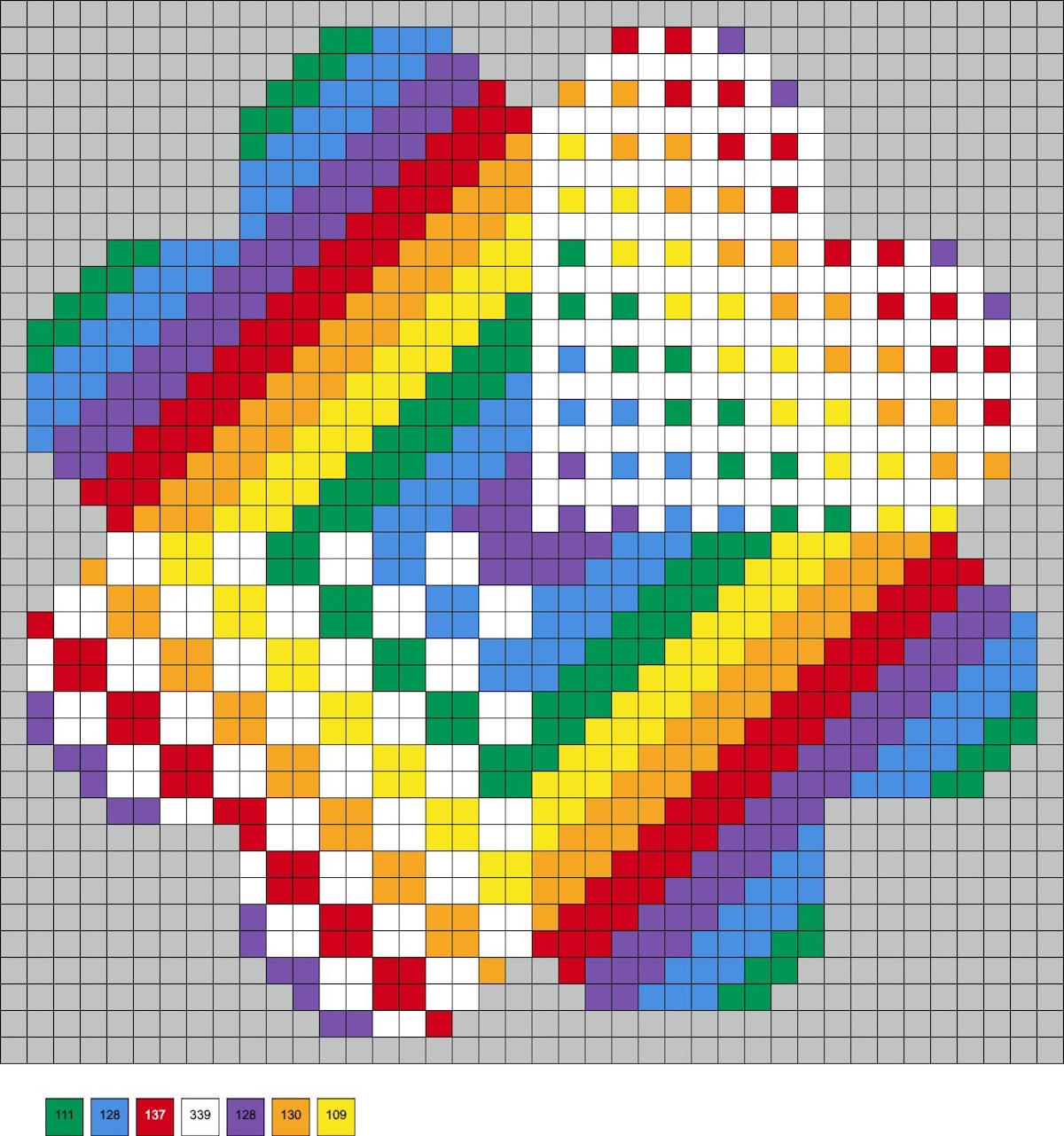 ---
Shamrock Bowler Hat
This pattern uses 495 bright green, 362 shamrock, and 206 brown beads.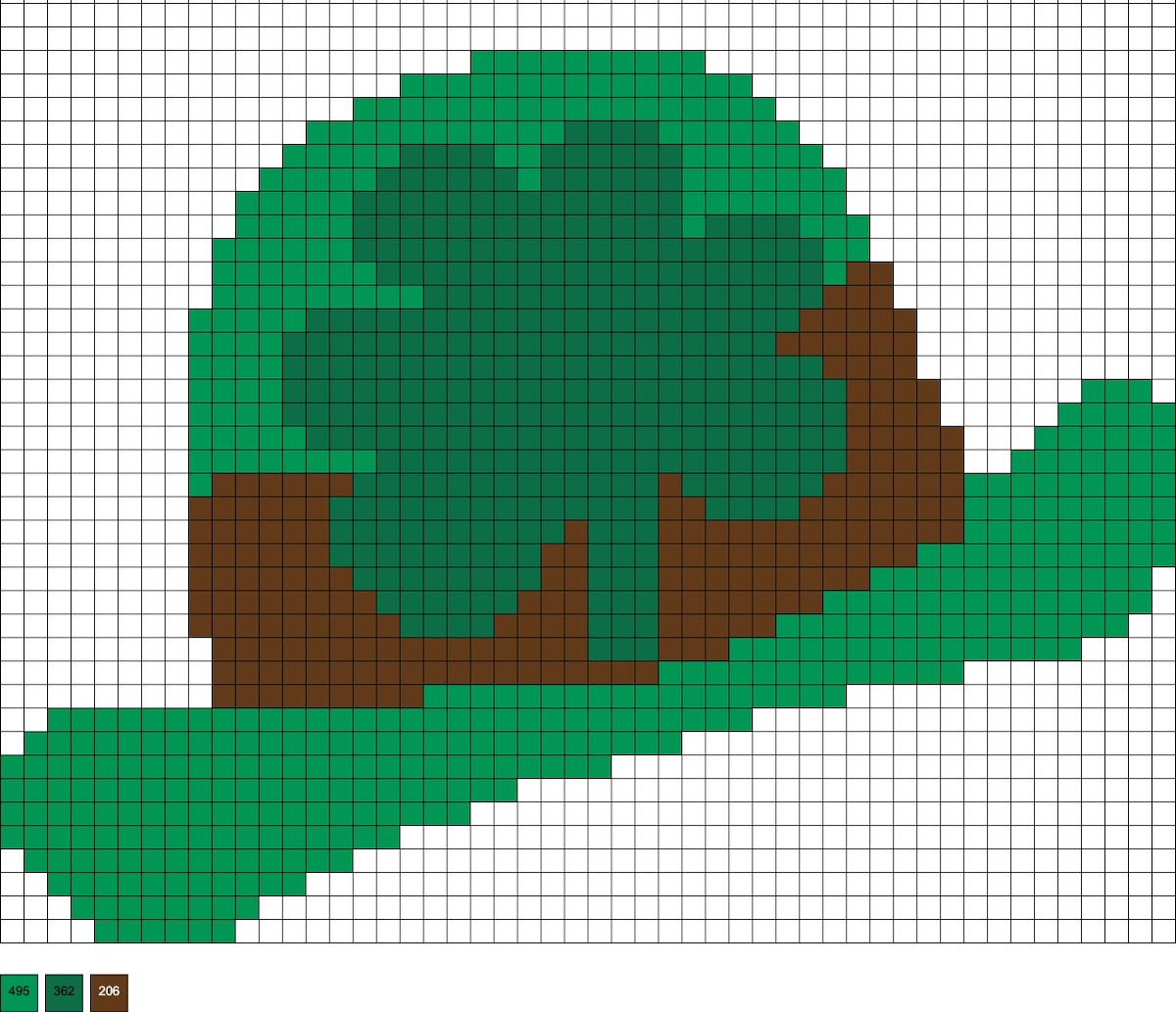 ---
Rainbow Heart with Unicorns
This pattern uses 10 fuschia, 62 red, 75 white, 75 black, 50 orange, 42 yellow, 36 green, 30 blue, and 16 purple beads.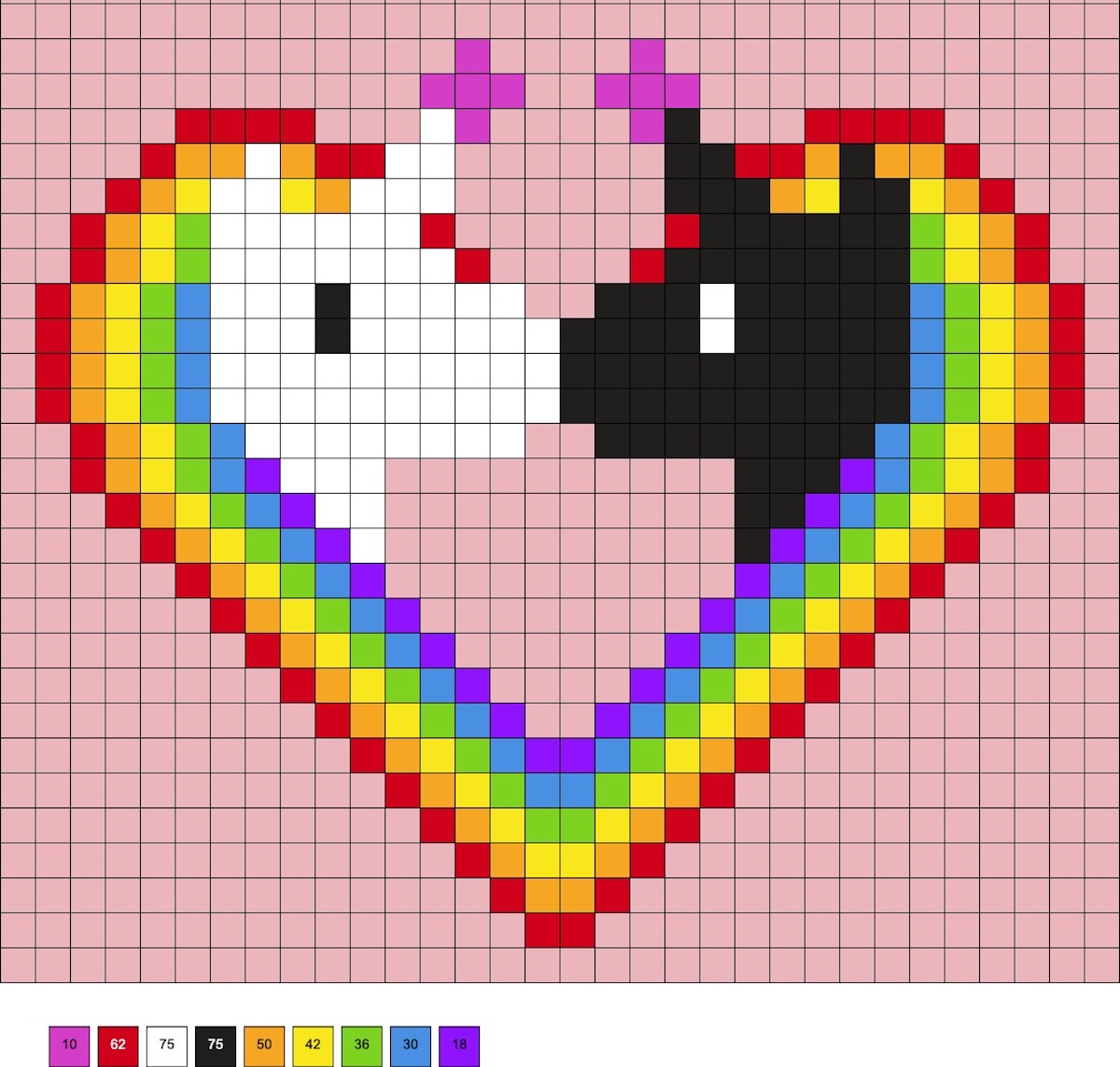 ---
Tall Leprechaun
If you want to make this 3-D leprechaun you're going to need an extra large pegboard or to put at least four peg boards together. The body is on the left. On the right are two arms and a pot of gold to hold. The green band goes around the hat, and the two black pieces are stands for the feet.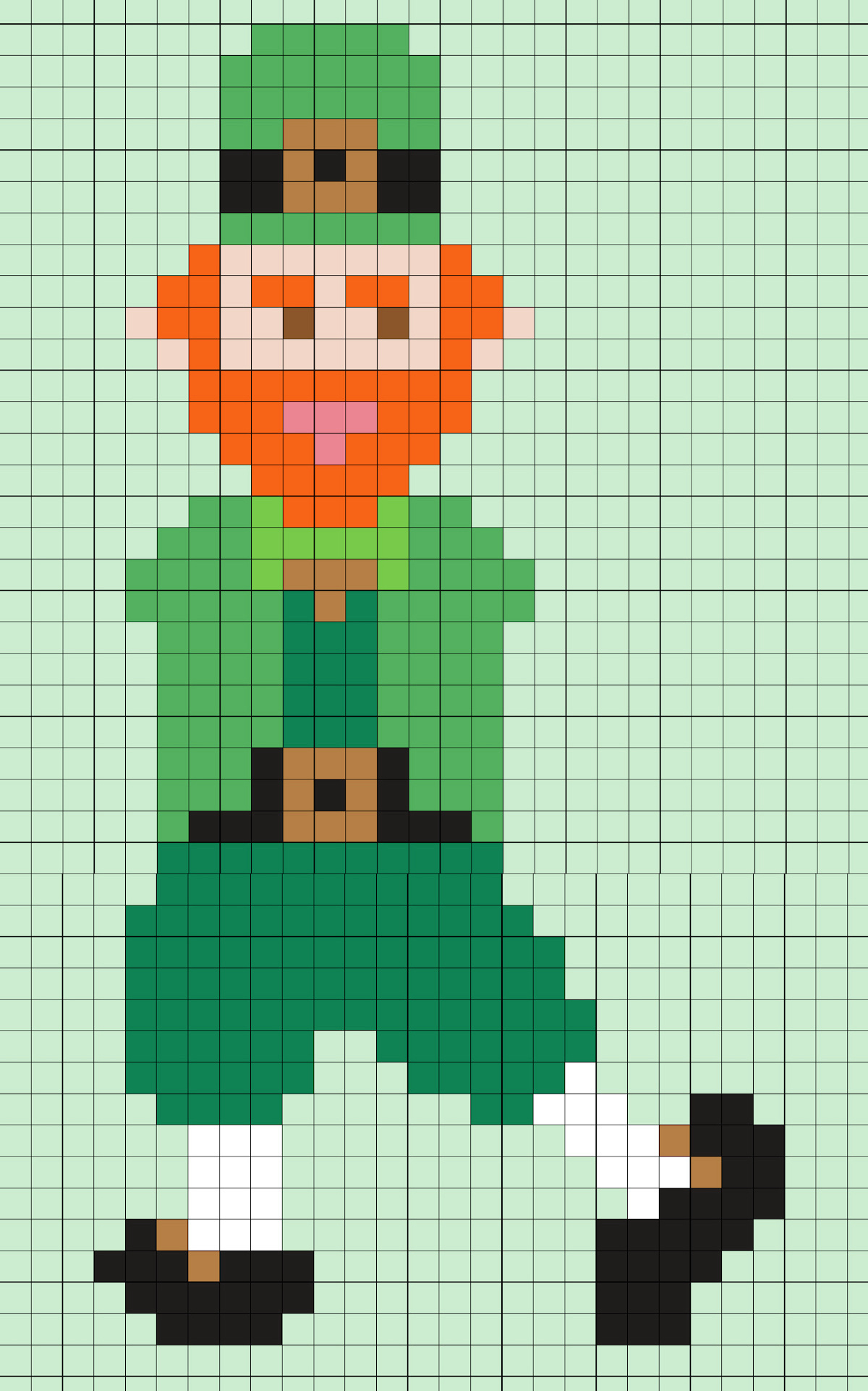 ---
If you've enjoyed these St. Patrick's Day hama beads, let me know in the comments! I'd also love for you to check out these other posts:
The post St. Patrick's Day Perler Beads (50+ Patterns!) appeared first on DIY Candy.