The Best Nerf Guns and Blasters for Every Kind of Kid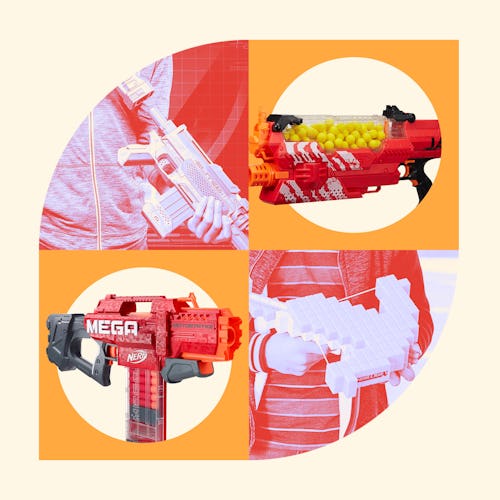 Quit calling them Nerf guns. Nerf blasters have been around for decades, providing a means of fun foam combat across generations. Sure, some may be leery of toy weapons, but the best Nerf blasters resemble something more likely found in Starship Troopers than in Scarface. Whether you're looking for some rainy day fun or building out your son or daughter's soft-tipped arsenal, few toys can act, paradoxically enough, as a peacemaker in childhood conflicts.
Over the past 30-odd years, Nerf has expanded one of its most popular categories with a broad selection of products. And that can make finding the right blaster for you and your child a chore. Some hold two darts and are powered by an inch-long spring; others hold dozens and are powered by massive batteries. There are Nerf rifles, Nerf shotguns, manual Nerf blasters, automatic Nerf blasters, and even Nerf blasters made to look like nail guns. There's no one best Nerf gun. Rather, there's the best Nerf gun for you and your kid.
If it's a kid who likes to take their time and employ patience, a tripod-enabled sniper-style blaster might be a good pick. A light, quick-firing option will do the trick if they're drawn to high-energy havoc and fog-of-war decision-making. If they like variety, consider one that can be customized for different firing styles, whether that's ambush or in the role of the hunter. There may not be a single best Nerf blaster, but there are blasters that excel in certain areas, namely distance, speed, modularity, accuracy, and what we're calling beefiness. There's also, in our estimation, the best jack-of-all-trades. Here are our favorites for all types of Nerf fans.
We may receive a portion of sales if you purchase a product through a link in this article.
Best Distance
N-Strike Elite Rapidstrike CS-18 Blaster by Nerf
With an 18-dart reserve, the CS-18 can lay down some serious foam fire. Its acceleration motor, which runs off four C-size batteries, moves through its capacity so quickly, the first dart is still in the air by the time the last is leaving the barrel. With a 75-foot max distance, your child can stay in the rear with the gear and still participate in the next assault.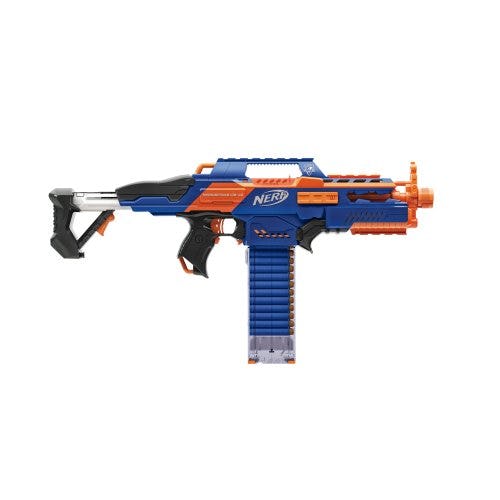 Best Projectile Speed
Nerf Hyper Impulse-40 Blaster
Amazon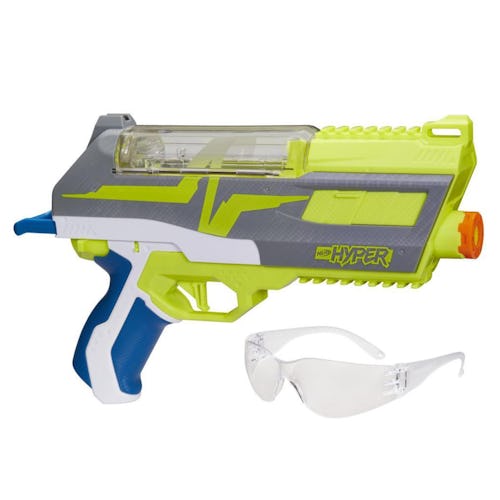 Best Rate of Fire
Mega Motostryke Motorized 10-Dart Blaster by Nerf
You want a faster shot? Add some power. True, the Mega Motostryke will require you to have a handful of 1.5-volt batteries on hand (it chomps four at a time), but in exchange, this blaster will rip through its 10-dart clip in a hurry. When your child has the need to lay down suppressive fire, this should be the first the choice to do it.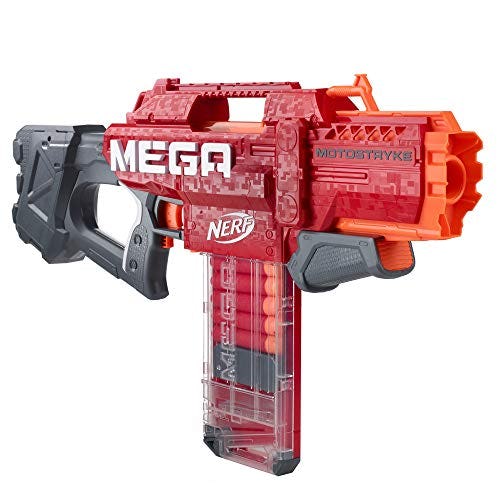 Best For Outside
Nerf Pro Gelfire Legion Spring Action Blaster
Amazon
Best Modularity
Elite 2.0 Echo CS-10 Blaster by Nerf
'Modularity,' in its most technical sense, refers to a blaster's capability of Frankensteining accoutrements to its body. This blaster includes four rails specifically designed for this, allowing a customization over time or in regards to a planned battle. It also has removable stock and barrel extension. But the definition could also extend to its firing capabilities. With the flick of a top switch, you can go from single-fire to emptying the 10-dart magazine in a hurry.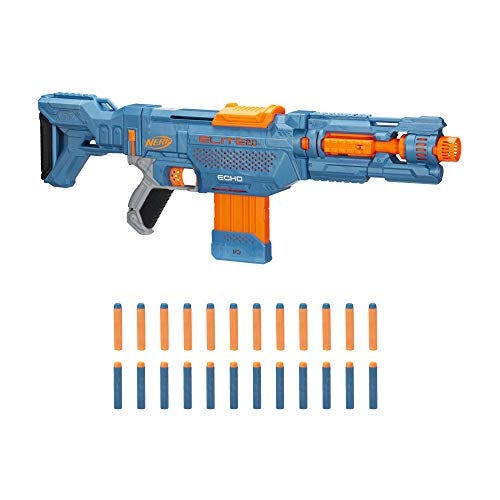 Best Accuracy
Rival Nemesis MXVII-10K Blaster by Nerf
Some people may define accuracy with a fine-art analogy: small brush strokes and working close. Well, we view the Nemesis in terms of a fence-painter — no matter how small the crevice, it's all getting covered. With its 100-round reservoir, which is fully motorized, it lays down a thick blanket of foam, overwhelming everything in its path. How's that for accuracy?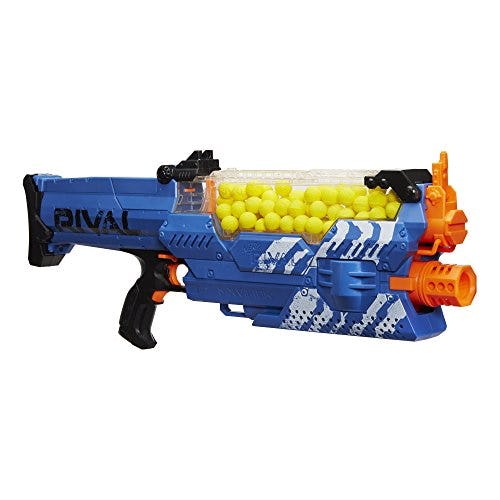 Best Beefiness
Rival Prometheus MXVIII-20K by Nerf
There's a reason this hefty blaster, one of the strongest Nerf guns ever made, is recommended for ages 17 and up. It holds 200 dimpled rubber balls, which zing with the speed and force of a paintball gun. With sustained firing of up to eight balls per second at a velocity of 100 feet per second, it's a veritable Niagara when it comes to laying down cover. It's not the best for young children, however, as it's heavy enough to necessitate a shoulder strap and best wielded at hip level, Rambo-style.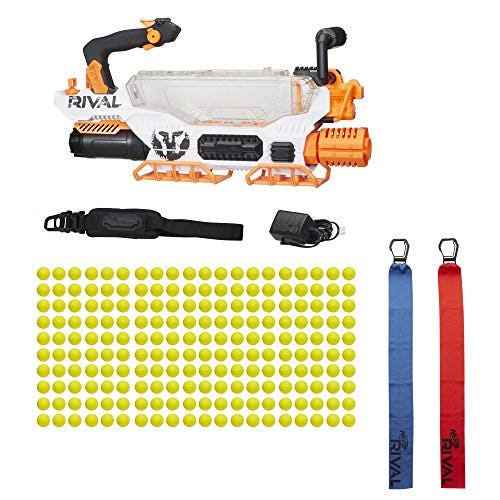 Best All-Around
Elite 2.0 Warden DB-8 Blaster by Nerf
Take the question out of who shot first with this blaster (because you did). It comes with 16 darts for its eight-dart-capacity magazine. You'll need the backup, since this model fires two darts at a time up to 85 feet. An accessory rail allows you to customize your foam flinger to the mission.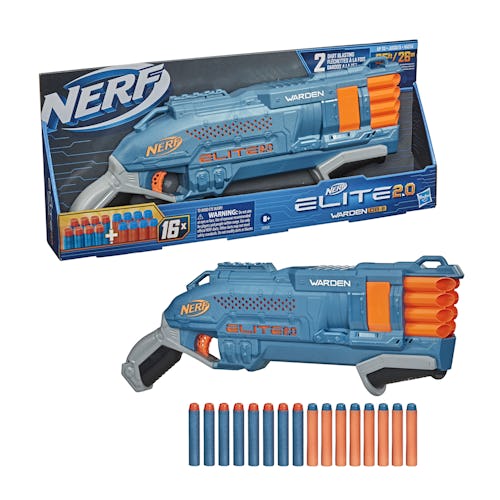 Best Minecraft Blaster
Minecraft Pillager's Crossbow Blaster by Nerf
Sometimes it's not about quality. Sometimes, it's really just about Minecraft. So if your child is consumed by the online gaming phenomenon, then this three-dart collab is just what your child will love. Pull back its charging handle and fire off one after another after another dart -- before collecting them up to reload. Pro tip: Buy extra darts.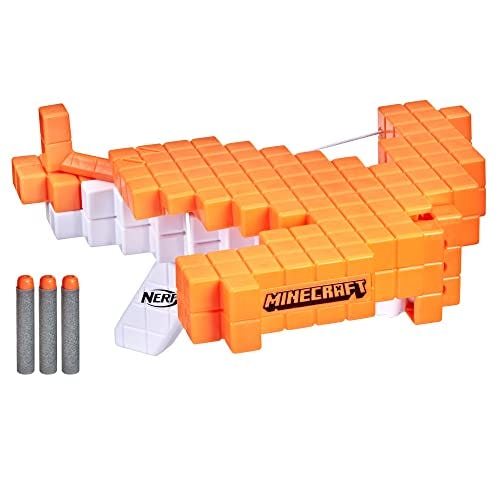 Nerf Gun Storage
Once you've built up a good Nerf gun collection, the next step is figuring out how to store your Nerf arsenal properly. Since you'll want them to be easily accessible and organized, keeping them in a toy chest or stashed in a closet won't do. But before you spend a grip of cash on Nerf gun storage racks like the Nerf Elite Blaster Rack, here's a simpler (and cheaper) option.
For organizational and display purposes, it's hard to beat the classic pegboard. Setup couldn't be easier: find the studs in a wall, mount the pegboard, then mount the guns in whatever configuration you like. Just be sure to include some mounted baskets to keep your ammo organized.