Valentine's Day Perler Beads (50+ Patterns!)
Get over 50 patterns for Valentine's Day perler beads! There are a variety of patterns including hearts, flowers, Cupid, and more.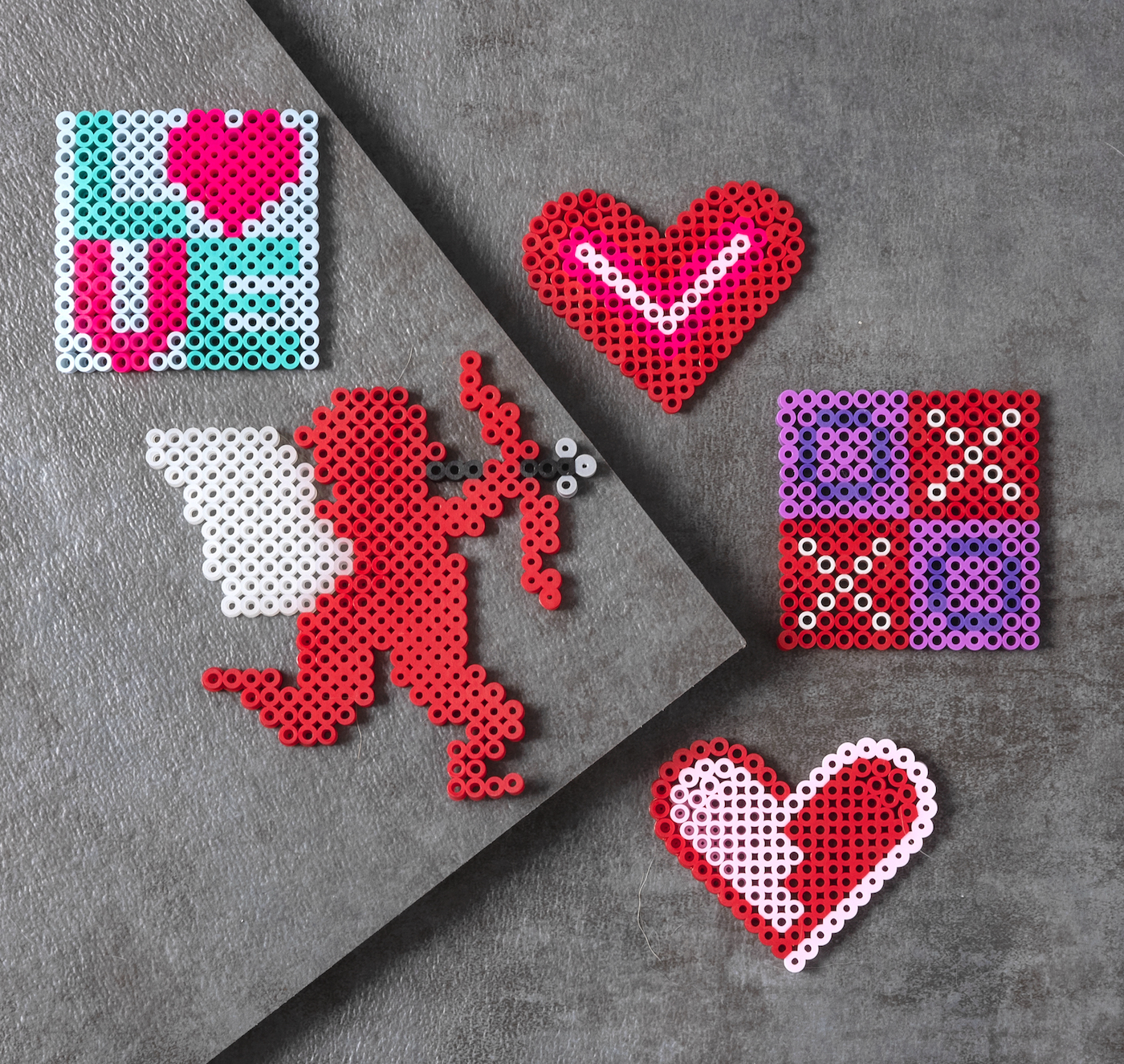 What was your Valentine's Day like when you were young? Mine consisted of two things: crafts and valentines. By "valentines" I mean the kind that you pass out in the classroom.
And I don't know about you, but I went through a very careful selection process.
You have to make sure the right person gets the right valentine! I wanted my best friends to get the cutest ones, of course. Anything about besties or being "bananas about you" was saved for them.
My other classroom friends would get the "you're so cool" and "you're a great catch." Something with a little less commitment than the besties, but still a fun message.
Then there were the boys.
Even at nine years old I didn't want to give a guy the wrong impression. I wasn't looking for a long-term commitment . . . just something to drop into their decorated shoebox for the holiday. The most benign and basic valentines were saved for them.
Did anyone else go through this complicated thought process when distributing their valentines?? Or was it just me?
Valentine's Day is hard when you're young and know nothing about love. But what isn't hard – and is in fact quite fun – is the crafting around the holiday. And today I'm sharing Valentine's Day perler beads that kids are going to love!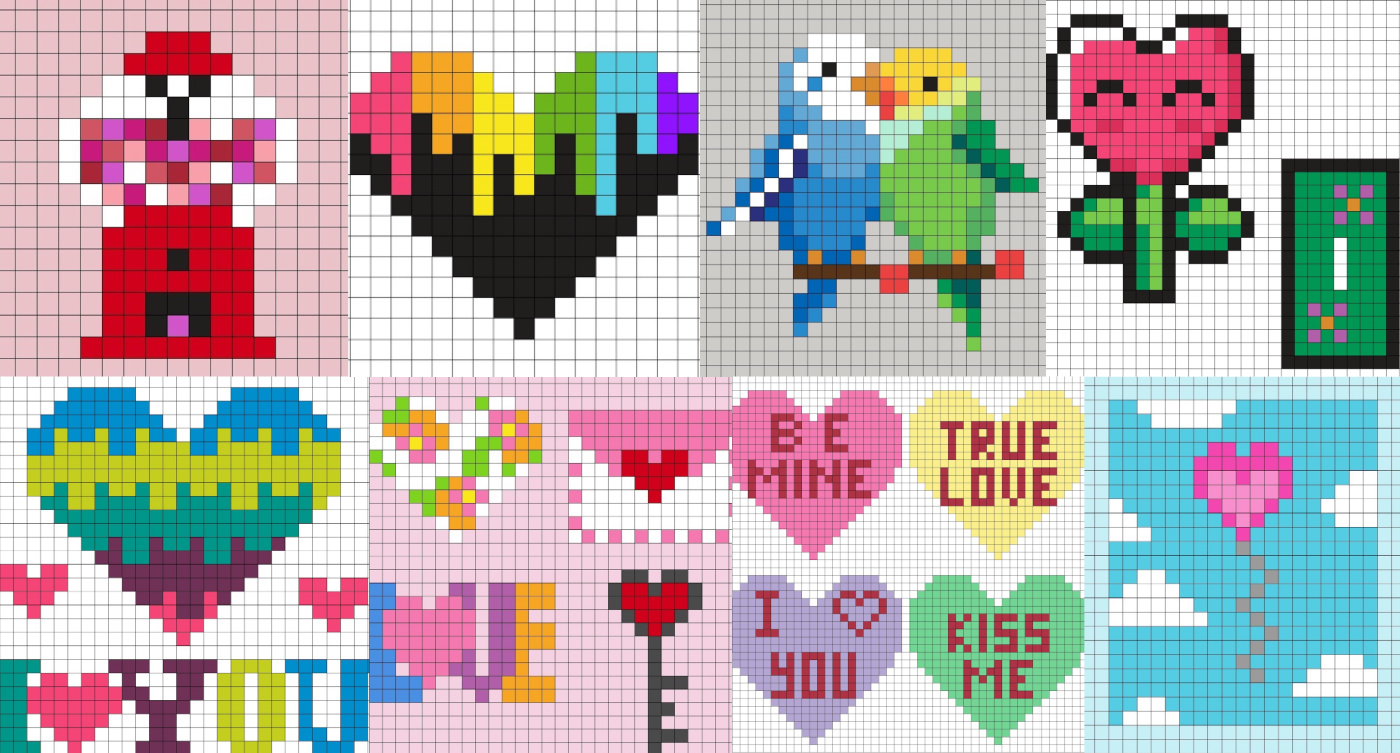 Let's be honest – the adults are going to love these patterns too. If you've never tried perler beads, they're so fun and relaxing. And they're much less messy than paint, for example. They're perfect for valentines!
Perler beads are recommended for ages six and up, so this is a very fun craft to try with your elementary age kids. If you're ready to use perler beads (also known as hama beads, fuse beads, or melty beads), you're going to love this collection of patterns.
Tips for Using Perler Beads
Before we get into the patterns, I want to review a few basics of using hama beads to make sure you get the best results. If you don't want the tips, scroll down to the bottom to get the Valentine's Day perler bead patterns.
Remember that the overall goal is to melt the beads together on both sides while still leaving the holes open. Here's how you get the best results (with a rainbow as an example).
Use Ironing or Parchment Paper
Place ironing paper or parchment paper over the beads on the pegboard. Be gentle so you don't disturb the beads underneath.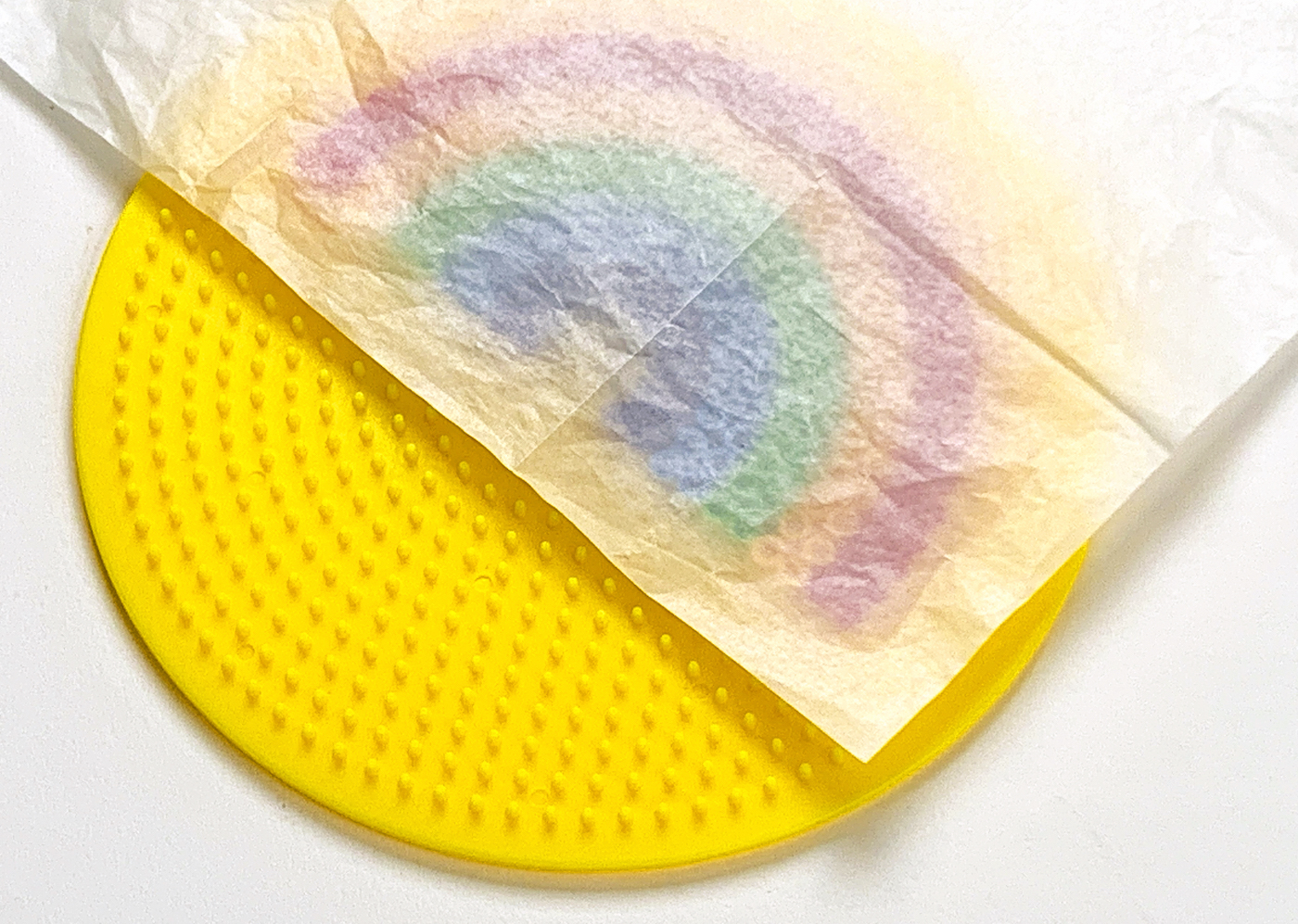 Heat your iron to the medium setting (no steam). In a circular motion, begin to iron the project. Don't press down too hard with the iron. When ironed properly, the beads will still have an open center. Check and make sure your edges are melted. Let the design cool on the pegboard.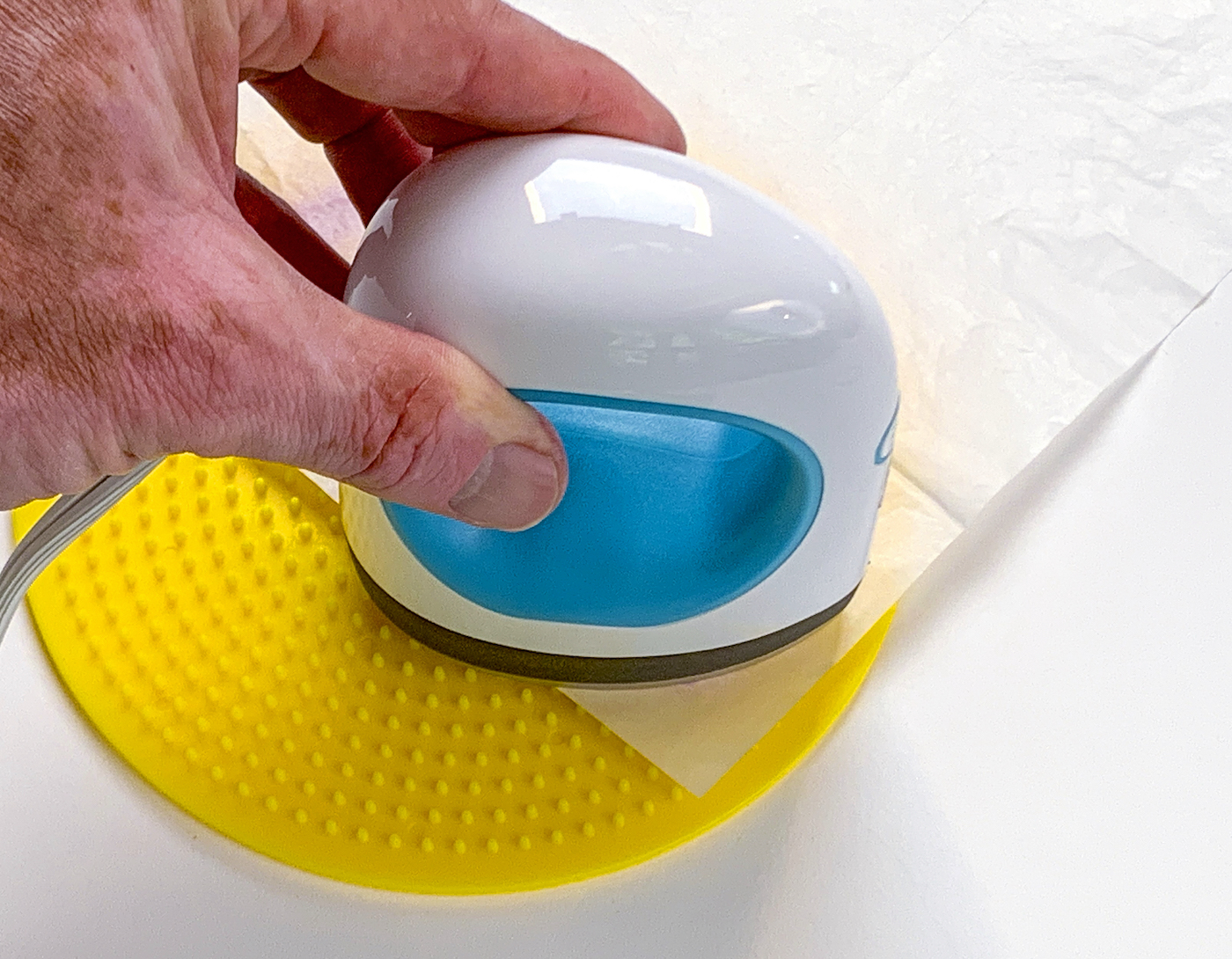 Note: BE CAREFUL about lifting up the paper while you're ironing! If you want to check, carefully peel back paper around the edge of your design and see if all the beads are melted.
If you lift the paper up quickly and there are a lot of unmelted beads, they will easily fall off or go flying and you may be forced to start over. Sometimes the edges need more time so when you check, just check the edges and peel paper back slowly.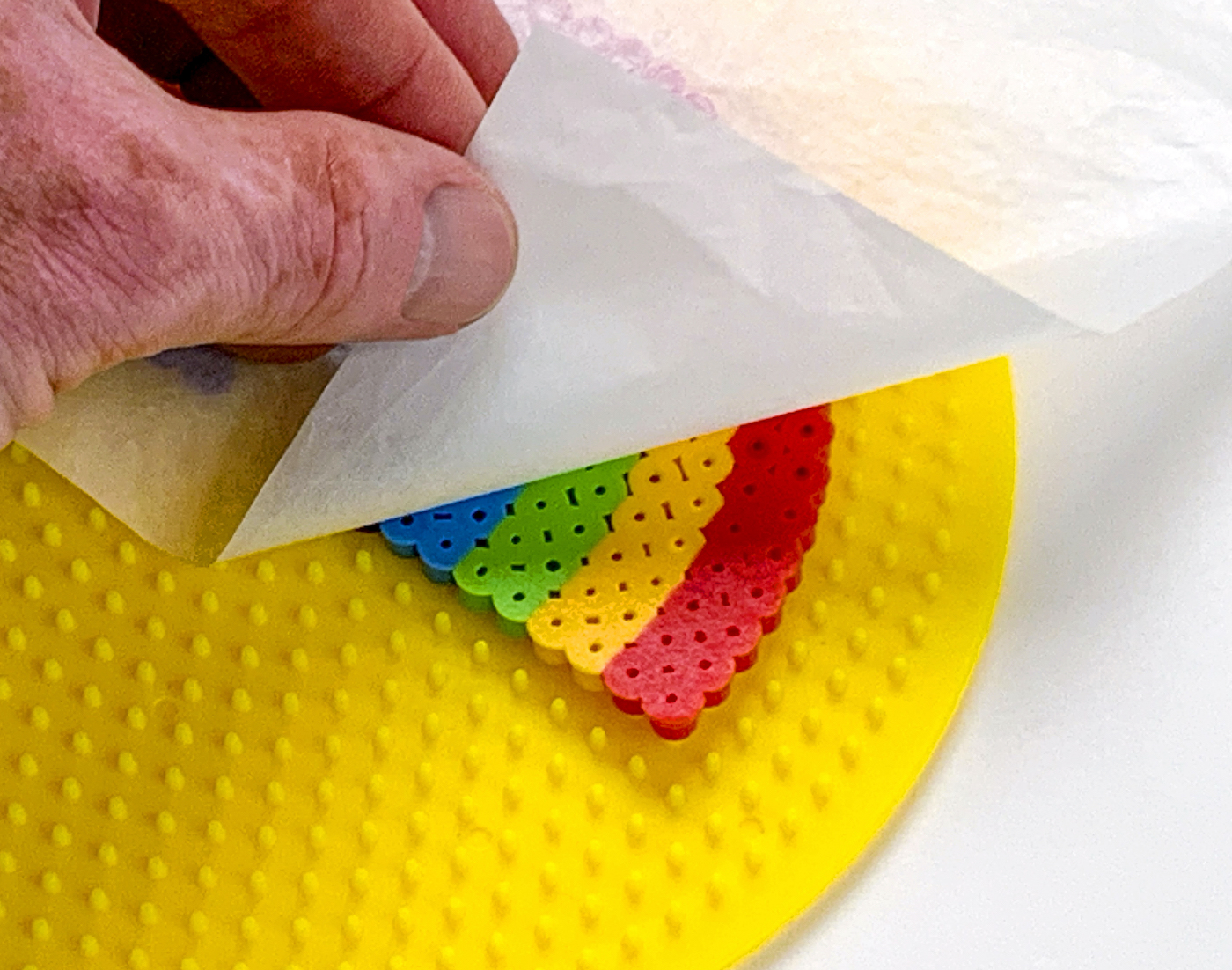 Another Note: some beads melt faster than others (clear melts faster than white, for example). So some holes might be larger than others. It's okay! That's part of the look of the project.
Iron the Other Side
Remove the bead design from the pegboard. Flip it over to the non-melted side and repeat the fusing process.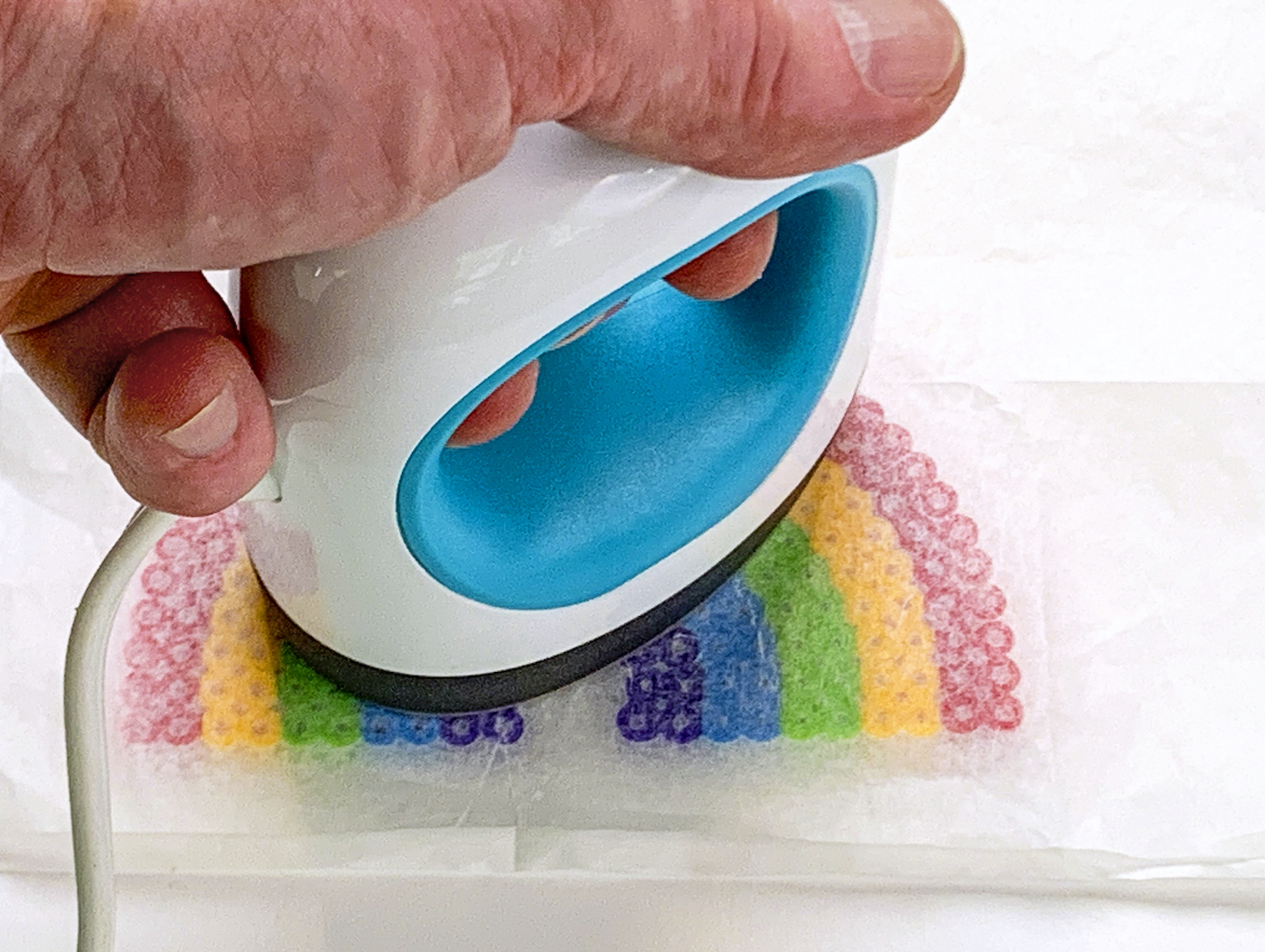 Remove the Paper
Let cool completely and remove the paper again (which is reusable). Some people pull the paper off after they iron the first side, but I just wait until the end and peel off both pieces. It's up to you!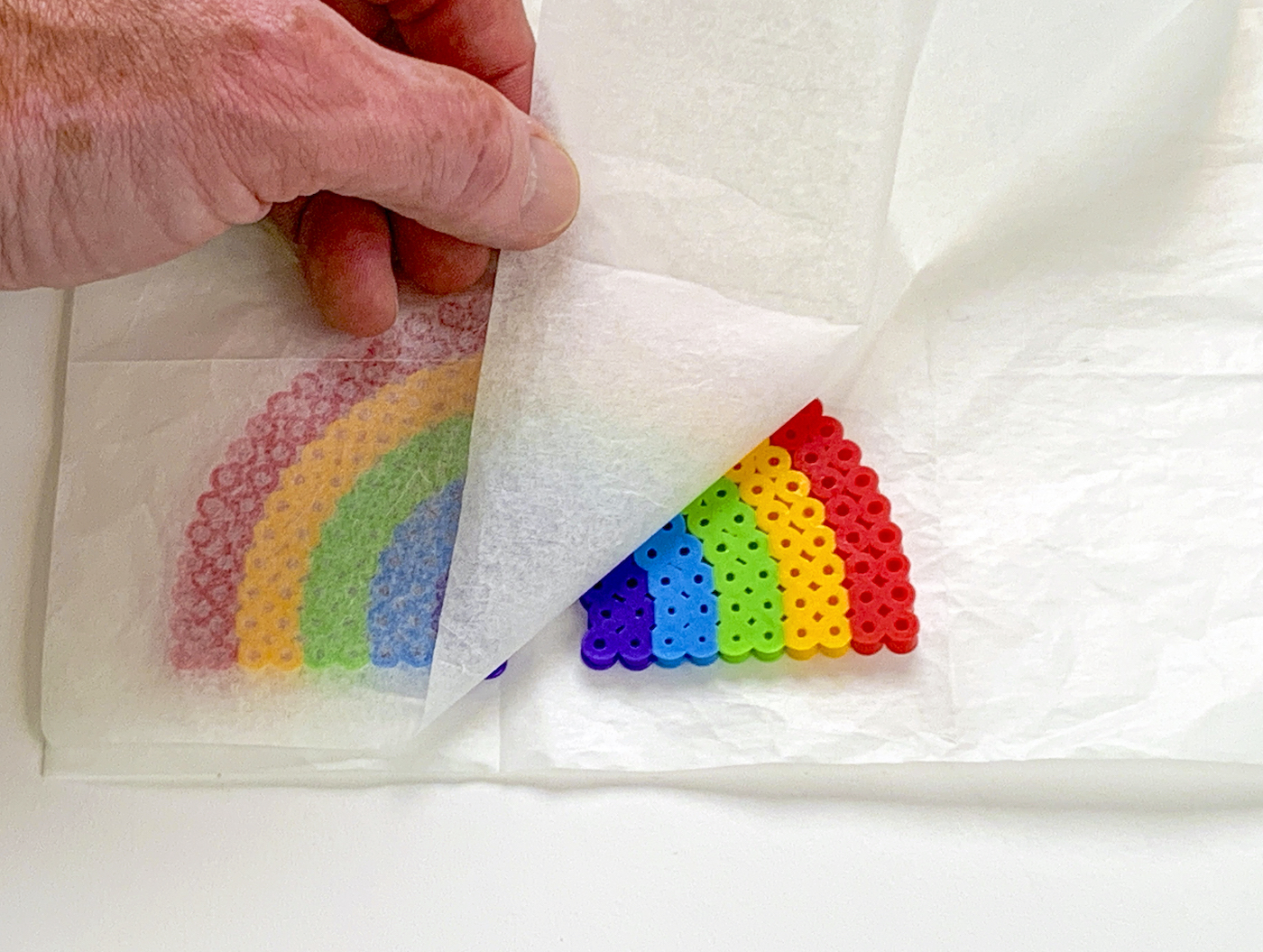 Are you ready for the patterns, my little love bugs? Get the Valentine's Day perler bead patterns below!
---
Valentine Perler Beads
Make sure to check out these notes:
A few of these patterns are larger than a 29 x 29 pegboard, so you'll either need a extra large pegboard (49 x 69 tall) or to put multiple square peg boards together to form a larger "canvas."
Some of these patterns also use either heart pegboards or hexagon pegboards, which you'll definitely want in your arsenal just generally speaking.
You'll see a couple of the pattern backgrounds below aren't white – that's simply to give contrast so you can see where all the white beads should go. You don't need to add the background (but you can if you want to).
Valentine Mini Perler Beads
These patterns use 85 gray, 209 white, 94 red, 129 pink, 99 black, 74 light pink, 35 brown, and 7 tan beads.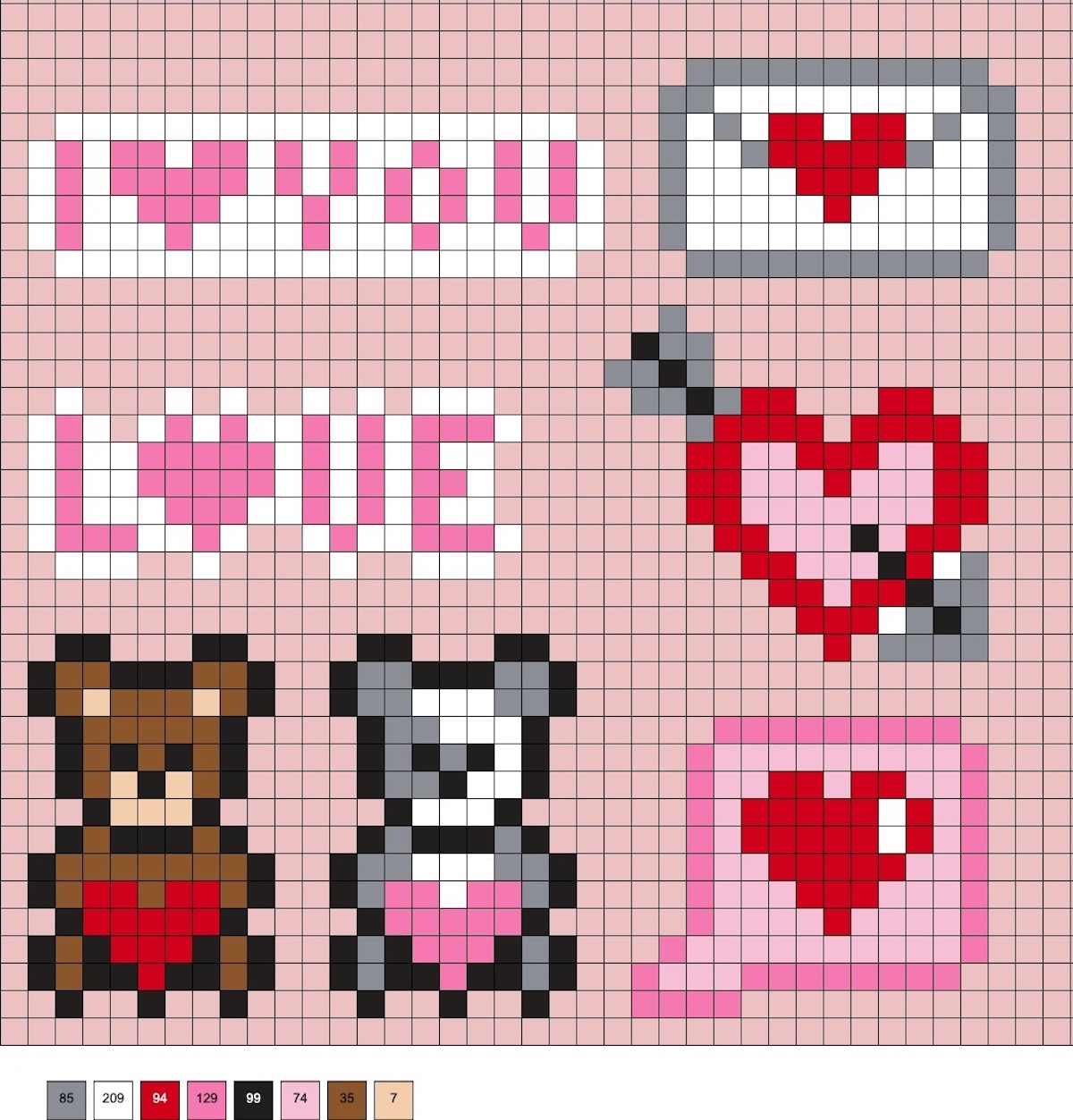 ---
Conversation Hearts
These hearts use 281 pink, 266 pastel yellow, 263 red, 281 pastel purple, and 285 pastel green beads.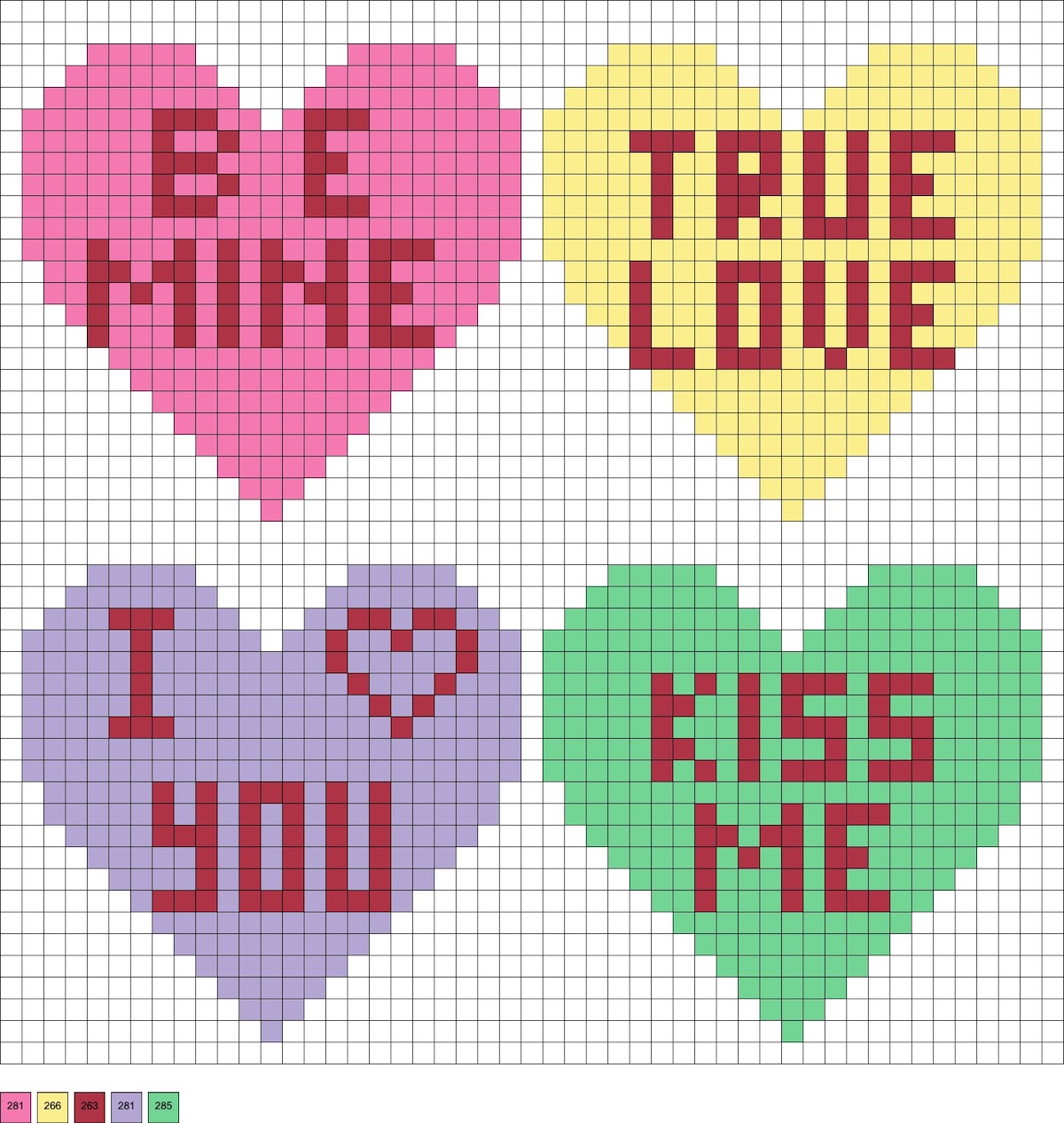 ---
Be Mine Heart
This pattern uses 115 fruit punch, 282 magenta, and 70 white beads.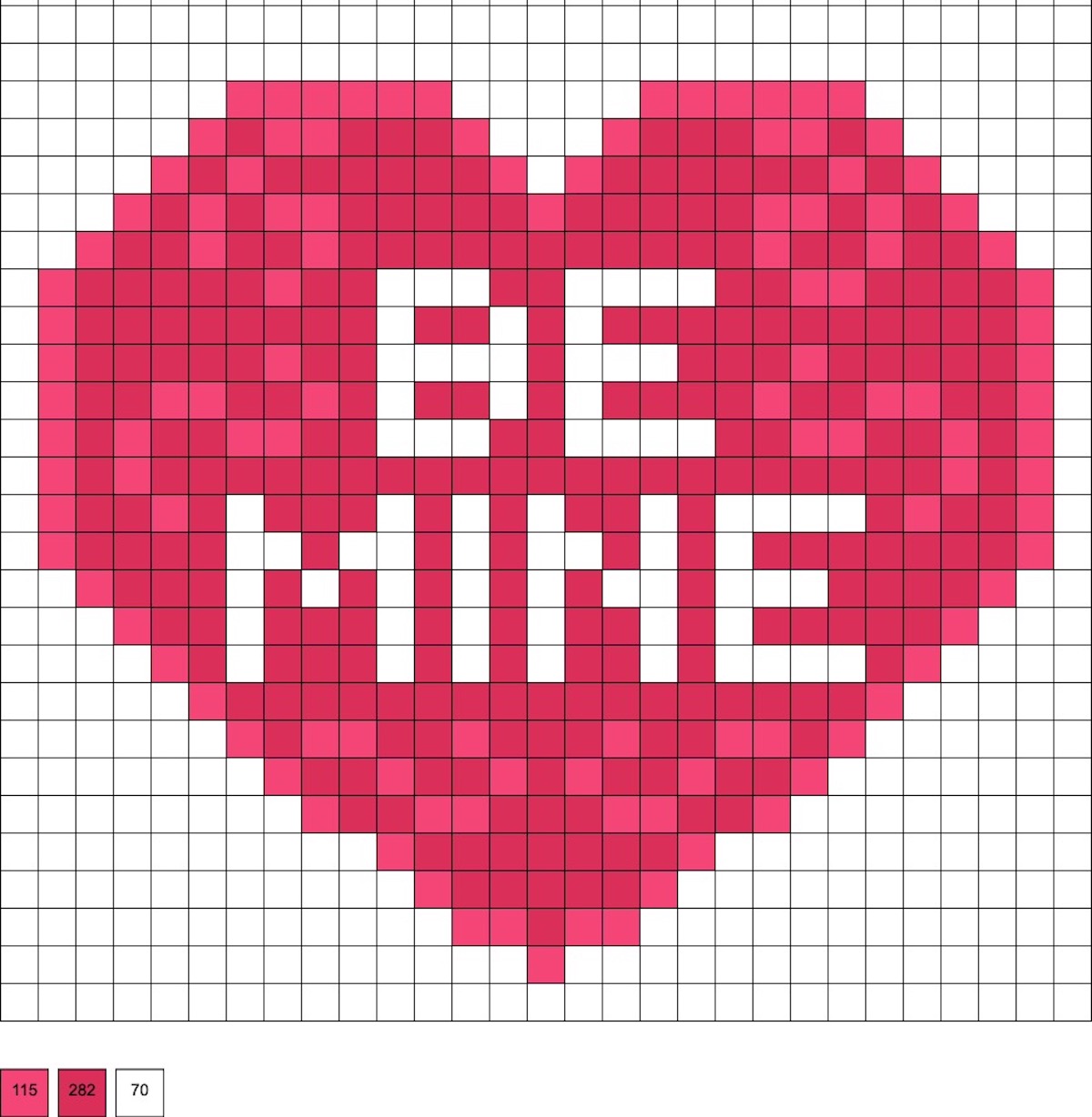 ---
LOVE and XOXO
You can make these separately on a small square board (14 x 14 beads), or you can make together on one larger board.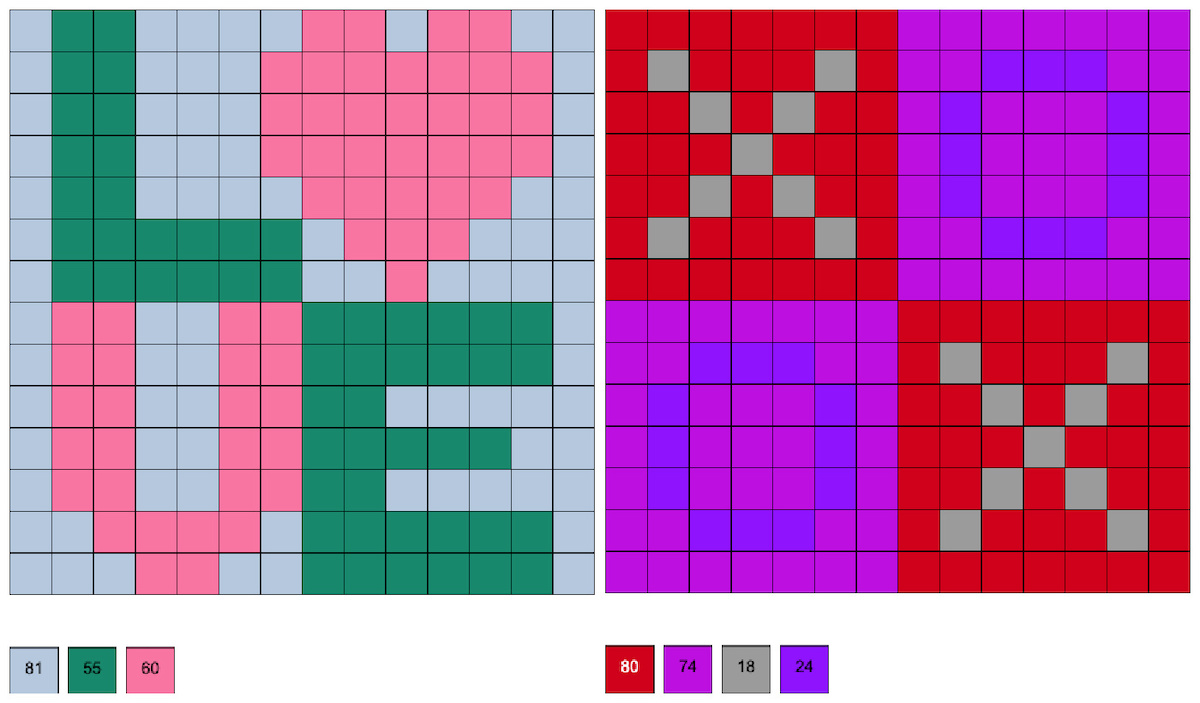 ---
Mini Pink Hearts
These tinies use 227 fruit punch and 79 pink beads.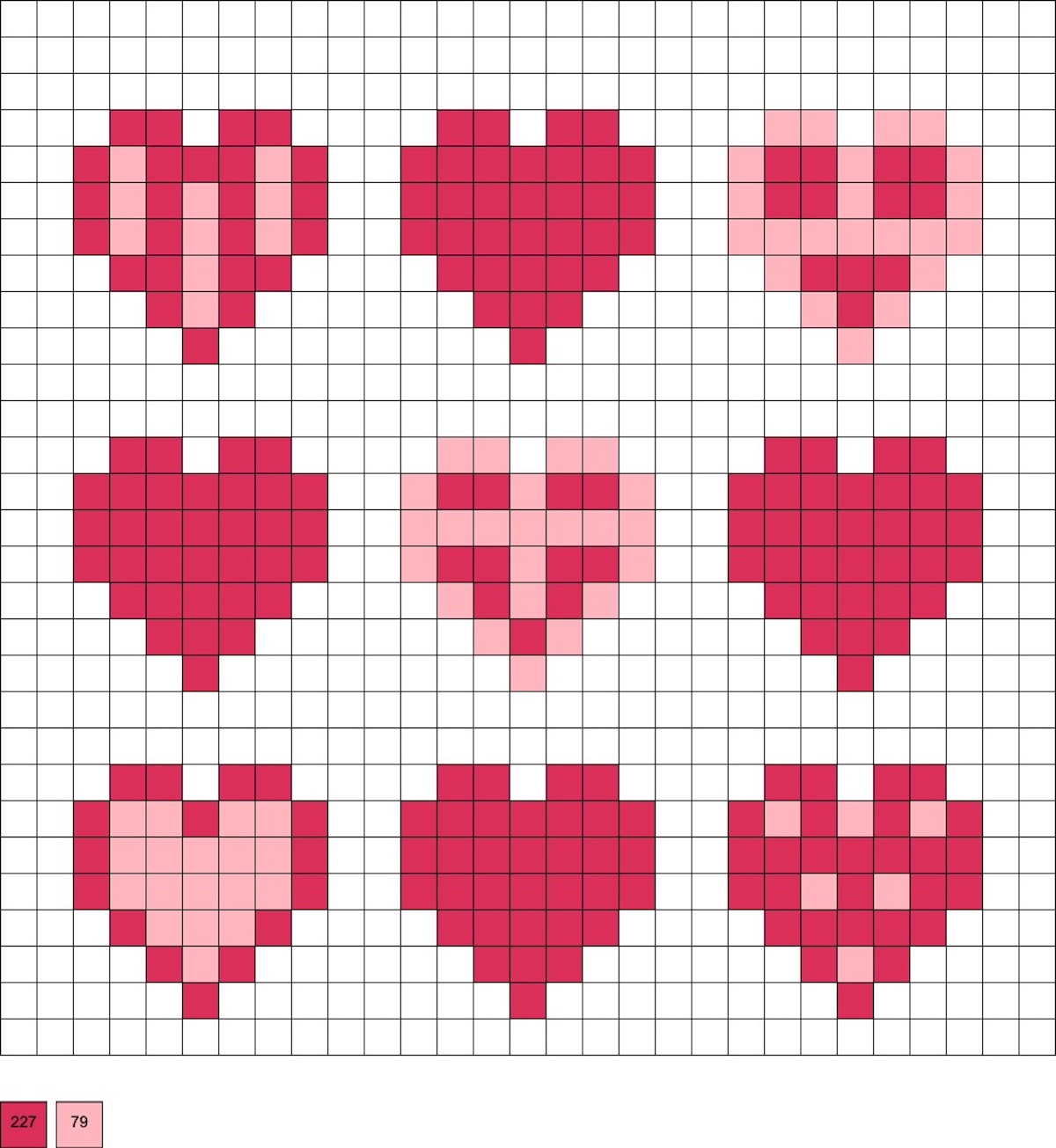 ---
Heart Shaped Perler Beads
These patterns are made using the small heart shaped pegboards, which hold 121 beads each.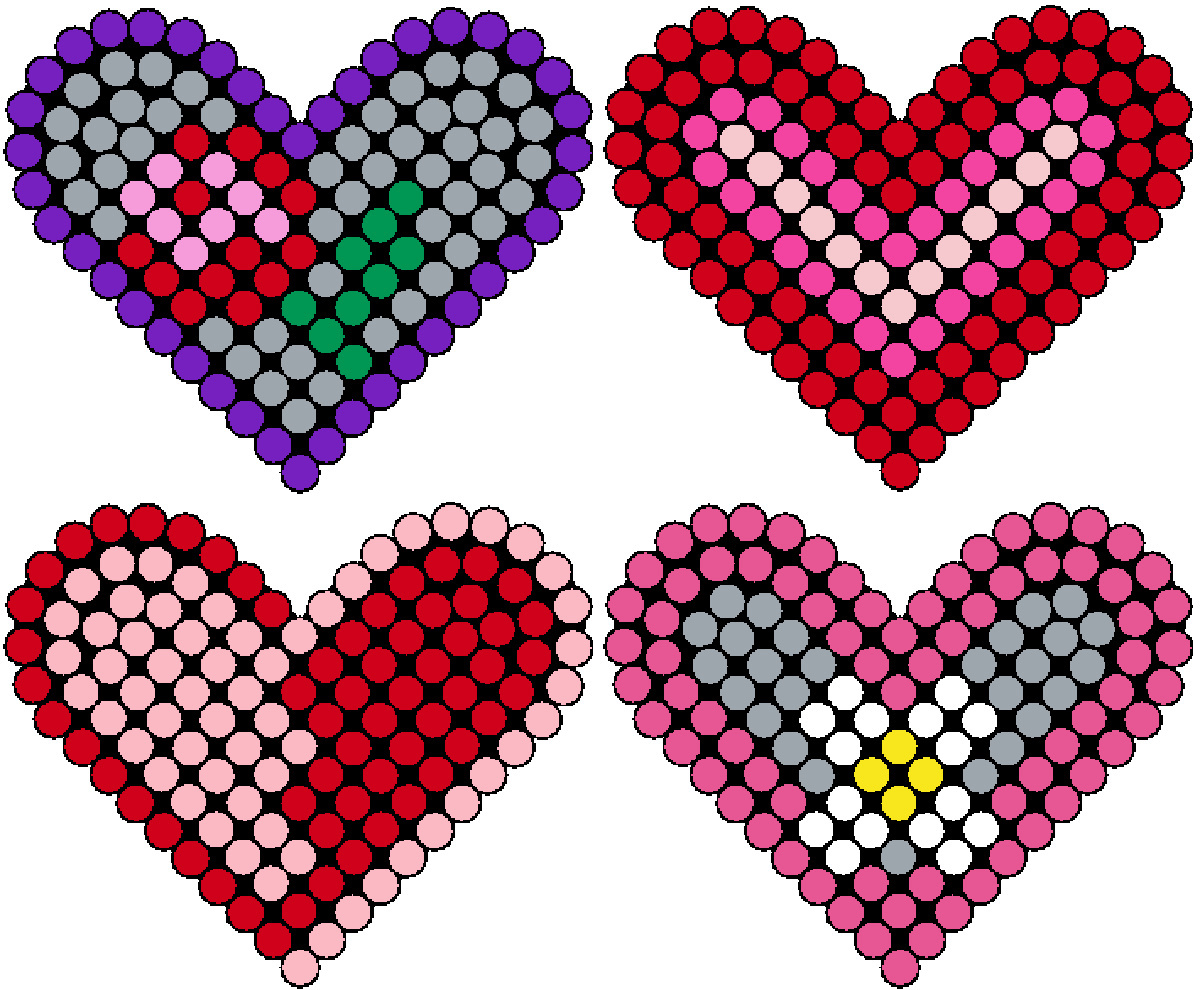 ---
You Have the Key to My Heart
These patterns use 18 lime green, 98 white, 42 cheddar, 104 pink, 3 yellow, 26 red, 27 charcoal, 19 blue, and 24 purple beads.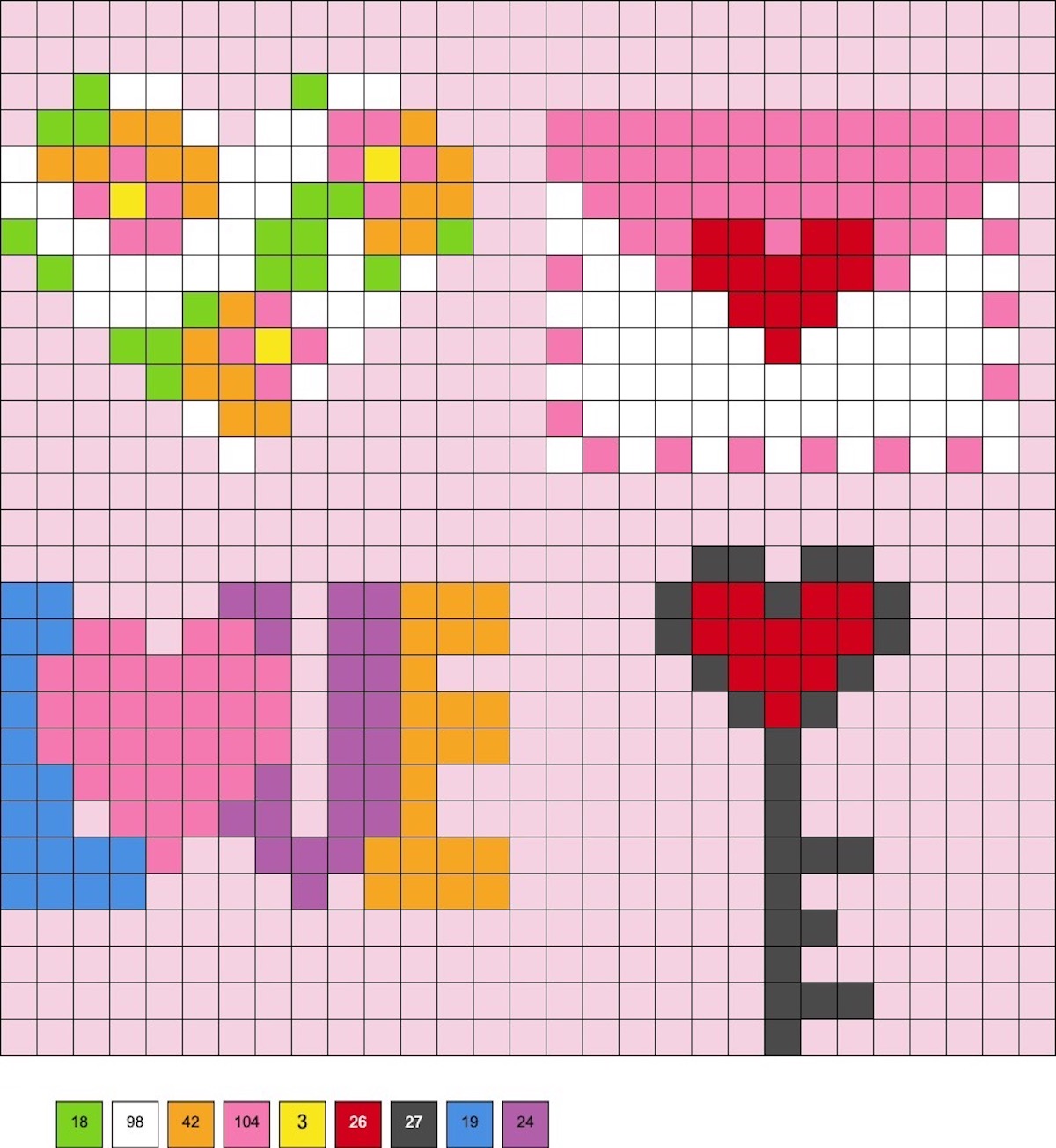 ---
Cupid with His Bow
This pattern requires the large hexagon pegboard and uses 118 red, 40 gray, and 5 black beads.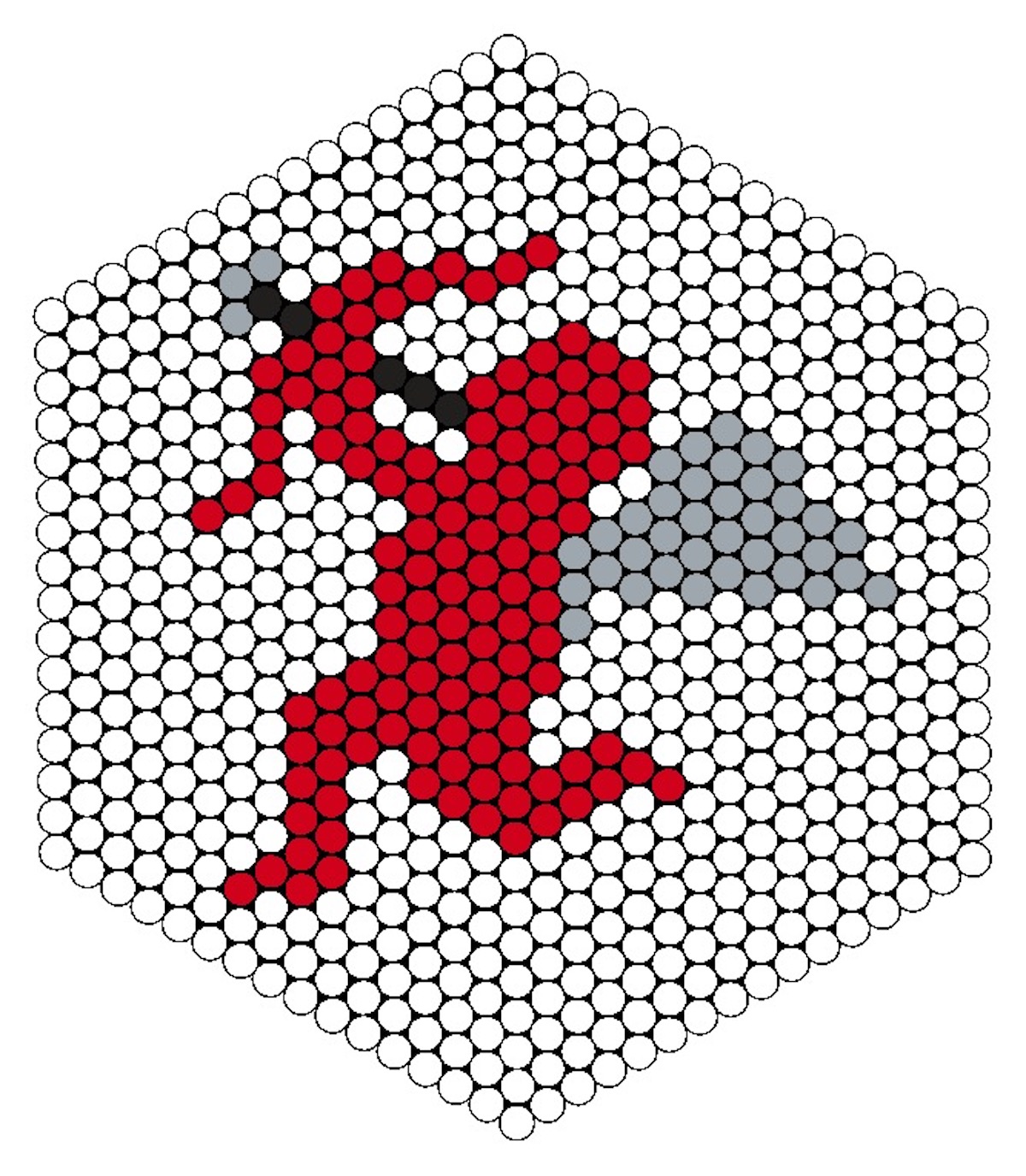 ---
Red, Pink, and Brown Hearts
These patterns use 193 red, 87 pink, 44 white, and 54 brown beads.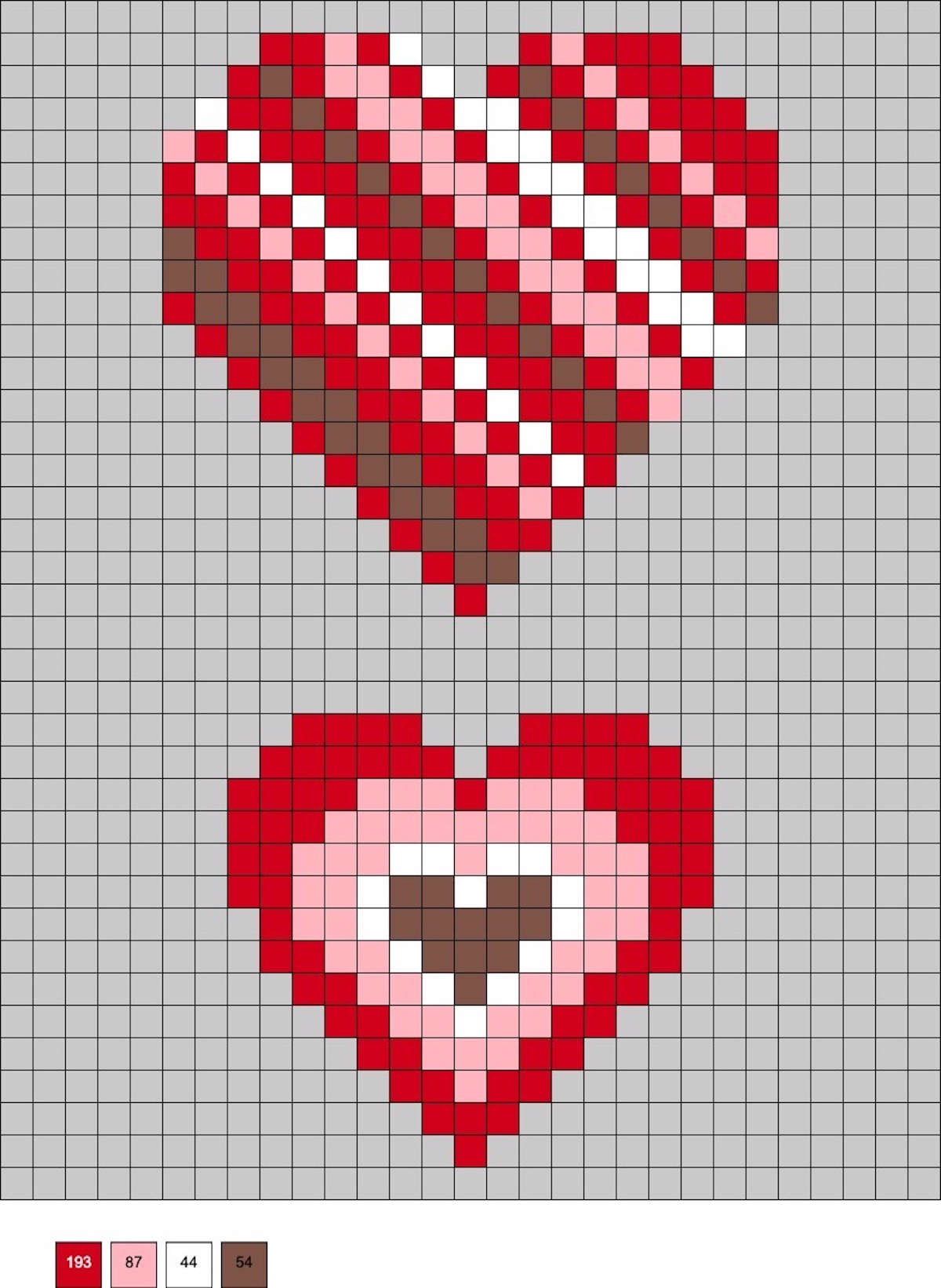 ---
Love Potion Bottles
These patterns use 142 plum, 147 white, 77 gray, 140 light blue, 128 pastel blue, 11 dark brown, 15 brown, 41 purple, and 24 pink beads.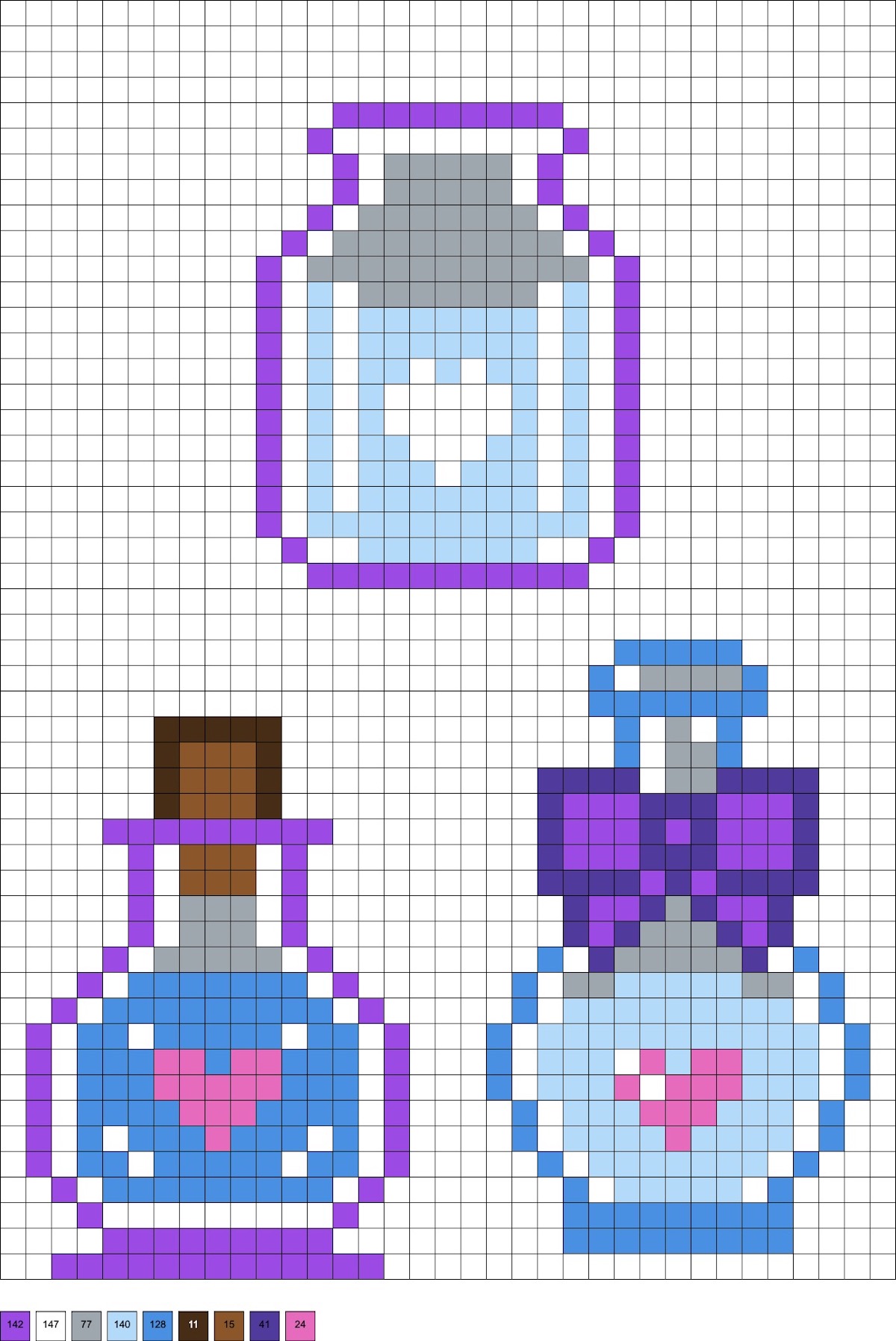 ---
Valentine's Day Gnome
This gnomie uses 272 pink, 120 gray, 26 flesh, 57 white, 57 red, and 12 charcoal beads.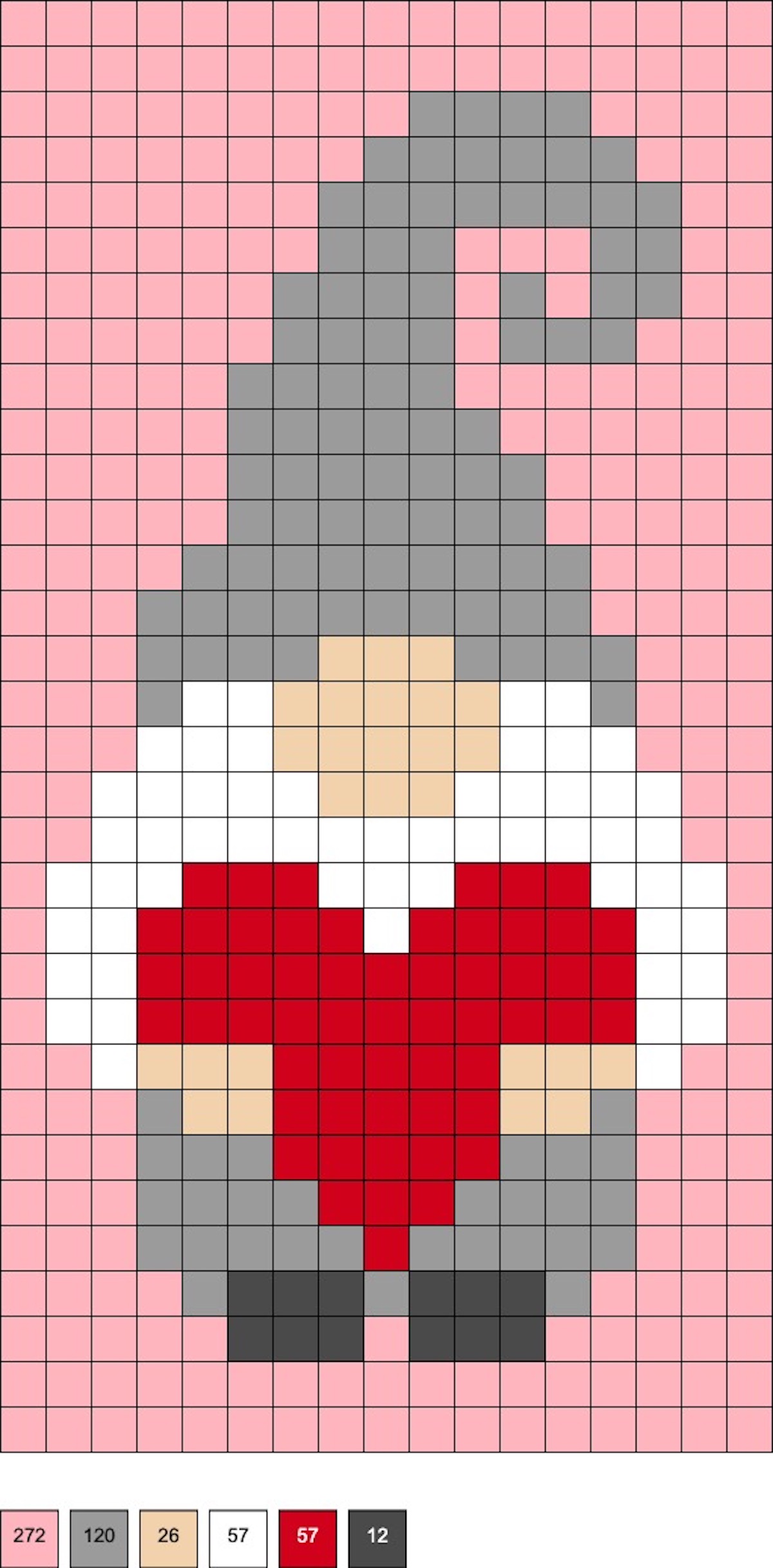 ---
Colorful I Heart You
This pattern uses 416 white, 91 blue, 116 lime green, 89 parrot green, 67 purple, and 62 magenta beads. The whole background is filled in on this pattern to fill an entire 29 x 29 square.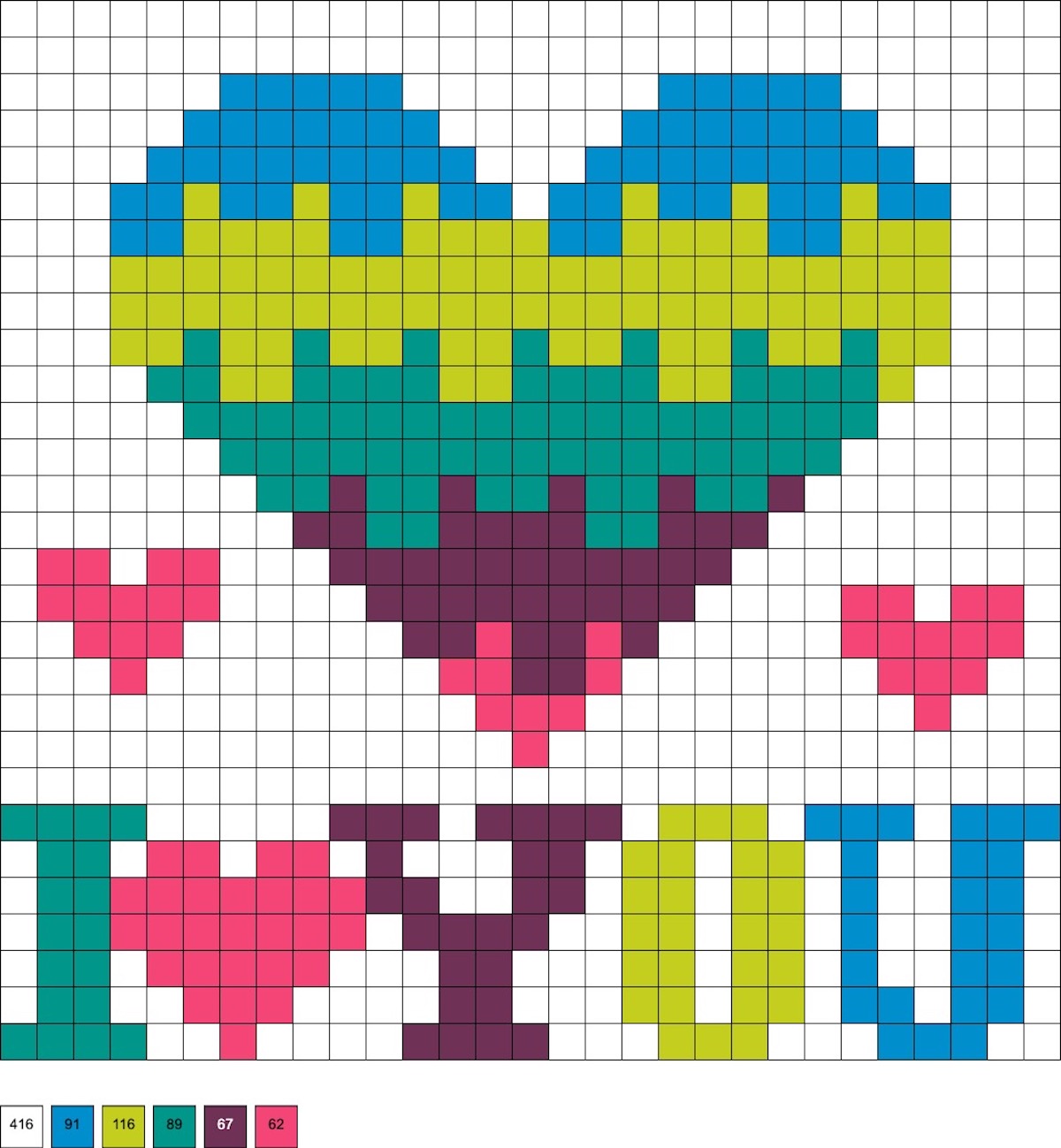 ---
Heart Frame with Stand
This frame uses 138 white, 74 salmon, 38 hot coral, 36 blush, and 165 turquoise beads. The pink background is just for contrast – you won't fill in the center of the heart. Once the pieces are done, the two stand pieces insert at both bottom sides of the frame. Tape the picture to the back!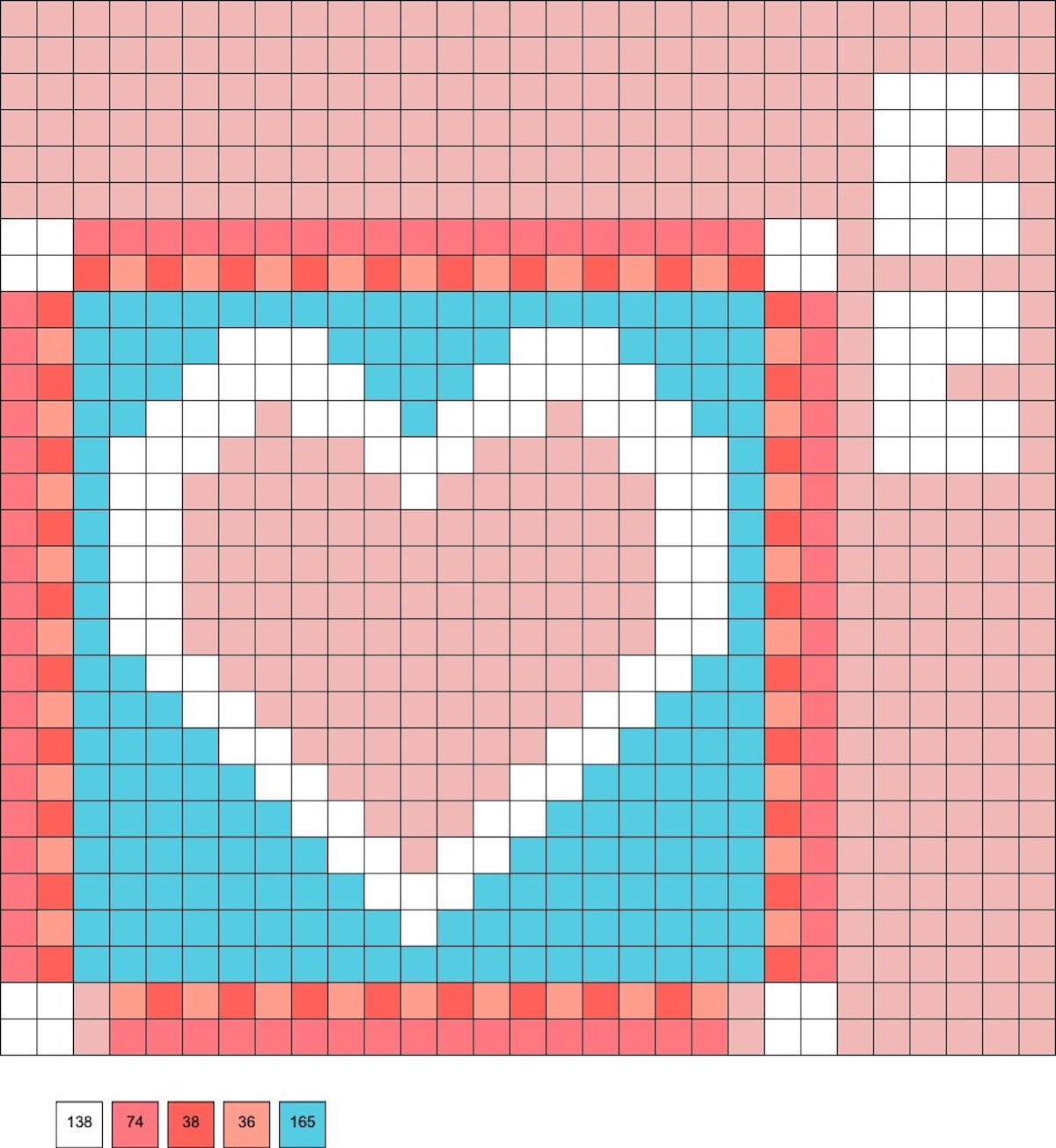 ---
Hearts in Quote Bubbles
These patterns use 74 black, 74 charcoal, 192 white, 31 red, 14 light green, 13 light lavender, 8 blueberry creme, 12 pink, 7 cheddar, 7 flamingo, 7 yellow, 5 kiwi green, 3 light blue, and 1 purple.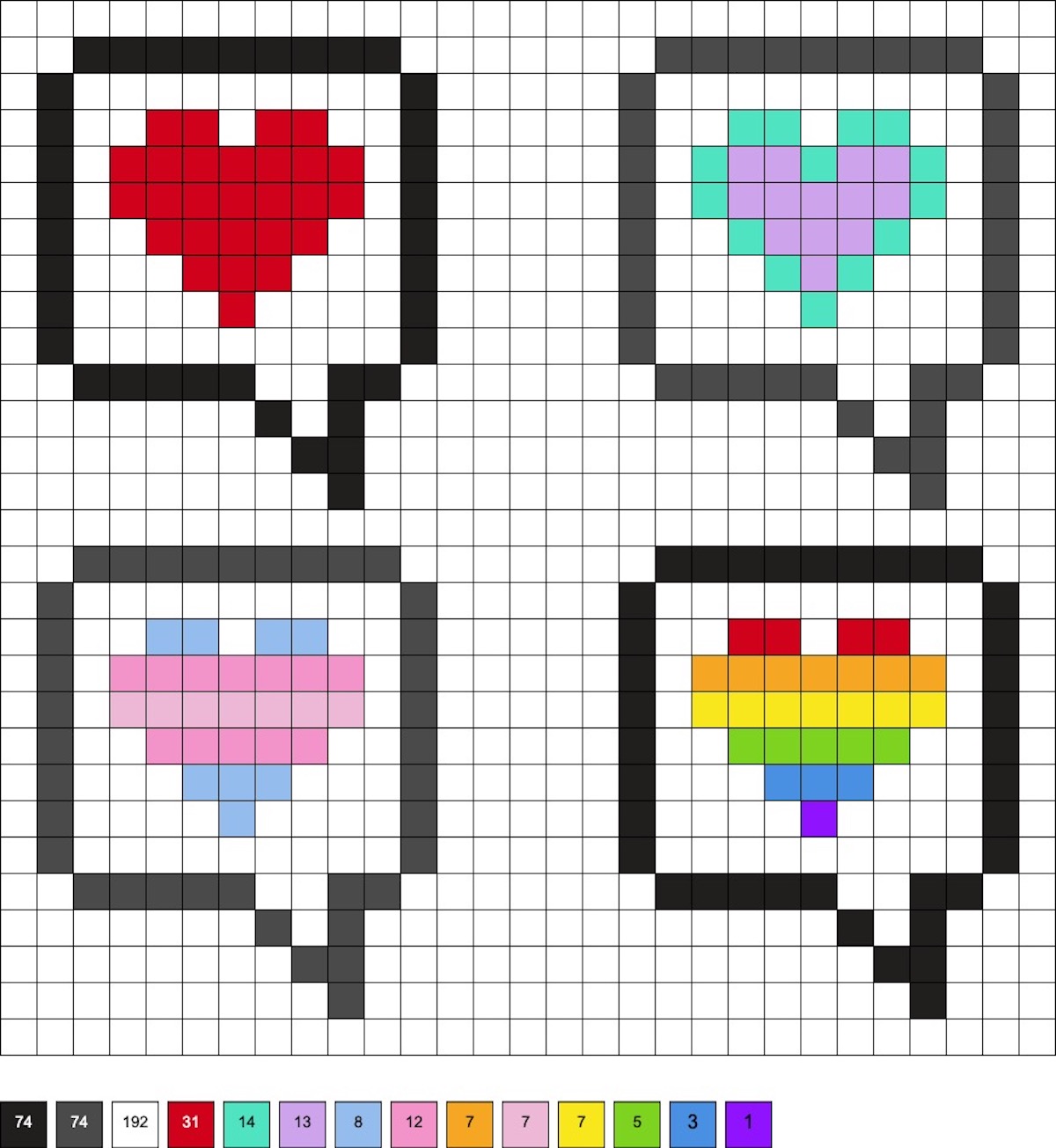 ---
Heart Candy Box
This pattern uses 260 red, 91 white, 121 brown, and 44 pink beads.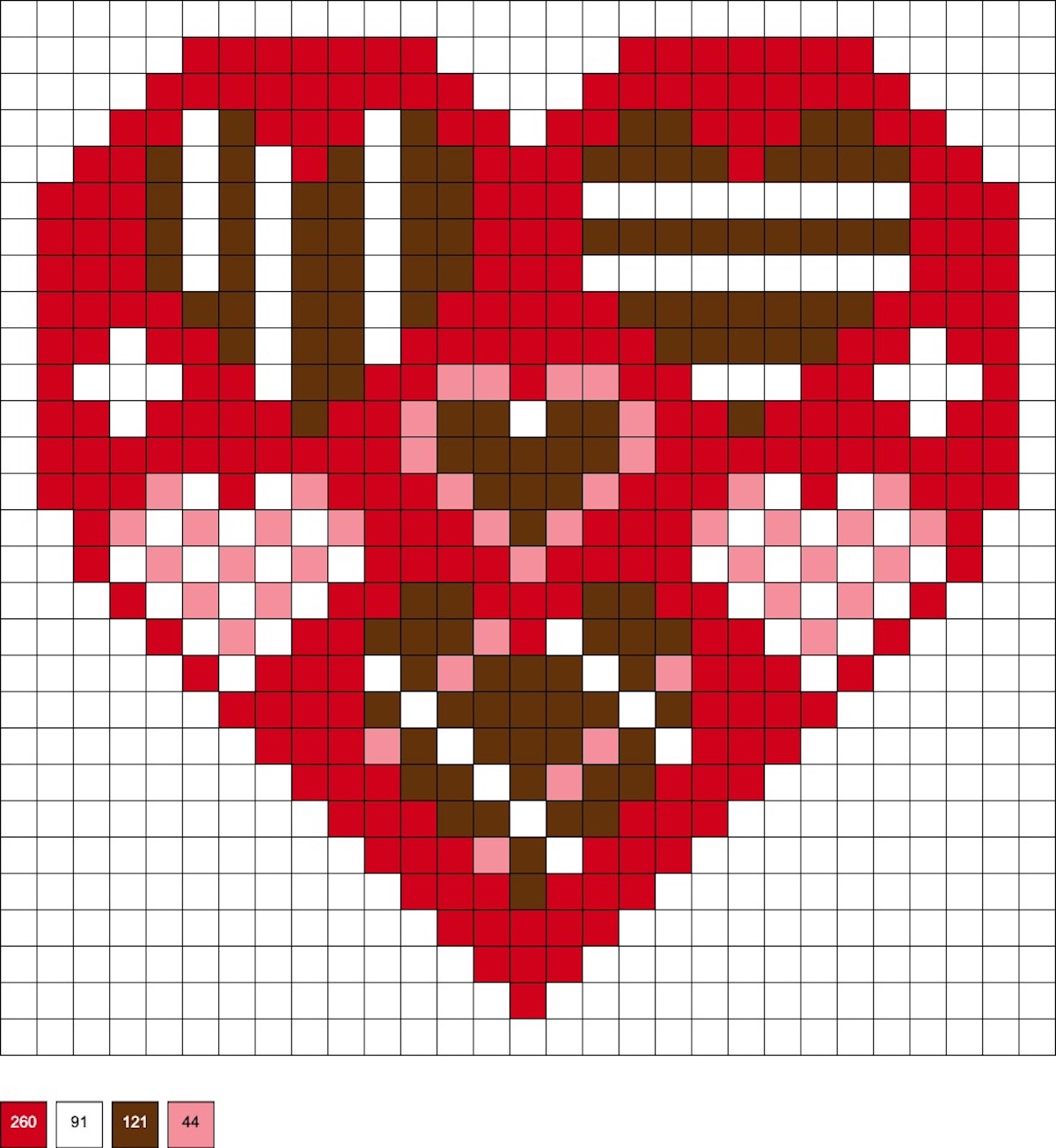 ---
Kitties with Twisted Tails
This pattern uses 187 black, 205 fruit punch, 205 cotton candy, and 6 white beads.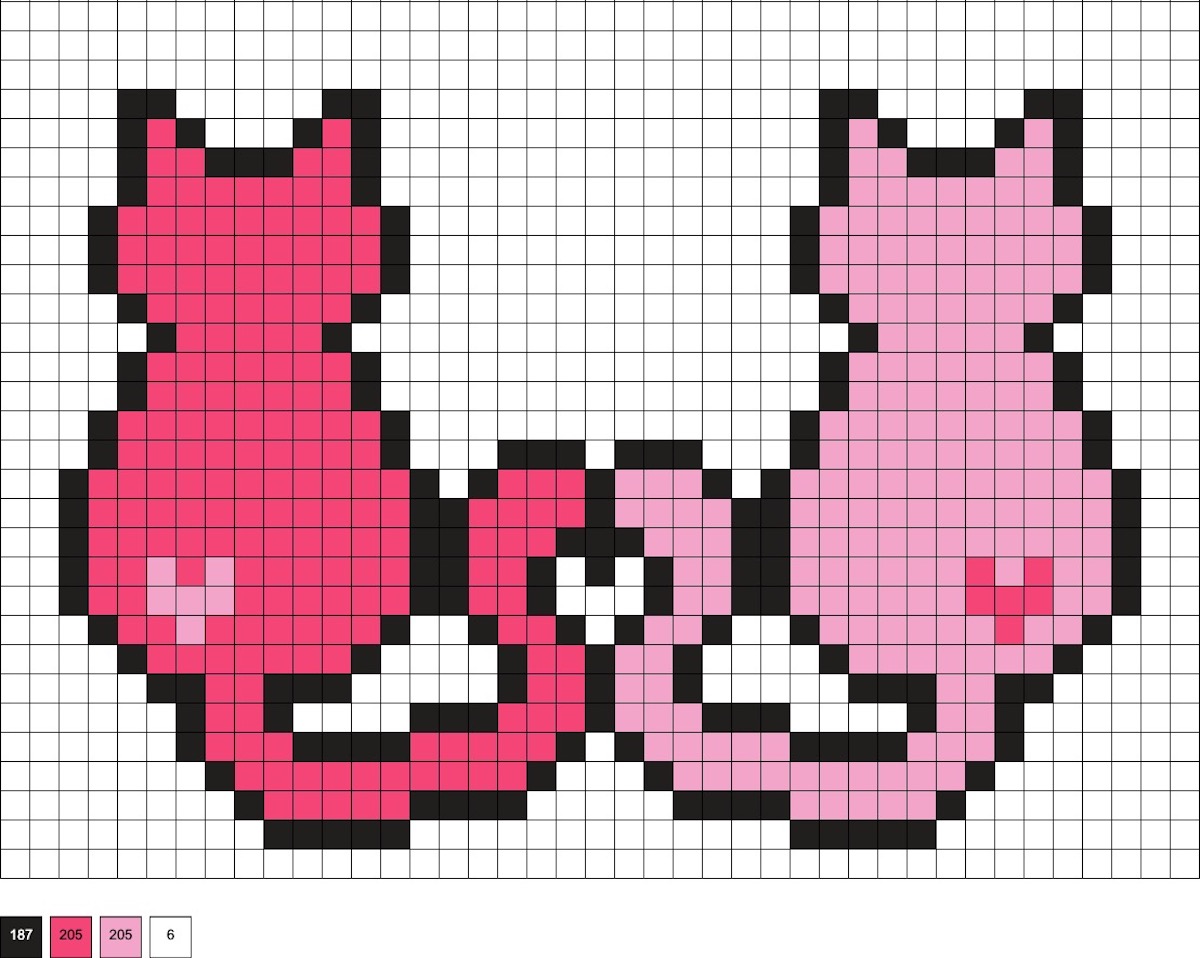 ---
Heart Flower with a Stand
This pattern uses 134 black, 12 white, 86 magenta, 20 fruit punch, 109 shamrock, 21 kiwi green, 8 plum, and 2 honey beads. Once you assemble both pieces, you can insert the heart flower directly into the stand (no glue required).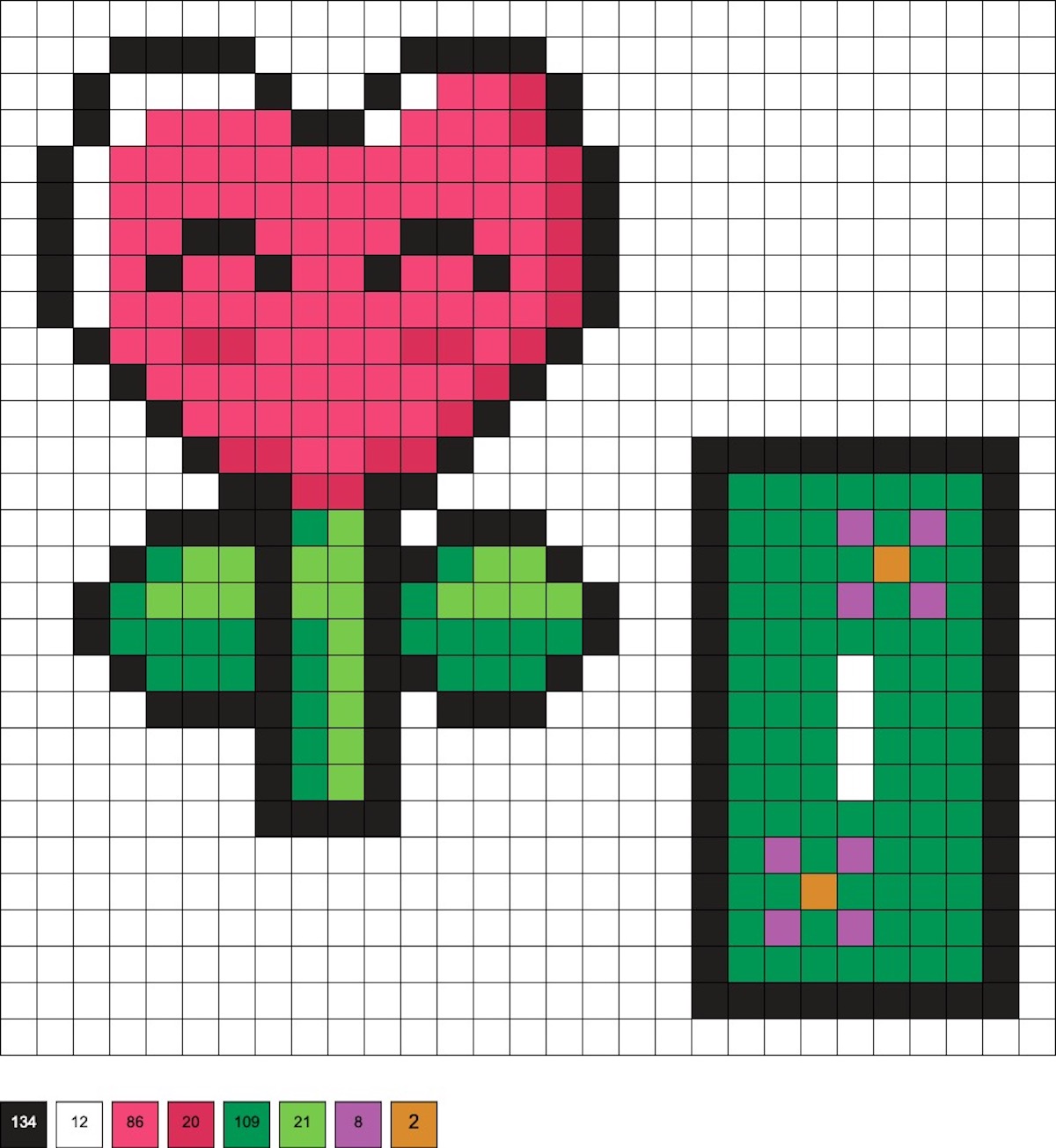 ---
Melting Rainbow Heart
This pretty pattern uses 13 magenta, 12 cheddar, 14 green, 16 turquoise, 14 yellow, 6 purple, and 76 black beads.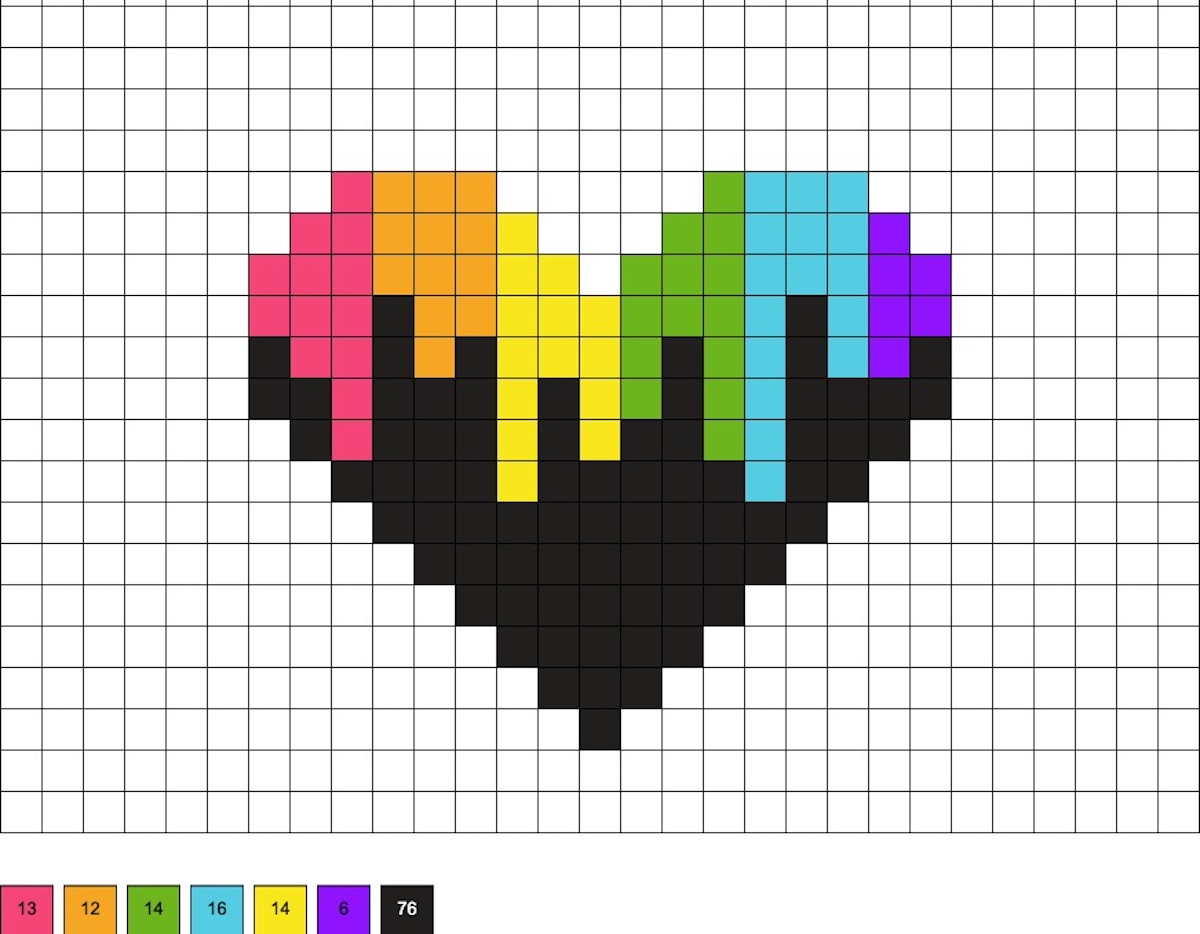 ---
Snuggling Parakeets
These sweet birdies use 32 white, 29 pastel blue, 15 yellow, 2 black, 8 honey, 34 light blue, 2 orange, 6 sherbert, 10 red, 18 bright green, 8 mist, 44 kiwi green, 14 dark green, 22 cobalt, 8 forest, 5 dark blue, and 12 brown beads.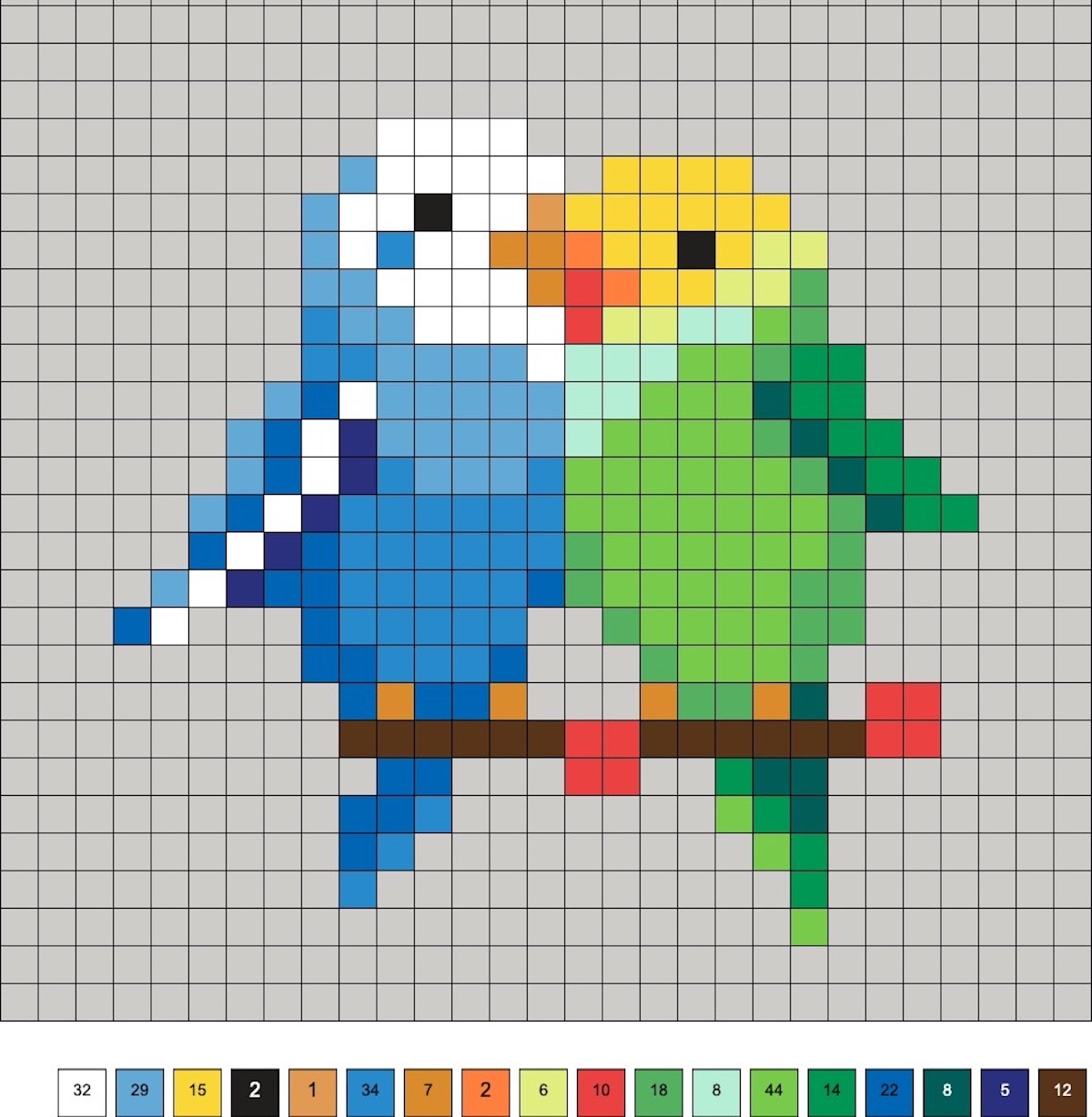 ---
Leopard and Tetris Shaped Hearts
The leopard heart uses 61 honey, 30 black, and 13 brown. The Tetris heart uses 32 aqua, 12 teal, 24 light green, 12 white, 12 hot coral, and 12 salmon beads.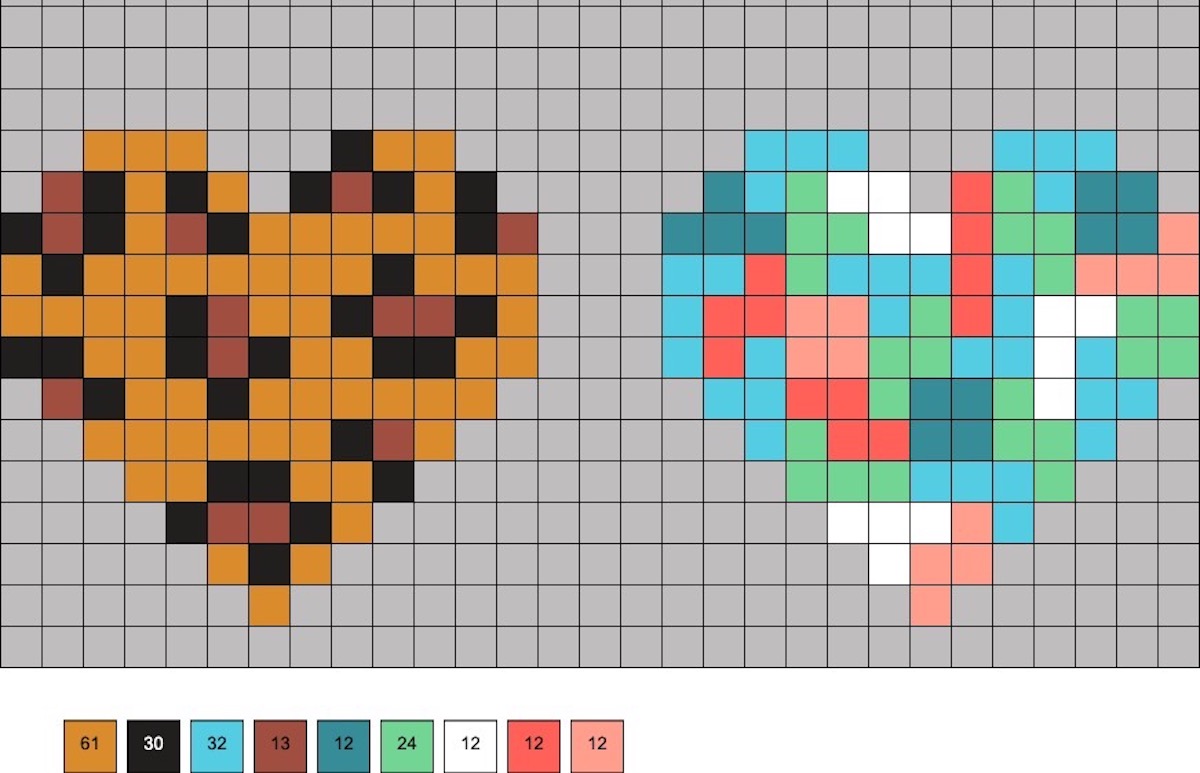 ---
Valentine's Day Wreath
This pattern uses 66 white, 113 red, 50 shamrock, and 24 pink beads.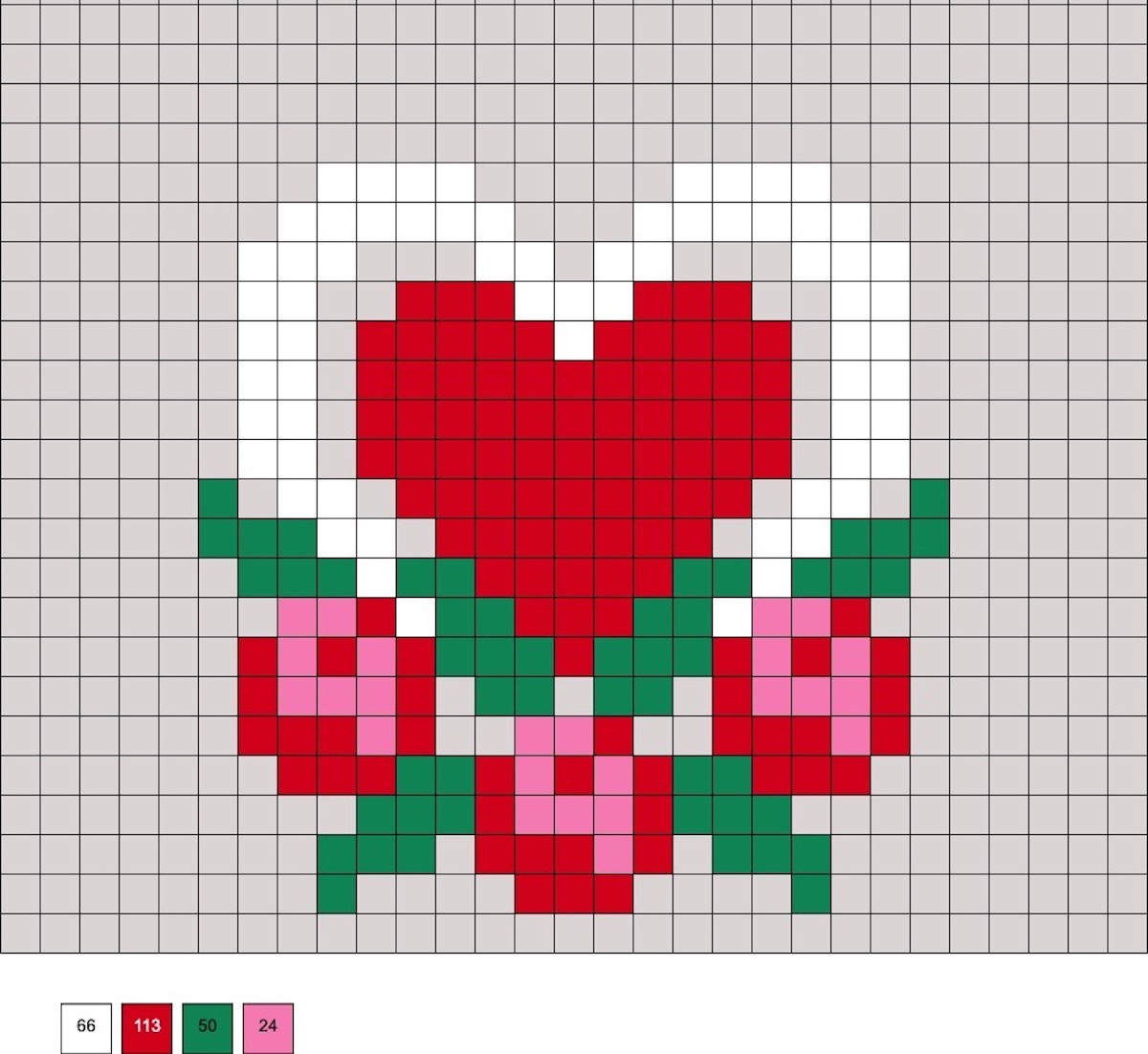 ---
Floral Heart
This pretty flower uses a large hexagon board! Each small flower takes 7 beads, and there are 28 flowers for a total of 196 beads of different colors.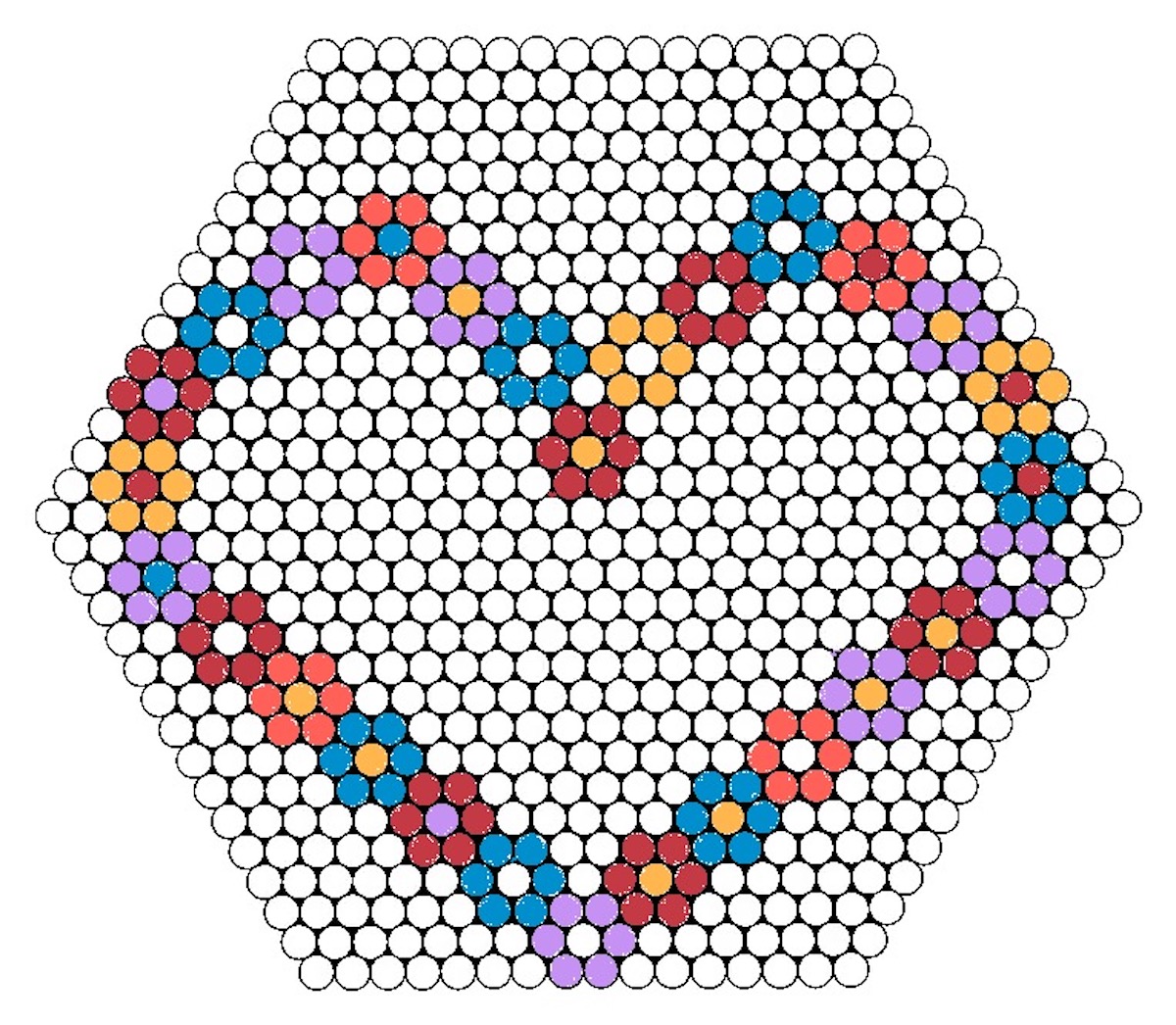 ---
Snoopy Holding a Heart
Snoopy uses 144 black, 233 white, and 48 red beads.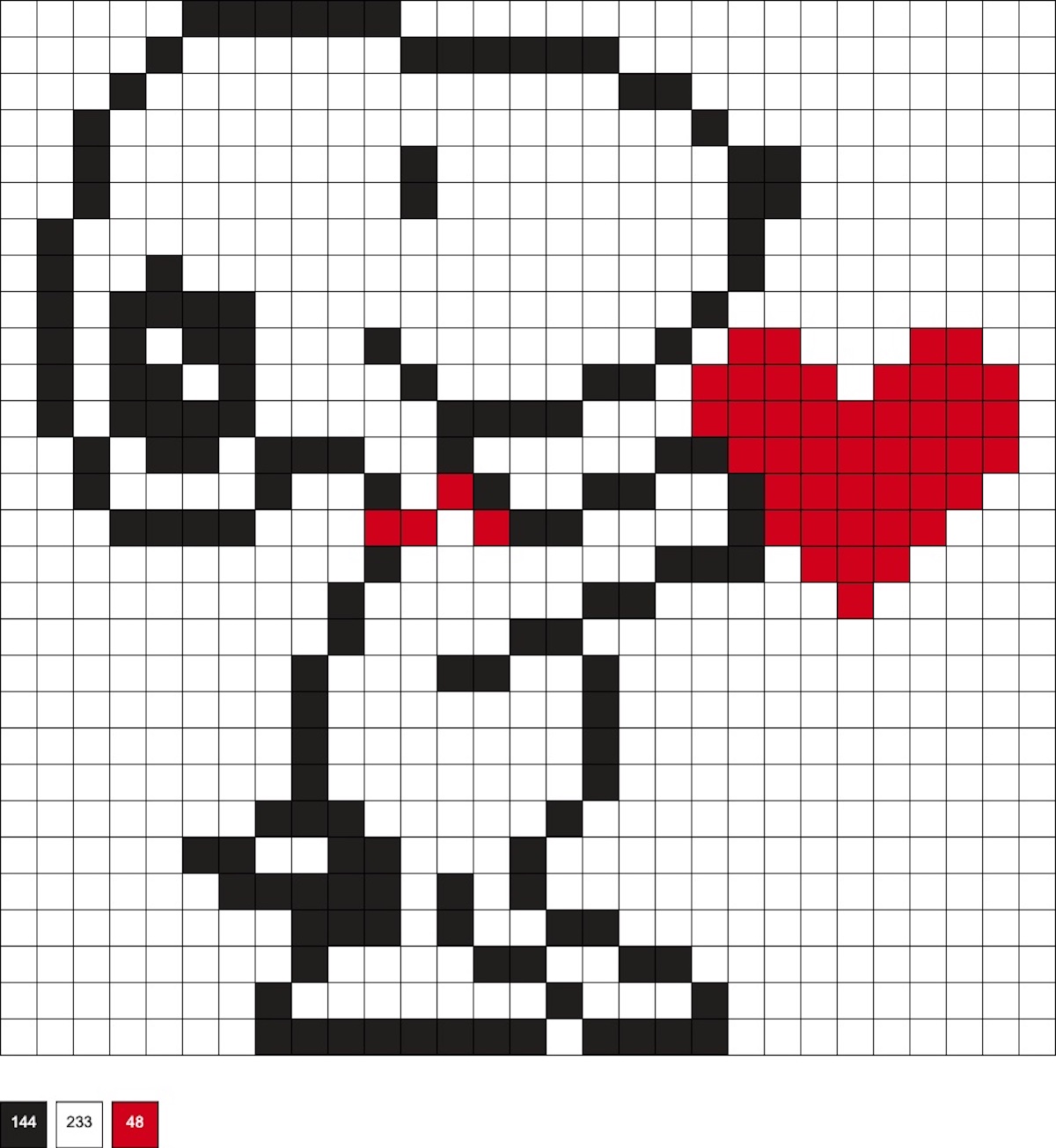 ---
Heart with Wings
This pattern uses 81 black, 74 white, and 43 red beads.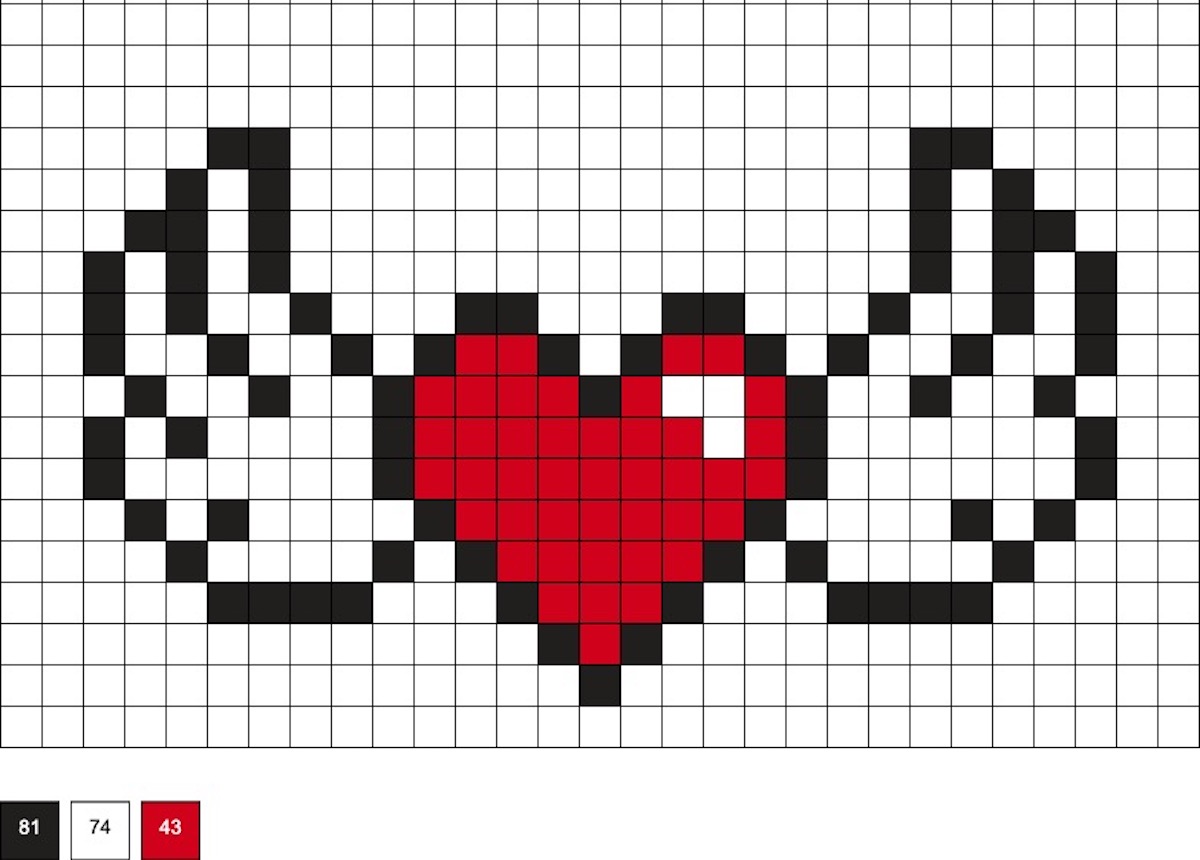 ---
Eye Love You
This pattern uses 64 black, 53 white, 36 shamrock, 21 cobalt, 46 pink, 20 kiwi green, and 5 light blue beads.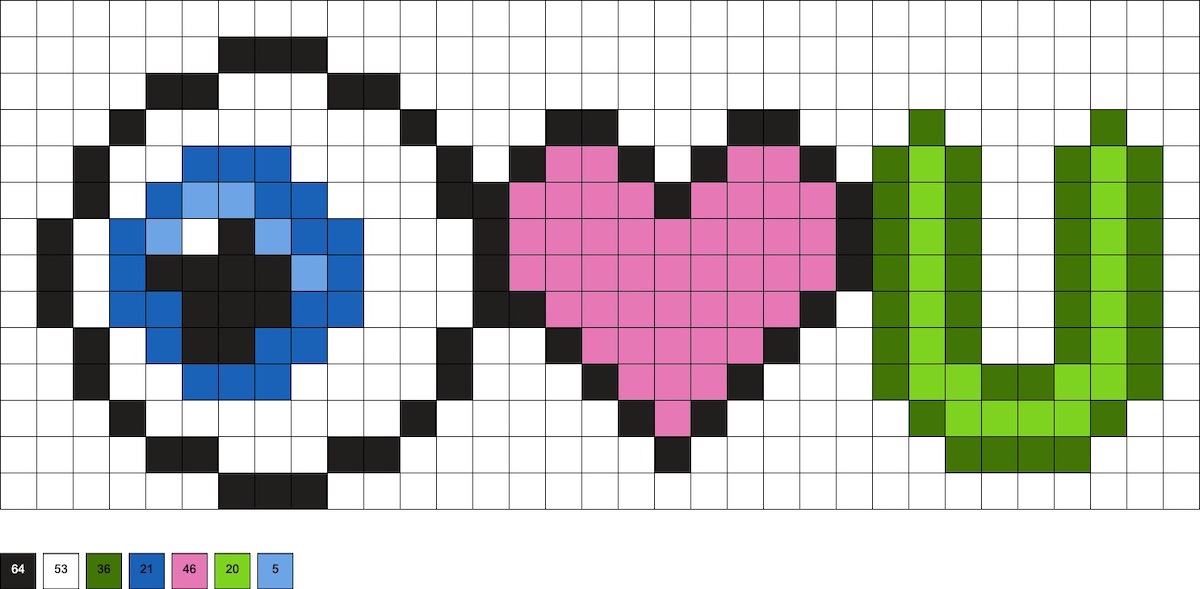 ---
Balloon Scene
This pattern uses 324 sky, 69 white, 21 pink, 13 cotton candy, and 10 gray beads.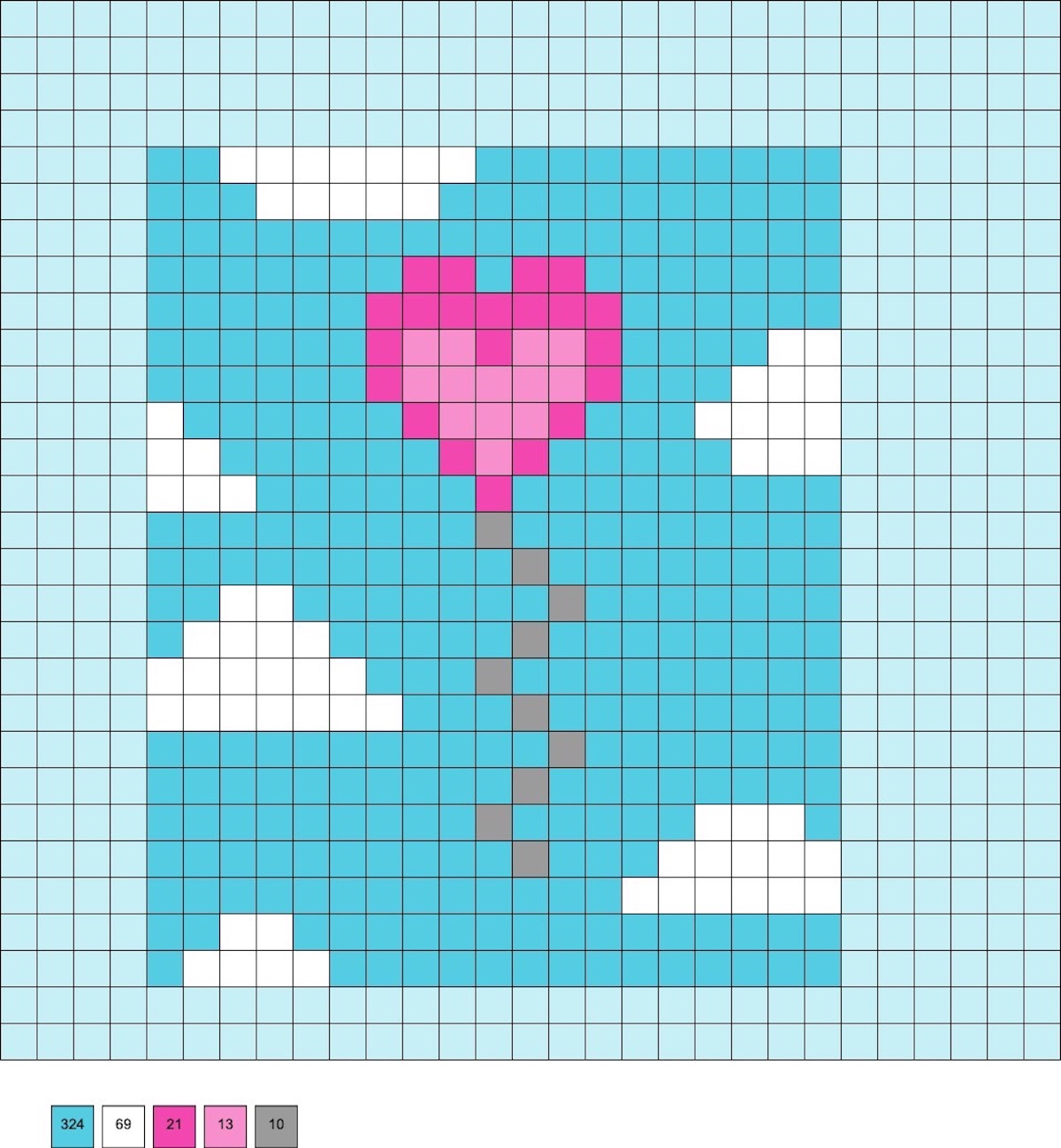 ---
Pinky the Owl
She uses 160 magenta, 12 black, 4 cheddar, 23 pink, and 17 light lavender beads.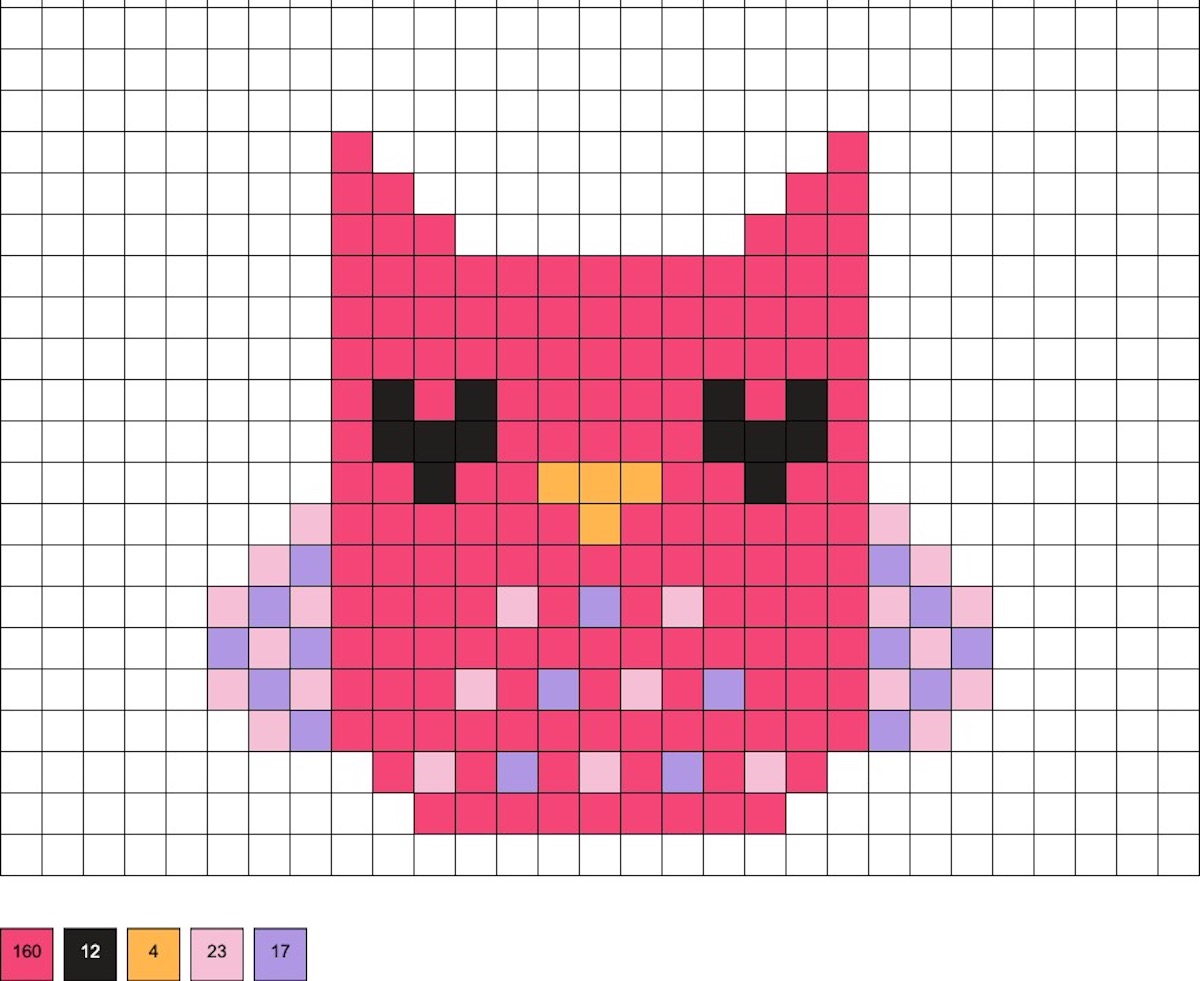 ---
Valentine's Day Bubble Gum Machine
This pattern uses 50 red, 28 white, 10 black, 5 magenta, 7 pink, 6 raspberry, 5 cherry, and 6 blush beads.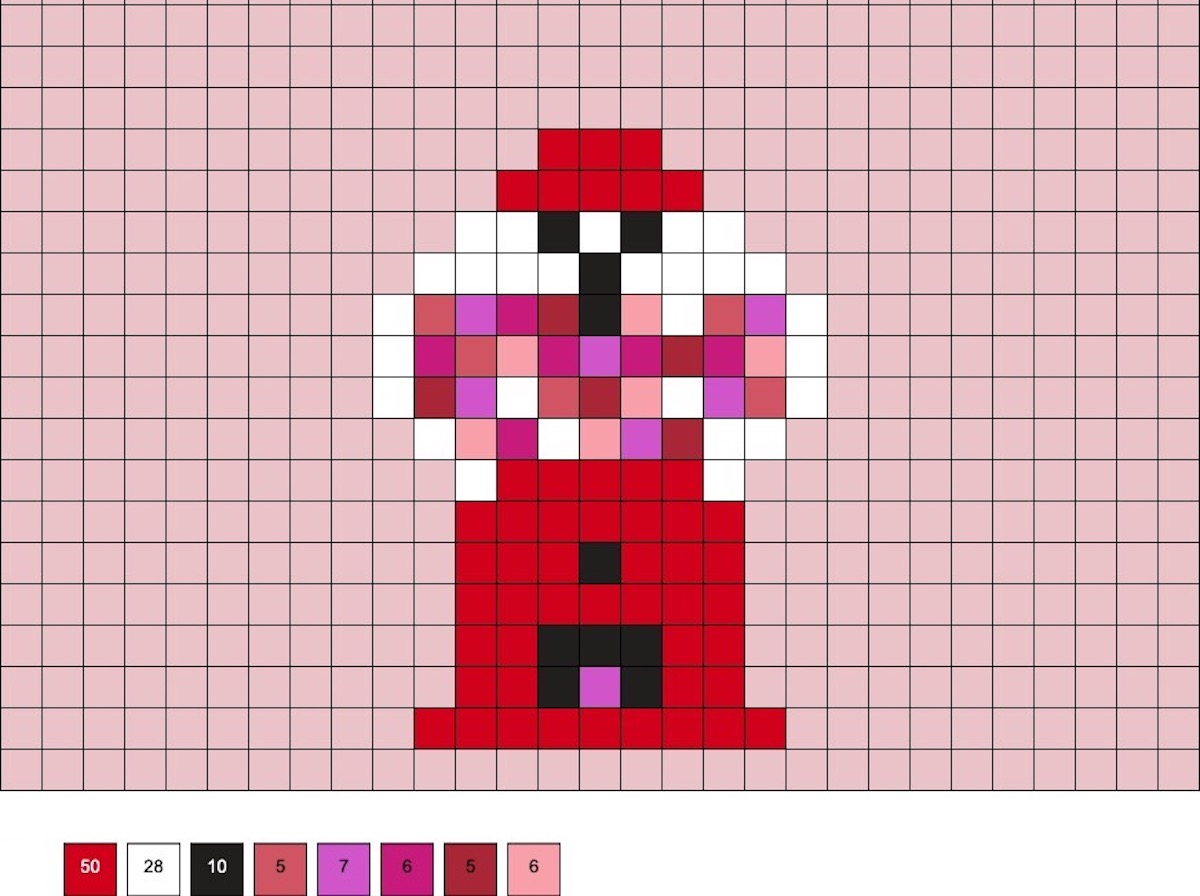 ---
Mouse Holding a Heart
This pattern uses 151 gray, 12 cotton candy, 2 black, 1 pink, 10 white, and 31 red beads.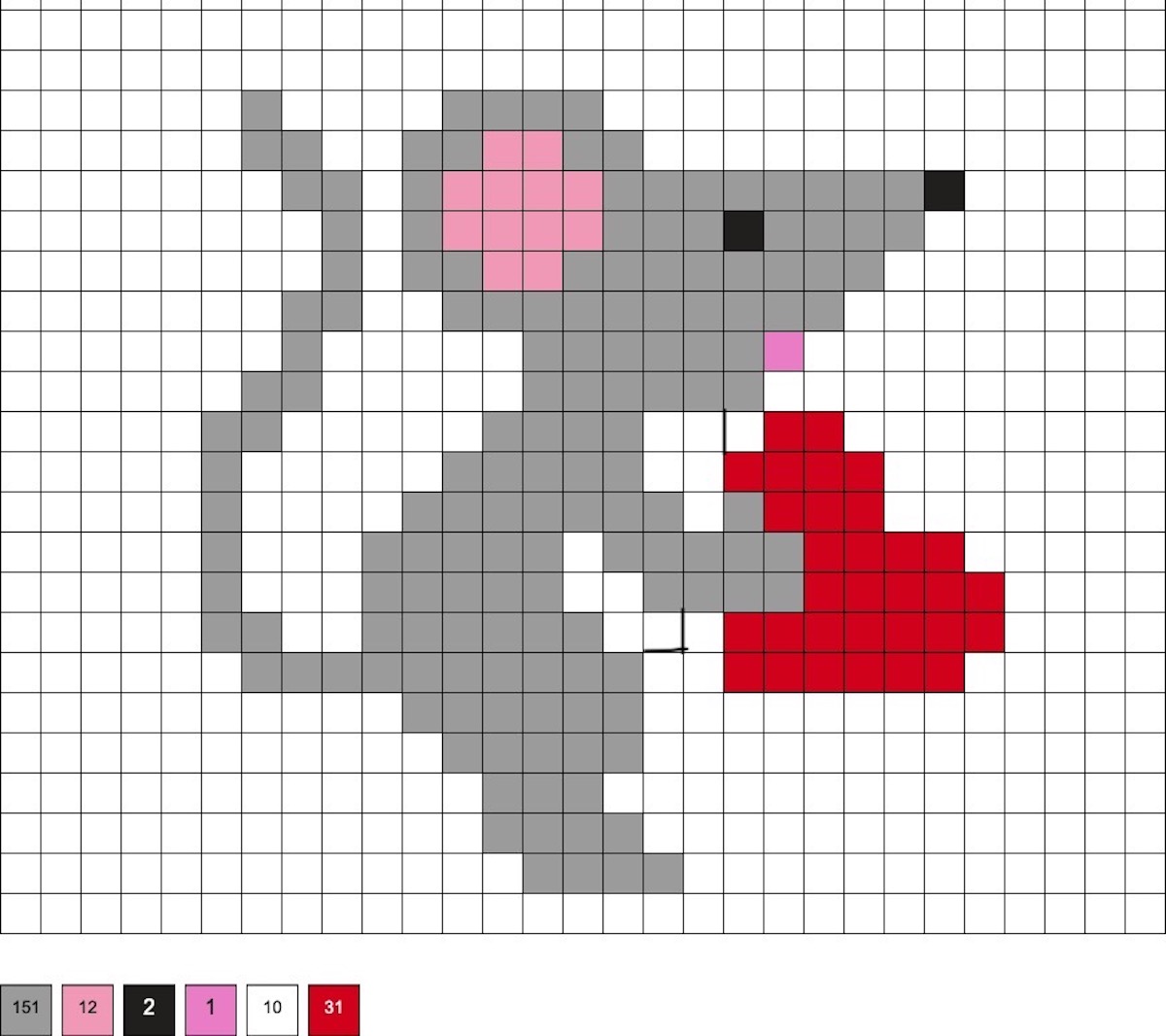 ---
Wonder Woman Heart
This pattern uses 199 dark blue, 93 white, 104 red, and 102 gold beads (or butterscotch as a substitution).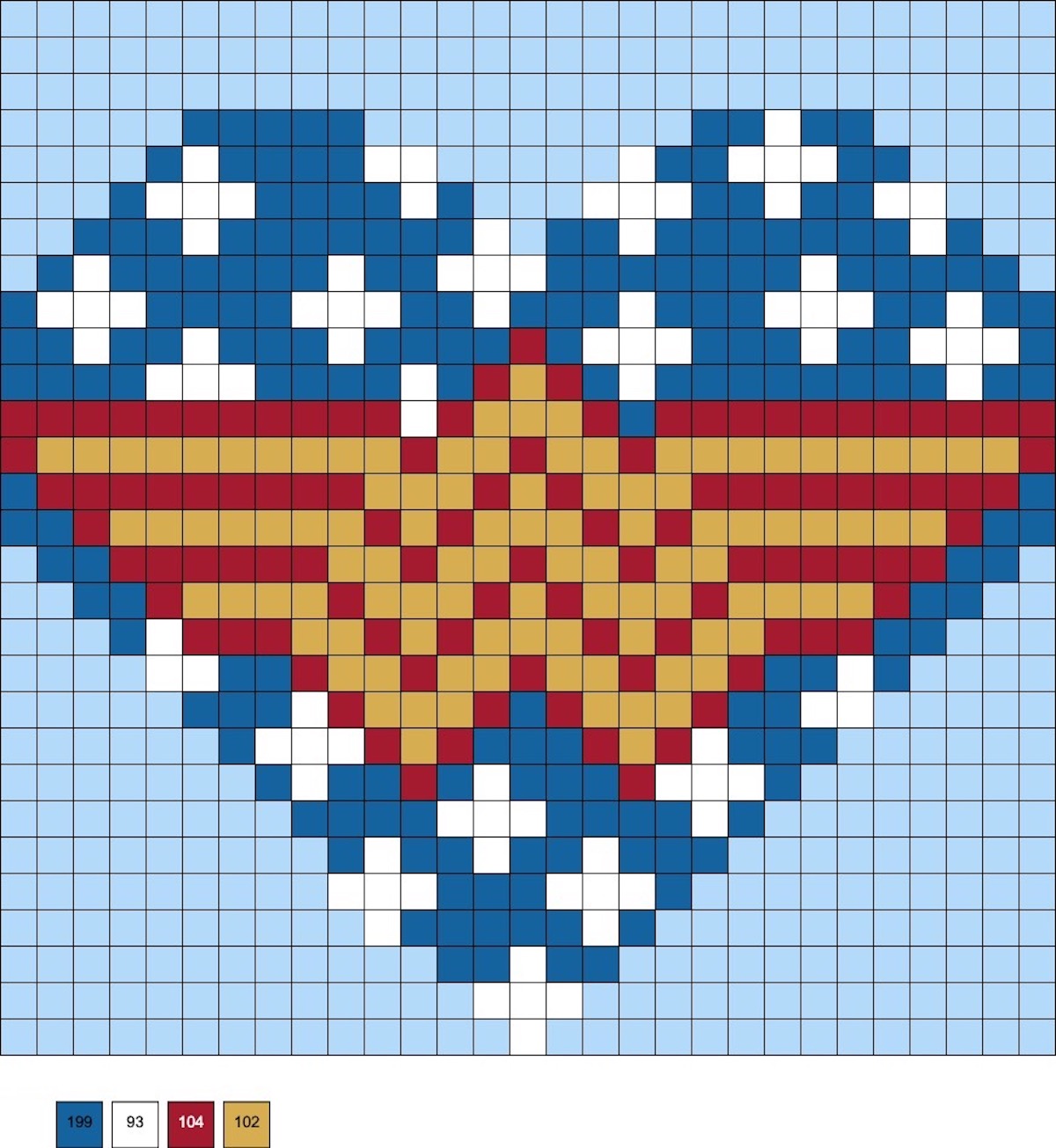 ---
Heart with Pet Paws
This pattern uses 121 pink and 74 black beads.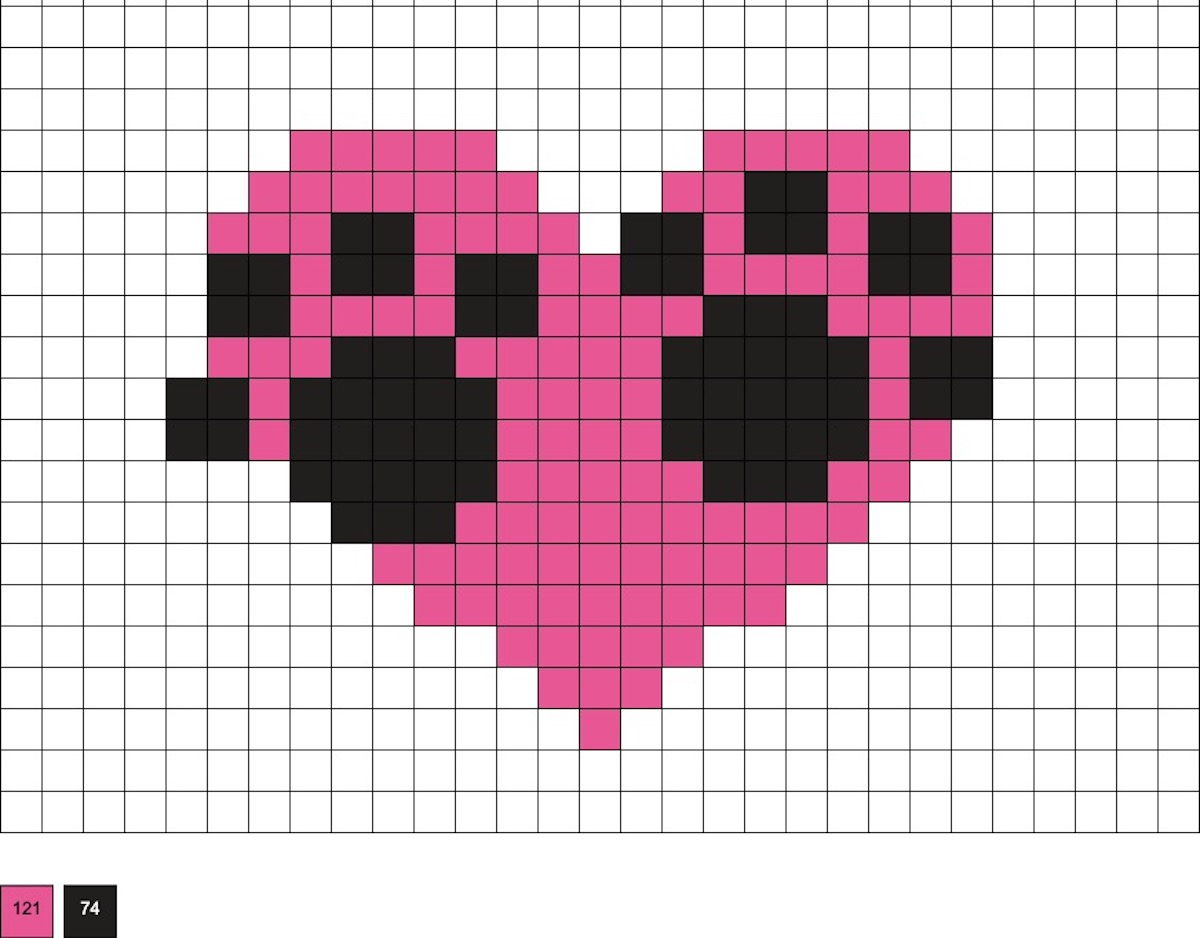 ---
If you've enjoyed these valentines perler beads, let me know in the comments! I'd also love for you to check out these other posts:
The post Valentine's Day Perler Beads (50+ Patterns!) appeared first on DIY Candy.