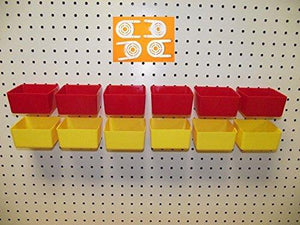 16 PACK 1/4" HOLE Peg Board Workbench Bins (6) Red bins and (6) Yellow bins PLASTIC Plus (4) Tool holders FITS WOODEN PEGBOARDS (PEGBOARD NOT INCLUDED)
---
Product Details
Shipping Weight: 7.2 ounces
Part Number: PB-6RB-6YB-FBA
Item Weight: 7.2 ounces
Product Dimensions: 6 x 4 x 6 inches
Item model number: PB-6RB-6YB-FBA
Item Package Quantity: 1
Batteries Included?: No
Batteries Required?: No
Pegboard Bins and tool holders attach to 1/4" pegboard. PEGBOARD IS NOT INCLUDED!
They are designed for WOODEN/PARTICLEBOARD PEGBOARDS, NOT METAL PEGBOARDS.
Tool Bin Dimensions: W-2.75", L-3.5", H-2" Tool bin attachment hooks are 3 inches apart center to center.
Tool Holder Dimensions: W-1.7" L-1.2" OD-1.2", Tool size smallest diameter-0.30" to 0.85". Tool holder attachment hooks are 1 inches apart center to center. These Pegboard bins and Tool Holders are made of PLASTIC.
MAKE SURE WHEN YOU CHECK OUT YOU ORDER FROM JSP TO RECEIVE EXACTLY ALL THE ITEMS IN THE DESCRIPTION AND PICTURES.
PEGBOARD IS NOT INCLUDED!

PEGBOARD STORAGE BOX 12 pack. Includes 6 yellow & 6 Red storage bins, great for organizing small items, and 4 tool holders.  Fits all standard 1/4" pegboard. Easy to install, easy to move and stays in place.  Our design holds the heaviest items easily.These 4" x 3" x 2" pegboard bins hold loose screws, washers, tape measures, small parts, etc.  Easy to attach and move around but will not come off until you take them down. The convenient 12 pack will give you versatility in organizing your garage, tools, hobby supplies, or anything you need handy and neatly organized.

PEGBOARD IS NOT INCLUDED!

Pegboard Bins:
Material:  Plastic
Color:  Red and Yellow
Size:  Standard 1/4" Pegboard
Width:  2.75 Inches
Length:  3.5 Inches
Height:  2 Inches
Quantity:  6 Yellow & 6 Red


Pegboard Tool Holders:
Material:  Plastic
Color:  White
Size:  Standard 1/4" Pegboard
Width:  1.7 Inches
Length:  1.2 Inches
Height:  0.15 Inches
Smallest Tool Diameter:  0.30 Inches
Max Tool Diameter:  0.85 Inches
Outside Diameter:  1.2 Inches