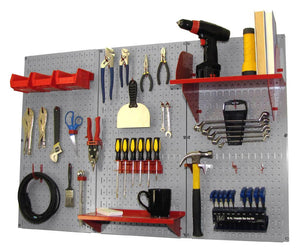 This 4' Metal Pegboard Standard Utility Tool Organizer Kit with Accessories offers maximum tool board storage with it's versatility and strength.  The three 16" x 32" Gray powder-coated metal pegboard panels combine for a total tool storage area of 48" x 32", or over 10-1/2 square feet of pegboard storage space.
These attractive metal pegboard panels are also great for heavy duty pegboard storage needs due to their 20 gauge galvanized steel construction.  This makes them over 10 times stronger than conventional pegboard creating an industrial grade tool storage solution.
The patented engagement of the slotted tool board hooks included improves hook security for more hassle free tool storage.  These versatile, durable, and high strength metal pegboard panels are an easy-to-use tool storage solution for any garage, shop, or tool crib.  The galvanized steel pegboard panels are easy to install into studs or flat surfaces with pre-drilled mounting holes on 16" centers.  A built-in frame return flange provides ample hook clearance and full access to all holes without requiring additional framework or using up pegboard holes for mounting.
The Wall Control metal pegboard panels offer both slots and holes to accept slotted tool board accessories as well as conventional 1/4" peg board hooks.  The result is an extremely versatile system which offers the user multiple options to customize with pegboard hooks, brackets, shelves, etc.
WHAT'S INCLUDED
(3) 32" x 16" Gray powder-coated metal pegboard panels
(1) 9" Shelf assembly
(1) 6" Shelf assembly
(3) Plastic hanging bins with bin hanger
(1) Screwdriver holder
(1) Hammer holder
(20) Assorted hooks and brackets
Accessories in Red
Mounting hardware including screws & sheet rock anchors
Installation instructions
Tools & tool sets NOT INCLUDED
QUICK FACTS
Made in the USA
Over 10 times stronger than conventional pegboard
Maximum pegboard versatility.  Wall Control pegboard panels accept conventional 1/4" pegboard pegs as well as Wall Control slotted pegboard hooks, brackets, shelves and supplies for maximum tool storage versatility
Easy to Install.  Constructed with a preformed 3/4" return flange that separates the panel storage surface from the wall.  Pegboard panels mount directly into studs or sheet rock with no framework required.
LIFETIME LIMITED WARRANTY
Wall Control has designed a metal pegboard system that will last a lifetime.  If you are tired of wrestling with old, ugly masonite or plastic pegboard then you have come to the right place.  Wall Control's metal pegboard design and high-strength construction allow it to perform for years upon years as your wall storage center home base.

All Wall Control metal pegboard products are backed by a Lifetime Limited Warranty which protects against product failure and manufacturing defects, if installed and used correctly.  We have engineered our metal pegboard products to last a lifetime and have backed that claim up by offering this warranty.