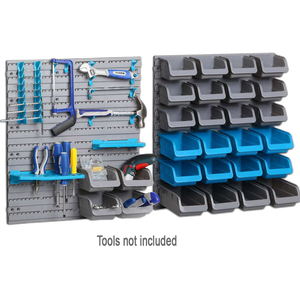 Red Label Parts Storage Bin and Tool Rack 44 Piece RLB44RT
Organise and tidy up your garage with this wall mounted storage rack. This kit comes with 16 small bins, 8 medium bins, 4 large bins and 12 tool holders in two colours. The detachable bins are easy to label and come in varying sizes to accommodate any tool. Perfect solution for tools and accessories storage, 3 bin sizes for different tools and accessories, heavy duty storage material, upgraded mounting slot design for extra stability. Labelling spot with sticker or marker pen, detachable bin design, ultra durable peg board, layout can be changed easily, keep work area neat and tidy. 
This wall mount rack of storage bins can be used to store small tools, nuts, bolts, parts, hobby gear and more! Just lift out the bins you need, take them to your work area, fill them up and put them back in place when you're done.
Features:
44 Pieces: 28 Bins, 12 Tool Holders, 2 x Wall Boards
Grey and blue bins for easy identification
Stackable bins made of moulded polypropylene
Ideal for garages and workshops
Easy to assemble
Convenient access to removable bins
Specifications:
16 Parts Bins 100 x 90 x 50mm (1kg Load Capacity)
 8 Parts Bins 100 x 160 x 70mm (2kg Load Capacity)
 4 Parts Bins 100 x 210 x 70mm (2.5kg Load Capacity)
Wallboard: 380(W) x 640(H)
Overall Dimensions: 640(H) x 380(W) x 270(D)mm
Carton Size: 560 x 500 x 140mm
Weight: 3.5kg