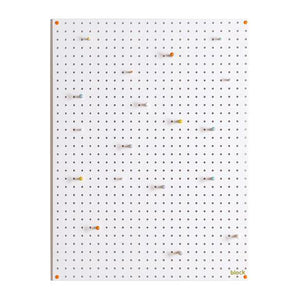 Block . Peg Board - Large / White

**SECONDS - This product has some damage on the corners from transit. It's still lovely and perfectly usable!**

One seriously smart storage solution! Available in a range of colours each comes with a range of colorful little pegs. A super addition to the office, kitchen, playroom and studio, the removable pegs allow you to configure your board to suit your bits and bobs.

Design Tips:

▲ Use in the modern nursery to hang toys, handmade felt ball garlands or our banners and flags.

▲ Great in the kids room to store all their crafty bits and bobs.

▲ Stylish organiser for the home studio or office - looks great on the wall behind the desk.

▲ A perfect gift for someone stylish, organised or crafty!

You can see the whole range from Block here.


PRODUCT INFO:
Size: Height 81.3cm, width 61.0cm, depth 0.5cm (without pegs). 12 x Large Pegs 6 x Small Pegs.
Care: Gently wipe clean.
Good To Know: PegBoard supplied with all standard wall fixtures and fittings.
Made From: Painted MDF and wood.
Packaging/Shipping:
Packed in a protective card box.

** If you are ordering from outside the UK this item will require a courier service due to it's weight and size - please contact us for a quote **

Made In: The UK.
Designed By: Block Design.
About This Brand: Block was formed in 2000 with a very distinctive style and a love of colour, their passion for colour is the inspiration behind every design.