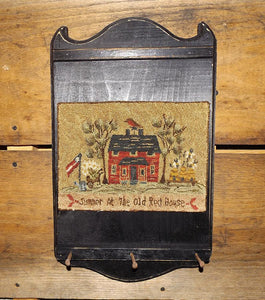 New to Kaniki's are our Tavern Style -Square Peg Nail - Finishing Boards. All made with 10" gorgeous Pine boards, some reclaimed from our stashes and some rough cut and new that we buy. Each is hand made, cut and then finished with a routed edge, with bands of trim boards on the front. The bottom thicker wood band, has rustic old square head nails, driven in, to create the peg board finish.. It's simply gorgeous, finished off in a variety of colors- and then distressed lightly- to show a little "wear and tear" if you will.... Shown here is our Distressed Black- glossy!!! Just choose Distressed Black from the menu.... and let me know if you do want it glossy or just plain distressed black- as shown in our color choices. You have 7 colors to choose from....
These measure 16" tall by 10" wide by approx 1/2" thick. With the nails, and peg board, it brings it out to almost 3", perfect for hanging little pretties on.... We've drilled sunk in holes in the backs- for ease of hanging flush to your surface...
These will be mailed in 18" x 12" x 6" boxes, packed very carefully- and will ship by weight- which is approx 3.5 pounds- with the box and packing... They will ship to zip- according to the size of the box and the weight... Those prices will vary- and you can choose either usps priority, or usps parcel ground.
I've shown two pictures - one without a piece of art displayed- and one with one of my punched needle pieces attached to the front.. I only used some painters tape- to attach the piece, so you can just imagine what you can do with any of your finished art pieces- by either attaching them permanently- or possibly with some upholstery tacks... Soooo many possibilities... I've a few in mind- for some of my winter stitches... :)
All Tavern Peg Boards, will be made to order- so please allow 1-3 weeks from order date to receipt. And again- they are shipping USPS, and the shipping is calculated by weight, size of box, and your destination. If you'd like more than one Tavern Peg Board- please message me first- so I can perhaps find a bigger shipping box- and re-adjust shipping- so you don't get overcharged.
If you've any questions- please do ask...
I hope you love our new product- and you better bet we'll be back soon with more great new hand mades- for your stitching, punching or finishing and decorating purposes.. We've got plans!!!!
Thanks bunches!!!
Blessings
Niki