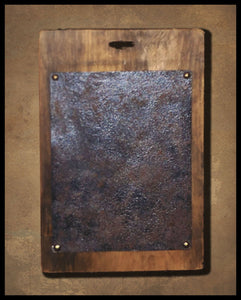 New to Kaniki's our some really nifty new boards.. We're calling them our "Faux Rusty Metal- Finishing Boards"...
These are made from some gorgeous pieces of wood from our property "stashes".... They measure 10" wide by 14 3/4" high... And- they have a very primitive rustic slotted hole drilled at the top for hanging.. The board was then stained lightly- with my favorite stain- Early American.. Just love it... We have taken some old metal flashing- and cut it to fit front and center- measuring 8 1/2" x 11, and then I've taken and did a faux painted rusty technique to the metal.. It was first sanded- to give it some tooth- and then painted black and sprinkled with cinnamon- and then coated with a semi matte Modge Podge, and then done in more layers and layers- until I had the perfect- rusty black faux look. The metal was then tacked to the board with some great brassy looking tacks. I just love those... A great great finish to attach your pieces to.
These will be mailed in 18" x 12" x 6" boxes, packed very carefully- and will ship by weight- which is approx 3 pounds- with the box and packing... They will ship to zip- according to the size of the box and the weight... Those prices will vary- and you can choose either usps priority, or usps parcel ground.
I've shown two pictures - one without a piece of art displayed- and one with my newest pattern- "Here Comes Santa Clause"- cross stitched piece- attached to the front.. I would highly recommend getting some more tacks to attach your piece- unless you want to permanently adhere the piece to the faux painted metal.. I'd be worried- with the strength of adhesives today- that it would peel the finish off the metal- if you tried to remove your finished piece.. Its' painted and sealed well- but it's still metal- and adhesives are still very very strong...
All of our new Faux Rusty Metal- finishing boards, will be made to order- so please allow 1-3 weeks from order date to receipt. And again- they are shipping USPS, and the shipping is calculated by weight, size of box, and your destination. If you'd like more than one Tavern Peg Board- please message me first- so I can perhaps find a bigger shipping box- and re-adjust shipping- so you don't get overcharged.
If you've any questions- please do ask...
I hope you love our new product- and you better bet we'll be back soon with more great new hand mades- for your stitching, punching or finishing and decorating purposes.. We've got plans!!!!
Thanks bunches!!!
Blessings
Niki