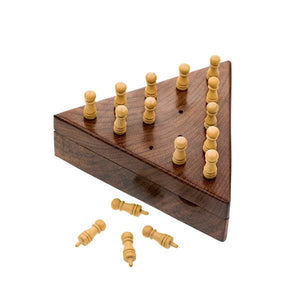 Classic peg jumping game that sharpens the mind and challenges your personal best score each time you play.  This travel size game with hidden peg receptacle is perfect as a gift for someone who's on the move or who enjoys the beauty of handcrafted items in their home.  Sits beautifully on a coffee table, inviting your family and friends away from the screen and into a hands on game that will compel you to improve on your own record.  Plus, each purchase empowers people in need to rise up out of poverty and oppression in India.  Win-win!
Materials: Indian rosewood, Haldu Wood
Dimensions: 4.5" L, 4" W, 1.25" H
Do Good.  Shop Fair.